VPN
State of the VPN Market in 2020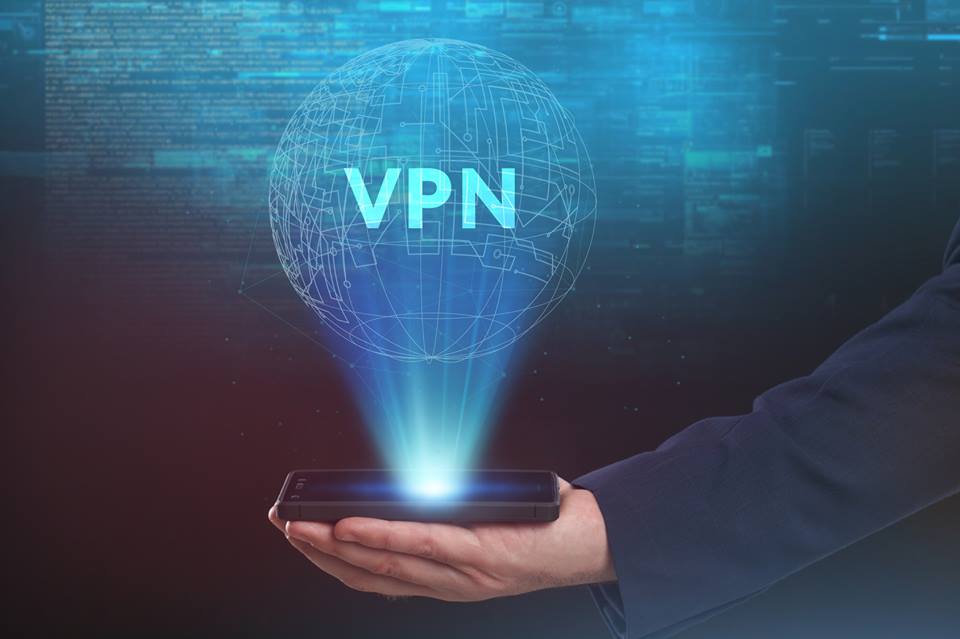 What to look for in a VPN
Why people use a VPN
VPN market by region
Global mobile VPN market
Online privacy and security are a growing concern for average Internet users across the globe on both individual and corporate levels. Threats like hacking and cyberattacks, in addition to government and ISP snooping, are increasing each day. This prompted people to search for solutions that can protect their online wellbeing. And one of those tools is the virtual private network.
But maintaining your privacy isn't the only area of expertise for VPNs. They also allow users to unblock geo-restricted content, avoid censorship, and get better online shopping deals. Even companies employ VPNs to connect remote branches to the main corporate network and enable off-premise workers to use office tools.
That really came in handy after the COVID-19 outbreak, which affected every country on the planet. The pandemic forced companies and businesses of almost all sorts to close doors and instruct their employees to work from home.
As a result, the popularity of virtual private networks substantially grew over the past few years. But just how big is the VPN market? Who uses this tool the most? And do all VPNs have the same quality?
---
Leading Motivations for VPN Usage
According to Statista, the main reason why people use a VPN is for entertainment purposes. That includes streaming services, which are mostly restricted to certain geographic areas. So if you have a Hulu subscription and you travel outside the US, you won't be able to access the platform except with a VPN. That also applies to other websites, like banking services.
The second most common reason is to access social media platforms like Facebook and Instagram, which are blocked in countries like China. Online privacy and anonymity come after that, while work purposes and VoIP services also make the list.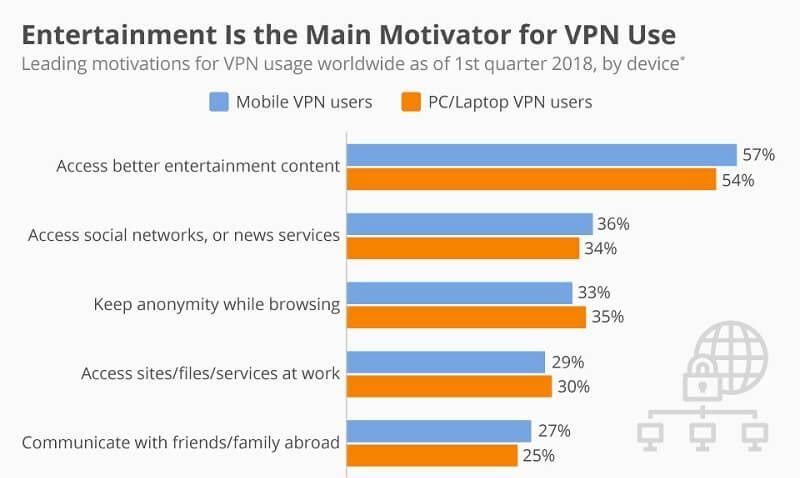 ---
How the VPN Market Develops
According to different industry reports, the global market for VPN service will get north of $50 billion over the next few years. Global Market Insights, for instance, estimates the global VPN market to reach $54 billion by 2024. That's significant growth from the 2018 market value, which stood at $17 billion. The surge is fuelled by the rise of cyber threats, the report adds.
Other market research forecasts support these estimates, saying that the Asia/Pacific region is the fastest developing VPN market. VPN penetration rates in countries like Thailand, Indonesia, and China averaged 23%.
According to a Global Web Index report, the regional usage of VPN services varies as follows:
Regional VPN Usage
| | | |
| --- | --- | --- |
| REGION | ALL INTERNET USERS | USERS AGED BETWEEN 16 AND 34 |
| ASIA & PACIFIC | 30% | 35% |
| LATIN AMERICA | 23% | 25% |
| MIDDLE EAST & AFRICA | 19% | 19% |
| EUROPE | 17% | 21% |
| NORTH AMERICA | 17% | 21% |
As you can see, 30% of all Internet users in the Asia/Pacific region connect to a VPN when they go online. Moreover, 35% of those people are between the ages of 16 and 34. The second-largest market for VPNs in terms of regions is Latin America as 23% of browsers use a VPN. The Middle East and Africa regions come third with 19%.
Meanwhile, VPN usage in Europe and North America recorded lower numbers – 17%. That's most likely because there are few Internet restrictions in those regions. But online censorship isn't the only reason behind VPN usage.
Bypassing geo-blocks and anonymous browsing are also leading factors for using a VPN. In the Asia/Pacific region, most VPN users are more concerned with accessing geo-blocked streaming content than with online privacy. In North America, meanwhile, 37% of VPN subscribers use a VPN to maintain anonymity, while 29% employ it for entertainment purposes.
There is no reason to believe this trend will shift in another direction in the long-term. And while global VPN usage will continue to grow, the regional usage will follow the current patterns.
Another interesting fact, highlighted by the latest Data Confidence Index report, is that Brazilians have grave concerns over how companies treat their personal data. However, those fears "do not appear to be reflected in a desire to be anonymous while browsing the internet," the report adds.
---
COVID-19 Helps Expand VPN Market
The Coronavirus brought the entire world to its knees as all countries went into lockdown. And the stay-at-home approach to curb the spread of the virus significantly increased the demand for VPNs. Employees who had to work from home needed a secure tool to protect important data, access the main company server, and use office tools.
According to Top10VPN, global demand for VPN providers surged 41% in the second half of March 2020. That's after the WHO declared COVID-19 a pandemic. The study found that demand increased notably in 75 countries, compared to just 21 months before the Coronavirus outbreak.
"Online searches for VPN began to surge around the world in mid-March in the days following the World Health Organization's declaration of a pandemic on March 11."

Simon Migliano, Top10VPN research expert
France recorded the highest volume of VPN demand (80%), followed by the US (41%), and the UK (35%). But the countries that registered the largest hikes were Egypt with 224%, Slovenia with 169%, and Chile with 149%.
But it's not just remote employees who gave the VPN market a substantial push. Cord-cutters and streamers were also responsible for the VPN spike, as streaming platforms were probably the only means of entertainment. These people used VPNs to bypass geo-blocked content and watch their favorite shows.
However, the report also highlights the security risks that might accompany VPN usage. The increased demand for these tools could make VPN servers a target for cyber attacks. These providers operate servers all over the globe, and not all of them offer the same security prowess. Therefore, you must pick a reputable and safe service to protect your data.
---
VPN Market – Worldwide Usage
Top10VPN's Global Mobile VPN study says that there was a total of 480 million downloads of mobile VPN software in 2019. The number reflects a substantial growth rate of over 50% from the previous year. Other key findings mention that Indonesia, the US, and India are the biggest markets for VPN mobile apps. The latter country also claims the fastest growing market (405%), followed by Jordan (387%) and Kazakhstan (210%).
But the most alarming stat is that 84% of all mobile VPN downloads between October 2018 and September 2019 were free services. As I mentioned earlier, these providers invade your privacy by collecting your sensitive data and selling it to third parties.
Furthermore, the number of available VPN apps is growing overwhelmingly. Reputable software comparison sites like Capterra and G2Crowd list between 45 and over 200 results for VPN software searches, respectively. Google Play features more than 250 apps containing the word "VPN," while the App Store isn't far behind in this domain as well.
And if we consider mobile VPN apps available outside the official app stores for Android and iOS devices, the number of providers becomes even bigger.
To conclude, the VPN market is just like any other, featuring reliable, efficient brands, as well as intrusive, and sometimes, malicious services. Therefore, you must take into account the above factors when choosing a VPN provider and never settle for anything less.
---
What Is a VPN?
Virtual private networks have a server network that spreads across the globe. When you use a VPN, your traffic will go through one of these servers instead of the ones your Internet service provider uses. Moreover, any data you send or receive will be encrypted with a secure tunnel, preventing third parties from monitoring your online activities.
Once you successfully connect to a VPN server, your provider will also hide your actual IP address and replace it with another one that matches the server's location. In other words, if you connect to a Canadian server, your VPN will display a Canadian IP address. And since your IP helps the web determine your location, websites will think that you are someplace else.
List of Must-have VPN Features
In a nutshell, that is how VPNs work. But they offer a lot more, including:
Top encryption: Since you will entrust VPNs with your sensitive data, they must protect it with military-grade encryption, like AES with 256-bit keys.
Zero-logs policy: Elite-level VPNs delete all the data that might reveal your identity, location, and online activities to third parties.
Bypassing geo-blocks: A broad server network will help you access geo-restricted content like streaming platforms. But the latter services started banning VPN IP addresses. However, top brands can still bypass these blocks.
No censorship: People who live in countries with strict Internet regulations can use a VPN to access banned websites.
P2P support: Downloading copyrighted material via peer-to-peer networks could get you in trouble with copyright trolls. Use a VPN to hide your location and online activities.
Kill switch: If your VPN malfunctions, the kill switch will ensure your traffic doesn't leak to your ISP's servers by disconnecting you from the Internet.
Do All VPNs Offer These Features?
As VPNs grew in popularity, so did their numbers. There are a lot of brands nowadays, but not all of them offer the same features. Free VPNs, for instance, are never a good option if your objective is privacy, anonymity, and security.
For one, they make money by collecting your sensitive data and selling it to Third parties. The information includes your IP address, browsing history, and the websites you visit. Advertisers pay top dollar for such info as it helps them deliver targeted ads based on user preferences.
Furthermore, a lot of free VPN use weak encryption algorithms, or sometimes none at all, while some may also contain malware. And when it comes to unblocking, these services have limited capabilities and mostly don't work with Netflix, BBC iPlayer, and the rest of the lot.
With all that in mind, we recommend that you avoid free VPNs and subscribe to premium ones instead. You can check out our best VPN picks in 2020.
---
The VPN Market in 2020 – Final Words
Most VPN service providers have less than ten years of company history, which is both strange and a reminder that the VPN market is still maturing.
Current market trends indicate that the global VPN market is poised for steady growth in the next few years. Of course, consumer sentiment may change if some VPN providers continue to log your data and sell it to third parties. But as I just stated, each product has its good and bad apples, so choose wisely.
Which VPN service would you consider using? Leave us a comment in the box below.