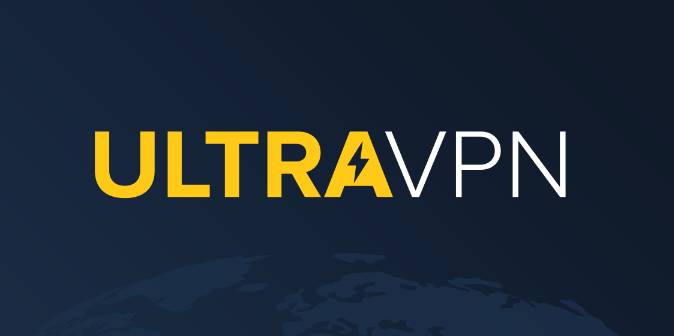 Network Protect is a company that develops tools to protect your online security. It launched in 2018 and took the UK South Coast as its headquarters. The product range features three VPNs: PrivacyWeb, SafeVPN, and the "flagship" UltraVPN, which rolled out in August 2018.
UltraVPN claims it offers all the benefits of a premium VPN, including top privacy and security, unlimited Internet access, and speed. And according to the website, it has a presence in over 50 countries, covering every continent, including Antarctica. That's right! UltraVPN has a server in Troll, a Norwegian research station in the South Pole.
On paper, UltraVPN seems like a decent provider, but all VPNs claim to offer first-rate features. Therefore, we used our transparent and unbiased evaluation process to test the service and determine just how good, or bad, it really is.
---
Content Overview
---
| | |
| --- | --- |
| FEATURE | AVAILABILITY |
| Money-back guarantee | 30 days |
| Allowed simultaneous connections | Six devices |
| Supported streaming services | US Netflix, Amazon Prime Video, Hulu, BBC iPlayer |
| No-logs policy | Available (keeps data logs) |
| Encryption | AES with 256-bit keys |
| Protocols | Hydra and IKEV2 |
| Special features | Firewall (Kill switch) and unlimited bandwidth |
| Customer support | Email and 24/7 live chat |
| Server locations | 100+ servers in 80+ countries |
| P2P support | Yes |
| Server switches | Unlimited |
| Data traffic | Unlimited |
| Compatible devices | Windows, Mac, iOS, and Android |
| Smart DNS proxy | Not available |
| Legal Jurisdiction | the UK (part of the Five Eyes alliance) |
| Free trial | 7 days |
---
UltraVPN Early Pros and Cons
If you want a quick overview on what UltraVPN can provide without going through every detail, here's everything you need to know in a nutshell.
UltraVPN is a product of Network Protect, a UK-based company that develops cybersecurity tools like VPNs. The country is part of a global alliance of intelligence agencies called Five Eyes, which collects user data from companies inside its jurisdiction. These nations also share information with each other.
But VPNs have zero-logs policies to prevent government entities from acquiring any data that can identify or locate you. UltraVPN claims not to store sensitive information. Yet, when we examined its privacy policy, we discovered that it actually does. It also shares the data with its partners. On the bright side, the VPN uses military-grade encryption to keep Internet service providers from monitoring your online activities.
Furthermore, UltraVPN offers a feature called Firewall, a kill switch that disconnects you from the Internet if the VPN malfunctions. As a result, your traffic won't leak to your ISP's servers.
The company has a presence in over 80 countries across every continent, including Antarctica. But the 100+ servers it offers aren't near enough what other VPNs provide. You can still unblock all the major streaming platforms, however, including US Netflix and BBC iPlayer. Some servers "arguably" support P2P activities. Speed rates aren't that great, though.
Furthermore, UltraVPN has a 24/7 customer support service with a live chat feature. It offers a 30-day refund policy and allows up to six simultaneous device connections per account. You can install the app on iOS, Android, Windows, and Mac.
Pros
Military-grade encryption (AES-256).
Firewall: Kill switch.
7-day free trial.
Unblocks major streaming platforms.
Six simultaneous device connections.
Servers in 80+ countries.
30-day money-back guarantee.
Round-the-clock customer support (with live chat feature).
Compatible with major operating systems.
Unlimited bandwidth.
Affordable.
Cons
UK headquarters.
Data logging.
Slow to average speeds.
No P2P support.
Light on features.
Credit card payment not available everywhere.
---
Interface and Design
Before testing UltraVPN's apps, we visited the website to see the information on display. We thought it was well-designed and easy to navigate, with all the VPN features clearly explained. The homepage included the main UltraVPN benefits like privacy and security, unlimited Internet access, speed, and server network.
You'll also find a live chat button at the bottom right of the page that allows you to contact customer support quickly. Moreover, there are plenty of shortcuts at the top and bottom of the home screen. They provide detailed information about features, pricing, server locations, privacy policy, and supported apps.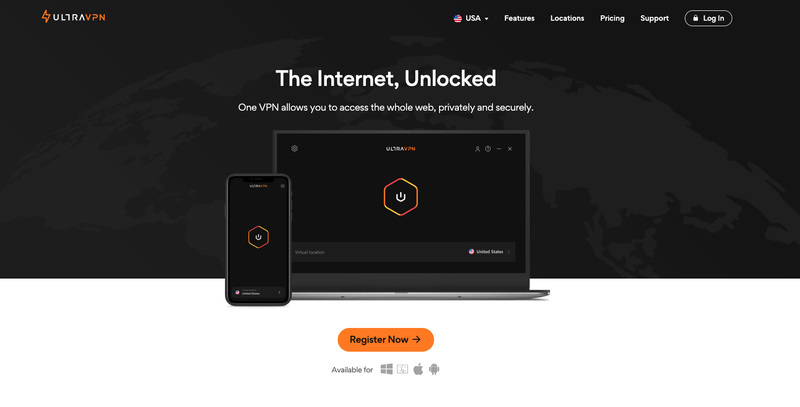 Mac Client
We first tested UltraVPN's Mac app, which was well designed and easy to use. After you sign in, you'll see a connect button in the middle of the home screen, with your VPN status directly underneath it. Below it, Ultra VPN will display your actual IP address, along with a VPN server location. If you wish to switch to another server, simply click on the arrow to open the full list of destinations.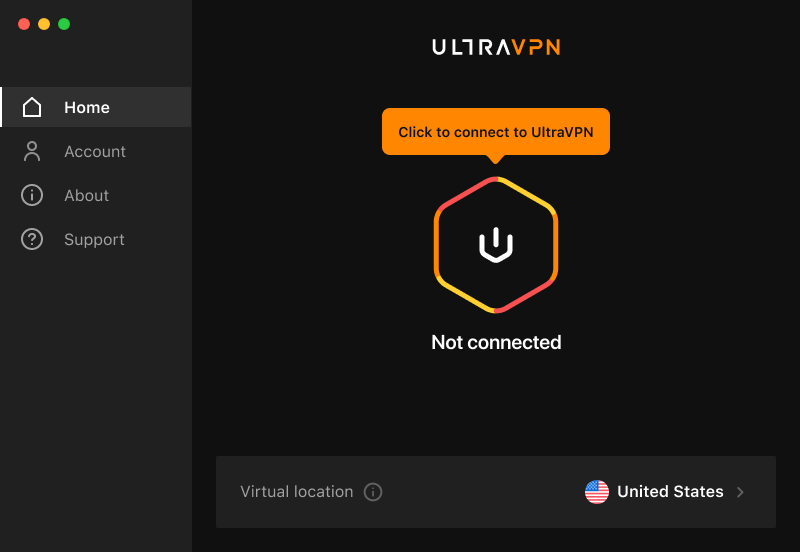 Moreover, UltraVPN allows you to activate a Firewall, the equivalent of a kill switch, directly from the home screen. And to customize the app to your liking, click on the gear icon at the top right. There, you can check out account information, choose your preferred language, select a VPN protocol, and change the Firewall from manual to automatic connection.
Android App
We tested UltraVPN's Android app because many users connect to a VPN from their mobile devices. The application differs a bit in terms of design, but it is still easy on the eyes. However, it freezes for significantly long periods and sometimes malfunctions completely. The home screen features a connect button with a server location below it. When you click on the latter, the full server list opens.
If you wish to customize the app or activate certain features, tap the settings icon at the top right. From there, you can log out, change languages, enable automatic launch, and activate the kill switch. But unlike the Mac client, the only VPN protocols Hydra and IKEv2.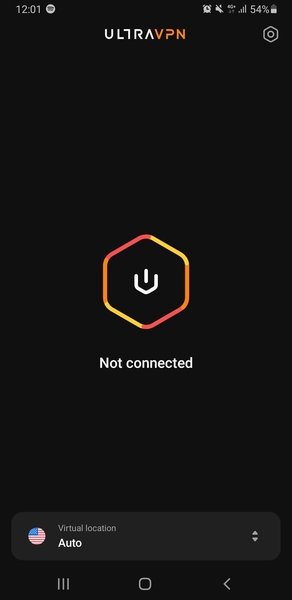 The UltraVPN app earned an excellent 3.7/5 rating on Trustpilot, with most users praising functionality. On the App Store and Play Store, It also scored a good-to-average score of 4.5 stars on the first, and 3.6 on the latter. Most users complained about how the app freezes and stops working, the same issues we faced when testing it.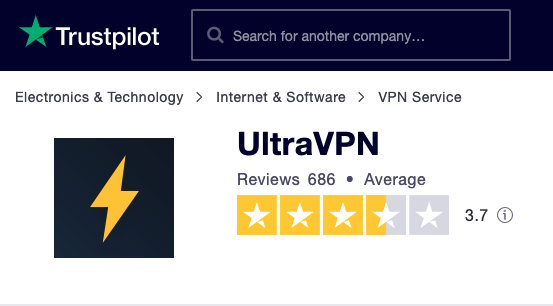 Therefore, we advise UltraVPN to quickly address this matter because the mobile apps on both Android and iOS are sometimes completely ineffective.
App Compatibility
You can install UltraVPN on all the major operating systems, which are iOS, Android, Mac, and Windows. This is the minimum requirement from VPN providers nowadays. Some brands have dedicated apps for Linux and Kindle Fire devices. And just like any other VPN, UltraVPN is not compatible with routers, gaming consoles, or Smart TVs.
Moreover, the VPN only allows up to three simultaneous device connections, which is below the industry standards. Most VPNs offer at least five concurrent connections per account. Still, you can protect your phone, tablet, and computer with UltraVPN.
---
UltraVPN Server Network
Virtual private networks help users bypass online restrictions by making them appear elsewhere. To do so, VPNs must operate a broad server network that covers key locations around the globe. Now, UltraVPN does not have a large number of servers, but it has a presence in over 80 countries, which is pretty decent. It even has a VPN server in Antarctica.
According to the website, UltraVPN has more than 100 servers spread across every continent. However, some of them are offline, like the ones in Slovenia and Luxembourg.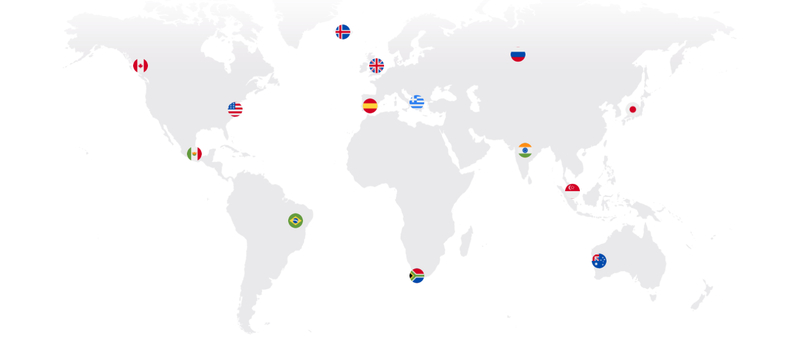 ---
Speed Tests
This may be new to you, but VPNs consume a bit of your connection due to the rerouting process and data encryption. But reputable services make sure the speed drop remains minimal so that you can enjoy the best online experience. Providers with slow servers will most likely get replaced.
Therefore, we needed to test UltraVPN's effect on our Internet speed. To do so, we connected to several servers, near and far, to see if we can maintain acceptable rates.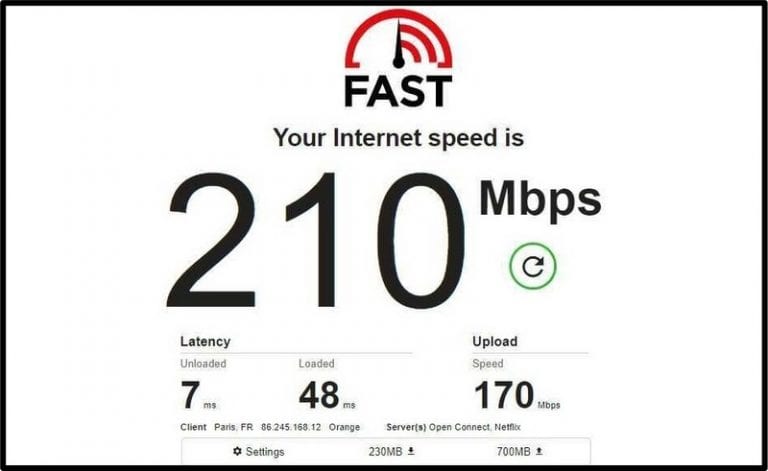 Before connecting to an UltraVPN server, we measured our connection speed to see how much the VPN would affect it.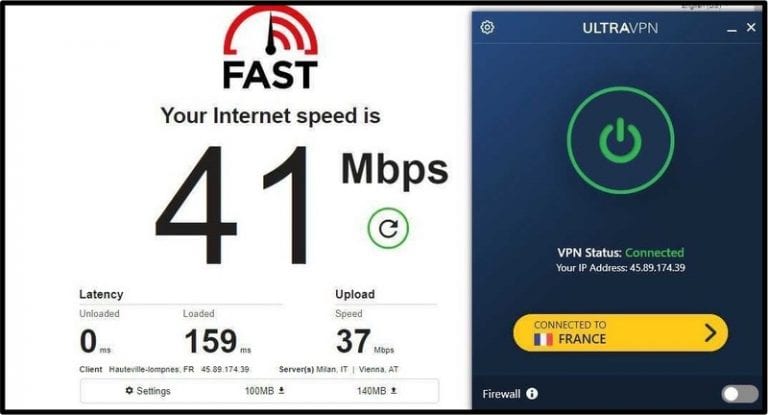 We first connected to a server near our actual whereabouts. As a result, we didn't expect speed levels to drop by much because we were close to the server's physical location. But much to our surprise, speed took a massive hit.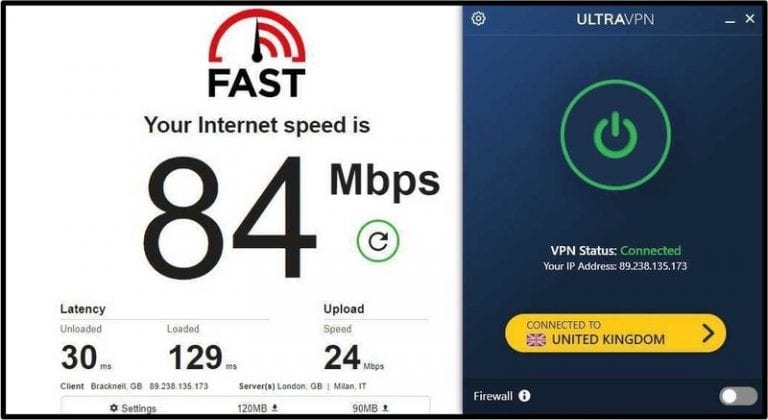 Next, we opted for a server that's a bit further than the first one. We also picked a server from the UK because it is home to popular streaming services like the BBC iPlayer and has a lot of expats worldwide. Surprisingly, speed improved, but remained at low levels.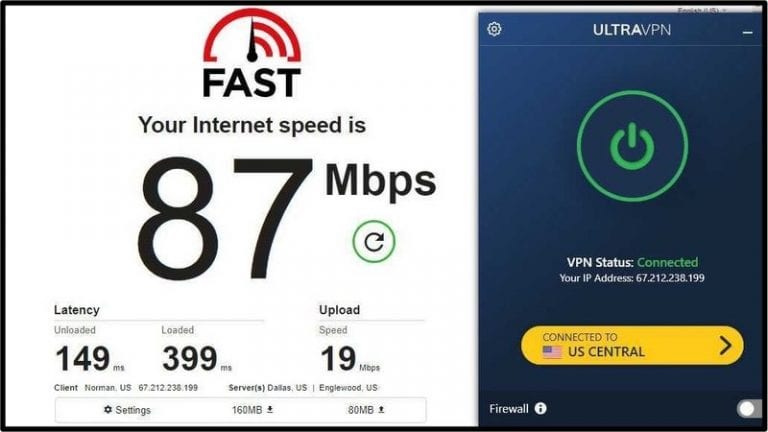 UltraVPN registered its highest speeds when we connected to the most distant server. Several streaming platforms like Hulu and ESPN+ are US-restricted, which is why we had to connect to an American server. We expected worse results, considering the VPN performed poorly with nearby servers. Now, speed did decrease by more than half, but given the distance, it wasn't that bad.
Is UltraVPN Fast?
The UltraVPN speed results were bizarre, to say the least. VPNs usually perform much faster when you connect to nearby servers. But in UltraVPN's case, it was the opposite. Our Internet speed witnessed an 80% drop when we connected to a French server. Even the best score featured a 58% hit, which is slow in comparison with other providers.
---
Is UltraVPN Good for Streaming?
Due to licensing agreements and broadcasting rights, streaming platforms cannot showcase their content in every region. That is why they use geo-blocking technology to prevent out-of-market viewers from watching online. Streamers and cord-cutters started using VPNs to circumvent these restrictions and stream shows from abroad.
But some of these services can detect if users are logging in using a VPN IP address and subsequently block them. Still, certain VPNs that can avoid detection. Is UltraVPN one of them? Definitely.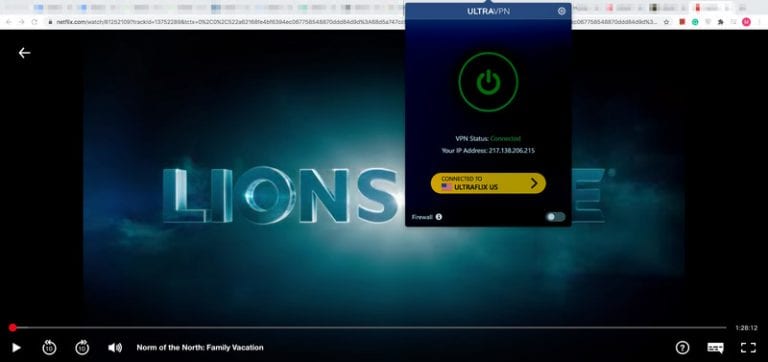 The VPN has dedicated servers for streaming called Ultraflix. We connected to Ultraflix US to see if it can unblock the most popular American-restricted streaming platforms. We were able to access Netflix USA, Amazon Prime Video, and Hulu from the first attempt.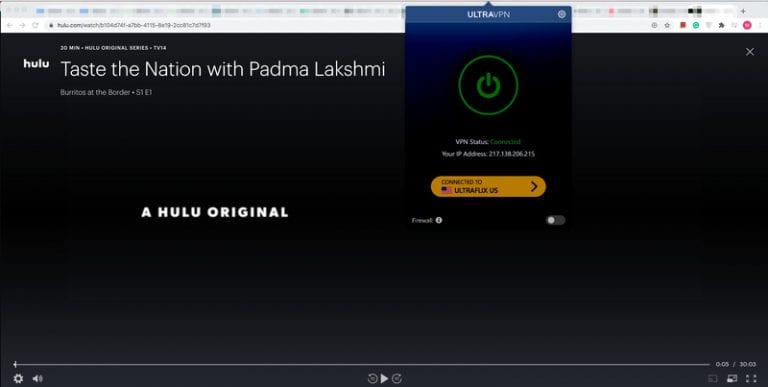 Then, we used another streaming-customized server, Ultraflix UK, to access BBC iPlayer from overseas. And even though the service has stern geo-blocking capabilities, UltraVPN managed to bypass them and deliver our favorite shows from outside the UK.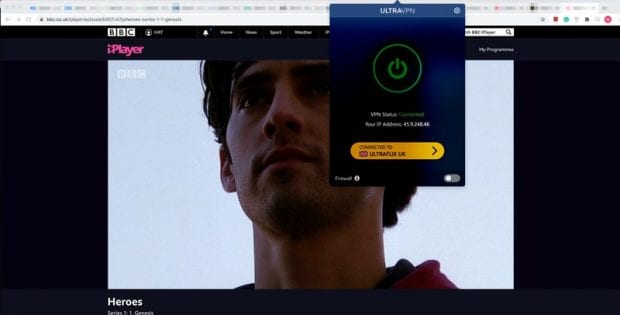 No Smart DNS Proxy
Bypassing geo-blocks isn't just a VPN specialty. Smart DNS proxies can also accomplish the same feat by rerouting only the location part of your traffic. They can't unblock every streaming platform. Instead, each service has a list of supported channels. Moreover, they can't protect your online privacy with data encryption or IP switching and concealing.
Nonetheless, several people prefer Smart DNS proxies because they don't slow down your Internet connection. You can also set them up on any device, including routers, Smart TVs, and gaming consoles.
However, UltraVPN does not offer a Smart DNS proxy service. We couldn't find any sign of this tool in the feature list, so we contacted customer support, who verified that the service isn't available.
---
P2P Support
People who like to download free movies, series, songs, and books using peer-to-peer networks could really benefit from a VPN. In fact, we advise you only to do so when connected to a VPN server. This tool protects you from legal action from copyright holders, which could result in the termination of your Internet connection, fines, and in some rare cases, imprisonment.
VPNs also conceal your IP address over the P2P network so that other peers cannot determine who you are or where you're from.
According to the website, all UltraVPN servers support torrenting, except India and South America. But on the Mac app, it is exactly the opposite – Only the Indian and South African servers allow P2P activities. And to add to the confusion, customer support told us that UltraVPN servers don't even support torrenting.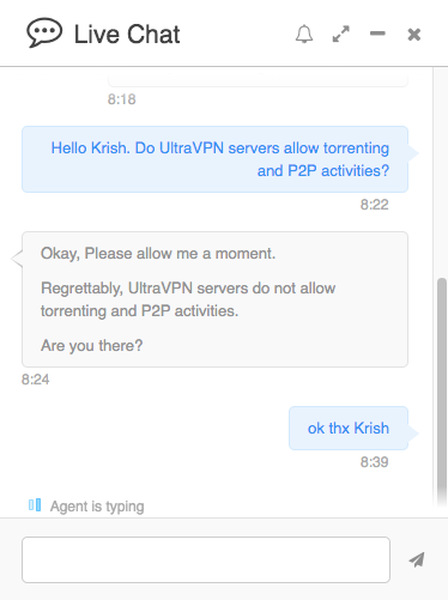 ---
Security and Privacy
A VPN's main job is to maintain your online security and privacy using first-rate features. But if you're new to the VPN scene, it's important to know that each service offers different perks. Yet, there are several industry standards that every reputable VPN provides. And when we say reputable, we usually exclude free brands because they collect user data and sell it to online advertisers. They also don't use military-grade encryption.
So, where does UltraVPN rank in the privacy and security department? Here's everything you need to know.
Company Headquarters
UltraVPN is a product of Network Protect, a company based in the United Kingdom. The country is part of a data-gathering alliance called Five Eyes. It features government agencies from the US, UK, Canada, Australia, and New Zealand. Their primary focus is to monitor the web, collect user information from companies inside their jurisdiction, and share it with each other.
Other nations later joined this coalition to form the Nine and 14 Eyes, which consist of:
Nine Eyes: Five Eyes countries, plus Denmark, France, Netherlands, and Norway.
14 Eyes: Nine Eyes members, plus Belgium, Germany, Italy, Spain, and Sweden.
In other words, UK authorities can demand UltraVPN to hand in any information it has on a particular customer, and the VPN must comply.
No-Logs Policy
Although it's preferable if VPNs are headquartered in privacy-haven countries like the British Virgin Islands, many reputable services are inside intrusive territories. They can still safeguard your privacy, though, thanks to strict zero-logging policies. It means your provider will eliminate activity logs and any data related to your identity or location.
According to the website, UltraVPN follows a no-logs policy. But after taking a look at its privacy policy, we found a lot of discrepancies. For example, the company blatantly says that it might collect your IP address and other unique device identifiers. It also states that it will store your Personal Information as you use its services.
"We may collect information about the device you access the Services from, such as the IP address or other unique device identifiers."

UltraVPN
Furthermore, UltraVPN may share your data with third parties like law enforcement agencies or its partners.
---
Military-Grade Encryption
UltraVPN does not compromise on encryption. It uses the most secure algorithm in the industry: the Advanced Encryption Standard (AES) with 256-bit keys. The NSA and other government agencies around the world implement it to protect classified files.
Hackers, ISPs, and the authorities must go through trillions of possible combinations to decrypt AES-256. That means the world's supercomputers must run together for millions of years, which is so far impossible.
Kill Switch and Leak Protection
Another valuable privacy asset that every VPN must provide is the kill switch, or in UltraVPN's case, the Firewall. This feature ensures there are no data leaks in case the VPN connection drops all of a sudden. It disconnects your device from the Internet so that your traffic doesn't travel through your ISP's servers where it can get compromised.
We also tested UltraVPN for any potential IP address leaks by connecting to an American server, then using our own tool to see which IP is on display. As you can see, UltraVPN hid our actual IP address and changed it to match the Dallas server we connected to.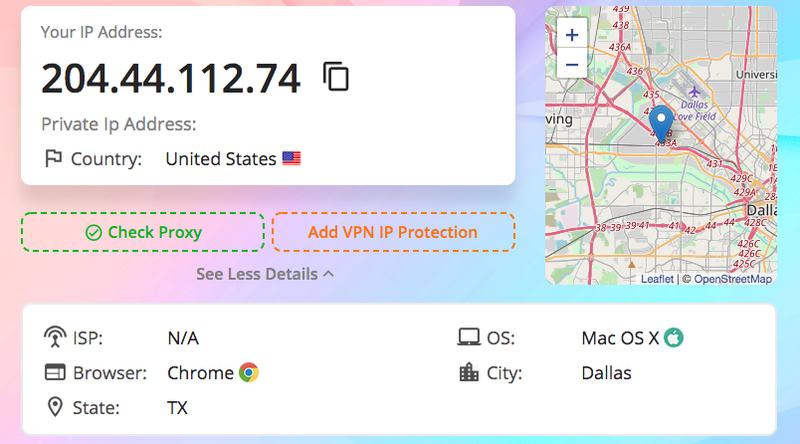 We then checked for WebRTC leaks by using another one of our tools. And although the below results indicate a potential leak, the IP address on display matches the American one UltraVPN gave us. It shows no leak to our actual IP address, and thus, our location and identity.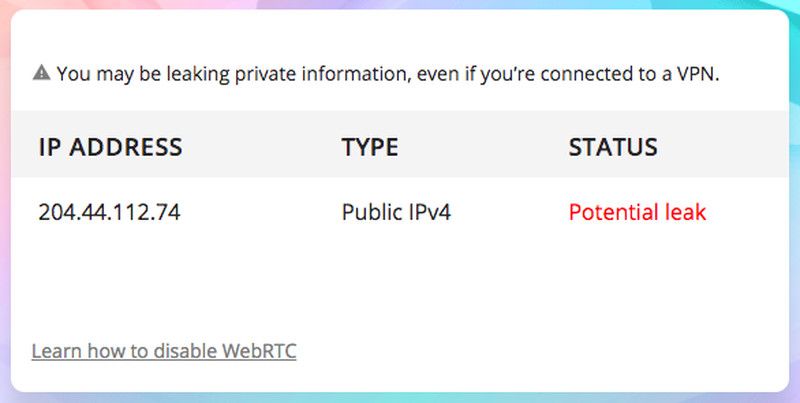 Warrant Canary
Since VPNs conceal everything you do online, they can be on the receiving end of warrants and subpoenas. Government agencies send them letters requesting user data related to a particular investigation. Not only do VPNs have to comply with the demand, they aren't allowed to disclose its nature with customers due to the gag order.
Therefore, in an effort to notify users, some providers set up warrant canary pages on their website. If the page is taken down, then the VPN received a subpoena or letter from the government. The idea comes from miners who took canaries down to the mine. In case there's a gas leak, the birds would die long first due to their small lungs, and the workers would know they must evacuate.
UltraVPN does not have a warrant canary page, which means users cannot know if their data is shared.
Independent Auditing
For transparency purposes, reputable VPNs hire independent auditing firms to examine their system and code. The auditors inspect whether the VPN's privacy claims are valid, especially the part about collecting and storing data. They also check for any leaks or security breaches. Once the audit is complete, the VPN publishes its findings to the public.
There are no independent audits from UltraVPN, although it should seriously consider the option given its confusing zero-logs policy.
---
Customer Support
Since not all VPN users are tech experts, problems and questions could arise. That is why a responsive and knowledgeable support team is always an important feature.
UltraVPN clearly seeks total customer satisfaction as it allows users to reach via email, ticket, telephone, and live chat. It even has an extensive FAQ section filled with helpful articles and guides. But despite all these methods, our experience wasn't very pleasant. We used the live chat feature thinking it would be the quickest way to get answers. Response time wasn't as fast as we hoped, and the employee didn't seem very well-informed, even though our inquiries were simple.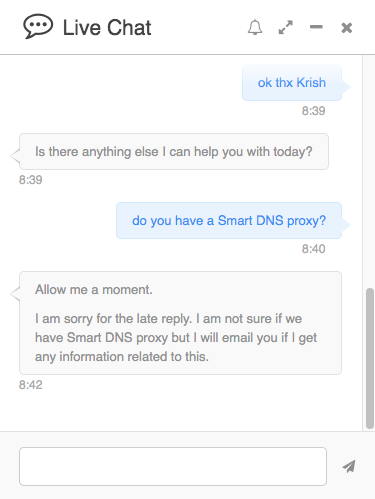 Languages
The UltraVPN website allows visitors to choose between three different languages: English, German, and French. As for the app, it is available in several other languages, including Danish, Dutch, Italian, and Portuguese.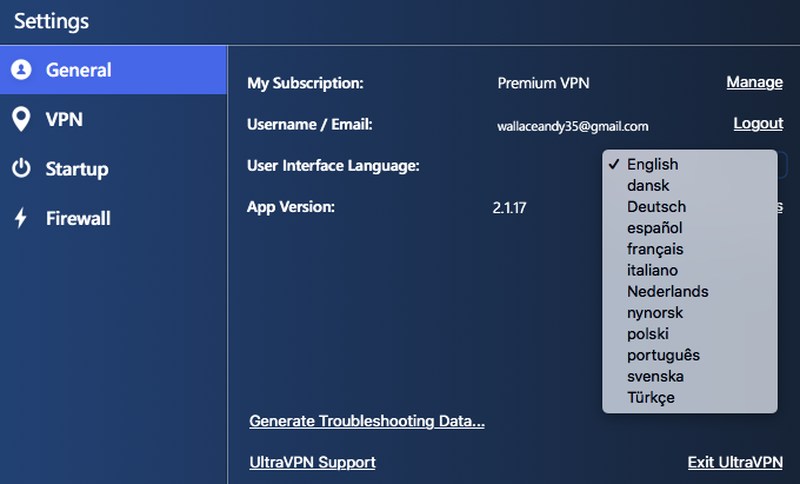 ---
Is UltraVPN Expensive?
For some people, pricing is a make-or-break factor when deciding on a VPN provider. Even if there are plenty of top features on offer, they might dismiss it if it's too expensive. But in our opinion, a pricy VPN service is better than a free one because it will most likely offer better protection and performance.
UltraVPN is an affordable VPN, although prices are a bit confusing. When we clicked on the pricing button, the VPN offered three subscription plans:
One month: $6.99
Six months: $29.95 ($4.99/month)
12 months: $35.88 ($2.99/month)

Obviously, you can save up to 50% if you subscribe to the long-term plan. The pricing is good, especially for those on a budget.
Refund Policy and Free Trial
UltraVPN's Android app allows users to test it for free during the first seven days. However, you must submit your credit card information. In addition to the one-week free trial, UltraVPN offers a 30-day money-back guarantee. Therefore, if you end up dissatisfied, you can claim your money back.
Payment Methods
Confusion was a repetitive theme during our review of UltraVPN, and it was no different here. After selecting a subscription plan, the only payment option that was available on the website was PayPal. It was the first VPN service we've tested that didn't allow the credit card option. Therefore, we used a different VPN service to connect to a US server, refreshed the page, and voila! The credit card payment system was available.

We don't know why an industry-standard method like credit cards is restricted to certain regions, but UltraVPN needs to expand that list. Other VPNs support gift cards and cryptocurrencies.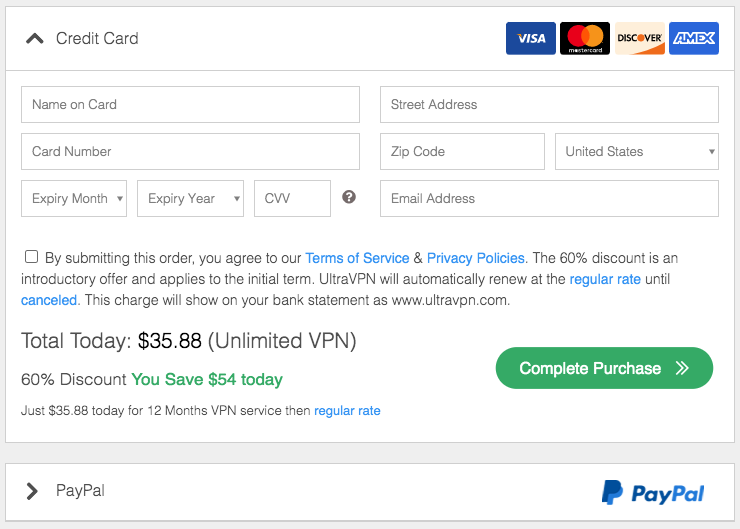 ---
The Final Verdict on UltraVPN
Throughout the entire review, UltraVPN's scores were hit-or-miss. It offers military-grade encryption, a kill switch, a 7-day free trial, and 30-day refund policy. It can also unblock pretty much every streaming platform and is compatible with major operating systems.
However, despite saying it supports P2P activities and follows a no-logs policy, a more in-depth examination shows that is not the case. UltraVPN is also located in the UK and has a small number of servers, which provide slow speeds. Moreover, it only allows three simultaneous device connections, and credit card payment isn't available everywhere.
Therefore, we advise you to ignore UltraVPN and subscribe to a premium provider with more top features.
Do you think UltraVPN is worth the trouble? Let us know below.