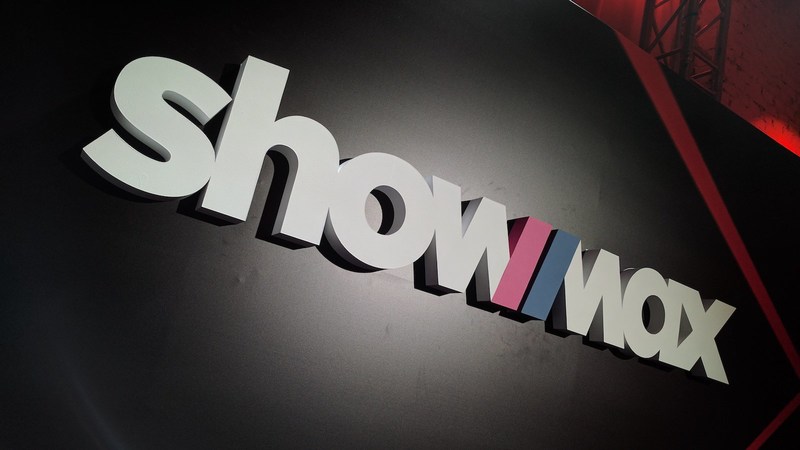 Netflix may be the streaming king of the hill, but in some countries like South Africa, competition is stiff. Showmax, for instance, is a very popular platform in the country, offering content from Hollywood, Britain, and Africa.
However, Showmax is available in selected locations, with its best catalog being for South African residents.
Therefore, to get the best experience, you need an RSA IP address. And according to our tests, only BulletVPN gives you a reliable IP number.
Unblock Showmax Everywhere – Quick Steps
Time needed: 5 minutes
To unblock Showmax in your region, the following steps should be taken:
Subscribe to a VPN service.

We recommend using BulletVPN, as it's the only provider that managed to access Showmax overseas.

Get the VPN application.

Download and install the BulletVPN app on your device.

Activate the VPN client.

Sign in with your BulletVPN username and password.

Connect to a server in South Africa.

This process will provide you with a South African IP address.

Launch Showmax's website or app.

Sign in with your Showmax credentials.

Enjoy Showmax anywhere.

Watch Showmax wherever you are.
---
Content Overview
---
Showmax from Abroad and Geo-blocking
You can access Showmax from over 65 countries across Africa, Europe, and the Asia/Pacific region. However, the content may differ depending on your location.
Due to licensing agreements, Showmax cannot offer the same programs in every country, as those rights may belong to another service.
Therefore, the South African catalog features the widest selection of movies, series, reality TV shows, and original programs.
And what about those who live outside Showmax's broadcasting region? Well, they will encounter a location error message as soon as they open the streaming service's website:
"Showmax is not yet available in the United States."
That's all she wrote, basically. You won't be able to access anything if you live abroad.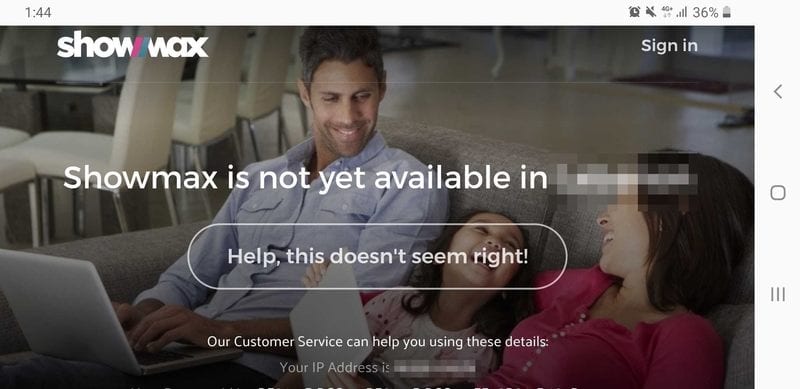 Showmax is able to determine your location using your IP address. In fact, it will display your actual IP just underneath the geo-error message.
IP addresses help web services determine your digital identity and approximate location. They won't be able to pinpoint your street or building, but they can narrow it down to city and country. And that's more than enough to block you from accessing their content or limiting what you see.
Each country has a set of designated IP addresses that Internet service providers distribute to users. Most ISPs give customers one IP to connect to the Internet, but some of them offer different ones each time you go online. Nonetheless, these numerical labels help Showmax discover where you are and subsequently block you.
---
Unblock Showmax with a VPN
The only way to access Showmax from abroad is by tricking it into thinking that you are inside its broadcasting region. To do that, you need a virtual private network, better known as a VPN.
This tool reroutes your Internet connection through its own server network. It allows you to choose your target location, then sends your traffic through the server you selected.
Furthermore, it changes your IP address as soon as you connect to the VPN server, making it appear as if you are somewhere else.
Your new IP address will match the location of the VPN server. In other words, if you connect to a server from South Africa, you'll get a South African IP address. As a result, Showmax will think that you are inside the country and give you access to its content.
Bypassing geo-blocks is a key VPN feature. But hiding and changing your actual location isn't the only thing VPNs can do.
These tools are excellent for privacy and anonymity as well. You see, when VPNs reroute your traffic, they send it through an encrypted tunnel so that no third party can monitor what you do. They also don't keep records of your online activities.
Key VPN Features
There are hundreds of VPN services on the market nowadays. But just like any other product, not all of them are the same.
Only premium brands offer top-tier features, and these VPNs cost money. Still, it's a small price to pay to protect your online privacy and data.
So before you subscribe to the first VPN service you come across, make sure it has the following features first:
Zero-logs policy: Reputable VPNs don't collect, store, or share your sensitive data. Their servers eliminate information like IP addresses, browsing history, web destinations, and connection timestamps.
AES-256 encryption: There are several encryption algorithms out there, but the most secure one to date is AES with 256-bit keys. It prevents ISPs, hackers, and government agencies from monitoring your online activities.
Kill switch: Top VPN services always prepare for the worst. They offer a kill switch that terminates your device's Internet connection if the VPN malfunctions. As a result, your traffic won't leak to your ISP's servers.
Unblocking capabilities: Having a broad server network alone isn't enough for bypassing geo-blocks. Some web services, like streaming platforms, ban VPN IP addresses, preventing you from viewing their content. Premium VPNs, however, can unblock the likes of Showmax, Netflix, and BBC iPlayer.
Fast speed rates: If you're using a VPN to stream your favorite shows on Showmax or other similar platforms, you need a VPN with speedy servers. Otherwise, you'll face buffering issues.
How to Install a VPN and Unblock Showmax
VPN apps are compatible with the majority of operating systems. That means you can easily install them on almost any device.
Of course, each VPN brand offers different device compatibility, but one thing is for sure, no VPN has tailor-made apps for gaming consoles or Smart TVs.
That is why the majority of elite VPNs offer a Smart DNS proxy solution. This tool only reroutes the URLs that expose your location without tampering with the rest of your connection.
It won't change your IP address or encrypt your traffic. However, you can set up Smart DNS on pretty much any device, including smartphones, laptops, tablets, routers, smart TVs, PS4, and Xbox.
---
Best VPN for Showmax
If you're a VPN beginner, choosing the right service can be challenging. But if you abide by the must-have features that I stated earlier, you'll be able to narrow down your choices by a great deal. Still, that requires a fair share of research on your part, which can be a bit time-consuming.
Therefore, if you're in hurry, we rounded up the best VPN services for unblocking Showmax, all while maintaining your security and privacy.


30-Day Money-back Guarantee
Unlimited Bandwidth
Apps For All Your Devices
24/7 Live Support
Visit BulletVPN
BulletVPN

BulletVPN is a reliable VPN service you can count on to watch Showmax. In fact, it is one of the few providers that can still outmaneuver its tricky geo-blocks, as well as the ones of DStv, Kayo Sports, and TVNZ. The company is based in Estonia, outside privacy-intrusive jurisdiction. And just like ExpressVPN and other elite counterparts, BulletVPN uses the AES-256 encryption algorithm and follows a strict zero-logs policy.
And the kill switch comes with a unique feature called BulletShield. You can only activate the latter in conjunction with the kill switch from the app settings. BulletShield will prevent your device from connecting to the Internet unless you're using a BulletVPN server.
Now, the company does not have a wide server network as other VPNs, but they strategically cover key regions all over the globe.
That includes South Africa, the US, Canada, most of the European countries, Australia, and more. You'll also enjoy fast speed rates, ideal for streaming Showmax programs.
Additional features include six concurrent device connections, a smart DNS proxy, round-the-clock customer service, and a 30-day money-back guarantee.
Learn more about this VPN in our BulletVPN review.
AES-256 encryption.
No-logs policy.
Kill switch + BulletShield.
Fast speeds.
Unblocks streaming platforms.
Allows torrenting and P2P.
Free Smart DNS.
30-day refund policy.
Six simultaneous device connections.
24/7 customer support.
---
Avoid Free VPNs
A lot of readers will be wondering whether they can use free VPNs to unblock Showmax or other services. And the answer is yes; there are plenty of VPNs that cost nothing. However, they still come at a hefty price.
Ironically, free providers violate your privacy by collecting your sensitive data and selling it to third parties. That includes your browsing history, IP address, and the websites you visit. They share this data with advertisers so that they can deliver targeted ads. Free VPNs also endanger your security as some of them contain malware directly in their software or through ads.
Moreover, they won't do you much good when it comes to bypassing geo-blocks. Most of these brands can't get past the VPN blacklisting, so Showmax and the majority of streaming will remain off-limits. Besides, free VPNs have a limited server network that is often slow and overcrowded with users.
In short, we recommend you avoid free VPN services because they do you more harm than good.
---
Showmax Unblocked – FAQ
If you want to know more about Showmax and what it has to offer, make sure you give this FAQ section a quick read:
Showmax is a product of MultiChoice Group, Africa's biggest pay-TV provider by number of subscribers.
It is a standalone VOD service that allows cord-cutters to watch shows and movies without any cable subscriptions or contracts.
Where is Showmax Available?
Showmax is available in various countries around the world. Those include:
| | | |
| --- | --- | --- |
| South Africa | Germany | New Zealand |
| Australia | Greece | Norway |
| Austria | Indonesia | Portugal |
| Belgium | Ireland | Malta |
| Denmark | Italy | Spain |
| Finland | Luxembourg | Sweden |
| France | Monaco | Switzerland |
| Iceland | Netherlands | United Kingdom |
What Can I Watch on Showmax?
Showmax offers more than 10,000 hours of quality content, from Hollywood blockbusters to local originals.
Libraries differ depending on your country of residence, but the widest selection is inside the South African catalog.
You'll find content in English, Afrikaans, isiZulu, Kiswahili, Sepedi, Setswana, Sesotho, and isiXhosa.
Succession
His Dark Materials
Game of Thrones
Big Little Lies
Westworld
The Handmaid's Tale
Younger
Tali's Wedding Diary
The Girl from St Agnes
Trackers
Cloak & Dagger
The Real Housewives of Johannesburg
Die Spreeus
Harlots
Burden of Truth
What Devices Can I Watch Showmax On?
In addition to its affordable pricing and rich library, Showmax is compatible with almost any operating system. You can do it online via the website or app on the following devices:
iOS
Android
PC
Mac
Chromecast
Apple TV
DStv Explora
Xbox One
PlayStation
Smart TVs
Unblock Showmax Outside South Africa – Final Thoughts
Showmax delivers content straight out of the top drawer. From international award-winning shows and movies to local original programs, this South African streaming platform has it all. I
t is also available in more than 65 countries across different regions, yet the South African catalog is the richest.
Therefore, if you live outside South Africa or Showmax's broadcasting region, you need a VPN to change your IP address.
But make sure you use a premium provider to avoid privacy leaks, speed issues, and unblocking failures.