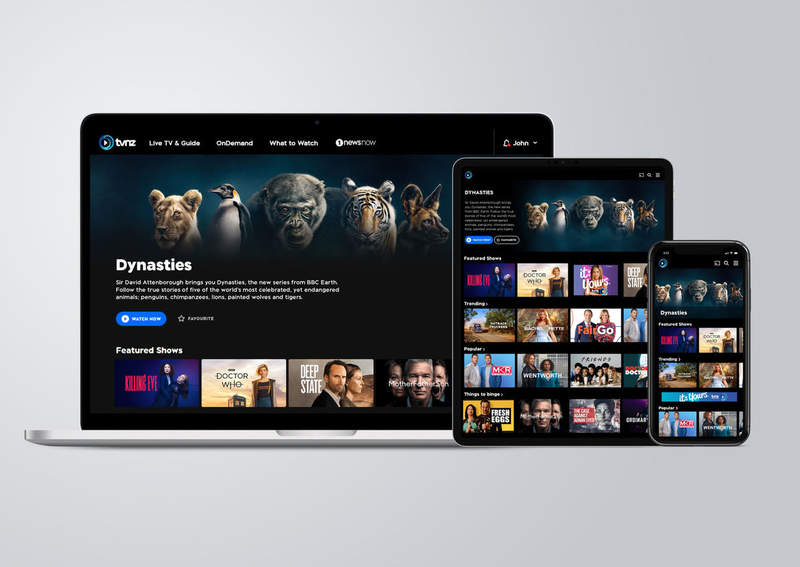 Each region has its share of local streaming platforms, like TVNZ, which is only available in New Zealand. Not only does the service feature entertaining content, but it's also free.
That's right! You can stream shows like The 100, The Nest, Weeds, and Killing Eve without paying a single dollar.
However, you need to be inside New Zealand to access TVNZ. Otherwise, a location error message will pop up on your screen instead.
But you don't have to worry about all of that. A reliable VPN like BulletVPN will help you bypass TVNZ geo-blocks no matter where you are.
---
Unblock TVNZ Anywhere – The Steps
Time needed: 4 minutes
TVNZ can be easily unblocked outside New Zealand. All you have to do is follow the steps below:
Subscribe to a reputable VPN service.

Based on a thorough evaluation, we've determined that BulletVPN is the best VPN to unblock TVNZ.

Get the VPN application.

Download and install the VPN app on your device.

Activate the VPN client.

Sign in with your username and password.

Connect to a server in New Zealand.

This step will grant you an IP address in New Zealand.

Launch TVNZ's website or app.

Sign in with your account.

Watch TVNZ anywhere.

Enjoy the best that TVNZ has to offer wherever you may be.
---
TVNZ Only Available in Kiwiland
Any free and safe streaming platform like TVNZ would attract plenty of interest from viewers all over the world.
But unfortunately, subscribing to the service depends on your geographic location. Those who live outside New Zealand will see the following error message when they try to stream a video:
"Whoops! Seems like you're trying to watch from outside of New Zealand. Our videos are only available to watch within New Zealand due to rights issues."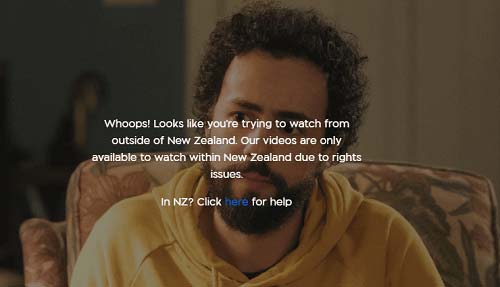 The message is pretty much self-explanatory, but allow us to provide you with more details. TVNZ and every other web service you visit can determine where you are by looking at your IP address.
The latter is a numerical label that is assigned to you by your Internet service provider. It helps the web identify and locate online users.
And since each country has a set of specific IP addresses, it's for TVNZ to determine whether you're inside New Zealand. And anyone who is found outside its broadcasting territories will encounter the above geo-error message.
The reason why streaming platforms like TVNZ enforce content geo-restrictions is because of copyright issues.
They can't show programs everywhere because they have to acquire the rights to do so. Even global services like Netflix have different catalogs depending on where you live.
---
VPN – Solution to TVNZ Problems
Your IP address is the main culprit in preventing you from watching TVNZ on Demand from abroad. But you can't conceal or change it without the proper tools. And the most reliable one is the virtual private network.
Better known as a VPN, this technology reroutes your Internet connection through one of its private servers.
Once you choose your preferred destination, the provider will send your traffic through an encrypted tunnel and then change your IP address to match the server you selected.
That means if you connect to a VPN service that's inside NZ, you'll get a new New Zealand IP address.
This process isn't just handy when it comes to bypassing online restrictions; it also does wonders for your Internet privacy.
Hiding and changing your IP address allows you to mask your actual location and appear to be elsewhere.
Meanwhile, data encryption conceals your online activities from any third party that might be monitoring the web. That includes hackers, government agencies, and even ISPs.
Among the other privacy benefits that VPNs provide is the no-logging policy. Reputable VPN services delete sensitive data like Personally identifiable information (PII), web destinations, and browsing history from their servers in case the authorities or hackers seize them. That way, no one can trace anything back to you.
And for extra safety, VPNs have a built-in kill switch that disconnects your device from the Internet in case they stop working. As a result, your traffic won't leak to your ISP's servers, where they can be compromised.
More VPN Benefits
Alright, so we covered the privacy and restriction bypassing fronts. But what other tricks do virtual private networks have up their sleeves?
No more censorship

: VPNs are really handy in countries with strict Internet regulations. In China, for example, a lot of websites are blocked. But you can access them by connecting to a VPN server from abroad.
P2P support: In some countries, downloading copyrighted material using peer-to-peer networks could get you in trouble with the law. But hiding your IP address and encrypting your traffic will protect you from copyright trolls as long as your VPN supports torrenting activities.
VoIP services: Expats use video-calling apps to contact their family and friends back home without spending any money on international calls. But in some countries like the UAE, popular platforms like Skype and WhatsApp Calling are blocked. With a VPN, however, you can use any VoIP service you want wherever you are.
As you can see from all the above specs, everyone can use a VPN when they go online. In fact, the VPN market has witnessed steady growth over the past few years as users become more privacy-conscious. And since this is a multitasking tool, you must seriously consider getting one.
---
Best VPN for TVNZ
With the growing popularity of VPN services over the last few years, it's easy to understand the surge in the number of providers. There are hundreds of brands available on the market nowadays, but not all can deliver the above advantages.
That's especially true in the case of free VPNs, which are terrible for your online privacy. Unlike paid services, these brands don't follow a zero-logs policy, which means they will collect your sensitive data.
That includes your IP address and browsing history. And the worst part is that they will sell the information to third parties so that they can bombard you with targeted ads.
Some free VPNs also don't use secure encryption algorithms, and sometimes none at all, putting your entire online activities at risk. Moreover, their speed, unblocking capabilities, and server networks are limited, to say the least.
Your best bet is purchasing a premium VPN service. We suggest the below options.


30-Day Money-back Guarantee
Unlimited Bandwidth
Apps For All Your Devices
24/7 Live Support
Visit BulletVPN
BulletVPN

Located in the privacy-friendly jurisdiction of Estonia, BulletVPN offers first-rate privacy features like AES-256 encryption and a zero-logging policy. It also provides a kill switch with an optional BulletShield feature, which will only give you Internet access if connected to a BulletVPN server.
BulletVPN servers are also quite fast, which means you won't encounter any buffering issues when streaming shows or sports in HD. The only problem is that the server network is smaller than what other premium services offer. Nonetheless, the company has a presence in every region in the world.
Furthermore, the service has outstanding unblocking capabilities, giving you access to all the popular streaming platforms. In fact, it is one of the few premium VPNs that can still bypass the geo-blocks that DStv and Showmax impose.
Moreover, BulletVPN offers a free Smart DNS proxy, 30-day money-back guarantee, and six simultaneous device connections per account. It also supports torrenting and P2P activities.
See our BulletVPN review for the full details.
Fast servers.
Military-grade encryption.
Zero-logs policy.
Kill switch + BulletShield.
Best for streaming.
P2P friendly.
24/7 customre support.
Six device connections at the same time.
---
Unblock TVNZ with a Smart DNS Proxy
Virtual private networks aren't the only tools that can bypass geo-restrictions and unblock streaming services.
A less-costly alternative to all of that is the Smart DNS proxy, a tool that only reroutes the location part of your traffic instead of the entire thing. And because your data won't receive any data encryption, your Internet speed won't be affected.
However, you won't benefit from the same privacy features that VPNs offer. Not only is encryption unavailable when you use Smart DNS, but your IP address also won't change. In other words, third parties will be able to know who you are and what you're doing.
Some users don't mind that at all as their only purpose is to unblock TVNZ. But please note that if your ISP uses DNS hijacking or transparent proxies, Smart DNS proxies won't function properly.
Unlocator
Unlike with VPNs, where you have to examine a lot of criteria before subscribing, you only need to remember one thing about Smart DNS proxies – channel support. Always make sure to sign up for a service that can unblock a lot of streaming platforms, like Unlocator.
The latter has a list of more than 220 supported channels, including TVNZ, Disney+, Hulu, HBO, DStv, ESPN+, and DAZN.
You can also register to Unlocator Hybrid, a mixture of a VPN and a Smart DNS proxy, meaning you'll enjoy privacy and unlimited Internet access.
And no matter which subscription plan you choose, you'll benefit from a 7-day free trial, followed by a 30-day refund policy.
Here's how you can watch TVNZ using Smart DNS:
Go to Unlocator and subscribe to the one-week free trial. You won't need to enter your credit card information during that period, just a valid email address.
Check out the setup videos and guides on the website to install Unlocator on iOS, Android, Windows, Mac, Linux, PlayStation, Xbox, Smart TVs, and routers.
Stream your favorite TVNZ shows from anywhere.
---
TVNZ Unblocked – FAQ
Do you want to know more about TVNZ? Make sure you go through the following FAQ section:
Television New Zealand, better known as TVNZ, is a state-owned TV network that began operations in 1980. It remained unchallenged up until 1989, when network Three launched.
But despite competition from the private channel, TVNZ still dominates the Kiwi market with a 43% market share, according to 2019 company figures.
The report also shows that the network reached 1.5 million viewers daily and screened 19 from 20 of New Zealand's top shows.
But the impressive numbers didn't just involve the TV network; they also included the streaming platform TVNZ on Demand. According to the company, the latter recorded 184 million streams, with a weekly audience reach of 360,000.
The service offers on-demand content of the latest local and international hit shows and classics like Friends, Weeds, Scrubs, and Seinfeld. It also allows you to watch live TV through its three channels:
TVNZ 1: Flagship channel with a wide range of programs like news, drama, sport, comedy, and food.
TVNZ 2: Labelled as "the home of entertainment," this channel targets a younger audience with dramas, sitcoms, kids' shows, and reality TV. It features international programs like The Simpsons, The Big Bang Theory, and The Walking Dead.
TVNZ Duke: This channel targets a male audience, featuring programs like live sports, as well as comedy and drama series.
The streaming service is free for New Zealand residents.
What Can I Watch on TVNZ?
There's a reason why Television New Zealand is the number one TV network in the country. Besides the fact that it offers a free streaming service, it has a lineup of local and international hit shows.
That includes the latest programs and classic series, and they are available on TVNZ on Demand.
Here's what's in store when you subscribe to TVNZ:
The Luminaries
Snort: Live
One Lane Bridge
Shortland Street
The Bad Seed
Boy
The Dead Lands
Zombody Save Me!
Alibi
Anika's Naughty Shorties
Black Sheep
Survive the 80s
Wellington Paranormal
The Nest
The Bachelor US
Alex Rider
Bodyguard
Eagle vs Shark
Flack
Freefall
Friends
Seinfeld
Weeds
The Mentalist
Scrubs
The Big Bang Theory
What Devices Can I Watch TVNZ on?
You can take TVNZ with you no matter where you go. The app is compatible with multiple operating systems, meaning you won't miss any of your favorite shows.
PS4
PS3
Xbox One
iPhone
iPad
Android
Windows
Mac
Can Any VPN Unblock TVNZ?
Based on our thorough evaluation, only BulletVPN managed to unblock the channel abroad.
---
Watch TVNZ Outside NZ – Final Words
TVNZ on Demand should be high on your list of streaming options, especially if you're a Kiwi expatriate. That's because the service is home to some of the most entertaining local and international shows, and on top of it all, it's free of charge.
You'll need a premium VPN or Smart DNS service to unblock it from abroad, though, due to online restrictions. BulletVPN is our top recommendation.
What do you watch most on TVNZ? Local or international shows? Let us know below.