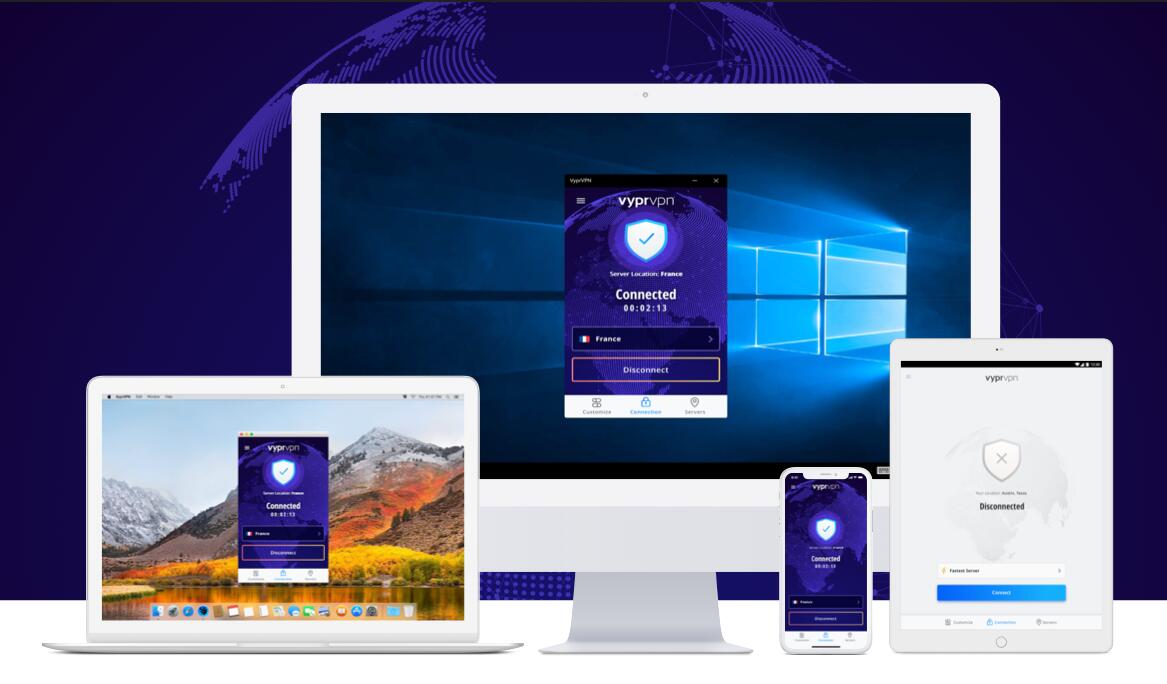 VyprVPN is a product of Golden Frog, a company that provides software and reliable, secure services. It was founded to create tools that help users maintain their privacy and access an open Internet. In fact, it is one of the first online businesses since the dawn of public Internet in 1994.
Golden Frog, and of course its VPN service, is headquartered in privacy-friendly Switzerland. VyprVPN has 700+ private servers in more than 70 locations worldwide. You can use them to unblock streaming platforms, share files on P2P networks, or simply surf the Internet safely and privately.
You see, VyprVPN employs first-rate security and anonymity features. That includes AES encryption with 256-bit keys, a no-logs policy, and a kill switch. It offers even more protection with unique features like Chameleon, VyprDNS, and VyprVPN Cloud. However, the provider has a couple of drawbacks, like inconsistent speeds.
We will discuss VyprVPN's strengths and weaknesses in detail below through a series of unbiased tests. The evaluation process falls under our VPN rating criteria.
---
Table of Content
---
| | |
| --- | --- |
| FEATURE | AVAILABILITY |
| Money-back guarantee | 30 days |
| Allowed simultaneous connections | Five devices |
| Supported streaming services | US Netflix, Amazon Prime Video, Hulu, ESPN, NBC Sports, BBC iPlayer, and more. |
| No-logs policy | Yes |
| Encryption | Military-grade AES 256-bit |
| Protocols | OpenVPN, IKEv2, and Chameleon |
| Special features | Kill switch, VyprDNS, NAT Firewall, and VyprVPN Cloud |
| Customer support | 24/7 customer support with a live chat feature |
| Server locations | 700+ servers across 70+ locations |
| P2P support | Yes |
| Server switches | Unlimited |
| Data traffic | Unlimited |
| Compatible devices | iOS, Android, Windows, Mac, Smart TV, and routers |
| Legal Jurisdiction | Switzerland (outside Five-Eyes domain) |
| Free trial | Three days |
---
The VyprVPN Verdict – Pros and Cons
We rounded up the best and worst bits about VyprVPN early on in case you don't have time to check out every feature in detail. The VPN has a decent network of over 700 servers spread across 70+ countries, providing more than 200,000 IP addresses.
These servers will give you access to the most popular streaming platforms, including Netflix, Hulu, and BBC iPlayer. Furthermore, you can use them for safe and anonymous P2P file-sharing activities. That's because VyprVPN offers privacy and security features of the highest levels. It uses AES 256-bit keys, the most secure encryption on the market, and follows a strict no-logging policy.
Moreover, you'll benefit from unique options like the Chameleon protocol, which prevents VPN blocking, traffic monitoring, and throttling. There's also VyprDNS and VyprVPN Cloud, tools that protect you from man-in-the-middle attacks and add an extra layer of security to your cloud services.
However, there are a couple of drawbacks, like inconsistent speed levels and a lack of a Smart DNS proxy. Still, VyprVPN is a great option to consider for a VPN, as it guarantees privacy, security, and unlimited Internet access.
Pros
Military-level encryption.
No data logging.
Kill switch and DNS leak protection.
700+ servers in 70+ countries.
Chameleon protocol.
VyprDNS and VyprVPN Cloud.
Torrent support.
Ability to unblock Netflix and other streaming platforms.
Up to five simultaneous device connections per account.
30-day money-back guarantee and a 7-day free trial.
24/7 customer service support.
200,000+ IP addresses.
Cons
Expensive monthly subscription fee.
Inconsistent speed levels.
No Smart DNS proxy.
---
Interface and Design
We begin our review with a description of VyprVPN's website, which has a simple but appealing design. The homepage displays the essential features that the VPN provides in an organized manner, as all the information is clear. You'll find info about the service's compatibility, privacy features, server network, and the mother company.
You can also check out every feature in detail by clicking on the shortcut on top of the page. There's also more information about VyprVPN's apps and why you should use a VPN. And if you wish to learn more about pricing, click on the "Save More than 75%" button, which takes you to the registration page.
And the bottom right of the page, you'll find a Support button, which opens the live chat feature with one of the employees.
Desktop Client
First, we tested VyprVPN's desktop client on our Mac device. The app is easy to use and has a clear, simple design. Once you sign in to your account, you'll find a connect button on top of the page with a server location underneath. There are also other items on display, like your public IP address, time connected, VPN protocol, and the NAT Firewall status.
If you immediately click the connect button, the VPN will reroute your traffic through the server that is on display. But if you have a specific server in mind, hit the location icon on the right side of the connect button. That will open the full list of VyprVPN servers, and you'll be able to select the one that you want. They are categorized by region, favorites, and all.
What we really liked about the Mac app is that it displays your current speed rates.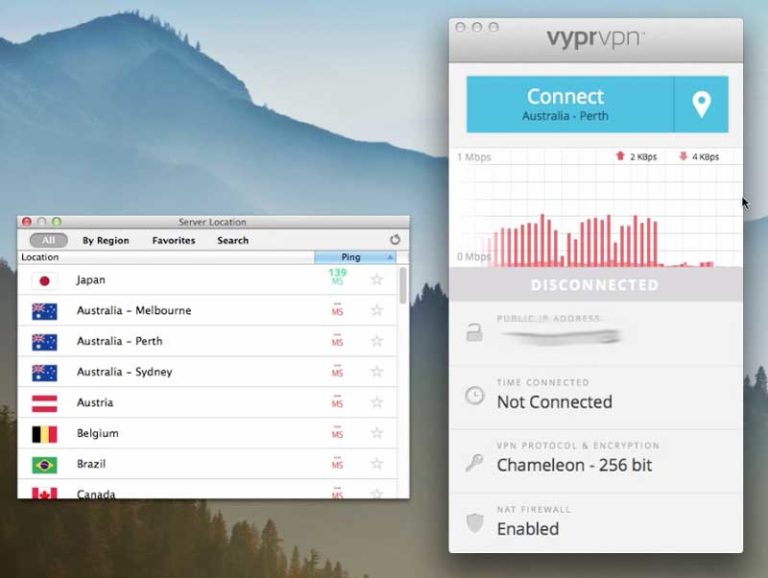 Mobile App
Next, we tried VyprVPN's Android mobile app. Design and functionality differ a little from the Mac desktop client, but it is still easy to use. You'll find a Connect button at the bottom of the page after you log in to your account. Press it and VyprVPN will connect you to the fastest server based on your location. You can switch to a different area by hitting the server option below the connect button. Then, a list of all the servers will open, and you'll be able to select the one you want.
Furthermore, you can customize the app to your liking with the settings option. It allows you to enable certain features like the kill switch or change VPN protocols.
VyprVPN has an average 2.9/5 rating on Trustpilot, with most users complaining about speed. If the service can provide faster rates, it could get better scores. On Google Play, however, users gave it 3.9/5 stars, which is much better than the Trustpilot result. But the highest score VyprVPN received was from App Store users, who gave it an excellent 4.5/5 rating.
"Speeds may not reach headline figures and do slow our connection but sometimes speeds it up – not headline speeds but always usable for streaming in our experience."

Mr Cook, VyprVPN user on Trustpilot
To see Mr. Cook's full review, click here.
App Compatibility
You can automatically download and install the VyprVPN app on the majority of operating systems, including Mac, Android, iOS, and Windows. Just go to Google Play or the App Store to get the app on your smartphone, tablet, or computer.
Furthermore, the VPN allows you to connect up to five devices at the same time using just one account. That means you can protect all your devices or share your account with friends.
---
VyprVPN Server Network
VyprVPN claims to operate more than 700 servers in 70+ countries, which is a decent network with wide coverage. And while other elite services offer many more servers, this provider still has a presence in almost every region, including the most popular ones like the US, the UK, Germany, France, India, and Australia.
Here is VyprVPN's full server list:
North America: Canada, Mexico, and the US.
Central America: Costa Rica, Panama, and El Salvador.
South America: Argentina, Brazil, Colombia, and Uruguay.
Europe: Austria, Belgium, Bulgaria, Czech Republic, Denmark, Luxembourg, Finland, France, Germany, Greece, Iceland, Ireland, Italy, Latvia, Liechtenstein, Lithuania, Netherlands, Norway, Poland, Portugal, Romania, Russia, Slovakia, Slovenia, Spain, Sweden, Switzerland, Turkey, UK, and Ukraine.
Asia: Hong Kong, India, Indonesia, Japan, Macau, Malaysia, Maldives, Pakistan, The Philippines, Singapore, South Korea, Taiwan, Thailand, and Vietnam.
Oceana: Australia, New Zealand, and the Marshall Islands
Middle East: Bahrain, Israel, Qatar, Saudi Arabia, and the UAE.
Africa: Algeria and Egypt.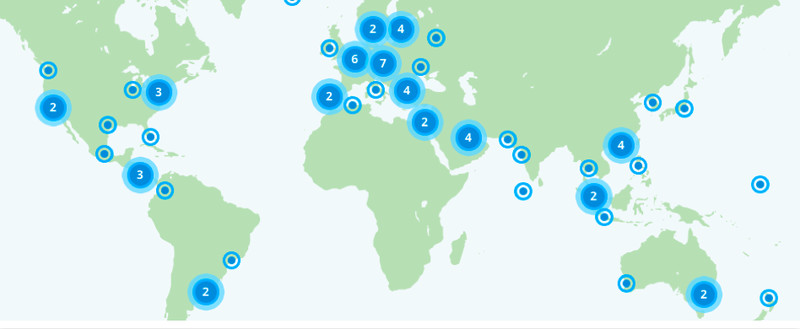 ---
Is VyprVPN Fast?
Speed is an essential part of any VPN service. And we're not talking about how fast you can connect to a VPN server. We mean how much your VPN will affect your Internet speed. You see, due to the high-level encryption that VPNs use, your connection speed will witness a slight drop. Some providers will ensure the decrease remains minimal, while others have a more significant toll.
Therefore, we decided to test VyprVPN's speed to see if you can use it's good enough for streaming and torrenting. And please note that we were using a 100 Mbps broadband connection.
Here are the results: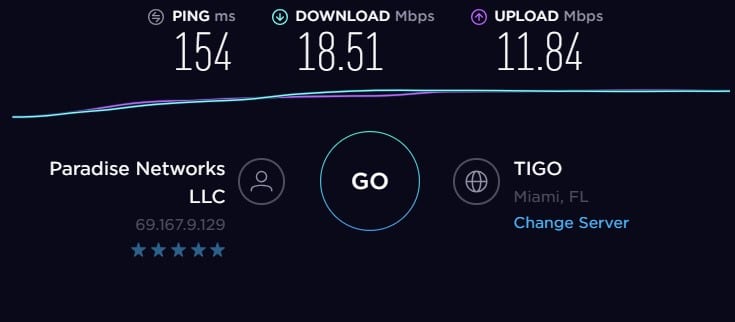 We first connected to a server in Miami, which is far away from our actual location. But US servers are in-demand due to the several streaming platforms the country offers, like US Netflix, Hulu, HBO Now, and ESPN+. That is why we had to test an American VyprVPN server. As you can see, the speed rates dropped significantly as Miami is far from our location.
Second test: Server in Germany

For our second test, we connected to a server that is closer to our actual location. We picked a German server to see if the speed levels would improve, and they did. In fact, even ping time plummeted. However, there is still more than a 50% drop in terms of Internet speed as we recorded a 46.41 Mbps.
Final test: Belgian server

In our third our final test, we tested VyprVPN's speed consistency according to location. We connected to a server in Belgium, which is near Germany, to see if the speed rates are similar. As you can see, speed is practically the same, which means that the closer your VPN server is, the faster your Internet connection will be.
How Does VyprVPN's Speed Compare with Other Providers?
As with other VPNs, VyprVPN performs better when you connect to a server that is near your actual location. However, some of the other providers we've tested had better results, even when we used faraway servers. The speed drop was significant throughout all the servers we tested (over 50%), which is an area that needs improving.
Still, you can use VyprVPN to stream your favorite shows or download files using torrents without any issues.
---
Can VyprVPN Unblock Streaming Platforms?
As you may know, most streaming services are only available inside their respective regions. For example, platforms like Hulu, HBO Now, and ESPN+ are only available in the US, while the likes of BBC iPlayer and ITV Hub are geo-blocked outside the UK. Even Netflix and Amazon Prime Video, which are accessible almost everywhere, offer different catalogs to each region.
Therefore, people resulted to VPNs to access these services from abroad. But soon after, streaming platforms were able to detect VPN IP addresses and blocked them, leaving only a couple of brands that still work. VyprVPN can still unblock the majority of these channels, including the most popular ones like Netflix and BBC iPlayer. The US Chicago server allowed to access Netflix's American library, while the UK server managed to unblock BBC iPlayer.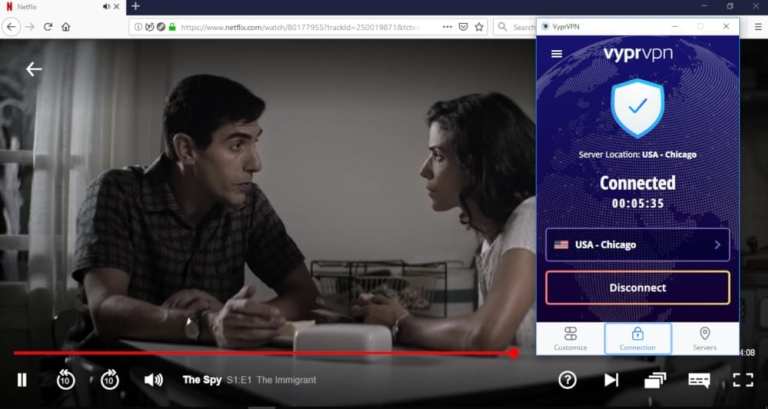 Smart DNS
Some devices like gaming consoles, Smart TVs, and routers don't have VPN apps and clients. That means you can't watch Hulu on your PS4 or Xbox from abroad. But a lot of VPNs offer a Smart DNS proxy feature that you can set up on any device. These tools only reroute the location part of your traffic, leaving everything else intact. For example, they don't hide your IP address nor encrypt your data.
Despite the lack of privacy, a lot of users prefer Smart DNS proxies over VPNs as unblocking tools. VyprVPN offers VyprDNS, but it's different than a Smart DNS. It only works within the app, and you can only enable it on Android, iOS, Windows, Mac, and Firestick.
Here is what VyprVPN customer support had to say about the subject: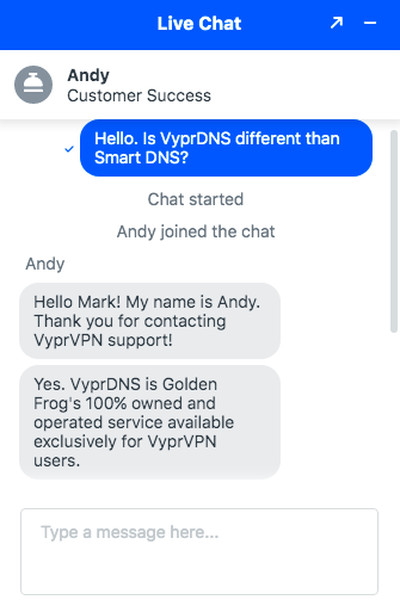 ---
Does VyprVPN Allow Torrenting?
You can use VyprVPN to share files on peer-to-peer networks and torrent websites. Although the VPN does not offer dedicated servers for torrenting activities as other brands do, VyprVPN servers won't block any website of such sort. Furthermore, the company won't collect nor share any sensitive data that might identify or locate you, keeping you safe from copyright trolls.
Here's how customer support service explained it:
---
VyprVPN Privacy and Security Features
If a VPN does not offer first-rate privacy, anonymity, and security, then you're better off choosing another brand. The most crucial VPN characteristic is protecting your online identity, location, and traffic, and to do so, there are several features that should be present.
Below, you'll find all the measures VyprVPN takes to ensure you have a secure connection, including impressive unique features. Overall, we were quite pleased with what we saw.
Company Headquarters
Your VPN's location can bring an added-value to your online privacy. A lot of governments force companies operating within their jurisdiction to submit user information. As a result, your data might be compromised at any point as part of an investigation.
The most intrusive countries out there are those that are part of the 14-Eyes alliance. This cooperation between 14 nations, including the US, the UK, Canada, and Australia, allows authorities to put their hands on your online activities. But since VyprVPN is based in Switzerland, a country outside intrusive jurisdiction and with favorable privacy laws. So you don't have to worry about that.
No-logs Policy
Another valuable privacy feature is the zero-logging policy that VyprVPN follows. It means that the provider won't collect sensitive data like IP addresses, connection timestamps, browsing history, or the websites you visit. The company keeps minimal, non-sensitive data about you so that it can repair bugs and provide better customer support. But this information is not shared with third parties and cannot reveal your identity or location to anyone.
"We are a No Log VPN, meaning we don't track or retain any user activity while connected to our service."

VyprVPN
No Third Parties
VyprVPN owns and operates its entire server network, without relying on hosting companies for server maintenance or other services. That way, no third parties can intervene or have access to your data, and few VPNs offer this feature. In other words, VyprVPN has total control over its infrastructure, allowing it to protect your privacy in the best possible way.
AES-256 Encryption
All premium VPNs encrypt your traffic using the most secure cipher on the market, the Advanced Encryption Standard with 256-bit keys. It is military-grade encryption that several top government agencies use to protect classified information, including the NSA.
To break it, you would need to go through trillions of possible combinations, something that the world's supercomputers cannot accomplish even while combined. As a result, no one will be able to monitor what you do online, not even ISPs, authorities, or hackers. And that's what you'll get with VyprVPN.
Kill Switch and DNS Leak Protection
A VPN kill switch disconnects you from the Internet in case VyprVPN stops working. That way, your traffic won't travel to your ISP's servers where they are compromised. So I guess you can say that kill switches are your last line of defense against online intrusion.
And the only way to regain access to the Internet is if the VPN connection is reestablished, or if you disable the kill switch. But we don't recommend you turn off this crucial feature.
Furthermore, we tested VyprVPN for any potential IP or DNS leaks. We connected to a US server, then used an IP checker to see if the IP address on display is American. We also conducted a WebRTC leak scan to see if the VPN is leaking any private information. As you can see, the results were negative.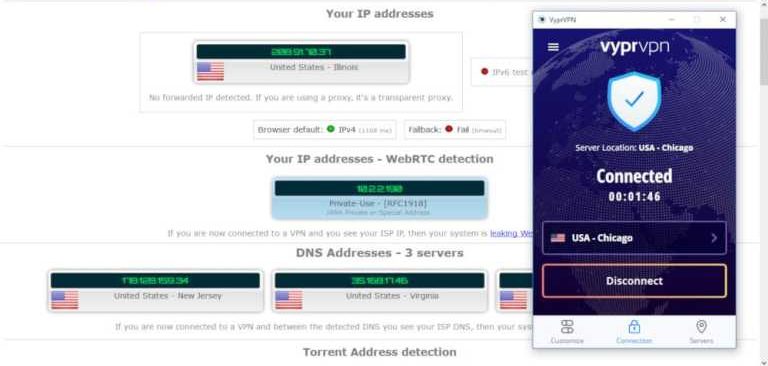 Independent Auditors
To ensure full transparency, a lot of VPN providers invite independent auditors to verify that their zero-logs policy is in check and there is no foul play. VyprVPN hired Leviathan Security, a reputable firm in the cybersecurity business.
The company did not find any data collection concerning online activity or connection.
"Golden Frog can provide VyprVPN users with the assurance the company is not logging their VPN activity."

Leviathan Security
You can check out Leviathan Security's full report here.
Other Features
VyprVPN doesn't stick to privacy features that every other premium service provides. Instead, it goes the extra mile and offers several unique features that help enhance your online anonymity and security, including:
Chameleon: This unique VPN protocol comes in handy in countries with restricted Internet access like China and the UAE. It is also useful when bypassing streaming platforms that block VPN IP addresses. Chameleon can prevent VPN blocking, traffic monitoring, and throttling.
VyprDNS: It offers DNS protection and makes sure your network is safe from man-in-the-middle attacks. This tool can also bypass geo-restrictions while also maintaining your online privacy. It is available for all VyprVPN users and you can enable it with any app. Not to be confused with a Smart DNS proxy.
NAT Firewall: An additional layer of security when you're using VyprVPN. It blocks unrequested traffic and malware and does not require any configuration because it runs on VyprVPN's servers.
VyprVPN Cloud: A user-friendly solution to engulf the cloud services you use with an extra piece of protection. This feature is available for DigitalOcean, Amazon Web Services (AWS), and VirtualBox.
---
Customer Support
A helpful, professional, and responsive customer support service is a VPN must-have. A lot of people are still new to the VPN industry and might have several questions before they subscribe. Moreover, they might encounter a few difficulties and need quick, precise solutions.
VyprVPN offers plenty of support methods to customers, allowing you to contact the company using multiple ways. The fastest one is the 24/7 live chat feature, which we tested. Response time was almost instant, and the employees were very knowledgeable.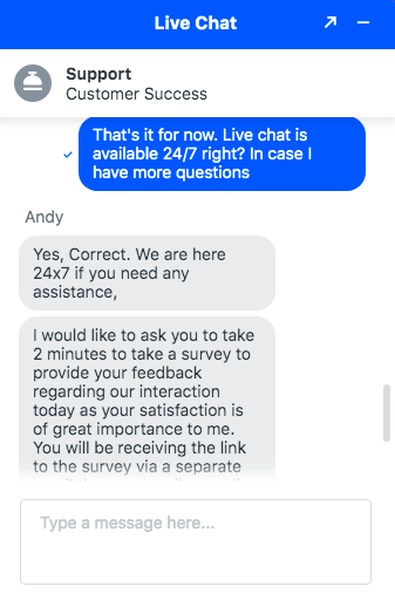 You can also reach out via email or support ticket, although response time won't be as quick. We recommend you leave those options for complicated issues that require detailed solutions. Alternatively, you can check the FAQs section for articles and guides that tackle the most common problems.
---
VyprVPN Pricing
We've reached the part that matters the most for some users. No matter how a good a VPN service is or the premium features it provides, users might dismiss it if it's too pricey. In fairness, VyprVPN has a slightly above average price for its monthly subscription plan but offers excellent value in long-term annual packages.
Monthly Plan: $12.95/month
One-year plan: $45 per year, equaling $3.75/month (save 71%)
Two-year plan: $60 every two years, which amounts to $2.50/month (save 81%)

While the monthly subscription package is pricey, you can benefit from massive discounts that reach up to 81% if you choose the yearly plans. But no matter which one you select, you'll benefit from a 30-day money-back guarantee. It allows you to test the service for a full month before you commit to it. If by the end of that period you're dissatisfied with the service, you can demand a full refund.
Payment Methods
You can pay for your VyprVPN subscription using any of the most popular credit cards. That includes Visa, MasterCard, American Express, and Discover. Alternatively, you can use PayPal or UnionPay. Bitcoin or other crypto payments are still unavailable, which is an area VyprVPN can improve. Cryptocurrencies help protect users' identity, instead of using traceable emails and credit card credentials.

---
Free Trial
Other than the 30-day refund policy, users can benefit from a 3-day free trial. However, that only applies to mobile apps only, meaning Mac and Windows users cannot make use of it. Still, you can try VyprVPN free of charge for three days on your iOS and Android device. But you'll only have two simultaneous connections.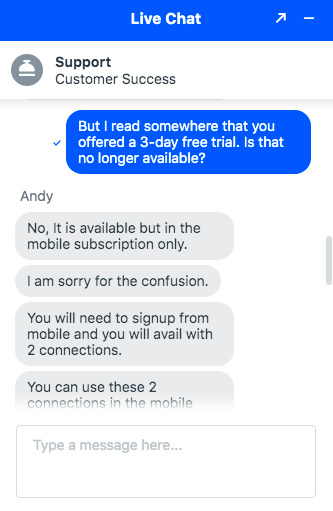 ---
Does VyprVPN Work in China?
The Great Firewall of China has blocked the majority of virtual private networks so far. Thanks to advanced and sophisticated technology, this Internet regulator can detect VPN usage and subsequently ban it, meaning few VPNs work in Chinese territories.
However, VyprVPN can help avoid strict online restrictions in China and access your favorite websites. That's largely thanks to its Chameleon protocol.
---
The Wrap-up of the VyprVPN Review
VyprVPN is a Swiss-based VPN service that offers plenty of privacy of security features. It offers more than 700 servers across 70+ countries and follows a strict zero-logging policy. Furthermore, it can give you access to Netflix, Hulu, and other streaming platforms, while also allowing you to share files on P2P networks.
However, the lack of speed, Smart DNS proxy, and crypto payments reduced its total score. Nonetheless, we recommend this VPN as it offers excellent features. Moreover, it works in China and offers a three-day free trial (for iOS and Android).
What do you think of VyprVPN? Is it worth it or not? Share your thoughts in the comment box below.