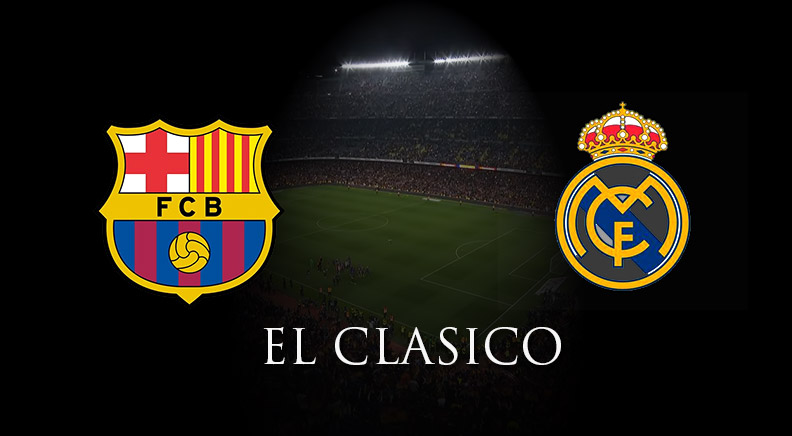 El Clasico channels
Streaming services and geo-blocks
Bypass online restrictions with a VPN
Stream El Clasico with Unlocator
About Barcelona vs. Real Madrid
It's one of football's biggest rivalries, and one to get fans beaming with excitement. Barcelona vs. Real Madrid, aka El Clasico, is much more than a soccer match; it is a global phenomenon. Millions of viewers from all over the world tune in to watch the epic battle between the Spanish giants.
Both sides have dominated football's top-tier league in Spain, making La Liga mostly a two-horse race in the past 15 years. Only Valencia (2003-2004) and Atletico Madrid (2013-2014) were able to loosen Barca and Real's grip on the title during that period.
Therefore, you could say that this game is basically a title-decider. The first leg will take place at the Camp Nou, home of FC Barcelona, on December 18. And to make things even more interesting, both teams are level on points in La Liga, with Barca leading on goal difference. In other words, whoever comes out victorious will take the top spot.
If you're streaming the match live online, there is no shortage of broadcasters. However, each channel must respect the broadcasting rights and air El Clasico inside their local markets. So if you want to watch Barca vs. Real on a particular platform that's unavailable in your country, you'll need a VPN or a Smart DNS.
---
Table of Content
---
El Clasico Broadcasters
The match between Barcelona and Real Madrid attracts millions of viewers from all over the globe. Some sources claim that the number is around 650 million. And while these figures might be a bit exaggerated, El Clasico does have a vast international audience.
You don't have to be a fan of Barca, Real, or even La Liga to feel enthusiastic about this clash of titans. As a Manchester United supporter, I actually look forward to this encounter because it features some of the best players in the world. After all, the final three Ballon d'Or winners have all come from these two clubs.
Therefore, a sporting event of this magnitude is bound to grab a lot of media attention. And since streaming is increasingly rising year after year, there are a lot of OTT platforms for cord-cutters.
BeIN Sports: Australia, MENA region, New Zealand, and the US
DAZN: Canada, Germany, and Italy
Eleven Sports: Portugal
ESPN: Argentina
Hotstar: India
Match TV: Russia
Premier Sports: The UK
RTVE: Spain
SuperSport: South Africa
TV2 Sport: Denmark
Ziggo Sport: Netherlands
Did you notice how every streaming service has a designated coverage zone? That's because there are broadcasting rights for each market. The channel with the most expansive coverage area is beIN Sports, of course. It features three countries, as well as the Middle East and North Africa.
Anyone residing in those nations can only stream El Clasico on beIN Sports. Canadian viewers, on the other hand, must subscribe to DAZN, the official La Liga channel inside the country. In other words, each streaming platform is geo-blocked outside its respective region.
---
How Geo-blocks Affect El Clasico
The geographic blocking of content ensures that the broadcasting rights of each channel are respected. But unfortunately, it also means that some fans might miss out on El Clasico due to online restrictions. If you live anywhere outside the above countries, the game is off-limits.
Moreover, if you're traveling to a country where your local streaming service is unavailable, you might have to watch Barca take on Real in a different language. That can be a real bummer for hardcore fans like myself who really enjoy the English commentary on beIN Sports.
Now, if you insist on trying to access any channel outside its respective broadcasting zone, a location error message will appear on your screen.
"A problem occurred with the view rights in your location."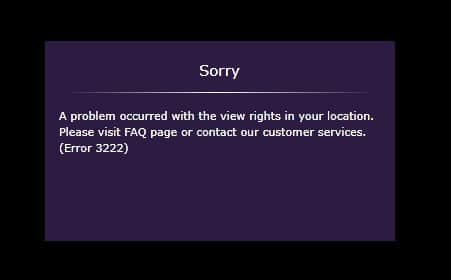 "Sorry, DAZN is not available in your country yet."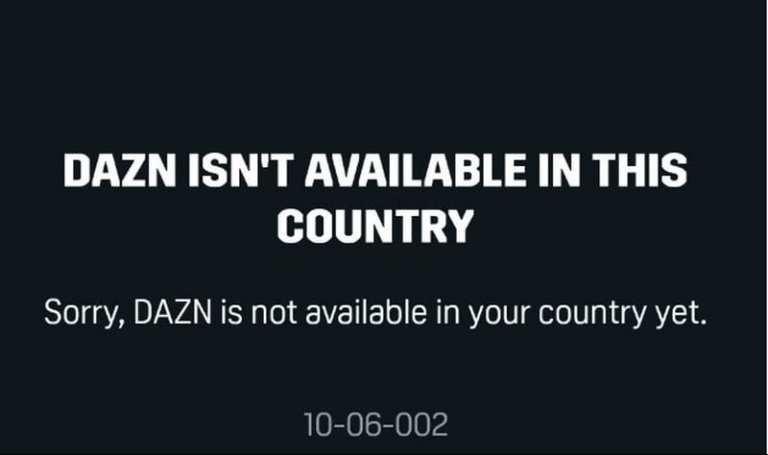 ---
Avoid Geographic Restrictions With a VPN
As I mentioned earlier, geo-blocks and other forms of online restrictions can be really frustrating for Internet users, especially sports fans. Yes, copyright agreements ensure a fair distribution of content and prevent monopoly. But why must fans miss out on their favorite shows and sports?
If only you could access any streaming platform you want no matter where you are. Well, in truth, you can. You just need a virtual private network to help you.
Better known as VPNs, these tools are basically security passes of the highest clearance levels. In other words, they can give you access to every major streaming service. Your VPN can change your online location by rerouting your traffic through one of its private servers.
Then, it switches your IP address to a different one that matches your server's location. That's because web services determine where you are by looking at the number of your Internet Protocol. As a result, your target channel will think that you are inside its broadcasting market, which gives you access to its content.
It's all quite simple and easy to execute. If you want to watch El Clasico on beIN Sports, connect to a VPN server inside the US, Australia, New Zealand, or the MENA region. And if you prefer Premier Sports, choose a server from the United Kingdom.
And on the plus side, you won't only have access to both platforms, but also to any geo-restricted channel from the US or the UK. I'm talking about Hulu, American or British Netflix, HBO Go, ESPN+, BBC iPlayer, ITV, BT Sport, and much more.
More VPN Bonuses
Virtual private networks are like the Swiss Army knife of the online world. These multi-purpose tools can do so much more than just avoid geo-blocks. In fact, as soon as you connect to the server of your choice, you'll reap plenty of more benefits, especially in terms of privacy and security.
Top-level encryption: Your VPN will encrypt any data between your device and the World Wide Web. Therefore, your Internet activities and new IP address will be concealed from ISPs, hackers, and government agencies.
No data logs: Beside encrypting your data, top VPN brands also automatically delete the sensitive information you submit when you go online. That includes your browsing history, traffic destination, and IP addresses (original and new). The little number of details they keep won't compromise your online privacy or security.
No more blackouts: Geo-blocking isn't the only form of online restriction. Streaming channels in the US, for example, use blackouts to prevent viewers from watching local market games. So New York residents cannot stream Knicks matches. But with a VPN, you can make it appear as if you were in a different state to watch local games.
Adios to censorship: Countries like the UAE ban VoIP services like Skype or WhatsApp Calling. However, you can still contact your loved ones back home by connecting to a foreign VPN server.
Install a VPN to Watch El Clasico
Now that you know what a virtual private network can really do, you must be wondering, "how can I get one of these tools?" Well, all it takes is five simple steps, and the VPN is yours:
Search for a top VPN service then visit its website to sign up and join. You just need to choose a subscription plan that suits you, provide an email address, and select a payment method.
After you create an account, go to Google Play or App Store to download the VPN app. The entire process should just take a couple of minutes.
Then, launch the app and sign in using your new account.
Connect to a VPN server from any of the above countries or regions. For beIN Sports, select a server from the US, MENA, Australia, or NZ. And if you prefer DAZN, connect to a Canadian, Italian, or German server.
Enjoy the fierce rivalry between top Spanish sides Barcelona and Real Madrid.
---
El Clasico Best VPNs
Searching for the right VPN service is not a difficult task once you know what you're looking for. However, it can be a bit time-consuming, as you must make sure the brand has premium features. I'm talking about top-level encryption, no logs policy, fast servers, easy-to-use apps, and unlimited access.
You can make it easy on yourself by eliminating free VPNs from the list of options. I know they might sound tempting, considering you don't have to pay a dime, but these services are quite inefficient. Their servers are slow, overcrowded with users, and barely cover a couple of regions.
But the most alarming fact about them is that they collect your sensitive data and sell it to third parties. Moreover, some of them don't offer encryption protocols. VPNs are supposed to protect your online privacy, not compromise it. That's why I advise you to avoid free VPN services.
Instead, go for elite providers like the ones below, even if they'll cost you a bit of money.
ExpressVPN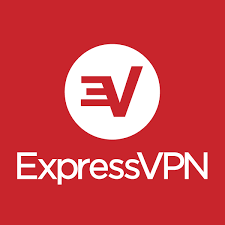 The rivalry in the VPN industry is just as fierce as the one between Barcelona and Real Madrid. There are plenty of top brands trying to claim the number one spot, and all of them provide outstanding features. However, only one stands out from the rest, and that's ExpressVPN.
No other VPN service can match the fast speed rates that ExpressVPN offers, which makes it the perfect choice for streaming fans. You'll be able to watch El Clasico live online without any video interruptions or buffering issues. And the same goes for gaming and torrenting.
The company also offers the same encryption as the US government uses to protect classified information. The military-grade AES-256 is the highest protocol on the market and features 115,​792,​089,​237,​316,​195,​423,​570,​985,​008,​687,​907,​853,​269,​984,​665,​640,​560,​000,​000,​000,​000,​000,​000,​000,​000 possible combinations.
In other words, Internet service providers, hackers, and even the authorities won't be able to track your online activities. Add to it the zero-logs policy that ExpressVPN follows, and no one will be able to monitor what you're doing.
ExpressVPN servers automatically erase sensitive information like DNS queries, browsing history, traffic destination, and data content.
"We stand by our firm commitment to our customers' privacy by not possessing any data related to a user's online activities."

ExpressVPN
And speaking of servers, the company operates more than 3,000 of them spread across 94 countries. All of the above regions are part of ExpressVPN's network, so you can stream El Clasico on any channel from anywhere.
Here's what else is in store for you:
Pros
No-logs policy.
AES 256-bit encryption.
Vast server network.
Fast speed rates.
Compatible with iOS, Android, Windows, Mac, Kindle Fire, and Linux.
Up to five simultaneous device connections.
Access to any Netflix library (as well as every major streaming channel).
30-day refund policy.
Smart DNS proxy: MediaStreamer.
Round-the-clock customer support (with a live-chat feature).
Torrenting and P2P file-sharing activity.
Cons
Pricier than its elite peers.
---
BulletVPN
Perhaps the best VPN in the industry isn't within your budget, and you prefer an affordable alternative without compromising on privacy and security. Well then, BulletVPN is just what you're looking for. It uses the same encryption level as ExpressVPN and other elite counterparts.
Moreover, the company implements a rigorous no-logging policy to ensure that no one can put their hands on your data. It also helps that BulletVPN headquarters are located in Estonia, a country without mandatory data retention laws.
And for extra security and privacy, this provider offers you a kill switch that disconnects your device from the Internet in case of a malfunction. As a result, your traffic will be terminated instead of being rerouted to your ISP's servers, where anyone can see what you're up to.
And you can even activate BulletShield with the kill switch. That way, you won't be able to access the Internet unless you're connected to a BulletVPN server. But there's more to this service than just privacy and security.
As the name indicates, BulletVPN has some serious speed rates. All its servers are fast, and some are even customized for streaming and gaming (marked as high speed). Unfortunately, the number of these servers is still a bit low (76 in 41 countries) compared to other elite brands.
But the good thing is that they cover key locations in every continent except Antarctica. That includes the USA, Canada, Brazil, the UK, Spain, France, Germany, Algeria, South Africa, Saudi Arabia, Singapore, and Australia.
Pros
Military-grade encryption.
No-logging policy.
Speedy servers.
24/7 customer support.
Free Smart DNS proxy.
Kill switch + BulletShield.
Unlimited Bandwidth.
Apps for every major platform.
30-day money-back guarantee.
Works with Netflix and other streaming services.
Torrenting and P2P file-sharing support.
Cons
Only 76 servers in 41 countries.
---
Consider a Smart DNS for El Clasico
Virtual private networks are ideal tools for unlimited Internet access, as well as online privacy and security. But if you're only interested in streaming movies, series, and sports, there is another option you can consider.
It's called a Smart DNS proxy, and it doesn't affect your Internet speed because there is no data encryption. Furthermore, it does not hide your IP address or give you a new one, which means you'll still be able to access websites inside your local market.
These programs may not offer much when it comes to anonymity, but they can give you access to a couple of El Clasico broadcasters. Yes, Smart DNS proxies can't unblock any geo-restricted channel because they only reroute the URLs that expose your location.
And since your original IP address is exposed, some streaming platforms might still be able to pinpoint where you are. That is why you must subscribe to a Smart DNS with plenty of channel support, like Unlocator.
Unlocator
Unlocator is a top Smart DNS proxy service that can help you unblock over 220 streaming channels no matter where you are. Among those are Hulu, Amazon Prime Video, HBO Go, 7Plus, AMC, Showtime, BBC IPlayer, and ITV.
As for sports, more specifically, El Clasico, it gives you access to beIN Sports, DAZN, ESPN+, SuperSport, and TV2 Play. Other services include Fox Sports, NBC Sports, MLB.TV, NFL Game Pass, NHL.TV, and NBA League Pass. And if you want the best of both worlds, i.e., sports and TV shows, Unlocator offers several platforms like Sling TV and fuboTV.
Head over to the Unlocator website and sign up for a free 7-day trial period. And there's no need to submit your credit card details during the first week.
You can easily and quickly set up Unlocator on your device by following the guides and videos on the website.
And speaking of devices, Unlocator is compatible with Android, iPhone, iPad, PC, Mac, PS4, Xbox, Smart TVs, and even routers.
Watch Barca vs. Real on any device no matter where you are.
---
About El Clasico
As I mentioned at the beginning, Barcelona vs. Real Madrid is one of the fiercest and most-watched rivalries in football. The competitiveness reached its climax when Cristiano Ronaldo joined Real Madrid in 2009, and Lionel Messi rose to stardom for Barcelona.
Both players are, without a doubt, the best of their generation, and the rivalry between them took El Clasico to another level. And what made things even more interesting was the feud between Real manager Jose Mourinho and his Barca counterpart Pep Guardiola.
But today, Messi remains the sole survivor of the bunch. Ronaldo moved to Italian side Juventus in 2018, while Mourinho and Guardiola ply their trade for Premier League sides Tottenham Hotspur and Manchester City, respectively.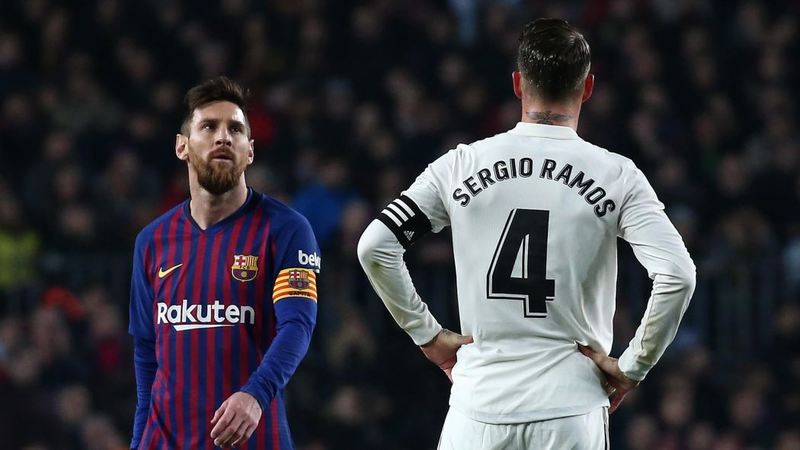 Yet, El Clasico did not lose its flair. And the upcoming match will be the most significant in years. Both Barca and Real have had their ups and downs this season, but seem to have hit their stride recently after consecutive wins.
They share the same point tally (34) in the La Liga table, with Barcelona leading on goal difference. That will probably motivate Real players to claim all three points in enemy territory and move to the top of the league. Easier said than done, of course. The Catalans have only lost four times to Los Blancos in the last 22 La Liga meetings.
Political Unrest and Postponement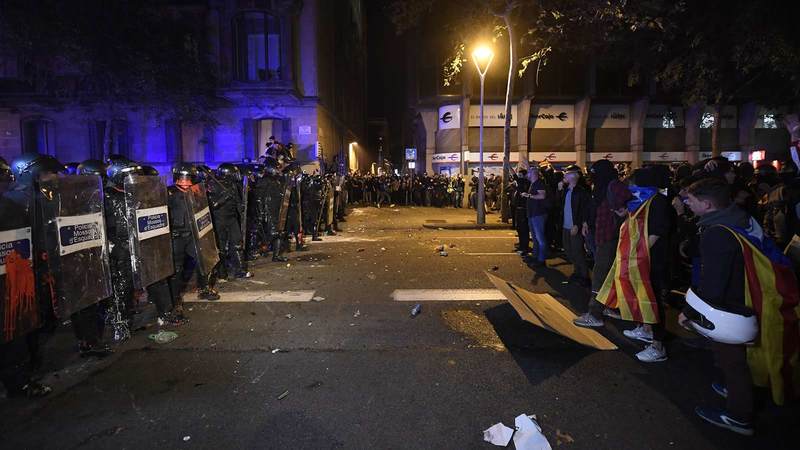 Spanish fans consider El Clasico more than just a football match. It also highlights a political schism between Spain, represented by Real Madrid, and Catalonia, represented by Barcelona. The northeastern region has always called for its independence, holding a referendum in 2017.
The vote plunged Catalonia into political unrest, with Madrid calling it illegal. And this year, the crisis remains. Mass protests in the region forced the Spanish football federation to postpone El Clasico due to security fears. The match was supposed to take place on October 26 but was delayed until December 18.
"Now more than ever, the club asks all political leaders to lead a process of dialogue and negotiation to resolve this conflict, which should also allow for the release of convicted civic and political leaders."

FC Barcelona Statement
However, according to reports in Spain and Catalonia, the match might be postponed for a second time following civilian unrest in and around the city of Barcelona. Nothing is confirmed yet, but it appears that if the demonstrations continue, we'll have to wait for El Clasico even more.
---
Stream El Clasico Live Online From Anywhere – Final Words
Football fans from all over the world tune in to watch one of the most competitive clashes. Barcelona and Real Madrid have dominated Spanish and European soccer over the past decade, and their rivalry makes all the action a lot more interesting.
But geo-blocks will dent the hopes of cord-cutters who want to stream El Clasico live online. Luckily for them, they can use a VPN or a Smart DNS proxy to circumvent online restrictions and follow the match from anywhere.
Let's just hope that the situation in Catalonia does not escalate to dangerous levels, forcing La Liga to postpone the match for a second time.
Who do you reckon will win El Clasico, Barcelona or Real Madrid? Leave your score predictions below.