Champions League broadcasters
What is a VPN and how does it work?
Easy steps to install a VPN
Best VPNs to avoid geo-block
It's better to stay away from free VPNs
The 2019/2020 Champions League
Final words
You might know Albert Camus from one of his famous works like The Outsider or The Myth of Sisyphus. After all, the French philosopher and author won the Nobel Prize for Literature in 1957. His philosophical views contributed to the rise of absurdism, a school of thought claiming that human beings exist in a purposeless and cold universe.
But despite his bleak views, Camus had a deep infatuation with one of life's most popular interests: football. A famous misquote of his is: "All that I know most surely about morality and obligations I owe to football." The Albert Camus Society later revealed what he actually said, which wasn't far off, to be honest.
Nonetheless, the man loved football and played as a goalkeeper for the Racing Universitaire Algerios (RUA) in his early years. Furthermore, he once insisted on having an interview at the Parc des Princes stadium so that he could watch Racing Club de Paris vs. Monaco.
So if a man with such an indifferent philosophy can fall in love with football, it's easy to understand why average Joes are fans.
And September 19, 2023, marks the return of club football's biggest tournament: the Champions League. Football lovers tune in from all over the world to watch Europe's top teams locking horns. Well, not all of them.
Unfortunately, streaming channels broadcasting the event cannot show matches outside their respective regions. That's because they are geo-blocked due to copyright reasons. So if you live anywhere outside those countries, you're going to miss the competition.
Well, not if you have a VPN.
---
Content Overview
---
Champions League Live – Quick Steps
Time needed: 6 minutes
The Champions League competition is an event that should not be missed. Therefore, here's how you can stream it live anywhere:
Sign up for a premium VPN service.

You can do so by visiting the website and creating an account. For this particular task, we recommend ExpressVPN.

Download the VPN app.

Get the app straight from the website or head over to your device's app store.

Activate the VPN app.

Sign in with your username and password.

Connect to a VPN server.

Choose a server that's in the same country as the channel you want. If you prefer BT Sport, select a server from the United Kingdom. For beIN Sports, connect to a server from the Middle East or North Africa.

Launch your chosen streaming channel.

Sign in with your account if required.

Watch the 2023/24 Champions League anywhere.

Enjoy all the Champions League action wherever you may be.
Champions League – List of Broadcasters
The UEFA Champions League is the premier tournament of European club football. It attracts viewers from all over the world.
According to sources, around 380 million people worldwide tuned in to watch the 2018 Champions League final between Real Madrid and Liverpool.
Furthermore, BT Sport, the official broadcaster of the tournament in the UK, revealed that the 2019 final between Liverpool and Tottenham brought in 11.3 million viewers. That's the channel's largest audience in its six-year history.
"This season's Champions League and Europa League have been a great success for BT."

Pete Oliver, BT Marketing Director
Moreover, the final between Manchester City and Inter Milan in the 2022/23 Champions League Final got a lot of buzz, especially when it came to viewership rates.
The match was expected to attract around 400 million viewers, but we're still waiting for official confirmation about what truly went on.
So as you can see, this is a trendy sport with millions of followers each year. Therefore, broadcasters pay top dollar for viewing rights. You can find them below:
Yes, there are more than a handful of channels airing the Champions League. But the thing is, each service has exclusive rights to broadcast it in a designated country or region. That's due to licensing agreements between UEFA and the broadcasters.
In other words, if you live outside those areas or don't want to stream games on your local channel, you'll need a VPN to access these services.
---
What Does a VPN Do?
A VPN, or virtual private network, is a program that can bypass geo-blocks by changing your online location. It allows you to connect to one of its servers and then reroutes your internet connection through the one that you selected.
Furthermore, it creates an encrypted tunnel between your device and the World Wide Web. That way, no one can read your data or track your online activity.
And since your IP address can reveal your online identity and location, the VPN masks it and gives you another one.
Your new IP will match the area of the server you selected. That means if you connect to a server from France, you'll get a French IP address.
This entire process tricks streaming channels and every other website into thinking that you are in a foreign country.
As a result, you'll have access to every geo-restricted service. So if you connect to a server from the USA, the VPN will unblock CBS Sports, FuboTV, TNT, ESPN+, Hulu, HBO Now, and all other US channels.
Even though most people use VPNs to unblock streaming services from abroad, these tools can do so much more.
Encrypt Your Data and Traffic
Virtual private networks can massively improve your online privacy and security. They protect you from the prying eyes of hackers and government agencies.
Heck, even your ISP won't be able to see what you're up to. That's because VPNs encrypt your data and online traffic with the most robust protocols.
Bypass Geo-restrictions
Streaming channels aren't the only services that use geo-blocks to prevent you from viewing their content from abroad. Your local bank might do the same as well for security reasons.
Therefore, if you have an urgent transaction you need to make while you're overseas, your only hope is a VPN.
By switching to an IP address from your home country, you'll be able to access your bank account and conduct business as usual.
And since VPNs use encryption, no one will be able to steal your money or data.
Circumvent Censorship
Have you ever tried to access a particular website only to find out that it can't be reached? Your internet connection may be the problem.
But if you can visit other pages without any hassle, chances are there's online censorship in your country.
In other words, your government can ban websites. In China, for example, Facebook, Google, Twitter, and a host of other services are off-limits. Also, in the UAE, popular VoIP services like Skype and WhatsApp Calling are banned.
The only way to avoid censorship is by connecting to a foreign VPN server.
Enhance Your Privacy
Elite VPN providers offer transparent privacy policies, including a rigorous zero-logging plan. That means the service won't keep records of sensitive data that could compromise your online identity or activity. And most importantly, it won't sell it or share it with third parties.
Top VPNs also invite independent auditors to review their privacy policies and make sure there is no foul play.
---
Stream the Champions League With the Best VPNs
Another crucial area that should be absolutely spot-on is VPN selection. You may already know this, but these services are just like any other product: You have your good ones and your bad ones.
Differentiating between them requires a little bit of homework from your side. So before you commit to the first provider that comes your way, take a look at the features it presents.
The essential services that every "top" brand must provide are speed, anonymity, security, and access to restricted content. In other words, if your provider doesn't offer military-grade encryption, a no-logging policy, high levels of speed, and a strategic server network, you must immediately disregard it.
Other criteria include 24/7 customer service, a long-period refund policy, and high compatibility.
If that sounds like too much research for you, don't worry. Alternatively, you can select one of my premium suggestions.
ExpressVPN
There's a debate about who's the greatest footballer of all time, a.k.a. The GOAT. Players like Pele, Maradona, Messi, and C. Ronaldo are the most touted names. While each one of them is an absolute legend of the game, the topic is controversial and subjective.
One thing that isn't subject to debate, however, is which VPN service is the best. That's because ExpressVPN claims the title by a mile.
The company uses AES 256-bit encryption, which is the most robust on the market. The US government uses this military-grade protocol as well, which proves that it is impossible to crack. 256-bit means that it provides trillions of possible combinations, making the decryption process 'infeasible.'
ExpressVPN also follows a stringent zero-logs policy, which means it does not store sensitive data. That includes your IP addresses, browsing history, traffic destination, or DNS queries.
It is also headquartered outside the realms of the Five Eyes (no data retention laws exist in the British Virgin Islands).
"We have carefully engineered our apps and VPN servers to categorically eliminate sensitive information. As a result, ExpressVPN can never be compelled to provide customer data that does not exist."
ExpressVPN
Moreover, the provider has one of the best speed rates in the business and across all servers. That makes it an ideal choice for streaming live Champions League matches in HD.
And speaking of servers, ExpressVPN has more than 3,000 of them, spread across 94 countries. As a result, you can unblock any of the above broadcasting channels and much more.
Pros
Compatible with Linux, Android, iOS, macOS, Windows, and Kindle Fire.
30-day refund program.
Five-star customer support with live chat feature.
Military-grade encryption.
3,000+ servers in 94 countries.
No stored records.
MediaStreamer (Smart DNS proxy).
Access to every streaming giant like Netflix and BBC iPlayer.
Support for torrenting and P2P activity.
Up to five device connections at the same time.
Fast speed rates.
Cons
The monthly subscription fee is a bit pricey.
---
BulletVPN
Another useful VPN that can help you stream Champions League action on your favorite channel is BulletVPN.
Now, I know this provider hasn't been around that much, but trust me, it is a safe and reliable alternative that you should definitely consider.
Its only weak point is the low number of servers it provides. BulletVPN's network consists of over 150 servers spread across 50+ countries.
These servers are placed in key locations. That includes Brazil, Canada, the US, Germany, Switzerland, the UK, South Korea, and Australia.
But in terms of every other must-have, this company's got them all. AES 256-bit encryption, zero-logs policy, 'blazing fast speeds,' and 30-day money-back guarantee.
Pros
AES-256 encryption.
No-logs policy.
Kill switch + BulletShield.
Fast speeds.
Unblocks streaming platforms.
Allows torrenting and P2P.
Free Smart DNS.
30-day refund policy.
Six simultaneous device connections.
round-the-clock customer support.
---
NordVPN
NordVPN is one of the most impressive VPN services in the industry. It offers outstanding features that very few other providers can match, especially when it comes to security. Only ExpressVPN scored better test results than this brand.
The company uses the same encryption protocol that the number one VPN provides. However, NordVPN can encrypt your traffic TWICE with its double VPN feature.
It also respects your privacy by not keeping tabs on your online activity or data. And you'll also benefit from additional security tools like a kill switch and DNS leak protection.
Moreover, NordVPN has 5,000+ servers in 62 countries, one of the broadest networks on the market. You'll be able to enjoy the Champions League from anywhere in the world.
One disadvantage, however, is that some of these servers are a bit slow, which could cause buffering issues. If that happens, switch to another server that's nearby.
Another cool feature is CyberSec, a program that automatically blocks ads and websites with malicious software. The brand also offers a free Smart DNS proxy called SmartPlay.
Pros
AES 256-bit encryption.
Double VPN.
Large server network.
No-logging policy.
Support for six simultaneous devices.
Works with Netflix.
DNS leak protection and kill switch.
Free Smart DNS service.
CyberSec.
Allows P2P and torrenting.
30-day refund policy.
Award-winning customer service.
---
What About Free VPNs?
If you're looking to save a few bucks, I suggest you buy a more environment-friendly car or eat at home instead of order food every day. But you must never compromise on your cybersecurity. In other words, do not use free VPNs.
Why? Because they come at a high cost, and I don't mean money. Free providers will store every piece of information about you, like your name, email, IP address, or browsing history, and sell it to the highest bidder. Advertisement companies purchase such data to display targeted ads.
Furthermore, their servers aren't well-maintained, which means they are often slow and overrun with users.
That makes streaming a very annoying experience, as video buffering will drive you mad. Also, they cannot bypass any geo-restrictions as the paid services can.
So stay on the safe side and subscribe to top VPNs like ExpressVPN.
---
About the 2023/2024 Champions League Campaign
The 2023/24 Champions League group stage campaign kicked off on October 20, and in style too. The top clubs in Europe will battle it out once again for one of the most prestigious trophies in football.
Which Teams Won Previous Seasons?
Liverpool won it in 2019, ending Real Madrid's three-year reign. They defeated Tottenham 2-0 to lift their sixth Champions League title.
And German juggernauts Bayern Munich marauded their way into another treble, winning the 2020 Champions League, Bundesliga, and the DFB-Pokal.
In the 2021st edition, Chelsea defeated Manchester City in the Champions League final. 2022, however, saw a complete shift in power as Real Madrid came back to reclaim their place on top.
Then came the 68th season of Europe's premier club football tournament to solidify Manchester City's place among the greats.
When Will the 2023/24 Champions League Begin?
The 2023/24 Champions League kicks off on September 6th, 2023.
Who Won the 2022/23 Champions League?
On June 10th, 2023, Manchester City defeated Inter Milan 1–0 in the final, which was played at the Atatürk Olympic Stadium in Istanbul, Turkey, to become the newest winners of the Champions League.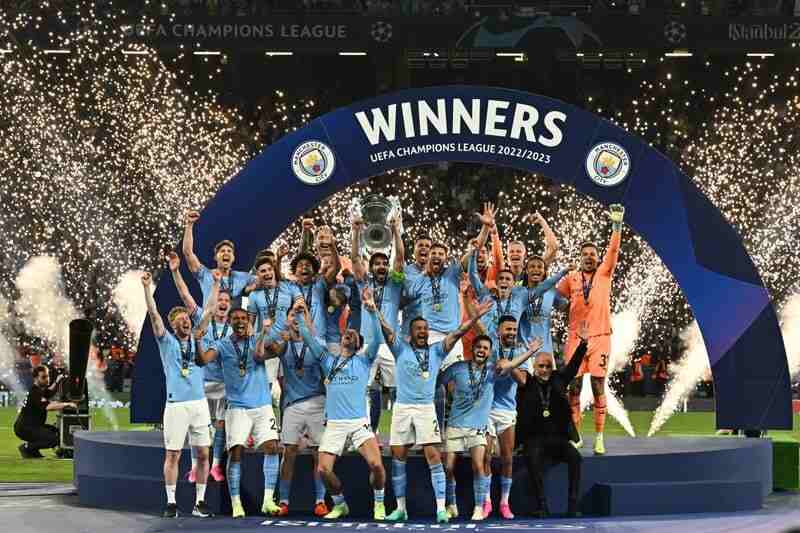 Can I Watch the 2023/24 Champions League for Free?
With channels like ZDF, TF1, Match TV, and 9Now broadcasting the event, you can definitely stream the entire competition for free.
What Edition of the Champions League is This Year's Tournament?
This year's Champions League will be the 69th season of Europe's premier club football tournament organized by UEFA.
---
How to Watch Champions League Live Online – Final Thoughts
The 2023/24 UEFA Champions League is the 69th edition of Europe's premier club competition. It is also the 31st season since it received a new name (it was formerly known as the European Champion Clubs' Cup).
I'm sure you got goosebumps when you heard the tournament anthem before kickoff. "THE CHAMPIONS" part always gives me the chills.
But the return of Champions League football isn't a pleasurable experience for everyone. That's because a lot of fans miss out on it due to geo-restrictions. If you're one of them, then you need to get yourself a proper VPN service pronto.
Who do you think will lift the Champions League trophy this season? Leave your prediction in the comment section below.