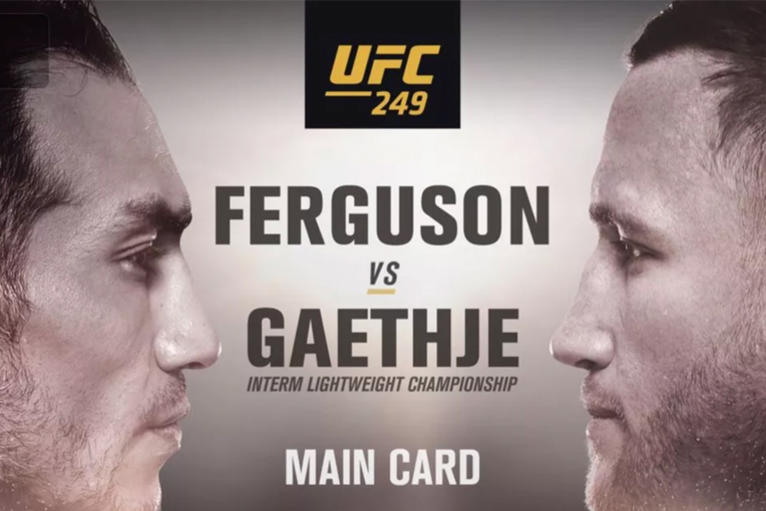 About UFC 249
Avoid imposed geo-blocks with a VPN
VPN alternative - Unlocator Smart DNS
UFC 249 fight card
Well, it looks like it's finally going to happen, folks, the return of the Ultimate Fighting Championship. After several cancellations and postponements, it appears that Dana White will finally be able to pull off UFC 249, albeit with a few card and location changes.
The event was supposed to take place on April 18 at the Barclays Center in Brooklyn, New York. But due to the coronavirus pandemic, it was postponed, despite White's persistent attempts to keep the event alive as scheduled. Back then, the Khabib vs. Ferguson bout was supposed to headline the event. However, travel restrictions prevented the Lightweight Champion from leaving Russia, with Justin Gaethje replacing him.
UFC 249 will take place on May 9 at the VyStar Veterans Memorial Arena in Jacksonville, Florida behind closed doors. That means the only way you can watch it is online. Now, several broadcasters will air the event, but you won't be able to access them from abroad unless you have a VPN.
---
Table of Content
---
UFC 249 Background
The coronavirus pandemic caused havoc all over the world. Governments enforced nationwide lockdowns and implemented travel bans in an attempt to control the spread. At the time of writing, there are almost 4 million confirmed cases worldwide, and the number is increasing each day.
COVID-19 had a massive toll on the global economy as companies were forced to lay off millions of employees to stay in business. Every sector felt the damaging consequences of the Coronavirus, including sports. Tournaments, leagues, and events were either postponed or canceled, which resulted in heavy losses for everyone involved.
That included UFC 249, which was supposed to take place on April 18 in New York. The undefeated Khabib Nurmagomedov was going to defend his Lightweight title against former interim champion Tony Ferguson in the main event. The bout had already been canceled four times in the past.
UFC President Dana White tried his best to keep everything on track. He even suggested moving UFC 249 to a Mortal-Kombat-like "fight island" to avoid COVID-19 restrictions. However, media partners ESPN+ and Disney stepped in and influenced the cancelation of all UFC events until further notice.
But after the State of Florida eased its Coronavirus lockdown, UFC 249 was back on the cards. The event moved from the Barclays Center in New York to the VyStar Veterans Memorial Arena in Jacksonville, Florida. It will take place on May 9 behind closed doors.
Fight Card Changes
UFC fans were really looking forward to the UFC 249 main event between Khabib and Ferguson. Unfortunately, they'll have to wait yet again as the Lightweight Champion cannot travel due to the Coronavirus pandemic. Therefore, the Ultimate Fighting Championship replaced him with Justin Gaethje.
No; it's not the same as the bout for the Lightweight title, but that doesn't take anything away from Ferguson vs. Gaethje. Both are exceptional, experienced, and aggressive fighters who will lock horns for the interim lightweight title.
The rest of the card underwent changes as UFC removed the following fights:
Magomed Ankalaev vs. Ion Cuțelaba (Light Heavyweight).
Ben Rothwell vs. Gian Villante (Heavyweight).
Karl Roberson vs. Makhmud Muradov (Middleweight).
Hunter Azure vs. Umar Nurmagomedov (Bantamweight).
---
UFC 249 on ESPN+
As you may know, ESPN became the exclusive home of UFC events in 2019. According to the deal, ESPN+, the sports network streaming service, will exclusively broadcast all pay-per-view UFC events in the US. That means you can longer purchase and watch PPV fights on cable or satellite TV.
And since UFC 249 will be held behind closed doors, the only way you can watch the event in the US is on ESPN+. So in short, you have to pay for an ESPN Plus subscription and cover the price of the PPV event. Here are the options at your disposal:
If you already have a yearly ESPN+ subscription, you only have to pay for UFC 249, which costs $64.99.
Meanwhile, ESPN+ monthly subscribers can either purchase UFC 249 for $64.99 or upgrade to the annual plan and buy the PPV event for $84.98.
As for new subscribers, they can bundle one UFC PPV event with the ESPN+ annual subscription for $84.98.
Please note that ESPN+ costs $4.99/month and $49.99/year. Your subscription will auto-renew at the same price unless you cancel it.
International Broadcasters
ESPN+ may be the media rights holder to UFC events, but that's only inside United States territories. There are different broadcasters abroad, like BT Sport in the UK, DAZN in Germany, and Main Event in Australia. But unlike ESPN+, you don't have to pay extra to watch UFC 249.
In the UK, for example, all you need is a BT Sport subscription, which costs £25 ($31.90) per month (no cable contract required). In Germany, you can stream UFC 249 for €11.99/month (around $13.40) or €119.99 ($124.90) per year without any extra PPV cost. And in Australia, the event has a $54.59 price tag.
Here are some of the streaming platforms that will air UFC 249:
UFC 249 and Geo-blocking
Several online services will broadcast UFC 249 on May 9 (May 10 if you live outside the US due to different time zones). However, each platform is available inside its respective region. In other words, ESPN+ is only available in the US, while BT Sport and Main Event are only accessible in the UK and Australia, respectively.
When it comes to sports events, each country or region has its respective media rights holder. These broadcasters have exclusive rights to air competitions inside specific markets. And to ensure there are no copyright violations, each service applies geo-blocking to its content. That means you cannot access the streaming platform from outside its broadcasting zone.
ESPN Plus and the rest of the lot can determine your location using several methods, but the most common one is your IP address. It's easy for them to identify in which city you live as each country has a set of unique IP addresses. When you go online, you use the IP that your Internet service provider gave you. Some ISPs hand users the same IP address whenever they browse the web, others distribute different ones each time you go online.
Nonetheless, the outcome is always the same when you're trying to access a streaming channel from abroad: A geo-error message.
ESPN+ will display the following:
"ESPN+ is not available in your country die to content rights issues."

Meanwhile, the below message will pop up when you attempt to open BT Sport:
"Sorry, this video is not available in your country." The only way to avoid these messages is with a virtual private network.
---
Unblock UFC 249 with a VPN
If you live anywhere outside the above regions and countries, the only way to watch UFC 249 is by tricking the broadcasters into thinking you are inside their markets. And since IP addresses reveal your location, you need to change yours to one of the countries we mentioned.
Virtual private networks, better known as VPNs, are the perfect tools to accomplish that. They reroute your traffic through one of their own servers, then give you an IP address that matches the location of the server you selected. That means if you connect to an American server, you'll get a US IP address.
Furthermore, the VPN will encrypt your traffic the moment it leaves your device until it reaches its destination. It will also encrypt any data you receive. As a result, third parties won't be able to see your online activities or track your location.
More VPN Features
In addition to bypassing geo-blocks and encrypting your sensitive data, VPNs come in handy whenever you go online. They maintain your Internet security and privacy, all while giving you more web freedom.
Here's what else you'll find in stock:
No data logging: Top VPN services don't keep records of your browsing history, the websites you visit, or your IP address. They eliminate all sensitive data from their servers so that no one can trace anything back to you.
P2P support: Torrent users can immensely benefit from VPNs that allow peer-to-peer file-sharing. Their privacy features will protect you from copyright holders and potential lawsuits.
Limitless access: If you live in a country with strict Internet censorship, connecting to a foreign VPN server will help you unblock banned websites. That includes VoIP services in the UAE and pretty much any other website in China.
Kill switch: As an extra precaution, VPNs have a kill switch to terminate your Internet connection in case the VPN connection drops. That way, your traffic won't leak to your ISP's servers.
How to Install a VPN and Watch UFC 249
You don't have to go through five long and brutal rounds to install a VPN on your device. All reputable providers offer compatible apps with the majority of operating systems, including iOS, Android, PC, and Mac. Therefore, once you choose a VPN service, the installation process will take just a few steps from your part:
Subscribe to a reputable VPN service. You need to provide a valid email, select a subscription plan, then choose a payment method.
After creating an account, go to the App Store or Google Play to install the VPN app on your device.
Launch the app and sign in with your new account.
Connect to a server from any of the above countries or regions, depending on your favorite streaming platform. Select a US server for ESPN+, a UK server for BT Sport, or a German serer for DAZN.
See whether Ferguson or Gaethje will win the interim Lightweight Championship.
---
Best VPN for UFC 249
You might have noticed that we used words like reputable and premium to describe VPN services. That's because not all providers are the same. Even money-costing VPNs offer different sets of features in terms of both quality and number. Still, they are better than free VPNs.
These services have little in common with their premium counterparts, especially when it comes to security and privacy. Most of them collect users' sensitive data, then sell it to advertisement companies. The information includes IP addresses, browsing history, and anything that helps third parties deliver targeted ads. Moreover, free VPNs don't use strong encryption and might even contain malware.
Besides, you won't go far when you use these services as their server network is limited and overcrowded. They also cannot bypass most geo-blocks that streaming platforms impose.
Therefore, stick to elite VPNs like the ones below.
ExpressVPN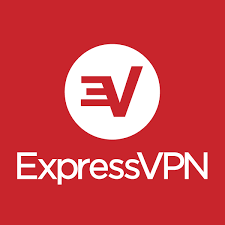 One of the best VPN services for streaming online sports shows is ExpressVPN. It has a broad network of over 3,000 servers in 160 locations all over the world. The grid spreads across 94 countries, including the US, Canada, the UK, Germany, the MENA region, and Australia. These servers are fast and can bypass the majority of geo-blocks and VPN IP address bans.
Furthermore, ExpressVPN employs first-rate privacy features so that you remain anonymous online. It won't keep any records of your online activities, deleting sensitive data from its servers. Also, it uses the Advanced Encryption Standard with 256-bit keys, better known as AES-256. It is the most secure algorithm to date. And with an automatic kill switch, your data won't leak to your ISP's servers.
ExpressVPN apps are compatible with the majority of operating systems. But just like other VPN services, it does not support gaming consoles or Smart TVs. Therefore, it offers a Smart DNS proxy called MediaStreamer that works on all devices. You can use it to unblock streaming platforms and watch your favorite programs.
In addition to all that, the VPN allows up to five device connections at the same time per single account. It also supports P2P file-sharing activities and offers a 30-day refund policy.
Read our ExpressVPN review for more details.
Pros
Speedy servers.
Access to any Netflix library and other streaming services.
Vast server network.
No-logs policy.
30-day money-back guarantee.
Smart DNS proxy: MediaStreamer.
AES-256 encryption.
Five simultaneous device connections.
24/7 customer support with live chat feature.
Kill switch and DNS leak protection.
Cons
Slightly pricier than other VPNs.
---
BulletVPN
Another top VPN for bypassing geo-restrictions and unblocking streaming platforms is BulletVPN. It does not have a server network that's as wide as other elite VPNs, but it has a presence in all the strategical locations. That includes South Africa, Australia, the MENA region, Germany, the UK, Canada, and the US.
And just like the name suggests, BulletVPN offers fast speed rates, ideal for watching live sports like UFC 249. You can install the app on the majority of devices, including Android, PC, iOS, and Mac. There's also a Smart DNS proxy that you can set up on your Smart TV, PS4, or Xbox.
BulletVPN also supports torrenting, allows six simultaneous device connections, and offers a 30-day money-back guarantee.
As for privacy and security, it uses AES-256 encryption, implements a zero-logging policy, and features a kill switch. The latter comes with an additional, optional feature called BulletShield that will only allow you to access the Internet if you are connected to a BulletVPN server.
Check out our full review for more information.
Pros
Works with the majority of streaming services.
Allows six simultaneous devices.
High app compatibility.
Fast speed rates.
Military-grade encryption.
Zero-logs policy.
Smart DNS proxy.
30-day refund policy.
Kill Switch + BulletShield.
Cons
Smaller server network than other providers.
---
VPN Alternative – Use Smart DNS for UFC 249
Users who are not concerned about hiding their online location and traffic can use a Smart DNS proxy instead of a VPN. These tools can bypass geo-blocks by rerouting the location part of your connection, leaving the rest intact. That means you won't get any data encryption nor IP address concealment. But on the bright side, your Internet speed won't drop.
However, please note that Smart DNS proxies cannot unblock all streaming platforms. They have a list of supported channels, so make sure the one you want is included. Moreover, these tools won't work if your ISP uses transparent proxies or DNS hijacking.
Unlocator – The Number One Smart DNS
Since Smart DNS proxies don't offer privacy or security features, the only logical course of action is choosing a service with plenty of channel support. Unlocator will give you access to more than 220 platforms, including ESPN+, BT Sport, and DAZN. And the provider introduced a VPN product as well. You can subscribe to both services and get the best of both worlds with Unlocator Hybrid.
Furthermore, there's a seven-day free trial period that does not require any of your credit card information. You'll also benefit from a 30-day money-back guarantee on top of that, which gives you plenty of time to test the service before you make up your mind.
Visit Unlocator and sign up for the free trial. All you need is a valid email during that period.
Follow Unlocator's setup guides and videos to easily configure the Smart DNS on your device.
You can set up Unlocator on iOS, Android, PC, Mac, PS4, Xbox, routers, Smart TVs, Chromecast, and Apple TV.
Stream UFC 249 on your favorite platform no matter where you are.
---
UFC 249 details and Fight Card
After several postponements and delays, UFC 249 will finally take place on Saturday, May 9 at the VyStar Veterans Memorial Arena in Jacksonville, Florida. Due to the Coronavirus pandemic, the event will be held behind closed doors, which means the only way to watch it is via online streaming.
The early prelims and prelims start at 6:15 p.m. and 8 p.m. ET, respectively in the US. As for the main card, it will kick off at 10 p.m. ET. Fans in the UK might have to stay up until at least 3 a.m. on Sunday to watch Ferguson vs. Gaethje. As for Australian MMA enthusiasts, the main card will start at 12 p.m. AEDT on May 10.
UFC will return with a bang as two title bouts are about to take place. The first is between Tony Ferguson and Justin Gaethje for the interim Lightweight title, while the second is between Henry Cejudo and Dominick Cruz for the Bantamweight Championship.
Here's the full fight card:
MAIN CARD
Tony Ferguson vs. Justin Gaethje – (main event)
Henry Cejudo vs Dominick Cruz
Francis Ngannou vs. Jairzinho Rozenstruik
Jeremy Stephens vs. Calvin Kattar
Greg Hardy vs. Yorgan De Castro
PRELIMS
Anthony Pettis vs. Donald Cerrone
Aleksei Oleinik vs. Fabricio Werdum
Carla Esparza vs. Michelle Waterson
Uriah Hall vs. Ronaldo Souza
EARLY PRELIMS
Vicente Luque vs. Niko Price
Bryce Mitchell vs. Charles Rosa
Ryan Spann vs. Sam Alvey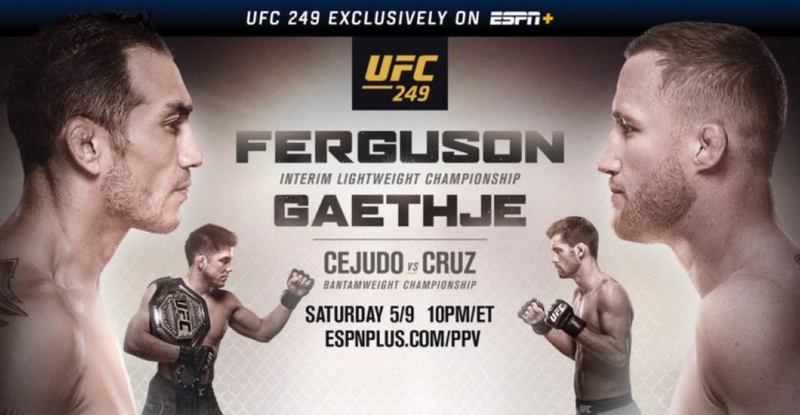 ---
Watch UFC 249 Live Online from Anywhere – The Wrap-up
UFC 249 won't just mark the return of the Ultimate Fighting Championship, but it will also be the first sports action in almost two months. The COVID-19 pandemic really caused havoc in the sporting world, casting serious doubt over the completion of all sporting events.
But UFC 249 will be the perfect distraction from all these troubles. And with such an interesting lineup of fights on the table, it's easy to see why fans are over-excited. You can stream Ferguson vs. Gaethje on your favorite channel from anywhere using a premium VPN service. Alternatively, you can use a Smart DNS proxy service like Unlocator.
Who do you think will come out on top in UFC 249? Tony 'El Cucuy' Ferguson or Justin 'The Highlight' Gaethje? Leave your predictions below.