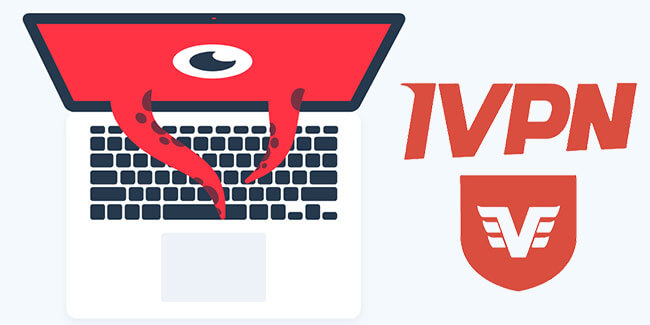 Founded in 2009 by Nicholas Pestell, IVPN operates under Gibraltar-based company Privatus Limited. According to the website, Pestell and the founding team met while studying at Royal Holloway, University of London. Today, "a team of information security experts and privacy activists" runs IVPN, with a strong focus on user privacy.
That shouldn't come as a surprise given the mother company's name and headquarters. But in addition to helping users protect their online data, IVPN says it regularly donates to privacy advocates and organizations like the Open Rights Group, the EFF, and the Tor project. The company also values full transparency and disclosure.
That all sounds excellent on paper but does IVPN actually live up to its expectations? Besides, there's more to VPNs than just online privacy, so how does IVPN fare in the other domains? We put the provider through a series of unbiased and detailed tests to find out.
---
Content Overview
---
FEATURE
AVAILABILITY
Money-back guarantee
30 days
Allowed simultaneous connections
– 2 devices for the Standard plan
– 7 devices for the Pro plan
Supported streaming services
US Netflix
No-logs policy
Available
Encryption
Military-grade AES 256-bit
Protocols
OpenVPN, IKEv2, IPSec, and Wireguard
Special features
Multi-Hop (Double VPN), AntiTracker, Kill switch, port-forwarding, obfuscation technology
Customer support
Email and live chat
Server locations
76 servers in 32 countries
P2P support
Yes
Server switches
Unlimited
Data traffic
Unlimited
Compatible devices
Windows, Mac, Linux, iOS, and Android.
Smart DNS proxy
Unavailable
Legal Jurisdiction
Gibraltar (outside Five Eyes jurisdiction)
Free trial
Unavailable
---
IVPN Overview – Pros and Cons
If you don't much time on your hands to go through our entire review, here's a quick overview of what IVPN has to offer.
IVPN is a Gibraltar-based VPN service that operates under the company Privatus Limited. And as the name suggests, this provider cares a great deal about user privacy and safeguarding their data. It offers AES-256, military-grade encryption that protects your entire traffic and prevents ISPs and third parties from monitoring what you do online.
Furthermore, the VPN does not keep nor store connection or activity logs on its servers, thanks to a strict zero-logging policy. You can also activate a kill switch to terminate your Internet connection and ensure there aren't any data leaks to your ISP's servers. Additional features include Multi-hop (sends your traffic through two VPN servers), Obfsproxy (prevents VPN detection), and AntiTracker (blocks ads and malicious websites).
However, the double VPN and port forwarding features are only available for the Pro plan subscribers. Standard plan users also benefit from only two simultaneous device connections, while their Pro peers enjoy seven.
IVPN is one of the few VPNs that offer Wireguard, a VPN protocol that is faster and easier to use than the industry-standard OpenVPN. Nonetheless, the latter is also available if you prefer using it. And for total transparency, you'll find a warrant canary and a report from independent auditors.
The provider operates over 76 servers in 32 countries, a narrow network compared to elite competitors. And although these servers support torrenting activities, the company encourages P2P users not to use American servers due to the high number of DMCA notices it receives. Moreover, IVPN servers can't unblock every streaming platform.
All users benefit from a 30-day refund policy within the first month of service.
Pros
AES-256 encryption
No-logs policy
Kill switch
AdTracker, Obfsproxy, and Multi-hop
Warrant canary and independent auditing
30-day refund policy
P2P support
7 simultaneous device connections (for Pro subscribers)
Wireguard VPN protocol
Pause VPN
Cons
Limited server network
Limited access to streaming services
Only two simultaneous devices for Standard users.
No Multi-hop or Port-forwarding for Standard subscribers
Live chat unavailable 24/7
---
Interface and Design
Instead of immediately diving into IVPN's desktop and mobile applications, we decided to give you a glimpse of the website first.
The homepage features plenty of information about privacy and how to protect users' data from online surveillance. That includes a detailed section displaying all things on offer in terms of privacy and transparency, like a zero-logs policy, independent auditing, and no data storage. The company follows it up with a features list and reasons why you should use a VPN.
For more details about the privacy policy, the IVPN team, pricing, apps, guides, blog, and support page, you can click on the buttons at the top or bottom of the page. There's also a live chat button at the bottom right of the homepage to quickly contact customer support. The web design is simple and easy to follow, with the most impressive thing being a dark mode option, which we really liked.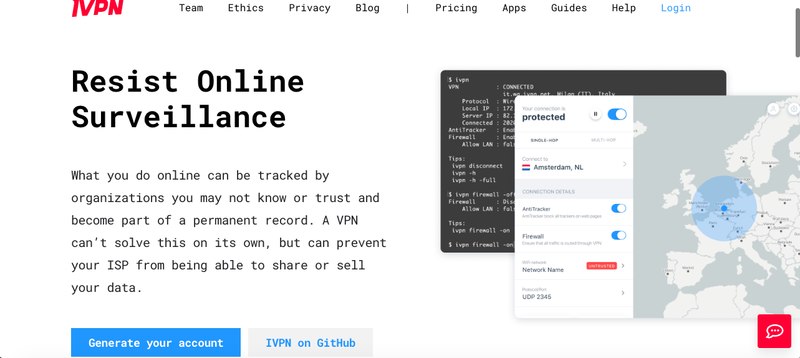 Mac App
We began our IVPN testing through the provider's Mac desktop client. To sign in, you must enter the account ID that you acquire after subscribing to the service (i-XXXX-XXXX-XXXX). After logging in, you'll find a large connect button at the center of the home screen. If you click it, IVPN connects you to the fastest server available based on your actual location.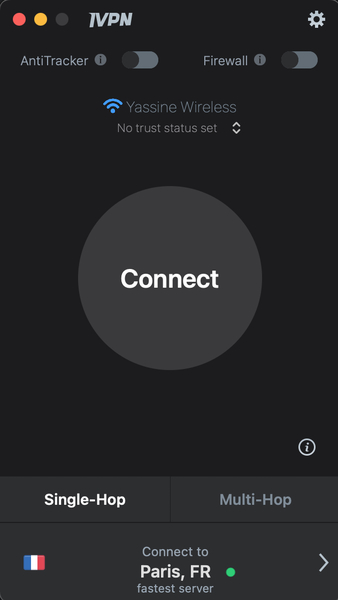 If you wish to change servers, you can either tap on the arrow next to the server location you're connected to or hit the settings icon at the top right. The home screen also allows you to enable features like the kill switch (firewall) or the AntiTracker. You can also choose between single-hop and multi-hop servers. The settings page also lets you activate IVPN features.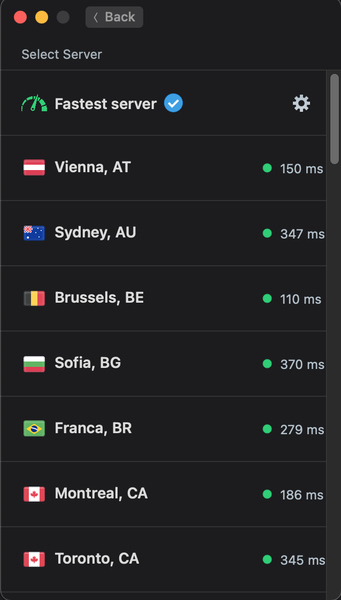 Android App
Just like the Mac client, IVPN's Android app also requires your account ID to sign in. Design, however, is a bit different. Once you log in, the application will display your actual location on the world map, with your VPN status showing underneath it. Tapping the button connects you to the fastest IVPN server as per your location.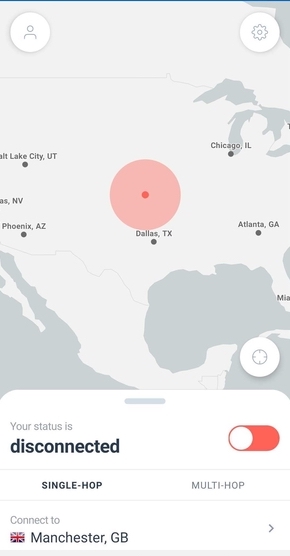 If you have a particular server destination in mind, either click on the arrow at the bottom right or the settings icon at the top of the screen. From there, you can enable a number of features, like the kill switch and AntiTracker, or change the color theme.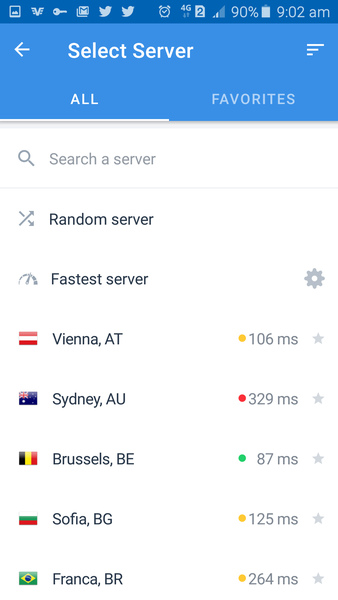 Ratings and Reviews
IVPN has a very good rating on Trustpilot, with users giving it 3.9 stars from a possible 5. However, we should point out that the provider only has three reviews on the consumer review website. On Google Play, IVPN has an average score of 3.4/5, while the highest ratings were recorded on the App Store, 4.1.
IVPN cost a bit more than other VPN providers but you get what you pay for like they said the servers are super fast like they advertise…

Cybexwrist, IVPN user on the App Store
App Compatibility
IVPN is compatible with all the popular operating systems out there. You can install it on Mac, PC, Linux, iOS, and Android, covering pretty much every device except Kindle Fire. But just like other VPN providers, you cannot install IVPN on gaming consoles or Smart TVs because they don't have VPN clients. Still, you can manually set up an IVPN connection on your router so that all your devices can benefit from it.
Furthermore, IVPN allows up to seven simultaneous device connections with just one account. However, this only applies to the Pro Plan subscribers. Standard customers, meanwhile, can only use two devices simultaneously.
---
Server Network
According to the website, IVPN operates 77 servers in 32 countries across the globe. These numbers are minimal compared to other VPN providers on the market regarding both quantity and spread. For instance, you won't find any server in Africa, with the majority being in Europe and the USA.
IVPN focuses more on privacy than bypassing geographic restrictions. Nonetheless, we believe it should introduce more servers and cover more grounds.
Here are the countries with IVPN servers:
Australia
Austria
Belgium
Brazil
Bulgaria
Canada
Czech Republic
Denmark
Finland
France
Germany
Hong Kong
Hungary
Iceland
Israel
Italy
Japan
Luxembourg
Netherlands
Norway
Poland
Portugal
Romania
Serbia
Singapore
Slovakia
Spain
Sweden
Switzerland
UK
Ukraine
USA
---
IVPN Speed Tests
A VPN service that cannot offer speedy servers is often ignored by users, not matter how good its other features are. With that being said, every VPN on the market reduces your Internet speed due to the data encryption and traffic rerouting. Still, your provider must make sure the speed drop remains unnoticeable so you can keep browsing the web unaffected.
Every VPN claims to offer the fastest servers, but few actually live up to their words. Therefore, we had to test IVPN in this department by connecting to random servers and conducting speed tests.
Before connecting to IVPN's servers, we first tested our Internet speed to see how much the VPN is going to affect it.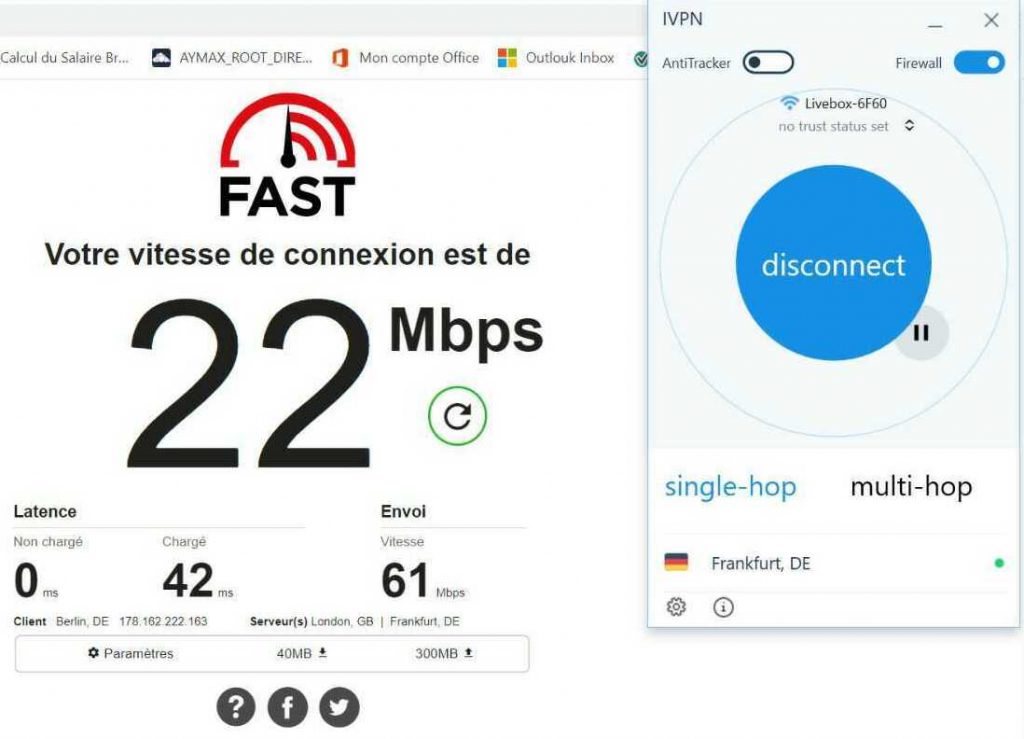 The first IVPN server we tried was inside in Germany, which is near our actual location. We expected the speed drop to remain minimal due to the close proximity, but as you can see from the above image, speed levels significantly decreased to 22 Mbps.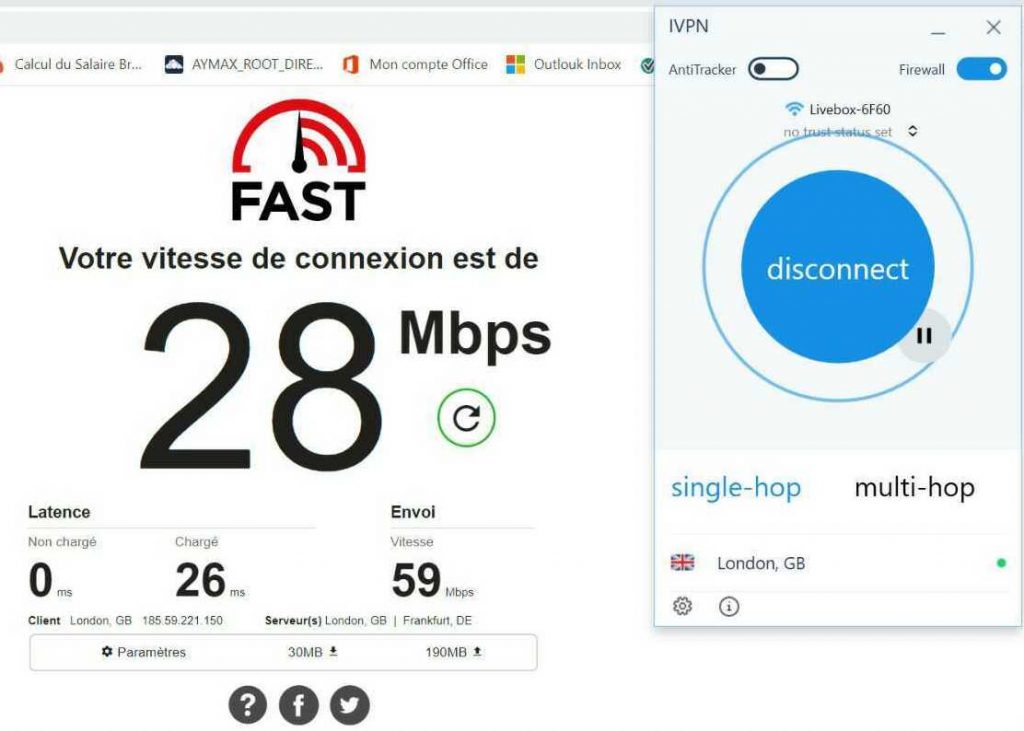 Next, we connected to a server in the UK, another nearby country to ours. And although speed picked up a little, it remained below par.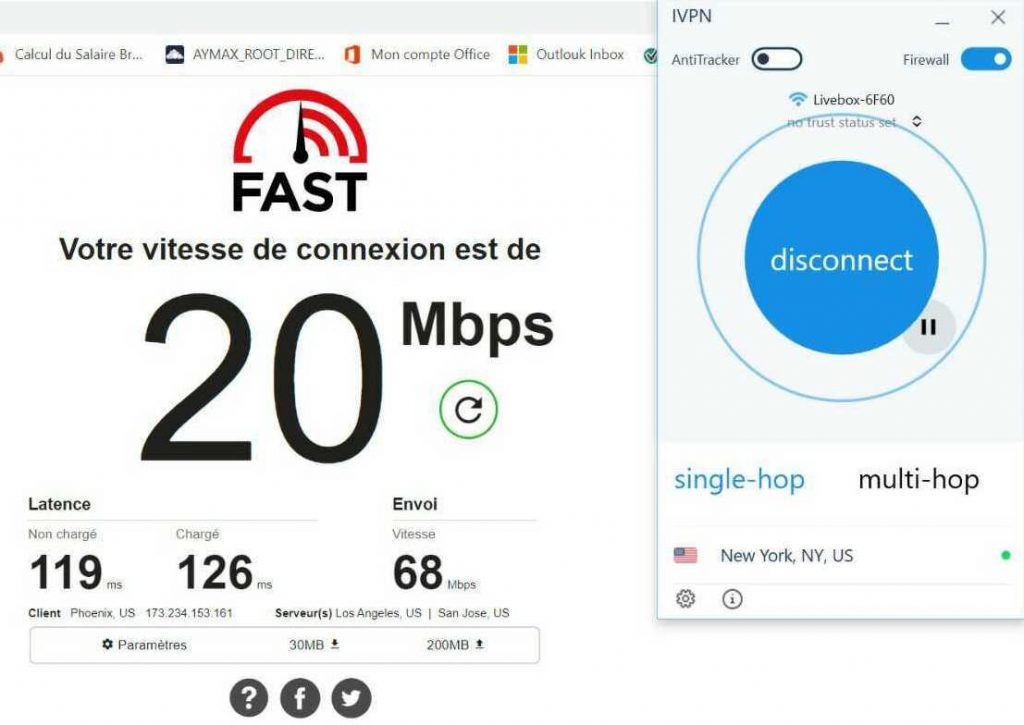 Finally, we connected to an IVPN US server, a popular choice for cord-cutters due to the wealth of American-restricted streaming services. and as expected, speed rates dropped even further due to the long distance to our actual location.
How Fast Is IVPN?
According to our speed tests, the speed rates that IVPN servers offered were nowhere near the top level. As you can clearly see, speed levels dramatically dropped once we connected to IVPN servers, including those near our actual location. As a result of these disappointing results, we advise you to consider faster VPNs.
---
IVPN Streaming Channel Support
Most streaming platforms are only available inside their respective regions and countries. Copyright issues and licensing agreements prevent these services from showcasing content to viewers abroad. That is why you see a location error message when you try to access them outside their broadcasting zone.
"Sorry, Disney+ is not available in your country."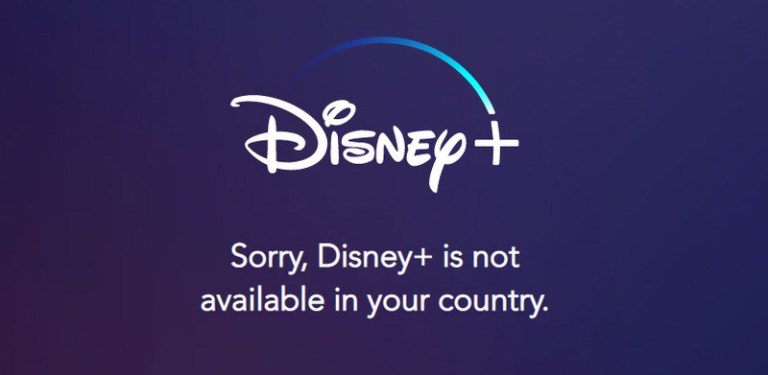 Now, these platforms can determine your physical through your IP address. And since VPNs mask your IP and reroute your traffic through a server of your choice, many cord-cutters started using them to avoid geo-blocks. However, streaming channels were soon able to detect VPN IP addresses and consequently block them. So now, only the best providers can unblock VOD services.
"You seem to be using an unblocker or proxy. Please turn off any of these services and try again. For more help, visit netflix.com/proxy."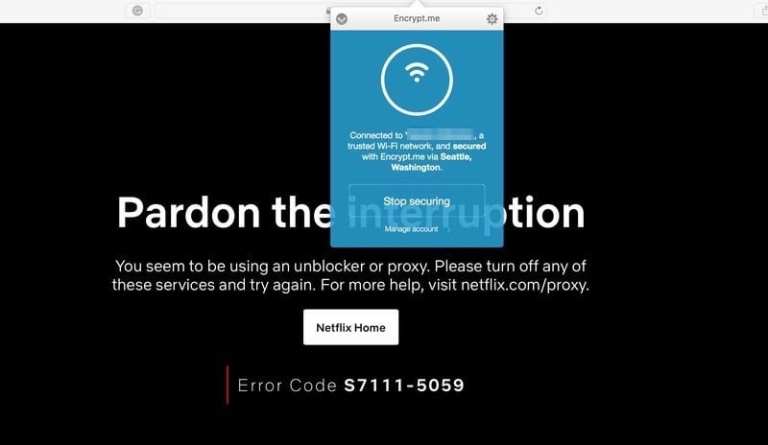 And since most people use VPNs for bypassing geo-blocks, we had to test IVPN's performance in this area. However, the results were quite disappointing. The VPN only managed to successfully unblock Netflix's US catalog, which came after trying several American servers. The one that worked was IVPN's Chicago server.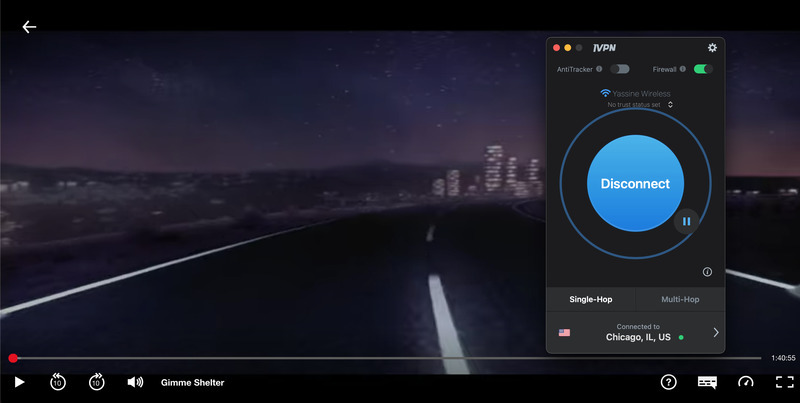 No matter which US server we connected to, we couldn't unblock Hulu or Amazon Prime Video's American library. These providers were able to detect that we're using a VPN IP address and subsequently denied our access.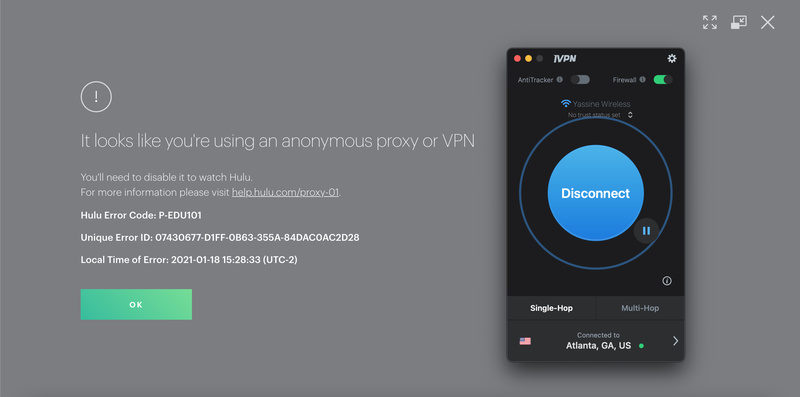 And since the US isn't the only home for quality television shows and dramas, we connected to IVPN's servers in the UK. BBC iPlayer is a very popular streaming platform both inside and outside the United Kingdom, with shows like Killing Eve, Fleabag, and Peaky Blinders. However, IVPN failed to unblock the UK streaming service.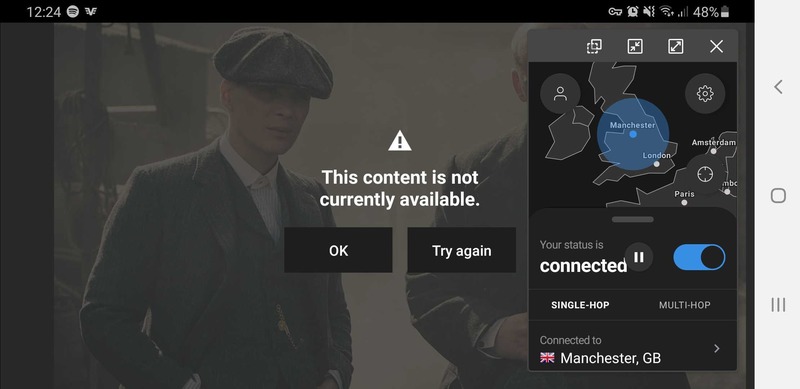 No Smart DNS Proxy
As we previously mentioned, VPN software isn't compatible with every operating system. Therefore, some brands offer a Smart DNS proxy for cord-cutters who use their smart TVs or gaming consoles to access streaming platforms.
Unlike VPNs, Smart DNS proxies only reroute the URLs that give away your location and leave the rest of your traffic intact. And since they don't offer data encryption, your Internet speed remains unchanged. They won't do you much good if you're looking for privacy, but if it's only streaming you're interested in, Smart DNS isn't a bad choice to consider.
IVPN does not offer a Smart DNS proxy service, meaning you can't unblock streaming services on your PS4, Xbox, LG, or Samsung Smart TV. Alternatively, you can set up an IVPN connection on your router, allowing any device that connects to your WiFi to benefit from IVPN perks.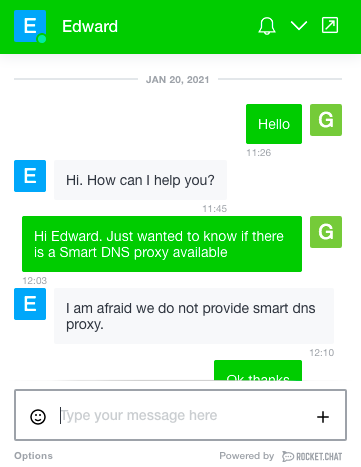 ---
Torrenting Support
Using peer-to-peer networks to download movies, series, and songs or watch shows and sports events is a very common practice. And although torrenting is illegal and frowned upon in many countries, some users still prefer it because it's free. Therefore, using a VPN before engaging in P2P activities is crucial.
VPNs encrypt your traffic and change your IP address, preventing copyright holders and ISPs from monitoring your online activities. As a result, you won't face legal action or Internet disconnection. However, not all P2P links are trustworthy as hackers could be lurking on the network.
IVPN allows torrenting activities and downloading. However, the service requested its clients not to use US servers for P2P because it received several complaints and DMCA notices.
"Our upstream providers in the USA have threatened to disconnect our servers on multiple occasions as a result of the high number of DMCA notices we receive. We kindly request that customers avoid USA based servers for P2P (including USA exit servers on Multi-hop)."

IVPN
---
Security and Privacy
Respected VPN providers pull out all the stops to protect your online privacy. That includes deploying the most advanced techniques to prevent third parties and government agencies from monitoring what you do.
Of course, not all VPNs are the same. Free providers, for instance, keep records of your browsing history and online habits, then sell the data to advertisers, who use the info to bombard with customized ads. They also often use weak encryption algorithms and operate a handful of servers. All in all, we advise you to steer clear of free VPNs.
This is what IVPN offers in terms of privacy.
Company Headquarters
Your VPN's headquarters could play a vital role in maintaining your online privacy. For example, The US, the UK, Canada, Australia, and New Zealand are part of a signals intelligence-sharing alliance called Five Eyes. Any company operating within these jurisdictions must submit user information to the authorities upon request. Other nations later joined this coalition, forming Nine Eyes and 14 Eyes, respectively:
| | |
| --- | --- |
| Five Eyes | USA, UK, Canada, Australia, New Zealand |
| Nine Eyes | Five Eyes countries, plus Denmark, France, Netherlands, and Norway. |
| 14 Eyes | Nine Eyes members, plus Belgium, Germany, Italy, Spain, and Sweden. |
Intelligence agencies inside the above countries mainly focus on Internet surveillance. What's even worse is that they can share user data with each other.
IVPN and Privatus Limited are based in Gibraltar, a British Overseas Territory on Spain's south coast. Although the British monarch is Gibraltar's head of state, the country is not part of the United Kingdom. It has almost complete internal self-governance through its parliament and government. Therefore, Gibraltar does not fall under the UK's intrusive jurisdiction.
Zero-Logs Policy
IVPN has an outstanding privacy policy, transparently displaying the information it stores and deletes. According to the website, the VPN implements a no-logging policy, meaning they don't keep records of your sensitive data, such as:
Traffic logging
Connection timestamp or connection duration
DNS request logging
User bandwidth
Customer IP addresses
Any account activity except active total simultaneous connections
In fact, IVPN doesn't even ask about your name or email address, which means the company cannot contact you in case of network or account issues. You have the option of providing your email after signing up.
The VPN keeps minimal information about your account, like ID number, date of creation, subscription plan, and the number of simultaneous devices. It also stores some payment records like transaction_id and subscription_id. The reason behind payment data storage is to process refunds, resolve other payment issues, and enable subscription auto-renewal.
"Where we can offer anonymous payment methods we will, and we collect as little information as possible to process them. However, centralized or third-party payment systems and their data processing and storage are out of our control."

IVPN
Military-Grade Encryption
IVPN uses the Advanced Encryption Standard with 256-bit keys (AES-256), the industry's most secure algorithm. Threat actors and online snoopers would have to go through trillions of possible combinations to break it. So far, that feat is impossible even with the world's supercomputers combined. So as long as your IVPN connection is established, no one can monitor your browsing history or the websites you visit.
Kill Switch and Data Leak Protection
To ensure your data never leaks to your ISP's servers, IVPN terminates your Internet connection with a kill switch in case it malfunctions. You just to enable the feature from your app's settings or home screen, depending on which device you're using. We advise you to always turn on the kill switch when going online, especially for P2P or censored activities.
We connected to IVPN's Chicago, USA server and used our own IP info tool to make sure the VPN isn't leaking our actual location. As you can see from the below image, The IP address on display matches the server we selected, making us appear as if we were in the Windy City.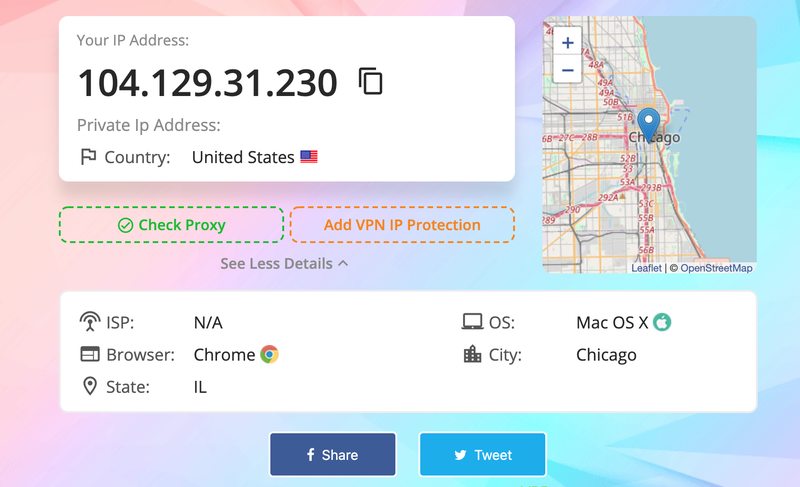 Then, we used another one of our tools to see whether there are any WebRTC leaks. And as the following image clearly shows a potential leak under "Status," the IP address on display is the one from the Chicago server, meaning IVPN isn't leaking any data.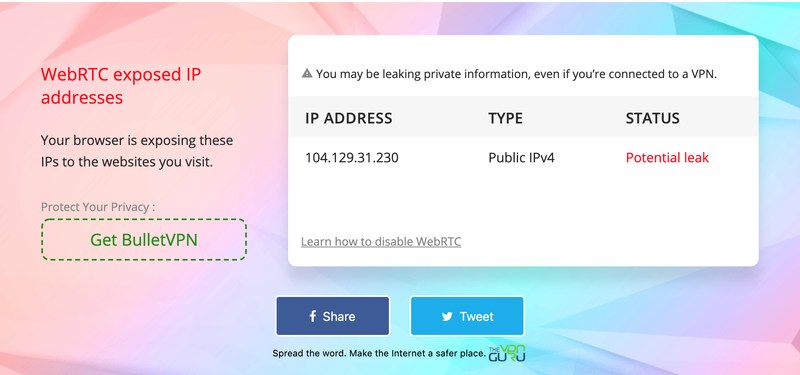 Additional Features
IVPN offers than just standard security and privacy perks. Those who subscribe to the Pro package will benefit from:
Multi-hop

: Reroute your traffic through two servers instead of one and get double encryption.

Anti-tracker

: IVPN blocks ads, adware, malicious websites, and trackers.

Obfsproxy

: ISPs and government agencies won't even know you're using a VPN to circumvent censorship (only available for Windows, macOS, and Linux clients).

Port-forwarding

: Add an extra layer of security to your network by redirecting data traffic from one IP/port to another.

Wireguard

: A faster, simpler, and easier to use VPN protocol than the OpenVPN. It allows you to change ciphers.
Warrant Canary
In an effort to notify users of receiving subpoenas and user data requests from the authorities, VPNs introduced warrant canary pages. Their job is to bypass the gag orders that accompany these government letters. If the page remains on the website, then no requests for user data have been made. Removing it means that your VPN received a letter from government agencies.
Not all VPN providers offer this feature, but for transparency purposes, IVPN does. The VPN updates its warrant canary page monthly in the form of a cryptographically signed message containing the following:
A declaration that, up to that point, no warrants have been served, nor have any searches or seizures taken place.
Headlines from a major news source demonstrating that the update could not have been created prior to that date.
Independent Auditing
According to the website, IVPN has one of the best privacy policies out there. And as of March 2019, the company verified its claims by inviting third-party auditors Cure53 to conduct an independent audit of its zero-logging claims. You can download the full report from the IVPN website, while the provider also shared a snapshot of the findings.
"Based on the findings, it is safe to say that all of the IVPN's privacy statements could be verified as truthful within the defined scope. The requirements for both general security claims to be considered appropriate were successfully well met for all VPN gateways."

Cure53 Audit Report
---
IVPN Customer Support
Whether you're a rookie or an advanced VPN user, you might come up against a few difficulties that require solving. Therefore, VPNs must have knowledgeable, professional, and responsive customer support teams. Users must also be able to contact them at any time through different methods.
Although IVPN offers email and live chat support, the latter option is only available on business days and not 24/7. When we first tried to contact them, live chat was offline, meaning we had to wait until office hours. Alternatively, customers can reach via email, but response time could take up to 24 hours. Also, you can check out the IVPN help center for frequently asked questions and solutions.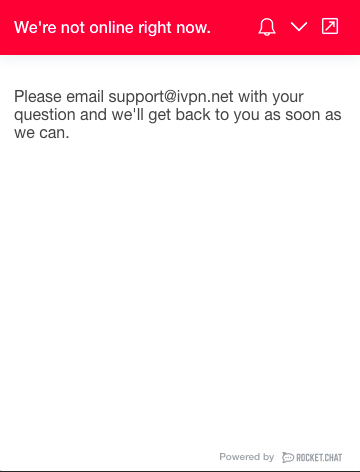 Languages
Several VPN services have websites and apps in different languages to cater to all needs and likings. Some users prefer to navigate their VPN apps with their native tongues instead of the standard English language. That option is unavailable with IVPN, though, as English is all you'll get.
---
How Much Does IVPN Cost?
Another aspect that users greatly care about is pricing. Even if a VPN offers outstanding features, some people will disregard it if it's too expensive. However, we must highlight the value of paid VPNs as opposed to free ones. The latter brands are terrible in terms of privacy and efficiency, selling your sensitive data to third parties and offering very few servers.
IVPN offers two subscription plans, Standard and Pro, with several packages available. Here's the full pricing scheme:
PERKS
PRICE
Standard
All VPN protocols, anti-tracker, kill switch, obfsproxy, 2 devices
$2/week
$6/month
$60/year
$100/2 years
$140/3 Years
Pro
All VPN protocols, anti-tracker, kill switch, obfsproxy, multi-hop, port-forwarding, 7 devices
$4/week
$10/month
$100/year
$160/2 years
$220/ 3 years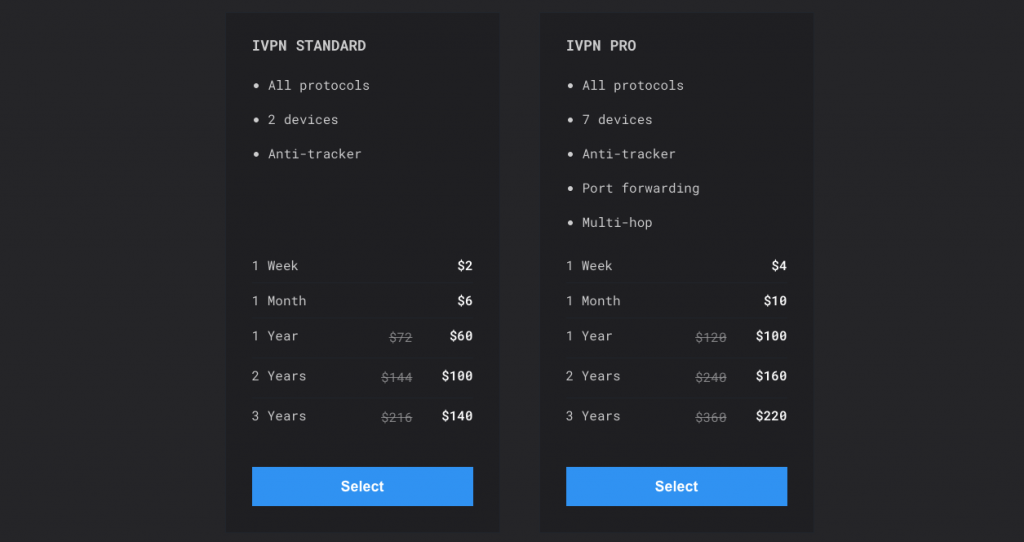 Refund Policy and Free Trial
All IVPN subscription plans come with a 30-day money-back guarantee. If you're unsatisfied with the service, you can claim a full refund within the first 30 days of your subscription. The provider does not offer a free trial period, but its affordable weekly packages allow you to get a taste of what's in store.
Payment Methods
You can purchase your preferred IVPN plan using several methods, including cash, gift card, and cryptocurrency (Bitcoin and Monero). The remaining options are the standard credit card and PayPal methods. Allowing users to pay with cryptos preserves their anonymity rights, and we weren't surprised that a privacy-oriented VPN like IVPN offers this option.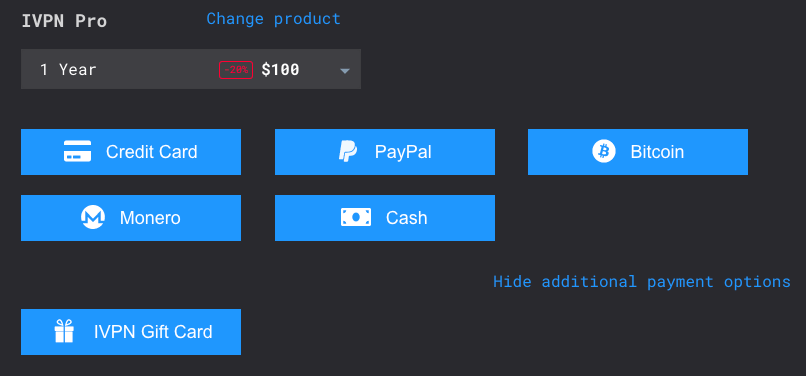 ---
IVPN Review – Final Verdict
When you have a team of information security experts running a VPN service, you won't be too surprised if the focus is mainly on privacy. The IVPN creators went all out to create a product that guarantees privacy, offering features like AES-256 encryption, a no-logs policy, kill switch, multi-hop, obfuscation technology, and more. And if you add the crypto payment and optionally giving away your email, your ID is well-protected.
However, IVPN doesn't offer much outside security and privacy. It has a limited network of servers, which can't even unblock the most popular streaming platforms. Customer support isn't available round-the-clock, and you must subscribe to its Pro plan to benefit from all the perks. Sure, it supports P2P activities, and its apps are easy to use, but that doesn't make up for its many disadvantages.
The bottom line is, if you want a VPN that offers privacy and unlimited Internet access, you should look elsewhere.
What did you make of IVPN based on our unbiased review? Share your thought below.