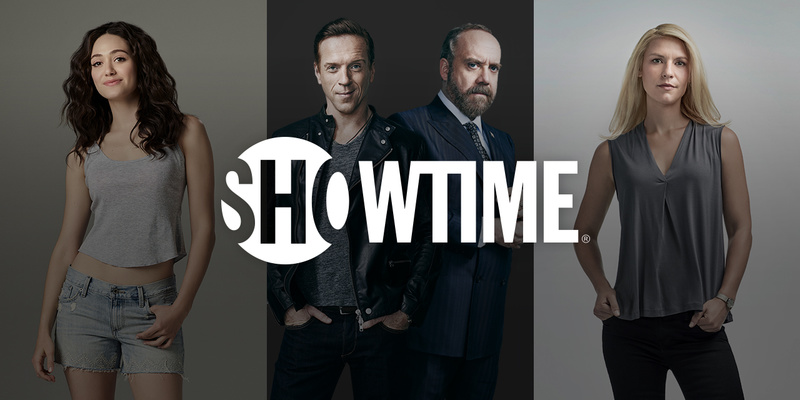 Showtime facts
Showtime availability and restrictions
Bypass geo-blocks with a VPN or a Smart DNS
Watch your favorite Showtime shows from anyhere
You won't find a more popular catchphrase in show business than "It's Showtime." This cliche is even used in the world of sports, with boxing ring announcer Jimmy Lennon Jr. famously saying it before Showtime Championship Boxing events. The premium TV network is home to combat sports like boxing and mixed martial arts, but is most famous for its motion pictures and original TV series.
I'm talking about the likes of Ray Donavan, Homeland, Shameless, Billions, and many more. All Showtime content is available via cable or satellite subscription, as well as online through Showtime Anytime and Showtime. The latter is a standalone streaming service for cord-cutters costing $10.99/month. It offers a 30-day free trial and live streams of the Showtime cable channel.
However, both online platforms are only available inside the US. So if you ever find yourself abroad, you're going to miss out on your favorite programs. However, a VPN and a Smart DNS proxy can help you change that fate and access Showtime from Anywhere.
---
Content Overview
---
Showtime – Everything You Must Know
Showtime is a US premium TV network that launched on July first, 1976. It is owned by Showtime Networks, a subsidiary of ViacomCBS. Although several channels and platforms use the Showtime brand all over the world, it is mostly known for the eight multiplex channels that are available in the US. That includes Showtime, Showtime 2, Showcase, and Showtime Women.
Programs include TV originals, motion pictures, stand-up comedy specials, made-for-TV movies, as well as MMA and boxing events. The network focused on original programs as of late, most famous of which are Dexter, Shameless, Ray Donavan, Weeds, and Homeland. All this content is available via cable subscription and online.
In addition to the eight multiplex channels, Showtime has several sister networks, including:
The Movie Channel
Flix
CBS
The CW
CBS Sports Network
Pop TV
Smithsonian Channel
Paramount Network
Comedy Central
Nickelodeon
MTV
VH1
TV Land
Logo
BET
CMT
First Streaming Service – Showtime Anytime
Showtime launched its first streaming service, Showtime Anytime, in October 2010. The online platform is only available for Showtime's cable and satellite subscribers as it requires the login details from your pay television provider. You don't have to pay anything extra to access Showtime Anytime if you have a contract with the following companies:
AT&T DirecTV
Comcast Xfinity
Spectrum
Optimum
Cox Communications
CenturyLink Prism
Grande Communications
Mediacom
AT&T U-verse
Verizon FIOS
As for content, you'll be able to stream Showtime Originals, movies, sports, documentaries, and comedy specials. All this is available on the Showtime Anytime website, or via the iOS and Android apps.
A Solution for Cord-cutters – Showtime
In 2015, Showtime introduced another streaming platform that holds its namesake. This one, however, is a standalone subscription-based service that doesn't require any existing cable contracts. All you have to do is provide a valid email and pay $10.99 a month. Moreover, you'll benefit from a 30-day free trial when you first subscribe.
The content does not differ from that of Showtime Anytime. You'll enjoy Showtime's famous Originals, in addition to movies, sports, documentaries, and live programs. You can stream your favorite shows at home on your computer or on the go through the iOS and Android apps with no ads. You can even download them on your device and watch offline.
According to data from Statista, 16% of American adults have a current Showtime subscription, while 3% share accounts. After all, the streaming service allows up to three simultaneous streams using just one account. Meanwhile, 32% revealed that they had a Showtime subscription, but not anymore.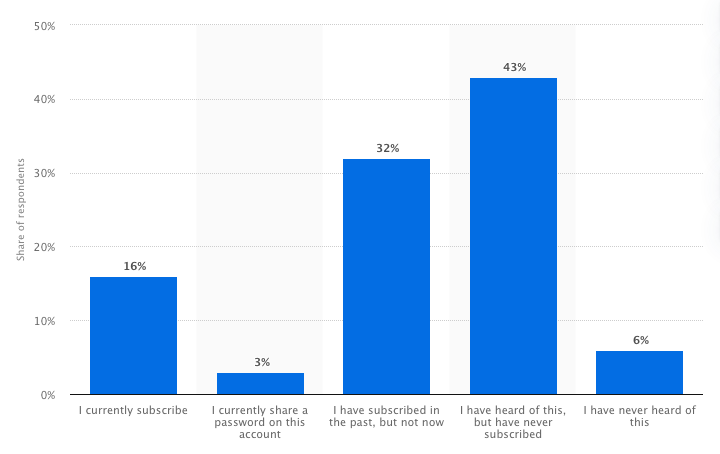 Other Services
Cord-cutters can also watch Showtime using pay-TV services. These platforms are similar to cable or satellite TV providers in terms of channel lineup, but you don't need to sign any contract whatsoever. They are subscription-based services with several plans on offer.
Sling TV: The cheapest pay-TV service that offers Showtime is Sling TV. The basic Orange and Blue plans cost $30/month each. However, there's a $10 discount on your first month. Alternatively, you can merge both plans together for $45/month ($35 during the first 30 days).
YouTube TV: For a little more money ($49.99/month to be exact), you'll get Showtime and 70 other channels with YouTube TV. You can add more channels to your plan for a little extra.
Hulu + Live TV: In addition to its affordable streaming plan, Hulu offers a pay-TV service with live programs starting at $54.99/month. You'll get plenty of entertainment in return, including Showtime and Hulu Originals like The Handmaid's Tale and Ramy.
AT&T TV Now: It may be the most expensive pay-TV platform, but AT&T TV Now has a lot to offer. In addition to Showtime, you'll get HBO channels as well. That means you'll watch quality TV for $65/month.
Showtime Compatibility
Other than allowing you three simultaneous streams using just one account, Showtime offers compatible apps with the majority of operating systems. It means you, your family, and friends can watch different shows, each on his or her device. You can use the following devices to access Showtime:
Windows
Mac
iOS
Android
Amazon Fire, Fire TV, and Kindle Fire
Apple TV
Roku
Chromecast
Samsung Smart TV
Xbox One
Oculus Go
Top Showtime Shows
Showtime offers a wide variety of shows and programs. Their most popular and in-demand lineup comes from original programming, which features some critically acclaimed series. Here's what's in store when you subscribe:
Homeland
The Affair
Masters of Sex
Dexter
Ray Donavan
Shameless
Nurse Jackie
Black Monday
Billions
Desus & Mero
Californication
Twin Peaks
Weeds
Penny Dreadful
House of Lies
The L Word
The Big C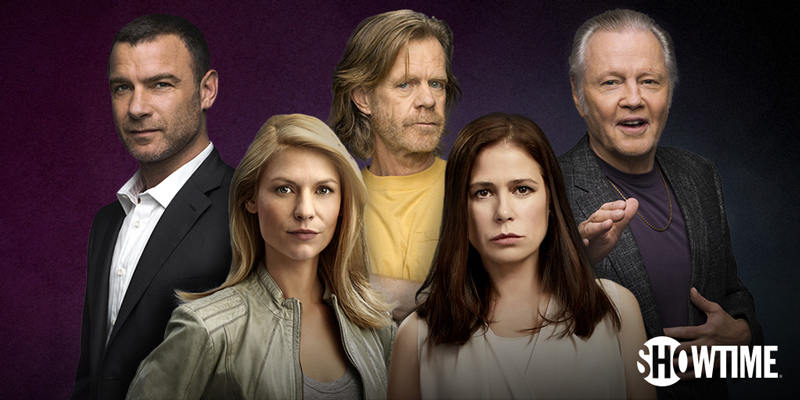 ---
Where Is Showtime Available?
As I previously mentioned, Showtime and Showtime Anytime are only available inside United States territories. Due to licensing agreements, the streaming services cannot make their content available everywhere. They need to acquire copyrights in each region to do so, which costs a lot of money.
As a consequence, you can only access Showtime from inside the US. When I tried to watch Homeland the last time I was abroad, the following geo-error message popped up on my screen instead:
"SHOWTIME is accessible for viewing solely in the United States and its territories and possessions."

In case you're wondering how Showtime can locate you, look no further than your IP address. This numerical label is your ticket to access the Web, but it also helps websites determine your whereabouts and online identity. It's how the Internet keeps track of everyone who goes online.
---
Avoid Geo-restrictions with a VPN
Traveling abroad doesn't mean it's the end of the line for streaming Showtime shows. You can avoid any online roadblock by using a reputable virtual private network service.
Better known as a VPN, this tool operates a network of private servers to reroute your traffic instead of relying on the ones your ISP uses. In other words, your traffic will travel through a VPN server of your choice. Moreover, your provider will switch your IP address to a different one that matches the server you selected. So to get an American IP address, you have to connect to a US server.
As a result, you'll appear as if you were a resident of the star-spangled banner, which allows you to unblock Showtime and every other American-restricted platform. That includes US Netflix, HBO Now, and Hulu. Even pay-TV services like Sling TV and YouTube TV are only available in the States. Connecting to a US VPN server will give you access to all the above platforms and more.
More Than Just Bypassing Geo-blocks
Yes, premium virtual private networks will unblock Showtime and every other streaming platform and pay-TV service. But these tools can do so much more, like increasing your privacy and your online freedom. Here's what else is in store:
Total anonymity

: Reputable VPNs eliminate your sensitive data from their servers. That means they won't collect nor share information like your IP address, the websites you visit, or your browsing history. They only keep minimal details about you that cannot be used to trace anything back to you.

Military-grade encryption

: This also falls under privacy and anonymity. Top VPN providers use AES encryption with 256-bit keys, the most secure algorithm on the market. The encryption will engulf any data you send or receive so that ISPs, hackers, and government agencies can't monitor your online activities. Think of it as your traffic traveling through a secure tunnel.
Torrent support: Most premium VPNs allow users to share files via peer-to-peer networks. And since they have excellent privacy features, copyright holders won't be able to take legal actions against you.

No more censorship

: The Internet isn't as open as you might think. Several countries ban websites and social media platforms, while others restrict VoIP services. VPNs allow you to connect to a foreign server and avoid all sorts of online censorship.
Kill switch: To avoid any data leaks, your VPN will disconnect you from the Internet in case it malfunctions. That way your traffic won't travel to your ISP's servers.
VPN Installation and Showtime Access – Five Easy Steps
If you think you're going to spend countless hours configuring a VPN on your device to unblock Showtime from overseas, then think again. VPN apps are compatible with the majority of operating systems, so installing them only requires a few simple steps:
Sign up to a respected VPN service like the suggestions below. You'll need a valid email and a payment method like credit cards.
Download and install the app from Google Play or the App Store. Premium VPNs are compatible with iOS, Android, PC, and Mac, in addition to Kindle Fire and Linux.
Open the app and log in with your new account.
Connect to a US server, then once the connection is established, head over to the Showtime app or website.
Binge-watch your favorite shows from anywhere.
---
Best VPN for Showtime
Now that you know a bit more about virtual private networks and what they bring to the table, we can take on the tricky part: choosing the right VPN. There are a lot of VPN providers on the market. And just like any other product, there is a difference in quality and, of course, pricing.
Therefore, we advise you to check what sort of features your VPN has to offer before you subscribe to it. Furthermore, you can always read user reviews on Trustpilot, Google Play, and the App Store.
We did all the work for you to save you the trouble and compiled a list of the best VPNs for Showtime, including the pros and cons of each provider.
ExpressVPN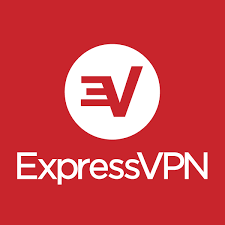 ExpressVPN is your go-to and all-round VPN service. It offers premium features in every domain, including speed, privacy, security, and coverage.
It has an extensive server network of over 3,000 servers that spreads across 160 locations in 94 countries. The US has the lion's share of these servers, which means you can unblock Showtime and any other American streaming platform. And with top levels of speed, you won't encounter any buffering issues while watching your favorite programs.
As for privacy and security, ExpressVPN uses the Advanced Encryption Standard with 256-bit keys. Moreover, it follows a strict no-logs policy and features an automatic kill switch for extra safety. As a result, third parties won't be able to track or identify you, nor monitor your Internet activities.
Torrent users will also be glad to know that ExpressVPN supports P2P file-sharing activities. The company also offers a 30-day refund policy.
For more information about ExpressVPN, Read our detailed review.
Pros
Broad server network.
Fast speed rates.
Access to the majority of streaming services.
P2P file-sharing support.
MediaStreamer: Smart DNS.
Zero-logs policy.
Military-grade encryption.
Apps for iOS, Android, Mac, Windows, Linux, and Kindle Fire.
30-day refund policy.
24/7 customer support with live chat.
Five simultaneous device connections.
Kill switch and DNS leak protection.
Cons
Slightly Pricier than other VPNs.
---
BulletVPN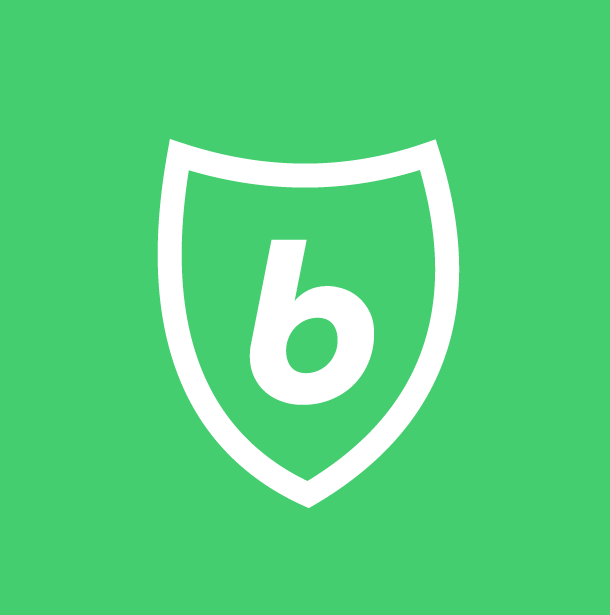 Another reliable that can unblock Showtime is BulletVPN. The Estonia-based VPN provider also offers grade-A features, especially when it comes to privacy. That includes AES encryption with 256-bit keys, a zero-logging policy, and an optional kill switch. There's also a unique tool called BulletShield that works hand-in-hand with the kill switch. If you activate it, you won't have Internet access unless you're connected to a BulletVPN server.
Moreover, this VPN has excellent unblocking capabilities. It can access Showtime and plenty of other popular streaming platforms from anywhere. Now, it may not have a broad server grid, but the servers are strategically located in key regions like the US, the UK, Germany, Australia, and South Africa.
BulletVPN also allows torrenting and P2P activities, and with top privacy features protecting you, you'll be safe from copyright trolls. It also offers a 30-day refund policy and supports up to six simultaneous device connections per account.
Check out our full BulletVPN review for more information.
Pros
AES-256 encryption.
No-logs policy.
Kill switch + BulletShield.
Fast speeds.
Unblocks streaming platforms.
Allows torrenting and P2P.
Free Smart DNS.
30-day refund policy.
Six simultaneous device connections.
round-the-clock customer support.
---
Can I Watch Showtime with a Free VPN?
If you prefer a free VPN to watch Showtime outside the USA, then we recommend QamoVPN.
Qamo is the only provider with reliable access to Showtime from abroad, offering fast servers worldwide and a high bandwidth cap for streamers and gamers. You can also count on the provider to protect user data and privacy, as Qamo does not keep user data or connection records. Moreover, it uses military-grade encryption AES-256 for total anonymity.
Few VPNs offer all those benefits for free, making QamoVPN the best free VPN for privacy, streaming, and gaming.
Pros
Key servers in 10+ locations
Works with streaming services
Fast servers
More bandwidth than other providers
Kill switch
Top level encryption
No user logs kept
Cons
Limited bandwidth
Less servers than premium providers
App supports ads
Only available for Android
---
VPN Alternative – Access Showtime with a Smart DNS
Smart DNS proxies offer fewer features than VPNs do, which is why they cost less money. For one, these tools don't encrypt your data nor conceal your IP address, so if you're looking for online privacy, you better stick with virtual private networks. Nonetheless, if you just want to unblock streaming services like Showtime, a Smart DNS will do the trick.
These proxies only redirect the URLs that reveal your location, thus giving you access to geo-restricted content. But since they don't change your IP address, you won't be able to bypass all geo-blocks. Each Smart DNS service has a list of supported channels, so make sure yours includes Showtime.
Furthermore, be aware that if your ISP uses transparent proxies or DNS hijacking, Smart DNS proxies won't work.
Unlocator: The Ultimate Smart DNS
Since Smart DNS proxies don't offer much except channel unblocking, the best thing to do is select a service that has vast channel support. Unlocator, for example, can unblock both Showtime and Showtime Anytime, in addition to over 200 other platforms.
You can even mix the Smart DNS with Unlocator's VPN service by subscribing to Unlocator Hybrid. As a result, you'll enjoy online privacy, Internet access, and unlimited device compatibility.
No matter which Unlocator plan you choose, you'll benefit from a seven-day free trial, as well as a 30-day money-back guarantee. That will give you more than enough time to test the service before committing to it.
Head over to Unlocator and create an account. The first week is free and does not require any credit card information.
You'll find plenty of guides and videos to help you set up Unlocator on your device.
You can set up Unlocator on any device, including smartphones, tablets, computers, routers, gaming consoles, and Smart TVs.
Enjoy the best Showtime shows from anywhere
---
Watch Showtime from Anywhere – Final Thoughts
Showtime is home to some of the most-watched series and movies. Its lineup of TV Originals features some acclaimed programs, including Homeland, Dexter, House of Lies, and Californication. And just you live or traveling abroad doesn't mean you have to miss out on these shows.
Thanks to VPN and Smart DNS services like ExpressVPN, BulletVPN, and Unlocator, you don't have to. Use any of them while overseas to unblock Showtime and other streaming platforms.
Which is your favorite Showtime show (mine is Homeland)? Leave your answers below.