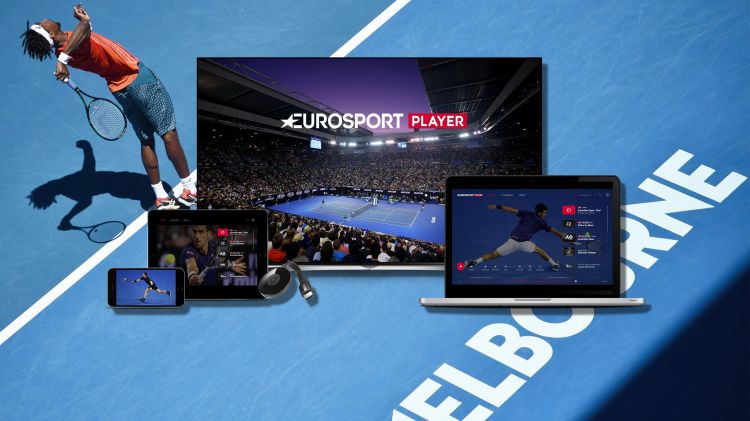 Eurosport Player availability
Geo-blocks and error messages outside Europe
Bypass Eurosport Player restrictions with a VPN
Eurosport Player coverage and compatibility
Eurosport is your go-to destination for popular sports like football, tennis, and the Olympics. But if you're a fan of tournaments with less of a global following like darts, cycling, and snooker, then the Pan-European broadcaster will make you feel right at home.
The sports network is famous all over the globe, especially in Europe. It doesn't just offer live matches, but also the latest news, articles, and updates in the world of sports. You can catch it all on the website or by downloading the app, which is available on Google Play and the App Store.
However, if you wish to stream live matches, you have to subscribe to the paid online service, Eurosport Player. The platform delivers live feeds of all Eurosport's content, which you can also watch on-demand, for a fee, of course. Unfortunately for cord-cutters, Eurosport Player is only available in Europe.
Therefore, you'll need a virtual private network to access it from abroad. And since not all VPNs are the same, I'll give you a rundown of the best providers for Eurosport Player.
---
Content Overview
---
Where is Eurosport Player Available?
Eurosport Player is available in 69 countries and more than 20 different languages. And as its name suggests, all these nations are European and special member states.
Albania
Andorra
Armenia
Austria
Azerbaijan
Belarus
Belgium
Bosnia and Herzegovina
Bulgaria
Croatia
Cyprus
Czech Republic
Denmark
Estonia
Faroe Islands
Finland
France
Georgia
Germany
Gibraltar
Greece
Greenland
Guadeloupe
Guernsey
Guyane
Hungary
Iceland
Isle of Man
Israel
Italy
Jersey
Kazakstan
Kosovo
Latvia
Liechtenstein
Lithuania
Luxembourg
Macedonia
Malta
Martinique
Mayotte
Moldova
Monaco
Montenegro
Netherlands
New Caledonia
Norway
Poland
Portugal
Reunion
Romania
Russian Federation
Saint Pierre and Miquelon
San Marino
Serbia
Slovakia
Slovenia
Spain
Sweden
Switzerland
Tahiti
Turkey
Ukraine
United Kingdom
Vatican City State
Wallis and Futuna
What Happens When You Access It from Abroad?
As you can see, a lot of people can access Eurosport Player. However, all these countries make up just one geographic region, which is Europe. So it still leaves out residents in the US, Canada, South America, the Middle East, Africa, Asia, and Australia.
Anyone who attempts to watch the sports streaming service from these regions will hit a brick wall. Eurosport Player uses geo-blocks to restrict its content to the European zone due to broadcasting agreements and copyright laws. That means it can only air matches inside its respective region. As a result, users from abroad will see the following error message: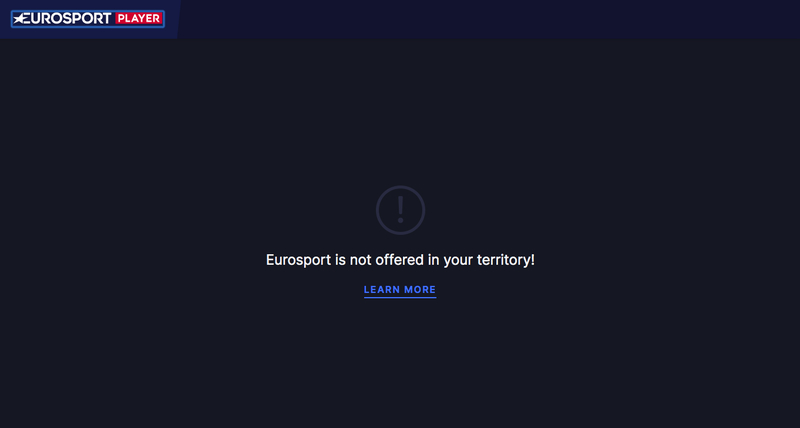 "Eurosport is not offered in your territory!"
---
Bypass Eurosport Player Restrictions with a VPN
Virtual private networks, or at least the good ones, are like online master keys. They can open any door and any lock, allowing you to reach your web destination without any hassle. You see, VPNs can make you appear that you're someplace else by rerouting your traffic through their global server network.
All you have to do is select the server location and Shazam! You'll have a new geographic location online. And to make sure that Eurosport Player and other websites can't track your actual whereabouts, VPNs will give you a new IP address from the same region as the server you selected.
So let's say you connect to a server from the UK. Your VPN provider will redirect your traffic through that server and give you a British IP address. As a result, Eurosport Player will think that you are inside the United Kingdom, which is in Europe, and it will grant you access to its content.
Furthermore, your VPN's unblocking capabilities won't be limited to just Eurosport Player, but also any UK-restricted service. That includes BBC iPlayer, ITV Hub, Sky Go, Now TV, and BT Sport. And it's the same process if you connect to other server locations.
VPN – Total Online Privacy
There's a lot of features that you sign up for when you install a VPN on your device. Bypassing geo-blocks and unblocking streaming platforms barely scratch the surface. In fact, a VPN's piece de resistance is the strength of its privacy and security features.
Premium providers use the most secure encryption on the market. I'm talking about the Advanced Encryption Standard with 256-bit keys. It would take supercomputers billions of years to break this cipher as it provides trillions of possible combinations. Why is this important? Because Internet service providers, hackers, and the authorities won't be able to monitor your online activities.
Moreover, reputable VPNs implement a strict no-logs policy, meaning they don't keep records of sensitive data. Their servers eliminate information like IP addresses, browsing history, connection timestamps, and web destinations. Therefore, if they receive any requests or warrants from law enforcement agencies about user data, they only provide minimum details that don't endanger your privacy.
All devices sometimes malfunction or stop working, and VPNs are no different. That's why they offer a kill switch to disconnect your device from the Internet in case the VPN connection drops. As a result, your traffic won't leak to your ISP's server where anyone can see them.
VPN Installation – Your Only Way to Eurosport Player from Abroad
Eurosport covers the most popular sports tournaments and competitions in the world. That includes Roland Garros, Wimbledon, Tour De France, Rally Dakar, Bundesliga, and Serie A. It even acquired broadcasting rights in Europe for the Olympics. No wonder Eurosport Player has over a million subscribers.
Therefore, don't miss out on all the action if you're living or traveling abroad. Get a VPN and stream your favorite sports from anywhere.
First, subscribe to a VPN service with elite rank. Simply create an account, choose a plan, and select a payment method.
Next, head over to Google Play or App Store to download and install the VPN app.
Open the app, sign in, then connect to any server inside Europe. I recommend the UK server because Eurosport will automatically set the commentary to English.
Stream the most entertaining sports competitions no matter where you are.
---
Best VPN for Eurosport Player
As you can see, VPNs are must-have tools whenever you go online. They allow you to access restricted content, protect your Internet privacy, and unblock streaming platforms. But as I mentioned in the beginning, not all VPNs are the same, and there are a lot of providers out there.
With Free VPNs, for example, you won't have to dig deep into your wallet. However, they are unreliable and inefficient in unblocking streaming channels due to their limited server network and slow speeds. That means most of them cannot bypass the Eurosport geo-blocks.
And even if they did, they won't work with the majority of streaming platforms like Netflix, Hulu, or BBC iPlayer. These services ban VPN IP addresses, but the premium VPNs can still unblock them.
Furthermore, and more importantly, free providers have terrible privacy features. To make money, they collect your sensitive data and sell it to third parties. Also, they insert ads into their apps that may contain malware. So I recommend you avoid these VPNs at all costs and select a paid provider instead.
ExpressVPN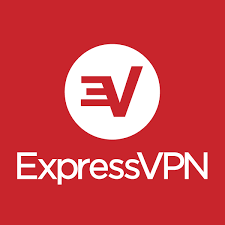 The best all-round performing VPN in the industry is currently ExpressVPN. It provides features of the highest standards and registers near-perfect scores in almost every domain. The provider even has excellent ratings and reviews on Trustpilot, Google Play, and the App Store.
First, the company runs a network of 3,000+ servers in 94 countries all over the world. These servers are spread across 160 different locations, making the ExpresssVPN grid one of the largest in the business. And the speed rates are incredibly fast that you won't even notice the slight drop in your connection. I never encounter any buffering issues when I stream live sports using this VPN.
Furthermore, the ExpressVPN is compatible with the majority of operating systems, including iOS, Android, Windows, Mac, Kindle Fire, and Linux. You can connect up to five devices at the same time with just one account.
As for privacy, well, the company has a proven no-logs policy, which means it will not keep any sensitive records of what you do online. Even if authorities seize one of their servers, they won't find any information that can help them track your identity, location, or activities.
Moreover, ExpressVPN uses the most secure encryption in the industry, AES with 256-bit keys. This military-grade cipher protects top secret files of government agencies like the NSA, so you know it's legit and tough to break.
Button does not exist!
Pros
Vast server network.
Fast speeds.
Ability to unblock streaming platforms.
High app compatibility.
Five simultaneous device connections.
Torrent support.
30-day refund policy.
24/7 customer support (with live chat).
Military-grade encryption.
Zero-logs policy.
Kill switch and DNS leak protection.
Smart DNS proxy: MediaStreamer.
Cons
Slightly pricier than its peers.
---
NordVPN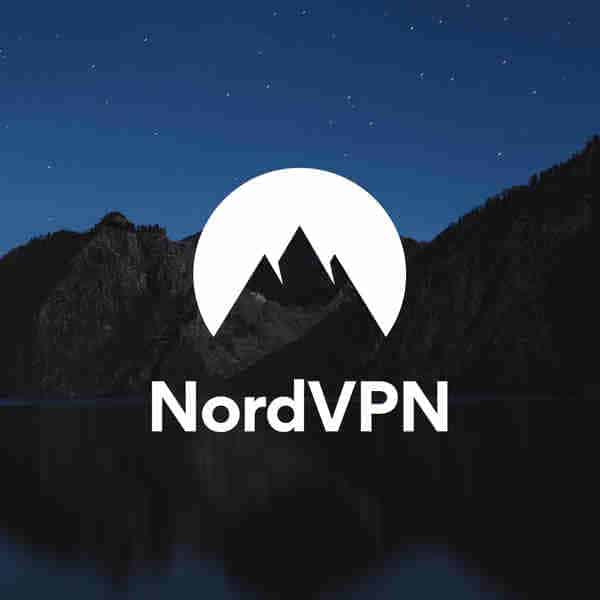 Another premium VPN that's worth a go is NordVPN. This VPN offers some unique features in terms of privacy and security, like CyberSec, a tool that blocks ads and malicious websites. There's also the double VPN, which sends your traffic through two servers, meaning double the encryption.
Speaking of which, NordVPN uses the AES-256 encryption to prevent outsiders from monitoring your online activities. It also implements a strict no-logs policy, so the servers eliminate data like IP addresses, connection timestamps, and browsing history. You can also enable the kill switch. It cuts off your Internet connection if the VPN malfunctions so that your traffic won't travel back to your ISP's servers.
Moreover, NordVPN operates more than 5,000 servers across 59 countries. Most of these servers are located in the US and Europe, home of the most popular streaming platforms. As a result, you can unblock Eurosport Player, BT Sport, Sky Go, ESPN+, Fox Sports, NBC Sports, and much more.
However, some users complained that they encountered buffering issues when using certain servers. I found the speed levels were decent and can totally work if you're streaming or torrenting. But the servers aren't as fast as ExpressVPN's.
Pros
AES-256 encryption.
No-logs policy.
Double VPN.
CyberSec.
Kill switch.
Vast server network.
Six simultaneous device connections.
SmartPlay: Smart DNS.
Torrent and P2P support.
Works with Eurosport Player and other services.
High app compatibility.
Cons
Some servers are a bit slow.
---
CyberGhost VPN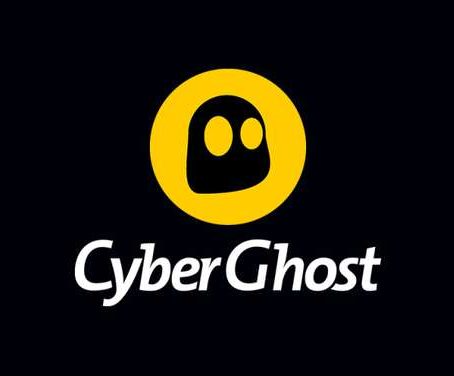 CyberGhost is a reputable VPN service that's been around for quite some time. It offers a lot of premium features, like an extensive server network. The provider has over 5,000 servers in 89 countries and can unblock Eurosport Player. In fact, it offers dedicated servers for Netflix US, Hulu, Eurosport, ESPN, and more.
However, the speed rates aren't great. I tested several servers, and some of them were a bit slow. But that doesn't mean you should dismiss CyberGhost. Customers will enjoy complete privacy, thanks to the no-logs policy, AES-256 encryption, ad-blocker, malware protection, and blocked tracking.
Moreover, you'll benefit from 24/7 customer support, seven device connections per account, and a 45-day refund policy (for annual subscriptions).
Another area of concern is the fact that CyberGhost was acquired by CrossRider Group, an Israeli firm that sells malware. But the company did shift to more privacy-oriented activities and changed its name to Kape Technologies. Please note that no privacy breaches were ever reported against CyberGhost.
Pros
111 server locations across 89 countries.
Zero-logs policy.
Ad-blocker.
Malware protection.
NoSpy servers.
AES encryption with 256-bit keys.
24/7 customer support.
45-day money-back guarantee (annual subscriptions only).
Automatic kill switch.
Access to most streaming platforms.
Cons
Not as fast as other VPNs.
Shady parent company.
No Smart DNS proxy.
Expensive monthly subscription fees.
---
Eurosport Player Passes
Eurosport Player offers various subscription plans called Passes. And since the online platform is Pan-European, prices and packages may vary depending on your country. The most popular EP region is the UK, mostly because it covers plenty of sports in English.
"The prices and availability of these Eurosport Passes may vary by country."

Eurosport
If you don't have a Eurosport Player account, you need to create one to access the service. If you connect to a server from the UK, pricing is in the British pound and as follows:
Monthly Pass: £6.99 per month.
Annual Pass: £39.99 per year.
You can also subscribe to an annual plan and pay through installments. Eurosport will charge you £4.99 per month every 12 months. You'll benefit from a seven-day free trial no matter which subscription package you choose.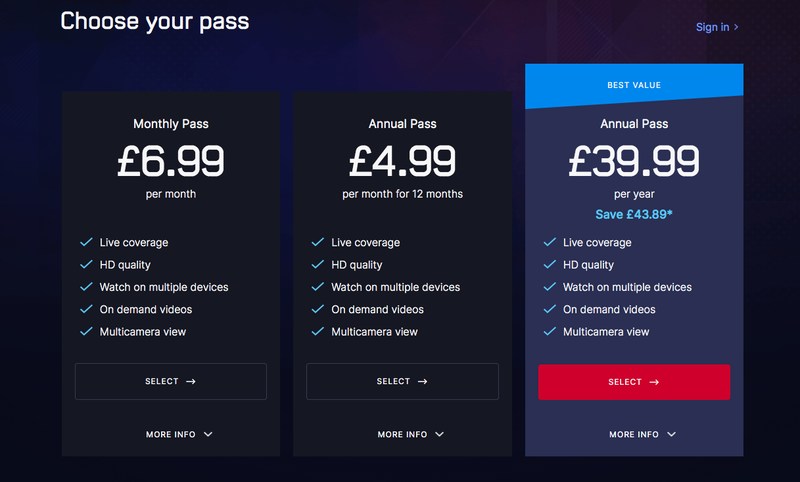 The French Passes are a bit more expensive and priced in Euros. But they also come in monthly and annual plans, as well as installment options.
Monthly Pass: €9.99/month
Annual Pass: €69.99/year
Annual Pass through installments: €5.99 per month every 12 months.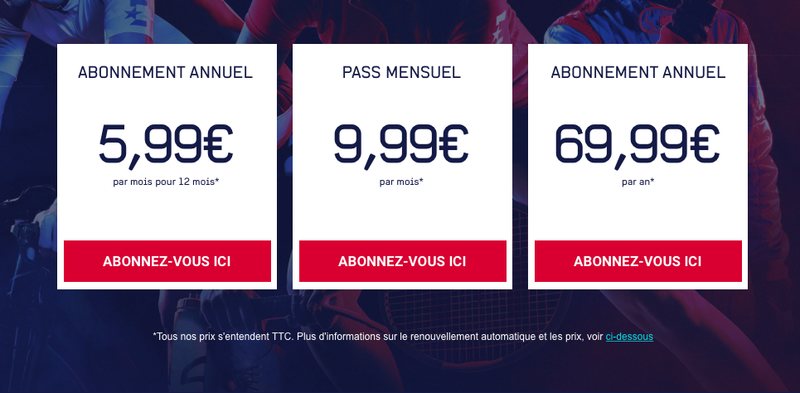 ---
What's on Eurosport Player
Eurosport has broadcasting rights to a lot of sports competitions and tournaments. That includes the Olympics, football, tennis, basketball, cycling, motor racing, darts, snooker, skiing, and cricket. All these matches are available live online through Eurosport Player. You just need a VPN to stream them from abroad.
Here is a sample of the sports coverage on offer:
Australian Open
US Open
French Open
Wimbledon
Tour de France
Giro d'Italia
Vuelta a España
Premier League (Romania only)
FA Cup (Denmark, Romania, and Sweden)
Bundesliga
UEFA Nations League (Denmark only)
African Cup of Nations
EuroLeague
Basketball Champions League
Rally Dakar
Rally Monte Carlo
F1
MotoGP
World Championship Snooker
World Athletics Championships
---
Eurosport Player Compatible Devices
You can stream your favorite matches at home or on the go. The Eurosport Player desktop clients and apps are compatible with all the major operating systems and devices. Catch Eurosport content on:
Windows PC
Mac
Android
iPhone
iPad
Apple TV
Samsung TV
Chromecast
Amazon Fire TV
Amazon Fire TV Stick
PS4
Xbox One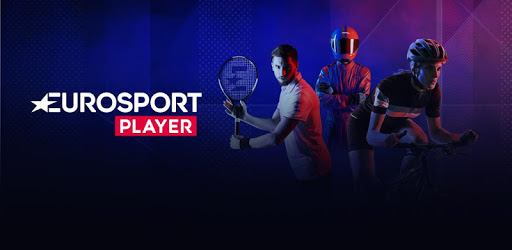 ---
Unblock Eurosport Player with a VPN – Parting Words
Eurosport Player is a very reputable sports streaming platform that delivers sports-related content to millions of European residents. It covers all kinds of tournaments, from football, basketball, and tennis to darts, snooker, and badminton.
However, once you step foot outside of Europe or its special member states, you'll reach a dead-end. Eurosport Player is geo-blocked abroad due to broadcasting rights. Therefore, you need a premium VPN service like the ones above to unblock it and watch your favorite sports.
What do you enjoy watching the most on Eurosport Player? Share it with us in the comment box below.