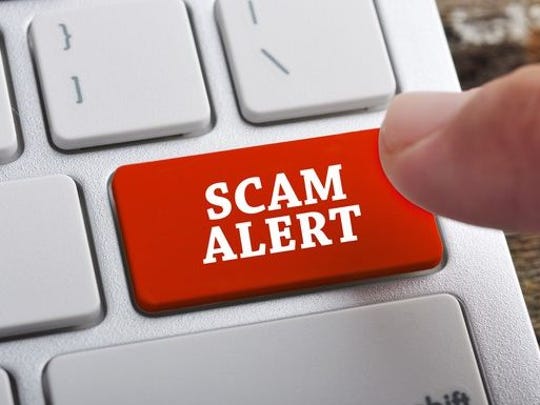 Fake e-shopping websites - facts and figures
Learn how to detect fake e-commerce stores
Tips for safe online shopping
Use premium VPNs and antiviruses for total protection
Online advertisements are now a major part of the Internet. Websites, apps, and even social media platforms like Facebook and Instagram now bombard us with adverts that meet our preferences. And some of these ads sound too good to be true. Unbelievable travel deals, job opportunities with ridiculously high salaries, and fantastic shopping discounts are samples of such ads.
I'm sure you've come across some of them, and maybe even felt tempted to click one. However, the chances are that these ads are scams. They either infect your device with malware or redirect you to a fake website to steal your sensitive data.
Fraudulent e-commerce services are rising at an alarming rate, with the Better Business Bureau reporting that the most common scam in the US in 2018 involved online purchases. Therefore, you must protect yourself by knowing how to detect the good apples from the bad ones.
---
Fake Online Shopping Websites – A Look at the Numbers
Statista estimates that a total of 1.8 billion people bought items online in 2018. That resulted in purchases worth up to $2.9 trillion. And e-commerce transactions are showing no signs of slowing down. According to Statista, e-retail sales will reach $6.54 trillion by 2023.
In the US, consumers spent over $500 billion buying things over the Internet in 2019, up by 15% from the year before. But online shopping isn't the only thing that's on the rise. Scams involving electronic purchases witnessed a significant hike, as well.
The Better Business Bureau (BBB) revealed that 10,450 reports of online purchase scams were received in 2018. That number increased by 124% from the prior year. BBB added that some of the most common products found on fake websites are clothing and jewelry. But surprisingly, the most fraudulent items advertised are pets.
Top Product Categories of Online Purchase Scams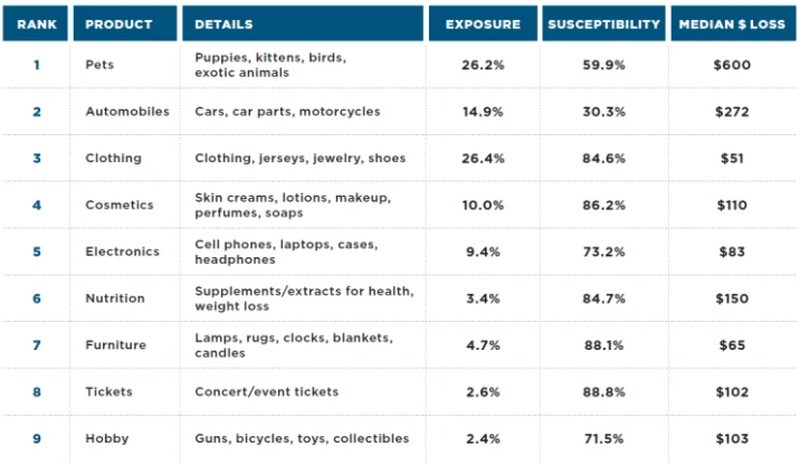 Opening Pandora's Box
In 2017, the BBB warned consumers against a fake Pandora website using the domain name Pandorapick.com. The site was selling cheap imitation jewelry from China and advertising them as actual Pandora products. Pandora is a legitimate Danish jewelry company based in the US with the URL Pandora.net.
Scammers designed the fake website to look almost identical to the real one. That way, they can lure consumers and trick them into buying knock-off items. The lookalike page even advertised discounts up to 75% on bracelets, beads, and earrings. But a closer look will reveal the flaws with Pandorapick.com, like grammatical errors and a change in payment policies.
But it shows how far cybercriminals will go to steal your money. And buying counterfeit items is half the problem. Some victims pay for products that don't exist, i.e., they never receive the products they purchased. Furthermore, scammers can ask for sensitive data like banking information and social security numbers. And should you provide them with such details, they can clear out your bank account or steal your money.
Therefore, always stay on the lookout when you're purchasing things online. Reputable and legitimate websites won't ask for information like your social security number or wire transfers. So if you sport anything fishy, leave the site immediately.
---
How to Detect Fake E-Shopping Websites
Online shopping, and Internet browsing, in general, involves quick transactions using a minimum amount of steps. That's how users prefer it, and that is what scammers rely on. Think about it; do you ever read privacy policies, terms and conditions, or anything else that pops up on websites? Probably not.
That's because we want quick results, and it doesn't matter how we get them. But the simple fact is that we can avoid most online hazards by taking the time to examine and research the websites we visit. Moreover, use common sense when web services make unusual requests. Don't just hand them your private data.
Here are a couple of things you should look out for when shopping online:
Suspicious Domain Names
Top online shopping platforms have simple and clear URLs that match their names like amazon.com, ebay.com, and bestbuy.com. Even retail stores like Tommy Hilfiger and Calvin Klein have identical domain names. But if you spot additions like "deals" or "discounts" or any other obvious words in the URL, then you're most likely staring at fake e-shopping website.
To stay on the safe side, run the URL on Google's Transparency Report feature. It will scan the website and give you a safety rating.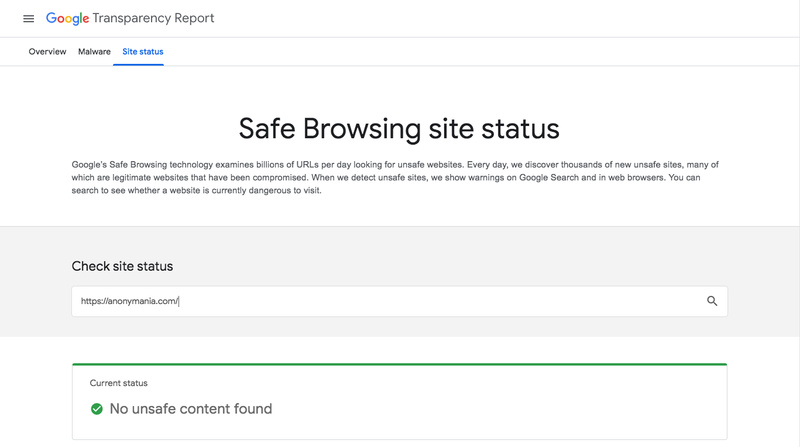 Substandard Website Design and Poor Language
Top e-commerce and fashion websites spend a lot of money on web design. And who can blame them? They want their products to be shiny, appealing, and perfectly displayed. The images are of high quality, and the website is very well-designed and organized. As for the language, reputable services bring in knowledgeable language experts, and their sites are available in multiple languages.
On the other hand, fake e-shopping websites mostly use low-quality photos and clutter them all together. Moreover, you'll spot a lot of errors in the language in terms of grammar, sentence structure, and spelling.
Unbelievable Discounts
Online retail shops always offer some sweet deals that you may not get in brick-and-mortar stores. But the discounts are reasonable and feature selected items. In other words, you won't find a 70% sale on a brand-new Chanel handbag. Significant discounts are for other products like out-of-season collections.
So before you add an item to your cart, I recommend you check the pricing of the product you want on other websites. If there is a wide gap between prices, then the site with the larger discount is the fake one.
No HTTPS
Ever noticed the padlock next to the URLs of the websites you visit? Ever wondered what they meant? Well, lock usually means secure, and that's precisely the case here. When you open an e-commerce platform or any website for that matter, make sure the domain name starts with "https."
That's because communication on these sites is encrypted with SSL (Secure Sockets Layer). The majority of websites nowadays have https, but scammers might skip this feature on their fake e-shopping websites, which is why you'll only see "http." That means cybercriminals will see data you input, including credit card details.
Absence of Contact Information
E-retail services want you to contact them, whether it's for purchases, inquiries, or complaints. That's why they provide all their contact information clearly on their websites, such as telephone number, email, and address.
Fake e-shopping websites, on the other hand, want to avoid detection and keep their operations a secret. Therefore, they provide fraudulent contact details, or sometimes none at all. If you feel like the information on display, if any, is a bit bizarre, research more about the service before you make any purchases.
Unusual Payment Methods, Unclear Refund Policy
The most common payment methods available on online retail services are credit/debit cards, PayPal, and cash on delivery. However, I don't recommend you use your debit card because it's connected to your bank account. That means if scammers manage to steal your credentials through a fake e-shopping website, they can leave you empty-handed.
And speaking of hoax platforms, you can identify them if they request unusual payment methods like wire transfers. Rest assured that you'll kiss your money goodbye if you send cash before you receive the item you ordered.
"There are a lot of websites that are not even shipping a fake product, they're just taking money and running."

David DeMille, security expert with A Secure Life
Moreover, refund policies on fake websites are unclear and sometimes non-existent. If you can't understand or find some sort of money-back guarantee, contact the company for more information. But if you can't reach out or you don't like their answer, don't use the service.
Bad Reviews
School may be out, but there's always homework to do. I suggest you research the e-commerce service before you visit it. Read the user reviews to see if the service is credible and legitimate. If it has an excellent rating from a lot of consumers, then the online store is real.
---
How to Stay Safe on E-Shopping Websites
Spotting fake online stores sometimes isn't enough. Scammers can install malware on their websites, and once you open them, the malicious software can sneak into your device. By then, it will be too late, and the damage is already be done.
Therefore, there are plenty of useful tips you can follow while making online purchases that will protect you from fake e-shopping websites. The most necessary steps you must follow are the installation of a premium VPN and antivirus software.
Virtual private networks hide your actual location and identity by rerouting your traffic and changing your IP address. They also encrypt your online activities so that no third party can monitor or track what you're doing. My top recommendations are ExpressVPN and BulletVPN, but there are other providers you can consider, like Unlocator VPN, NordVPN, IPVanish, and CyberGhost VPN.