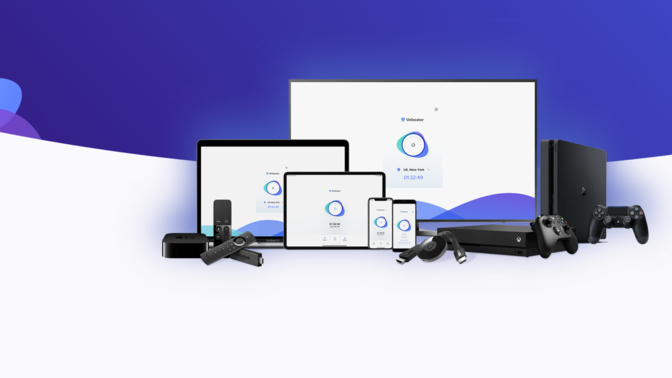 Unlocator made its debut in 2013, launching a Smart DNS proxy service to unblock geo-restricted streaming channels. You could configure their DNS server addresses on various devices, including iOS, Android, PC, Mac, Apple TV, Fire TV Stick, Xbox, PlayStation, and more. Now, the company has added a new service to its portfolio.
Unlocator introduced a VPN service in 2019, giving users more than just Internet access. Today, you can bypass geo-blocks, as well as maintain your online privacy and security, all at the same time. Some of the features on offer are military-grade encryption, kill switch, a no-logs policy, access to major streaming platforms like American Netflix, Hulu, iPlayer, and a 30-day refund policy.
In other words, Unlocator makes sure no one can monitor your online activities. And despite taking Denmark (14 eyes jurisdiction) as its headquarters, the company keeps no records of any sensitive data. Therefore, no third parties, or government agencies for that matter, can get their hands on it.
I thoroughly examined Unlocator to see how the new VPN features fare. The following results come from unbiased and transparent tests that I conducted over the past days, based on our evaluation criteria.
---
| | |
| --- | --- |
| Feature | Availability |
| Money-back guarantee | 30 days |
| Allowed simultaneous connections | Five devices |
| Supported streaming services | Netflix, Amazon Prime Video, Hulu, BBC iPlayer, and all other major streaming outlets |
| No-logs policy | Available |
| Encryption | Military-grade AES 256-bit |
| Protocols | OpenVPN, L2TP-IPSec, PPTP, and IKEv2 |
| Special features | Kill switch, split tunneling, Unlocator Hybrid, zero-knowledge DNS, Unlocator Shield, and more |
| Customer support | 24/7 customer support with a live chat feature |
| Server locations | 43 servers in 39 countries |
| P2P support | Available |
| Server switches | Unlimited |
| Data traffic | Unlimited |
| Compatible devices | You can set it up on iOS, Android, Windows, Mac, Linux, and Amazon Fire TV. |
| Smart DNS proxy | Available |
| Legal Jurisdiction | Denmark (inside 14 eyes jurisdiction) |
| Free trial | Seven Days |
---
Content Overview
---
Unlocator – What's Hot and What's Not
The new VPN service from Unlocator registered some impressive scores in our tests. It offers fast speed rates for streaming and torrenting, in addition to high-level security and privacy features. Their customer support service is available round-the-clock to answer your questions via live chat or email. I also found plenty of helpful articles and guides on the "Support" page.
The only downside is that its server network is smaller than other VPN providers, which doesn't come as a surprise since it is a new service. However, the company says that it is continuously expanding to new locations and adding more servers.
Pros
Military-grade AES-256 encryption.
Fast speed levels.
Zero-logging policy.
Split tunneling.
Kill Switch + Unlocator Shield.
Unlocator Hybrid (VPN+Smart DNS).
Netflix and streaming support.
Torrenting and P2P allowance.
Apps for Android, iOS, Windows, OSX, and Amazon Fire.
Five simultaneous device connections.
24/7 customer support.
30-day refund policy.
Free one-week trial (without credit card).
Cons
Smaller server network than other VPNs.
---
Interface and Design
We'll kick things off with Unlocator's website, which has a smooth and sharp design. Everything is well-organized as you'll find the essential features displayed on the home page. For example, you'll find information about the Unlocator's Smart DNS and VPN services, setup guides, speed levels, as well as user reviews.
And of course, you'll find a "Get Free Account" button on top of the page, which takes you to the subscription page. There are further options on top of the page about Unlocator VPN and Smart DNS, apps, setup guides, Pricing, and customer support. Click on the one you want, and you'll be redirected to the respective page.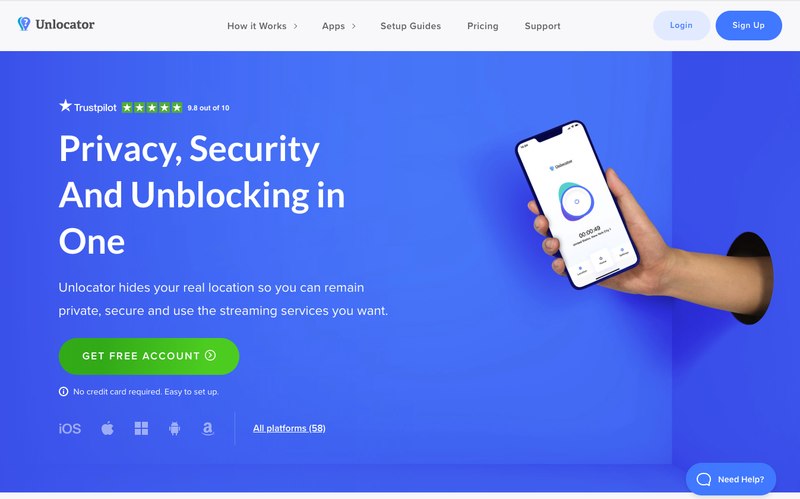 I personally thought the website was very user-friendly and easy to navigate. You'll have no problem finding what you want, whether you're a beginner or an advanced user.
Desktop Client
I downloaded the Unlocator desktop client on my macOS, and I have to admit that I was really impressed. The entire process is simple and straightforward once you install the client. Just a few clicks and you'll be able to enjoy the VPN protection.
After you download the app, you'll see the Unlocator logo on top of the screen. Click it and sign in using the new account that you created. Then, a large connect button will appear, with a location underneath it. You can switch to any server that Unlocator offers by clicking on the location option underneath "Connect to," as presented below.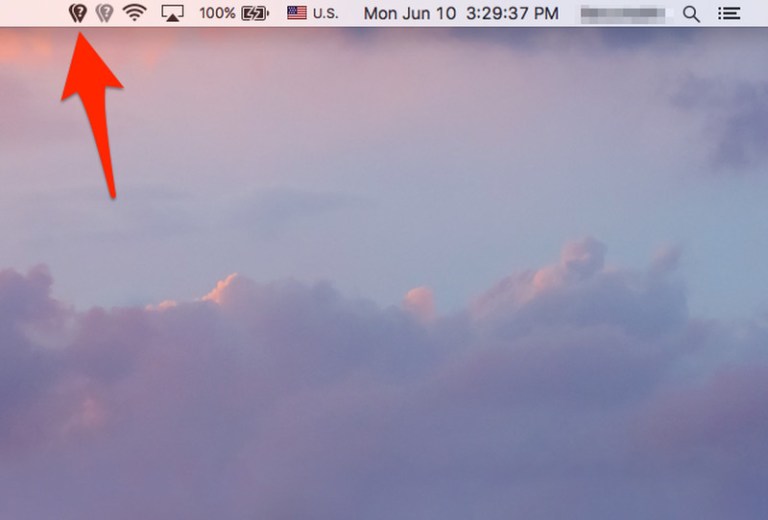 After that, Unlocator's entire server list will be on display, and you can connect to the server of your choice by double-clicking on it. You'll have to wait a couple of seconds for the connection to be established, but once it does, you'll be able to bypass geo-blocks anonymously.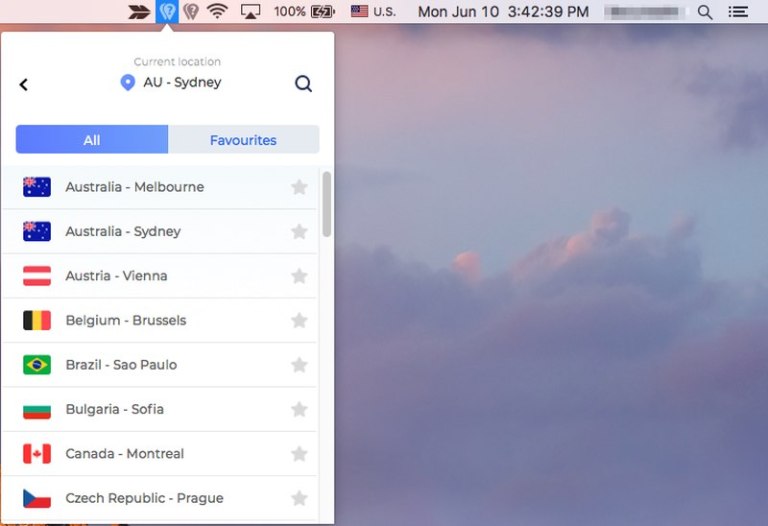 You can customize Unlocator to your liking and explore the multiple features on offer through the "Settings" option. Hit the gear icon on the top right of the client to enable "kill switch," change VPN protocol, or make general personalizations. You can also check your account information.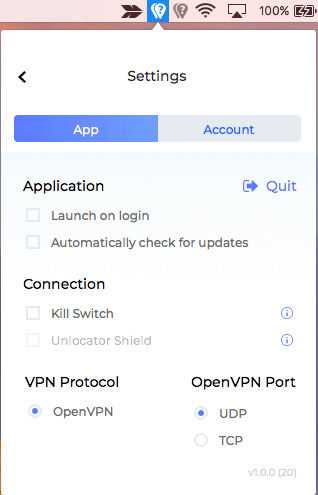 Mobile Apps
Unlocator's mobile apps aren't very different from the desktop client. They offer the same simplicity and ease of use, as well as sleek design. I downloaded the Android app on my Samsung S10, and I explored it without any difficulties.
After you open the application and sign in, you'll see the big connect button in the middle of the screen, with a server location underneath it. To change servers, click on the country beneath "Connect to," select a destination from the list that pops up, then double-click it.
And if you wish to customize the app, hit the gear button on the top right to access "Settings."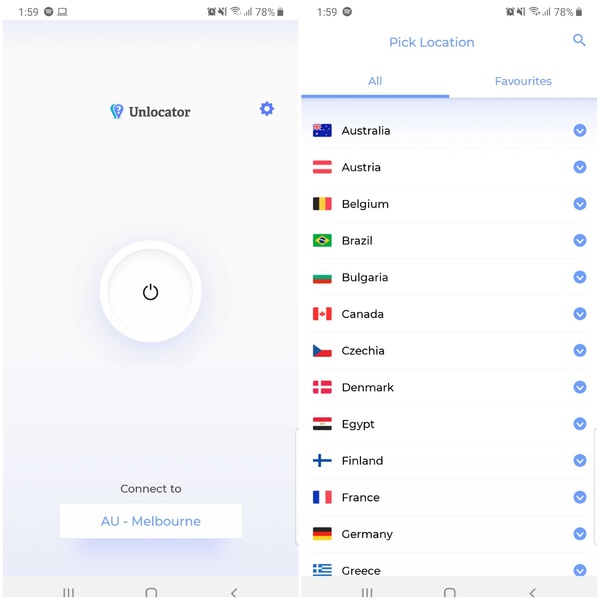 Other Unlocator users seem to agree with me as well concerning the overall app performance. The VPN earned some rave reviews on the consumer review website Trustpilot, scoring a near-perfect 4.9 stars out of five. People who downloaded the iOS app also gave Unlocator a decent 3.9/5 score, mostly praising the service and support team.
The Android version, however, was less popular among users, who gave it 3.3 stars. According to some of the reviews that I read, most of the complaints were about the sudden VPN disconnection. However, I did not experience any sort of service drop, so the company must have noticed the issue and fixed it.
App Compatibility
You can install Unlocator on a wealth of devices since the app is compatible with all the major operating systems. That includes iOS, Android, Windows, macOS, Amazon Fire, and Linux. However, there are no browser extensions. Furthermore, you can use the product on up to five devices with a single account.
I tried it on my Mac and Samsung S10, while my colleague used it on his Kindle Fire tablet, PC, and iPhone. We all managed to connect to different servers, and I was able to stream several NBA games at the same time. Speaking of which, Unlocator is excellent at avoiding blackouts, which means it's a solid pick for NBA League Pass, NHL.TV, and NFL Game Pass.
---
Unlocator Server Network
Unlocator has a smaller server network than most elite VPN brands, operating 43 servers in over 39 countries. And while that number may seem quite low, keep in mind that the company just recently released its VPN service in 2019. Therefore, all things considered, it offers decent coverage.
Besides, these servers are located in the most strategic areas. They include the US, Canada, the UK, France, Germany, Spain, Denmark, Sweden, South Africa, India, Australia, and New Zealand. The company even has a presence in less-popular destinations like Bulgaria, Slovakia, Latvia, Egypt, and Singapore.
And the company is continuously adding new servers to its expanding network, so expect those numbers to grow in the future.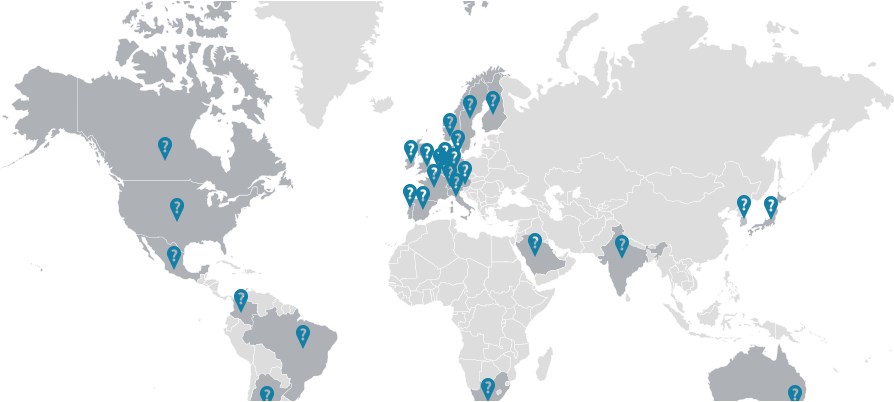 ---
Speed Tests – How Fast Is Unlocator?
Speed is a crucial factor that many users prioritize when choosing a VPN. Although virtual private networks are originally cybersecurity tools, people will always dismiss a slow provider, even if it offered advanced security features.
Therefore, I decided to examine how fast Unlocator's servers were. After all, a lot of consumers use VPNs for streaming, gaming, or torrenting. Here are the results:
First Test: No Unlocator Connection
I conducted our first test without connecting to an Unlocator server. The results show that your Internet connection is fastest without a VPN connection. That's because the VPN encryption consumes a bit of Internet speed.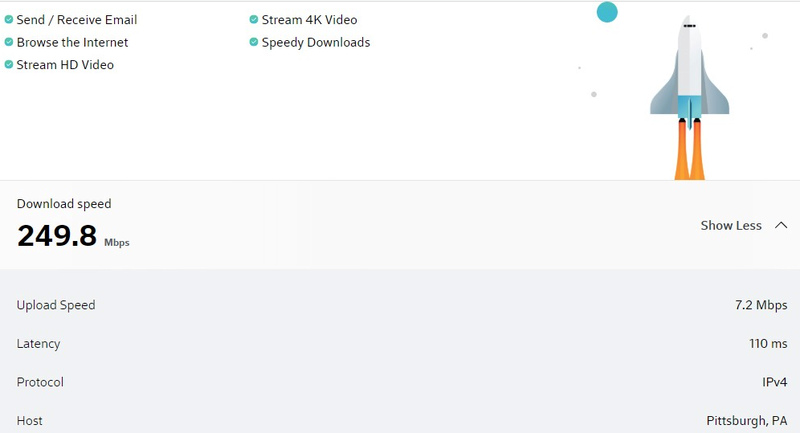 Second Test: Distant Server
The first Unlocator server I tried was located in New York. I chose this server because I wanted to see how long distance would affect the connection speed. And as you can see from the figures below, the speed rates dropped significantly. However, speed levels remained high enough to stream videos and download files.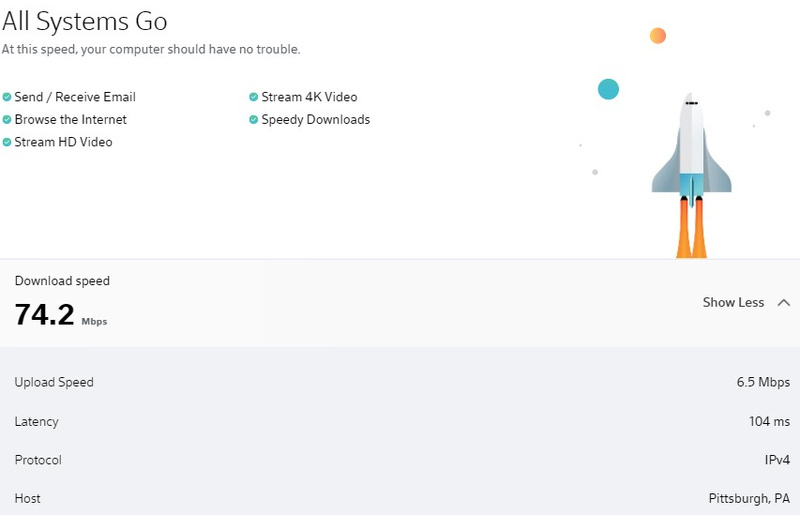 Final Test: Nearby France Server
In our final test, I connected to a server from France, which is geographically near our actual location. As you can see, the speed barely dropped in comparison with the No VPN result. And the levels were much better than the NYC server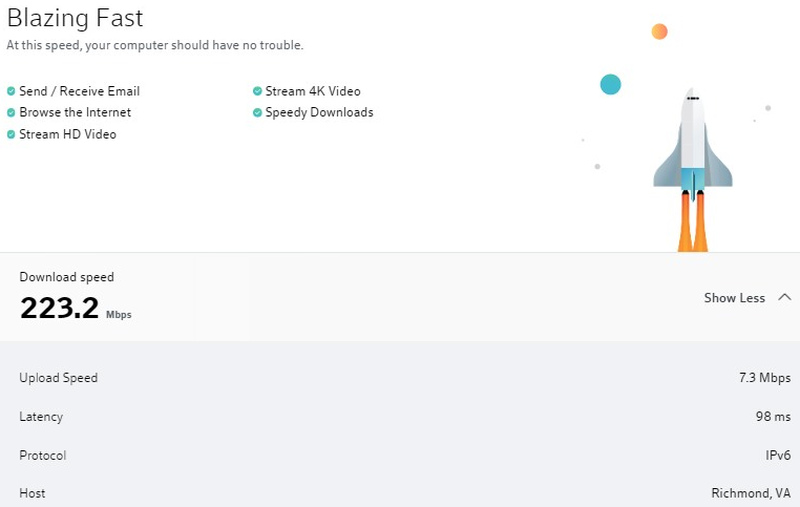 The Verdict
Unlocator servers deliver fast speed rates, depending on which ones you select. According to my observations, I found that it's better to connect to close servers so that the speed drop remains minimal. No matter which VPN service you use, faraway servers always affect your connection the most. But speed levels remarkably dropped with Unlocator's NYC server.
Still, the Amerian server offered good-enough speeds for streaming and downloads, which means you'll have no trouble watching your US-restricted shows. Therefore, Unlocator gets my nod of approval in terms of speed, although it can be improved.
---
Streaming and Torrenting Support
Unlocator's strategic server network allows you to bypass the geo-blocks that streaming platforms impose. As a result, you'll be able to stream restricted content no matter where you are. The USA, of course, is home to the biggest shows and movies, which is why Unlocator has more than a dozen servers in that country.
And the IP addresses that the VPN provides are not blacklisted by any streaming service. In other words, you can unblock US Netflix, HBO GO/NOW, Hulu, US Prime Video, Showtime, and more. You can also access other popular platforms like BBC iPlayer, ITV, and Canal+.
The same goes for sports streaming channels like ESPN+, Fox Sports Online, NBC Sports Live, BT Sport, Sky Sports, and beIN Sports. I tested it to watch Star-Crossed, which is only available on US Netflix, as well as Hulu's Ramy and HBO's Succession.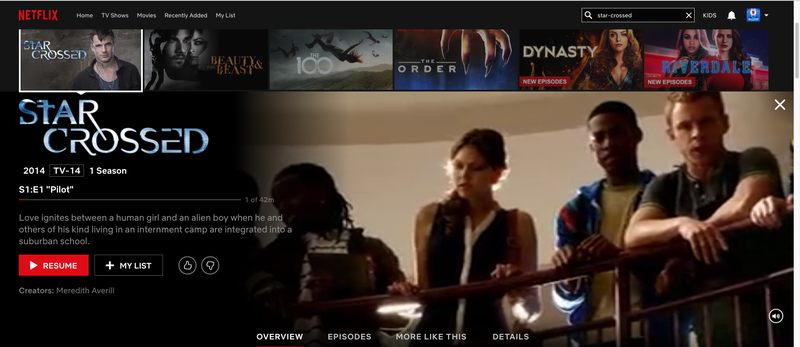 Unlocator also supports torrenting and P2P file-sharing. It enables you to download your favorite movies, shows, and songs and protects you from copyright trolls by encrypting your data and hiding your IP address.
Smart DNS Proxy
Ever since it launched in 2013, Unlocator only offered Smart DNS proxy solutions. That all changed in 2019 when the company rolled out a VPN service as well to protect users' privacy. However, it did not cancel its Smart DNS product, which you can use to "unblock content from multiple countries at once."
Unlike a VPN, Smart DNS proxies only reroute the URLs that expose your location. That's why they can't unblock every streaming channel. Unlocator, though, can give you access to more than 220 services, including Hulu, Amazon Prime Video, HBO GO/NOW, BBC iPlayer, Netflix US, and a lot more.
Unlocator Hybrid
Both VPNs and Smart DNS proxies have their share of benefits. Virtual private networks can bypass restrictions and protect your online privacy, while Smart DNS gives you access to several streaming channels at once. Unlocator offers the best of both worlds in one feature called Unlocator Hybrid.
"With Unlocator Hybrid you get the ease of use and privacy that comes with VPN and the global streaming you have come to enjoy from Unlocator Smart DNS."

Unlocator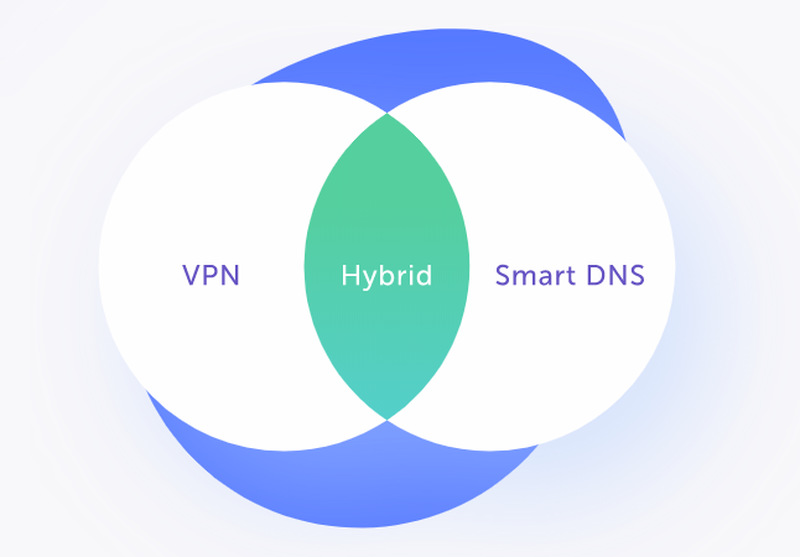 ---
Unlocator's Security, Privacy Features
To compete with the big boys in the industry, Unlocator spared no effort in protecting users' security and privacy. It offers premium features in this domain, including:
Top-level Encryption
When you subscribe to Unlocator, no third parties can monitor your online activities. In other words, no one can trace anything back to you. That's because the company uses military-grade encryption called Advanced Encryption Standard (AES) with 256-bit keys.
AES-256 is the most secure encryption on the market today. Government agencies like the NSA use it to protect classified information. Therefore, no one can know what you're up to when you use Unlocator.
No-logs Policy
To better protect your privacy and anonymity, Unlocator implements a zero-logging policy. In other words, the company does not collect nor share user data like IP addresses, online activities, or VPN connection. Moreover, it does not share them with any third parties like ad agencies.
However, please note that the company keeps certain information about you, like emails and payment methods, to improve user experience.
"Our VPN backend keeps no logs, and we operate under strong privacy ethics."

Unlocator
Kill Switch + Unlocator Shield
A VPN, just like any other program, is susceptible to malfunctions and breakdowns. And Unlocator is no different. But in case that happens with this provider, you'll have a kill switch to protect you. This tool cuts off the Internet connection on your device so that your data won't get rerouted to your ISP's servers.
The VPN also has the Unlocator Shield feature, which you can activate alongside the kill switch. It ensures you can't go online unless you use an Unlocator server first. To enable both options, go to "Settings" and click on the respective boxes under "App."
Leak Tests
To ensure that Unlocator is as efficient as it claims to be, I decided to test for IP, WebRTC, and DNS leaks. Some of the results were negative and showed no leakage in terms of the IP address on display. I connected to an American VPN server for the below test:

However, the DNS leak tests did not register the same results and showed signs of a leak. I used a French Unlocator server and got the following results: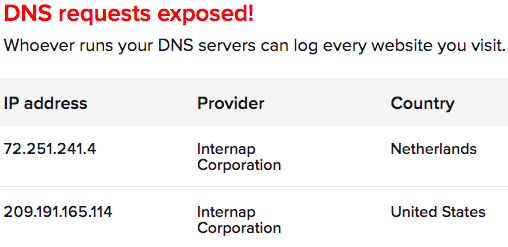 Although my actual and VPN IP addresses weren't exposed, there was some sort of leak concerning the source of my traffic, i.e., the Netherlands and the US. After I contacted Unlocator's support team for further explanation, they told me that my data was actually redirected through another one of their servers because of the Unlocator Hybrid feature they have implemented.
In other words, there is no leak to any third parties like your Internet service provider. Instead, your connection gets rerouted through Unlocator's private servers.
Company Headquarters and GDPR Compliance
Unlocator is based in Copenhagen, Denmark, a country that is part of the nine-eyes alliance. The latter is a cooperation between several nations, including the US and the UK, in signals intelligence. That means any company that operates within these jurisdictions must submit user data upon the government's request.
But since Denmark is an EU member, it must comply with the European Union General Data Protection Regulation (GDPR). The latter aims to protect user data and prohibit the transfer of personal data outside the EU.
Unlocator claims it's in full compliance with GDPR, mainly since it follows a no-logs policy that prevents it from storing sensitive information.
Warrant Canary
If you're unfamiliar with the term, a Warrant Canary is practically a warning. Companies use it to notify customers that they did not receive a secret request from the government to submit user information.
You see, in the US and other intrusive jurisdictions, entities could receive secret warrants like national security letters, forcing them to hand in data about their clients. And under the law, these companies cannot directly notify users that they received such orders or that their information was compromised.
Therefore, services like VPN providers set up Warrant Canaries to indirectly warn customers about any letters from law enforcement officers. VPN companies regularly update the Canary pages, stating that they did not receive gag orders, national security letters, or warrants. Once the page ceases to exist, it means the VPN received such orders.
Warrant canaries were named after the birds that miners took to the mineshaft to alert them of any toxic gas. If the canaries died in the mine, the workers knew they must evacuate immediately.
While some VPN service providers offer such feature on their website, the majority doesn't. Unlocator falls in the latter category. Users shouldn't feel too worried as Unlocator follows a no-logs policy. Therefore, even if the company received a secret warrant, government agencies cannot collect any sensitive or valuable user information.
Still, it's one feature I'd like Unlocator, and other premium VPNs, to incorporate into their website in the future.
Independent Third-party Auditing
In recent months, VPN service providers such as NordVPN, TunnelBear, and PureVPN, invited independent cybersecurity firms to check if their services could suffer any major security breaches because of software flaws.
I was unable to find any third-party auditing for Unlocator, unfortunately. However, I did perform a thorough scan of their Windows VPN app using VPNTotal and there were no signs of viruses or malware.
---
Unlocator Customer Support
Some users might have a couple of questions or clarifications before and after they install a VPN. Therefore, top brands employ a professional support team that can provide practical solutions in little time. And Unlocator offers fantastic customer support that you can contact through several mediums.
That includes email, live chat, as well as a support page containing the most popular articles and answers. Response time was very impressive when I contacted the customer service team. I used the live chat feature, and an employee answered my question in just a couple of seconds.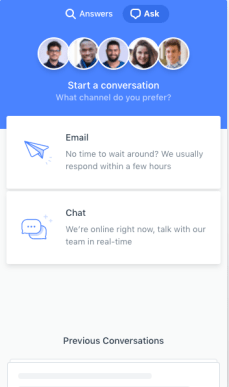 To contact the service via email or chat, you just have to hit the "Need Help?" button on the bottom right corner of the screen. Unlocator's customer support is one of the best I've ever tested. It also earned some high praise from users on Trustpilot, Google Play, and App Store.
---
Is Unlocator Expensive?
Considering all the benefits on offer, Unlocator's price tag is pretty affordable. And since this a multi-service product, there are a lot of plans and packages which you can find convenient. You can either subscribe to the Smart DNS service alone or sign up for the Smart DNS + VPN, which is pricier.
Smart DNS:
One-month plan: $4.95 per month.
Six-month plan: $27.50 every six month ($4.58/month).
Yearly plan: $49.95 each year ($4.16/month).
Two-year plan: $79 every two years ($3.29/month).
Smart DNS + VPN:
One-month package: $9.99 a month.
Six-month package: $49 every six months ($8.17/month).
Yearly package: $79 per year ($6.58/month).
Two-year package: $119 every two years ($4.96/month).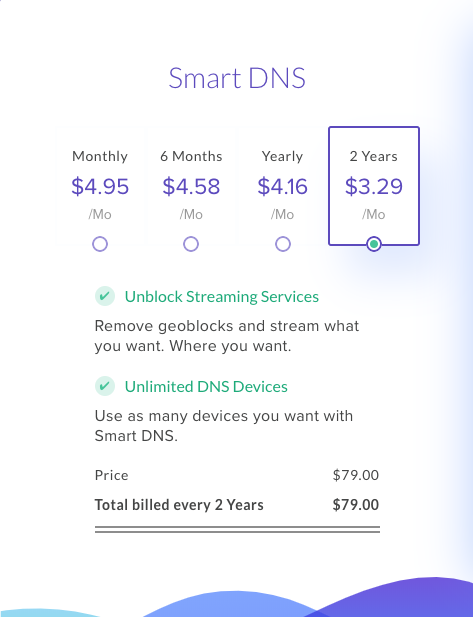 As you can see, you have a lot of options at your disposal. The best one is the two-year Smart DNS + VPN plan, as it allows you to save up around 50% in comparison with the monthly deal. You'll enjoy privacy, security, and Internet access.
30-day Money-back Guarantee
As with most elite VPN providers, Unlocator subscribers can benefit from a 30-day money-back guarantee. No matter which service or plan you choose, the company gives you up to one month to demand a refund. That allows you to thoroughly test the service and explore all its features before you commit to it.
And if by the end of the first month, or less, you feel dissatisfied, Unlocator will refund your money, no questions asked.
Free Trial
The 30-day refund policy is a great feature, but you'll need to enter your credit information. Before you reach that stage, though, Unlocator gives you a glimpse of what to expect with the 7-day free trial period. And during that week, you don't have to submit any type of payment method. You just create a free account and enjoy a whole week of free services.
Most elite VPNs don't offer such a feature unless a user asks them. And even then, they will give you a maximum three-day free trial. However, Unlocator goes the extra mile here by providing customers a 7-day free trial, as well as a 30-day money-back guarantee.
Payment Methods
There are a lot of ways to purchase your favorite subscription plan. Unlocator allows you to use your Visa, MasterCard, Amex, Discover, Google Pay, and Apple Pay. Unfortunately, the company does not support other forms of online payments yet, like cryptocurrency (Bitcoin) or PayPal.
Still, the options on offer should be sufficient and suitable to all Unlocator customers.

---
How good Is Unlocator? – The Wrap Up
So with user-friendly apps, expanding server network, decent speeds, and top-of-the-line privacy and security features, I'd say Unlocator is definitely a VPN you should consider. And if we add streaming and torrenting support, affordable plans, free trial, and refund policy, we have ourselves a reliable VPN that can compete with the big boys.
Other brands may be better in terms of overall performance, but most of them have a wealth of experience. Unlocator's VPN service debuted in 2019, and yet, it can rival almost any provider. I expect this VPN to continue to improve and grow until it's as big as the industry titans.
What do you think of Unlocator VPN's performance? Tell us in the comment section below.