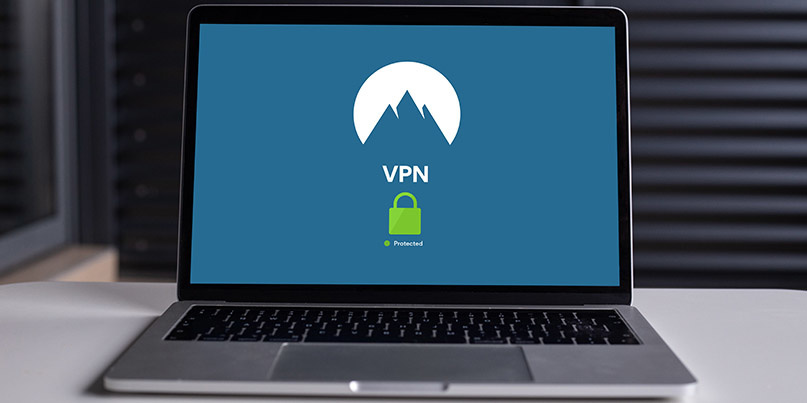 NordVPN is a very well-known provider in the VPN industry. Taking the privacy-haven Panama for its headquarters, the company is famous for its advanced security features, total online freedom, and complete anonymity. It offers military-grade encryption, a zero-logs policy, and double VPN protection.
Furthermore, users will benefit from CyberSec, a tool that protects you from annoying ads and malicious websites. And let's not forget about the kill switch and the DNS leak prevention. Yet, the company recently admitted that one of its data centers was hacked back in March 2018.
NordVPN is also an outstanding VPN for cord-cutters. It unblocks the biggest streaming platforms like US Netflix and Amazon Prime Video, as well as Hulu, HBO Now, and BBC iPlayer. Sports fans also get their share of the spoils as they'll have access to ESPN+, NBC Sports Live, Fox Sports Online, BT Sport, and much more.
That's mostly thanks to its massive server network, which reportedly has over 5,400+ servers across 59 countries. It even works in nations that have extreme Internet censorship like China. However, during our speed tests, some of NordVPN's servers weren't as fast as those of other elite brands on the market.
Below, you'll find the full details of the tests that we conducted. We put NordVPN under the microscope with a series of transparent and unbiased tests, based on how we rate VPNs.
---
Table of Content
---
| | |
| --- | --- |
| Feature | Availability |
| Money-back guarantee | 30 days |
| Allowed simultaneous connections | Six devices |
| Supported streaming services | Netflix, Amazon Prime Video, Hulu, BBC iPlayer, and all other major streaming outlets |
| No-logs policy | Yes |
| Encryption | Military-grade AES 256-bit |
| Protocols | OpenVPN and IKEv2/IPSec |
| Special features | Kill switch, Onion over VPN, leak protection, CyberSec, double VPN, and more |
| Customer support | 24/7 customer support with a live chat feature |
| Server locations | 5400+ 59 countries |
| P2P support | Yes |
| Server switches | Unlimited |
| Data traffic | Unlimited |
| Compatible devices | You can set it up on iOS, Android, Windows, Mac, Linux, and Smart TVs |
| Smart DNS proxy | Available (SmartPlay) |
| Legal Jurisdiction | Panama (outside 14 eyes jurisdiction) |
| Free trial | Not available |
---
NordVPN Verdict – The Pros and Cons
According to our tests, NordVPN deserves its elite status. It registered excellent scores on most of the experiments we conducted; especially in terms of privacy, security, and Internet access. However, the fact that one of its data centers was hacked will stain its impressive record, in addition to the average speeds on offer.
Yet NordVPN is still a solid pick for a VPN service. For a quick overview of what's hot and what's not in this service, check out the pros and cons.
Pros
Double VPN.
Military-grade encryption.
No-logs policy.
CyberSec: Ad-blocker.
Six simultaneous device connections per account.
Compatible with Netflix and other major streaming services.
Support for torrenting and P2P file-sharing activities.
Smart DNS proxy: SmartPlay.
Split-tunneling.
5,400 + servers in 59 countries (according to the website).
Round-the-clock customer support (with live chat).
Apps for the most popular operating systems.
30-day refund policy.
Panama headquarters (outside 14 eyes jurisdiction).
Cons
Not as fast as other elite brands.
One of its data centers was hacked.
---
Interface and Design
NordVPN is an excellent VPN for beginners. You can easily sign up for the service by visiting the website and clicking on "Get NordVPN." Then, you simply choose a subscription plan, create an account, and enter your preferred payment method.
You can also find out more about the provider by clicking on any of the options at the top right corner of the home screen. They include essential information like features, pricing, servers, VPN apps, and more. You'll also find a live chat button at the bottom right corner of the screen.
Overall, we found the NordVPN website very easy to navigate.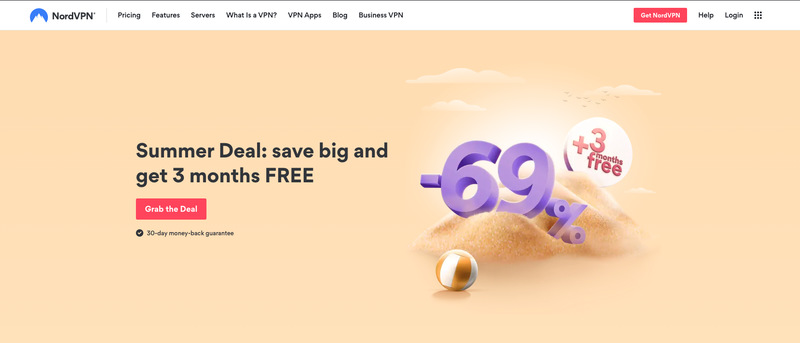 Desktop Client
The NordVPN desktop client is simple and straightforward to use. I found the design unappealing, but in terms of effectiveness, everything is clear. After you log in, a world map will appear on your screen, with a location mark on every country that features NordVPN servers.
You can immediately start using NordVPN by clicking the "Quick connect" button that's on display. That will automatically connect you to the best server, depending on your location. But if you a specific destination in mind, select the "Servers" option on the top left of the screen. Then, choose your target country and connect to one of the servers there.
You'll also find other options under this section, like a search bar and specialty servers.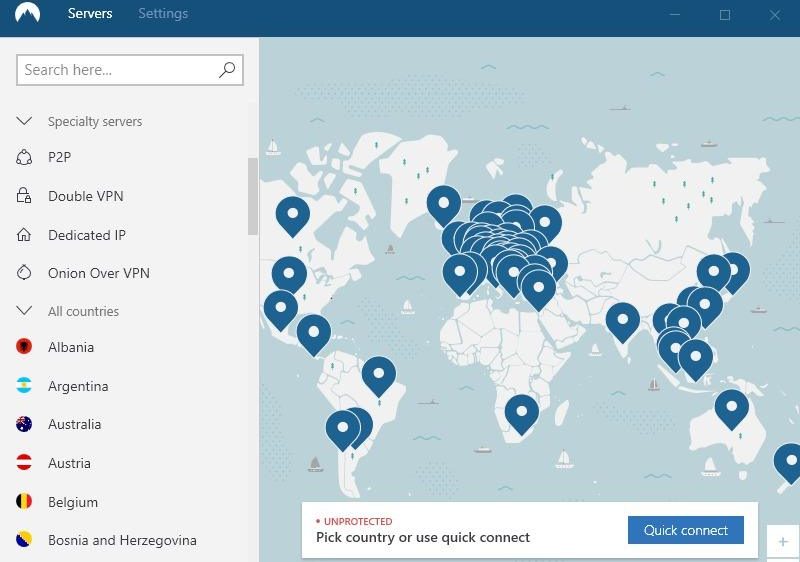 And as you can see from the above photo, customize the app to your liking with the Settings option. It enables you to turn on/off several features like CyberSec, auto-connect, and kill switch.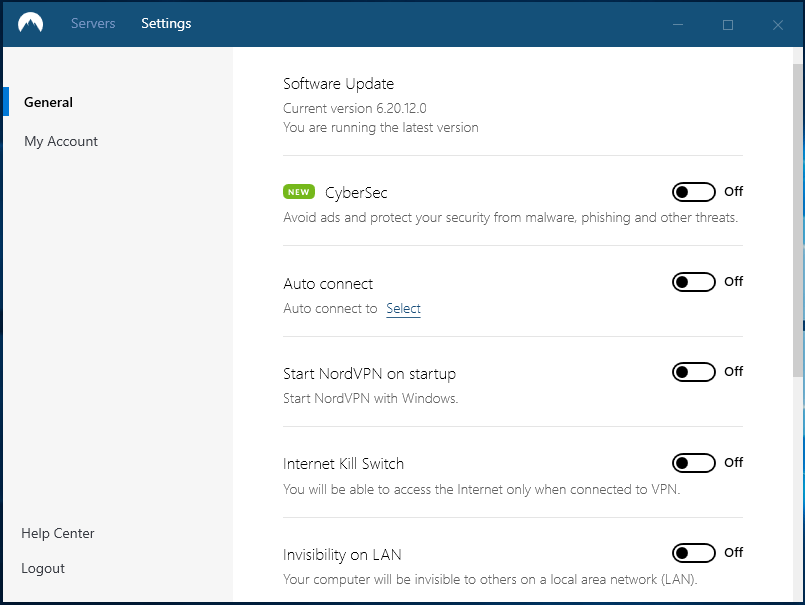 Mobile Apps
The NordVPN mobile apps aren't that different from the desktop client. They offer the same features, but the design isn't identical. For example, the "Quick connect" button, as well as "Countries" and "Map" are located at the bottom of the page.
And if you want to access "Servers" or "Settings," you have to click the tab on the top right side of the screen (for iOS users) or the top left (for Android users). I did not encounter any difficulty while navigating both apps as everything was smooth and easy.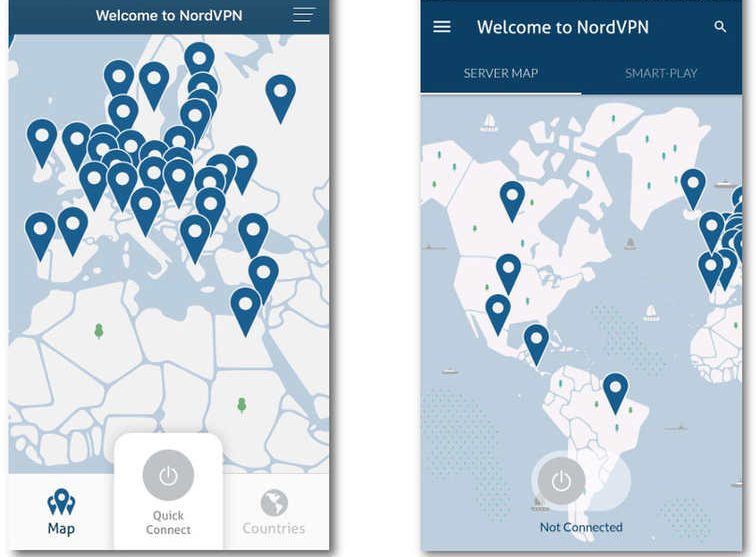 Furthermore, the Android app holds a 4.4/5 rating on Google Play, while its iOS counterpart registered 4.6 stars from over 80,000 users. On Trustpilot, however, NordVPN has a low 2.3/5 score after the consumer review website accused it of using fake reviews to boost its ranking.
I don't know if the accusations were true or not, but here's what Trustpilot had to say concerning the issue:
"Our Customized software has discovered a large number of fake reviews on this domain and we've removed them. The manipulation of reviews is a threat to consumers and businesses and we take it very seriously."

App Compatibility
The NordVPN apps are compatible with the majority of operating systems. They include iOS, macOS, Android, Windows, Linux, and Android TV, in addition to Chrome and FireFox web browser extensions. Moreover, you can use NordVPN on up to six devices at the same time with just one account.
I tested the application on my iPhone, iPad, and Mac, while my colleague tried it on his Samsung S10, Galaxy Tab, and PC using the same account. We both successfully managed to stream our favorite shows and sports.
---
NordVPN Server Network
NordVPN has one of the most massive server networks in the entire VPN industry. According to the website, the company boasts 5,434 servers in 59 countries, and the number is ever-expanding. These servers are spread across 81+ locations, covering strategic cities and regions.
Here's how the NordVPN servers are lined-up according to each continent:
Africa, the Middle East, and India: India, Israel, South Africa, Turkey, and the UAE.
Americas: Argentina, Brazil, Canada, Chile, Costa Rica, Mexico, and the USA.
Asia-Pacific: Australia, Hong Kong, Indonesia, Japan, Malaysia, New Zealand, Singapore, South Korea, Taiwan, Thailand, and Vietnam.
Europe: Albania, Austria, Belgium, Bosnia and Herzegovina, Bulgaria, Croatia, Cyprus, Czech Republic, Denmark, Estonia, Finland, France, Georgia, Germany, Greece, Hungary, Iceland, Ireland, Italy, Latvia, Luxembourg, Moldova, the Netherlands, North Macedonia, Norway, Poland, Portugal, Romania, Serbia, Slovakia, Slovenia, Spain, Sweden, Switzerland, the UK, and Ukraine.
The USA alone has over 1,590 servers, which means you can appear as an American resident online and bypass US regional restrictions. As a result, you'll have access to popular streaming platforms like US Netflix, Hulu, HBO Now, ESPN+, Fox Sports Online, fuboTV, and AT&T TV Now.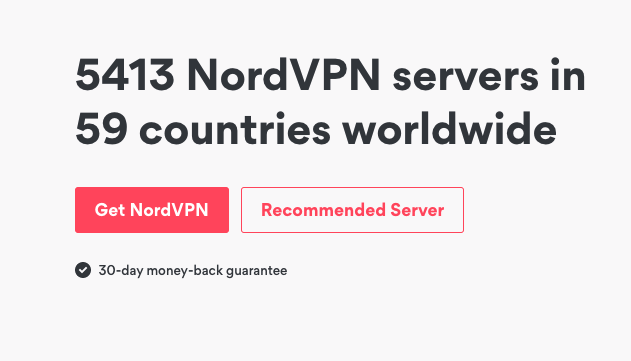 Special Servers
NordVPN offers subscribers six types of servers, depending on the tasks they want to complete:
Standard servers: Regular VPN servers that allow you to change your IP address and protect your online activities.
Dedicated IP servers: By connecting to one of those, no other NordVPN user will be able to share your new IP address.
Double VPN servers: Your traffic will go through two VPN servers instead of one, providing you with double encryption and extra security.
Onion Over VPN servers: They send your traffic through secure NordVPN servers, as well as the anonymity-focused Tor network.
P2P servers: Specialized servers for torrenting and P2P file-sharing activities.
Obfuscated servers: Dedicated servers for users who reside in countries with heavy Internet censorship like China.
---
Speed Rates
NordVPN is famous for its security and privacy prowess, going the extra mile to protect your data and traffic. But these features take their toll on speed. When we tested how fast NordVPN servers were, we got some decent scores. However, when we compared them to the results of other elite services, they weren't as impressive.
And speed is an essential feature that users search for in a VPN. Below, you'll find how NordVPN fared when we tried it out.
First Test: No VPN Connection
I conducted the first test without connecting to a VPN. And as you can see, your Internet speed is fastest without a virtual private network because encryption consumes a bit of your connection.

Second Test: Nearby VPN Server
In our second test, we connected to a server that was near our actual location. Notice how NordVPN affected the latency and how the speed slightly dropped. Other VPNs may have better scores in that domain, but this is still a decent speed for streaming and gaming.

Third Test: Double VPN Server
Our Internet speed witnessed a significant drop when we connected to a special server that offers a double VPN feature. It's a logical result considering our Internet traffic was now passing through two servers and getting double encryption.
And despite the reduced speed rates, we were still able to stream without any significant issues.

Final Test: Onion Over VPN Server
For the final NordVPN speed test, we decided to connect to one of the Onion over VPN servers. We deliberately selected servers with high levels of privacy and security because they consume the most speed rates. If they allow you to maintain your browsing activities without any significant issues, other servers will perform much better.
The results of this test were much better than anticipated as the Onion over VPN server offered decent speed levels.

The Speed Verdict
If you're looking for an elite VPN that offers fast speed rates, you'll find two or three better alternatives. But that doesn't mean NordVPN servers are slow. During our speed try-outs on multiple servers from different regions, we were still able to carry out various online tasks without any significant drawbacks.
Furthermore, this provider offers unlimited bandwidth, meaning you won't encounter any speed throttles in case you decide to download large files or stream 4K content for a considerable amount of time.
---
Streaming and Torrenting Support
Cord-cutters will largely benefit from a VPN service like NordVPN. That's because the latter can unblock the most popular geo-restricted streaming platforms. Not all VPNs can accomplish this feature, especially after industry titans like Netflix started banning the IP addresses that virtual private networks use.
However, we got to bypass location errors that usually popup on every major streaming service, thanks in part to NordVPN's vast server network. With so many of them across the US, we watched the new Witcher series on American Netflix, as well as Ramy on Hulu, and Succession on HBO. We were also able to catch up with the final season of Doctor Who on BBC iPlayer before the upcoming installment launches on the first of January.
In other words, you'll have no problem unblocking your favorite streaming platforms even if you were abroad.
Even torrenting fans will enjoy NordVPN because it supports P2P file-sharing activities. As a result, you can download your favorite movies, series, or songs without worrying about any legal action from copyright holders.
SmartPlay – NordVPN's Smart DNS Solution
Devices like gaming consoles, routers, and Smart TVs don't have VPN clients, which means they aren't compatible with VPN apps. Therefore, NordVPN presents a free Smart DNS proxy named SmartPlay that works with all your devices.
They are perfect tools for streaming as they don't affect your Internet speed. They only reroute the location part of your traffic, without making too many changes to your connection.
We did configure NordVPN's Smart DNS server addresses on an Apple TV, PS4, and Xbox One for testing purposes. In all three cases, we were granted access to the American version of Netflix as well as Hulu and HBO Go; the three biggest US streaming services.
---
Privacy and Security
This is an area where NordVPN shines the most. Based on the many VPN reviews we conducted, no other elite providers can match what NordVPN offers. In addition to the standard security and privacy features, it gives users additional unique options.
Privacy-haven Headquarters
NordVPN takes Panama as its base of operations. The country does not have any mandatory data retention laws, which means the company isn't forced to submit any information about its users. Other VPN services are located inside intrusive jurisdictions like the 14 Eyes alliance.
It is a treaty for joint cooperation in signals intelligence and features countries like the US, the UK, Canada, Australia, Germany, and France. Any company that operates within these jurisdictions must hand in any user data the government deems necessary.
Military-grade Encryption
Virtual private networks encrypt your data to protect it from the snooping eyes of hackers, ISPs, and government agencies. NordVPN uses the strongest encryption on the market to make sure no one can track your online activities. We're talking about the Advanced Encryption Standard (AES) with 256-bit keys.
The NSA recommends this encryption level to protect classified information as it is uncrackable.
"To break it, you would need to build supercomputers – which cannot yet be built – that would work on decryption for billions of years."

NordVPN
Zero-logs Policy
NordVPN implements a strict no-logs policy, meaning it keeps no records of your "connection timestamps, session information, used bandwidth, traffic data, IP addresses, or other data." Simply put, it automatically deletes your sensitive data and only keeps minimal information to optimize your experience.
The company needs to log certain details like email address, payment data, timestamp of the last session status, and customer service information.
Kill Switch and DNS Leak Protection
The kill switch is your last line of defense in case your VPN malfunctions. NordVPN uses this built-in tool to block your device from accessing the web in case your VPN connection drops. As a result, your traffic won't get redirected to your ISP's servers, where it can be compromised.
Furthermore, NordVPN makes sure your DNS requests aren't rerouted to your ISP's servers. These leaks will enable your Internet service provider to trace your online activities. But NordVPN uses its own secure DNS servers to prevent any potential leaks.
As is the case with other VPN providers we put to the test, we checked NordVPN for any potential leaks using this IP checker. The results were negative as the website did not display our actual IP address and location and showed that of the VPN server we were connected to.
WireGuard
In addition to the OpenVPN and IPsec, NordVPN offers NordLynx, a VPN protocol that is similar to WireGuard. The latter is considered the future industry standard, delivering faster speeds, better performance, and higher security. And although you can deploy WireGuard on iOS, Android, Windows, Mac, and BSD, only the Linux OS reached 1.0.0. version.
WireGuard has a slight privacy disadvantage, however, as it collects some of your sensitive data like your IP address. That goes against NordVPN's no-logs policy. Therefore, NordLynx has a double NAT system that assigns a local IP address for each user and a unique IP for each VPN tunnel.
That way, you'll get all the benefits of WireGuard, while also maintaining your online privacy.
Third-party Auditors
NordVPN regularly invites independent auditors to verify there is no breach in the zero-logs policy. Big Four auditing firm PricewaterhouseCoopers (PwC) conducted the last report, as it reviewed the servers and code and interviewed employees.
PwC's findings became available for NordVPN users back in January 2019, with the VPN provider saying that it "passed the test."
Warrant Canary
Much like any other online service, VPN providers are subject to National Security Letters, subpoenas, and warrants from government agencies asking for user data. These requests usually come with a gag order, preventing VPN companies from disclosing the nature of these letters with their clients.
That is why a lot of providers decided to warn users by setting up warrant canary pages that are regularly updated. If the page is taken down (aka if the page disappears), then your provider has been hit with a warrant, subpoena, or a secret letter. That's how VPNs alert you of any data retention requests.
The idea comes from the miners who took canaries down the mineshaft to warn them of any toxic gas leaks. The workers knew that if the birds died, they must evacuate immediately.
For total transparency, NordVPN has a warrant canary page that is updated on a daily basis. That means the company still hasn't received user data requests from the authorities.
Special Features
As mentioned earlier, NordVPN will go above and beyond other VPNs to ensure your data remains private. For example, you will benefit from double VPN servers, meaning you can encrypt your traffic twice with the AES 256-bit protocol. And for extra security, you can connect to an Onion Over VPN server, which protects you using the Tor network.
NordVPN even has CyberSec, a program that blocks malicious websites and annoying ads.
Hacking Claims
Rumors emerged recently that NordVPN had an expired internal private key exposed, which could allow cybercriminals to imitate the company's servers. This prompted an admission from the provider that one of its data centers in Finland was breached back in March 2018.
"One of the data centers in Finland we are renting our servers from was accessed with no authorization."

Laura Tyrell, Head Of Public Relations at NordVPN
NordVPN Head of Public Relations Laura Tyrell told TechCrunch that the server did not contain any user activity logs. She also reassured users that none of the applications send user-created credentials for authentication, so usernames and passwords couldn't have been intercepted either.
---
NordVPN Review – Customer Support
No matter how user-friendly and straightforward VPN services can be, subscribers may have questions and inquiries. Therefore, it's crucial to have a professional and responsive customer support team. NordVPN has excellent customer service ready to help you.
You can contact them via the live chat feature, email, or support ticket. They also offer detailed answers to the most common issues users face in their FAQ page. We were really impressed with their live chat service as an employee swiftly responded to our inquiry. He was also quite helpful and knowledgeable.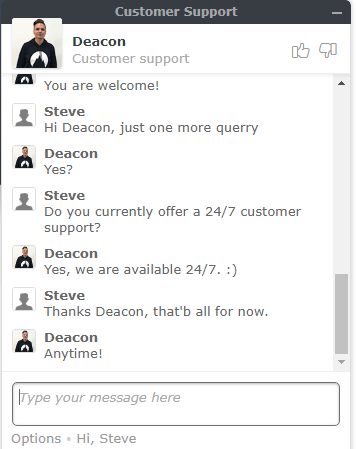 We also contacted the team via email and got a reply just an hour later with a detailed solution to our problem. Overall, response time and answer quality were quite impressive, something very common among premium VPN services.
Languages
NordVPN is a multilingual service. You can choose from a wide variety of languages when you visit the website, including:
Danish
German
English
Spanish
French
Italian
Dutch
Norwegian
Polish
Portuguese
Portuguese (Brazil)
Romanian
Finnish
Swedish
Turkish
Russian
Ukrainian
Korean
Arabic
Japanese
Chinese (simplified)
Chinese (Traditional)
---
How Much Does NordVPN Cost?
NordVPN is a premium VPN provider, meaning you'll enjoy top-notch quality features, which cost money. The monthly subscription fee is $11.95, but you can save up to 69% if you opt for other packages. Here's a look at the various plans that the company offers:
One-month plan: $11.95 (save 0%).
One-year plan: $143.40 per year or $4.99/month. ($59 for the first year).
Two-year plan: $322.65 billed every two years, which amounts to $3.67 a month (First two years).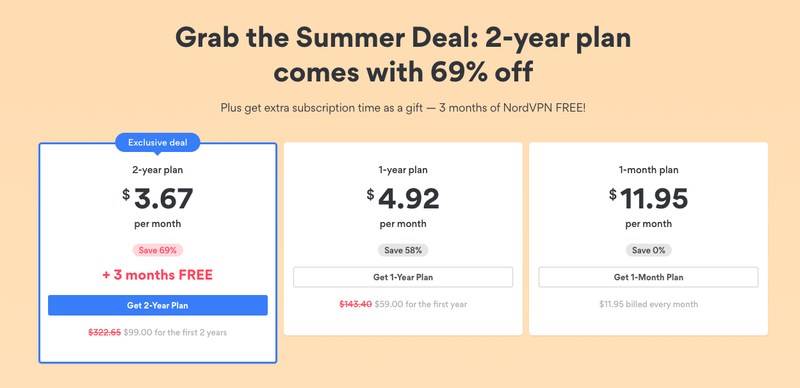 Furthermore, all these packages come with a 30-day money-back guarantee. Therefore, you can test it for a whole month before you make a final decision. However, you still have to provide a payment method when you subscribe.
Payment Methods
NordVPN provides several payment methods to facilitate the purchasing process. You can pay via credit cards, online services like AliPay or UnionPay, and even cryptocurrencies. And the company partnered with Norton Security to protect all purchases.
On a side note, NordVPN no longer accepts PayPal. The provider said that it ceased supporting PayPal to have complete control over the customer purchase experience and reduce security risks. As a result, the company will handle your subscription data instead of outsourcing it to a third party.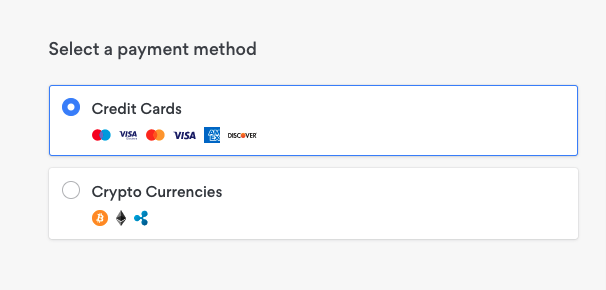 ---
Is There a NordVPN Free Trial?
The company used to offer new subscribers a free two-day trial period. But after too many users abused this feature, NordVPN decided to pull the plug on it. Yet, you can benefit from the 30-day refund policy that's available with every subscription plan, even if you have to submit a payment method.
---
Wrapping Up the NordVPN Review
NordVPN is a reputable VPN service and a well-known brand in the industry. It features top-of-the-line privacy and security features, not to mention user-friendly apps. It also has a massive server network that can help you unblock the biggest streaming platforms and access torrenting websites.
Moreover, the company has award-winning customer service, a 30-day refund policy, and six simultaneous device support. However, not all every dedicated server offers high levels of speed. And if you add the fact that one of its data centers were compromised, some users might be alarmed.
Despite the security scare, few competitors can match the protection that NordVPN offers. Therefore, it gets our nod of approval.
Are you a NordVPN user? Tell us all about your VPN experience below.