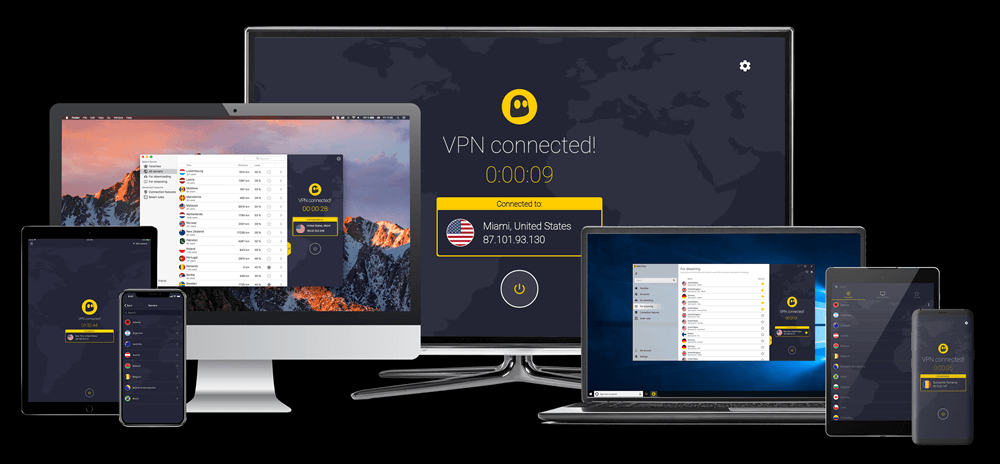 CyberGhost VPN has been in the virtual private network business for over a decade now. It managed to gather millions of subscribers throughout that time, thanks to some top-quality features.
According to the website, CyberGhost operates more than 6960 servers in 112 locations across 90+ countries. It is one of the broadest networks in the industry that only a few others can match. The company also claims that its servers offer "blazing fast speeds and unlimited bandwidth," with access to over 35 streaming services. Furthermore, there are dedicated servers for Netflix, Hulu, BBC iPlayer, YouTube, and Crunchyroll.
As for privacy and security, CyberGhost VPN uses AES (Advanced Encryption Standard) with 256-bit keys. That is the most secure encryption in the industry so far. Moreover, the provider does not collect sensitive data like IP addresses and browsing history. You'll also benefit from a kill switch in case your VPN connection drops.
But even though the company offers plenty of advantages, there are a couple of drawbacks as well. In 2017, CrossRider, a company that sells malware, acquired CyberGhost VPN in a deal worth 9.2 million euros. CrossRider then changed its name to Kape Technologies a year later. Furthermore, some of the servers on offer are slow.
We decided to examine CyberGhost VPN and see if it genuinely provides these features. We conducted a series of unbiased and transparent tests based on how we evaluate virtual private networks.
---
Table of Content
---
Feature
Availability
Money-back guarantee
14 days for the monthly plan
45 days for the yearly plans
Allowed simultaneous connections
Seven devices
Supported streaming services
US Netflix, Hulu, BBC iPlayer, YouTube TV, Amazon Prime Video, HBO Now, and more
No-logs policy
Yes
Encryption
Military-grade AES 256-bit
Protocols
OpenVPN, L2TP-IPsec, and PPTP protocols
Special features
Kill switch, torrent and P2P support, NoSpy servers, data compression, ad-blocker, and unlimited bandwidth
Customer support
24/7 customer support with a live chat feature
Server locations
112 server locations in 90 countries
P2P support
Yes
Server switches
Unlimited
Data traffic
Unlimited
Compatible devices
You can set it up on Windows, Linux, Mac, iOS, macOS, Amazon FireTV, Chrome, and Firefox.
Smart DNS proxy
Yes
Legal Jurisdiction
Romania
Free trial
One day
---
Pros and Cons – The CyberGhost VPN Verdict
CyberGhost is an excellent VPN service with high-level encryption, a no-logs policy, dedicated servers for streaming, and a vast server network. It crosses the VPN must-haves of privacy, anonymity, and unlimited Internet access. However, it is not as fast as other elite providers, and the monthly subscription fee is $12.99, one of the priciest in the business.
But in terms of overall performance, we thought CyberGhost VPN did pretty well, so we gave it two thumbs up. Still, there are a couple of better options for that price.
Pros
Zero-logs policy.
Access to US Netflix and other streaming platforms.
Military-grade encryption.
Ad-blocker.
Automatic kill switch.
Unlimited bandwidth.
111 server locations in 89 countries.
Protection against malicious websites.
Data compression.
DNS and IP Leak Protection.
Up to seven simultaneous device connections.
45-day refund policy for yearly subscriptions.
Cons
Not as fast as other elite VPNs.
Expensive monthly subscription fee.
Question marks over the parent company.
---
Interface and Design
CyberGhost VPN has a smooth and well-designed website that we found was easy to navigate. The home page displays all the necessary features this VPN provides, as well as shortcuts for additional information. That includes unblocking capabilities, privacy options, server locations, and expert reviews.
Moreover, you can find out more about CyberGhost in terms of features, apps, pricing, servers, and more by clicking the shortcuts on top of the page. There's also a help button that redirects you to the support page, where you'll find a list of guides, articles, and FAQs. And if you need quick assistance, click the support button on the bottom right to enable the live chat feature.
Desktop Client
We first tested the CyberGhost VPN Windows client. The app isn't bad to look at, and it's relatively easy to navigate. You'll start with a connect button in the middle of the screen and a server location below it. If you wish to connect to the server on display, hit the button. But if you prefer to select another one, click on the server location to open the full list.
Now, this is where things get interesting. We really enjoyed how CyberGhost divides its servers to meet your browsing needs. From the left panel, you'll be able to select all servers, specialized servers for torrenting and streaming, connection features, or smart rules. Each item will display a set of designated servers. CyberGhost will even display ping time, distance, and load.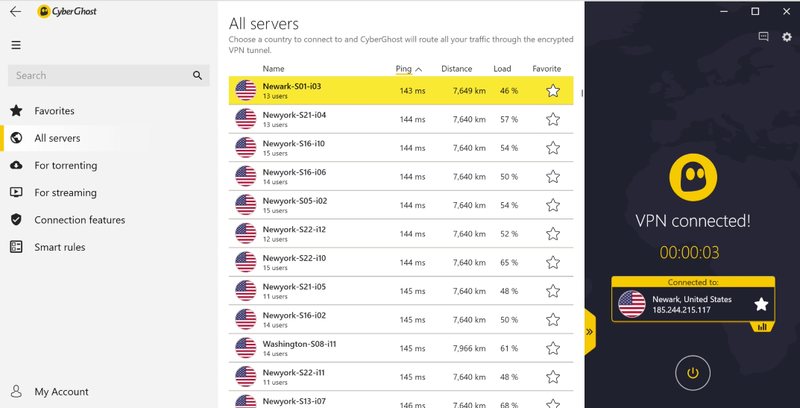 And if you wish to customize the CyberGhost desktop client, simply click on the gear icon on the top right. It allows you to switch VPN protocols and enable or disable the kill switch and DNS leak protection.
Mobile Apps
CyberGhost VPN's mobile apps aren't that different from the desktop client, especially in terms of design. However, there is less functionality. We tested the Android app on our device, and we thought it was easy to use. Just like the Windows client, you'll start with a connect button on the home screen, with a server location below it. The gear (settings) icon is also on the top right.
If you want to switch to another server, tap the location at the bottom to open the full list. Then, you can browse through all the CyberGhost servers by choosing "all countries." And if you're looking to watch your favorite movie or series online, you can select a "streaming-friendly" server.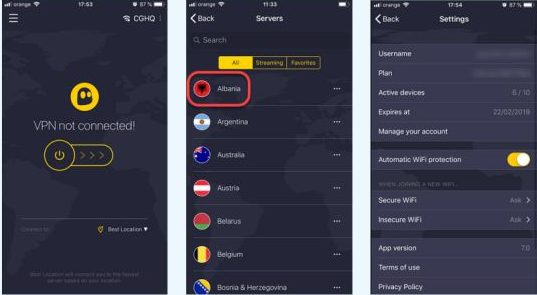 Users on Trustpilot gave CyberGhost a near-perfect score of 4.8/5. Of the 8,932 registered reviews so far, 84% were excellent, 13% were great, while only 2%, 1%, and 1% were average, poor, and bad, respectively.
"This is my go-to VPN service now. It always works, and I love the interface. Bravo!"

Marko Ramius, CyberGhost User
CyberGhost VPN also received good ratings on Google Play (4.2/5) and the App Store (4.3/5).
App Compatibility
Another area where CyberGhost VPN shines is app compatibility. You can install the provider's applications on all the major devices and operating systems. That includes Windows, Mac, iPhone, iPad, Android, Amazon Fire TV, Fire Stick, and Linux. Furthermore, you can add CyberGhost to Google Chrome and Mozilla Firefox.
CyberGhost VPN also allows you to use its apps on up to seven devices simultaneously with just one account. In other words, one CyberGhost subscription enables you to protect your laptop, desktop, smartphone, tablet, Smart TV, and more. You can even share your account with friends and family.
---
CyberGhost VPN Server Network
An extensive server network is an essential feature for virtual private networks. It improves speed by taking the load off overcrowded servers and gives you more access to restricted services. In that regard, CyberGhost VPN has one of the largest server grids in the industry.
According to the website, the provider operates 6.960 servers in 112 locations across 90 countries. The majority of these servers (1,099) are in the USA, of course, covering 11 cities. Germany, the UK, and France follow next with 660, 444, and 440 servers, respectively.

CyberGhost has a presence in every region across the world. Here is the full list below:
North America: The US, Canada, and Mexico.
Central Ameria: Costa Rica and Panama.
South America: Argentina, Brazil, Chile, Colombia, and Venezuela.
Caribbean: Bahamas.
Europe: Germany, the UK, France, Albania, Andora, Austria, Belarus, Belgium, Bosnia, Bulgaria, Croatia, Cyprus, Czech Republic, Denmark, Estonia, Finland, Greece, Greenland, Hungary, Iceland, Ireland, Isle of Man, Italy, Latvia, Liechtenstein, Lithuania, Luxembourg, Macedonia, Malta, Moldova, Monaco, Montenegro, Netherlands, Norway, Poland, Portugal, Romania, Russia, Serbia, Slovakia, Spain, Sweden, Switzerland, and Ukraine.
Africa: Algeria, Egypt, Kenya, Morocco, Nigeria, and South Africa
Asia: Armenia, Bangladesh, Cambodia, China, Georgia, Hong Kong, India, Indonesia, Iran, Israel, Japan, Kazakhstan, Macau, Malaysia, Mongolia, Pakistan, Philippines, Qatar, Saudi Arabia, Singapore, South Korea, Sri Lanka, Taiwan, UAE, and Vietnam.
Oceania: Australia and New Zealand.
---
CyberGhost VPN Speed Tests
Whether you're streaming, torrenting, or just browsing through your social media accounts, slow Internet speeds can be a major buzzkill. And the thing is when you connect to a VPN; your connection speed drops a little due to the encryption level that your provider uses.
However, top VPN services offer fast servers to make sure the speed drop remains minimal and does not affect your online experience. Now, CyberGhost VPN claims to give you "blazing fast speeds," so we decided to put that to the test.
Test One: No VPN Connection
The first speed test we made was without a VPN connection. As I mentioned earlier, no matter which provider you use, your Internet speed will drop when you connect to a VPN. Therefore, we wanted to see how much CyberGhost will affect your connection.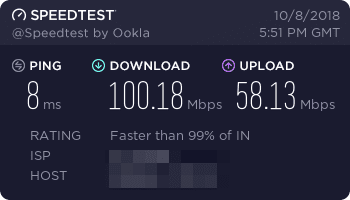 Test Two: A server Near Us
Next, we decided to connect to a nearby CyberGhost server. As you can see from the below result, the speed dropped by almost 60%, which is a bit surprising. We usually don't witness such a significant decrease when we connect to a server that is close to our actual location.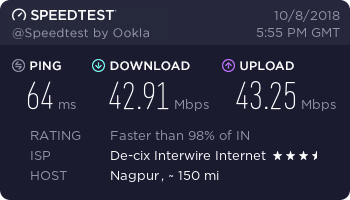 For our third test, we connected to a server from the United States, since most users seek to unblock American streaming services. The speed rates continued to plunge, probably because the server is a bit distant.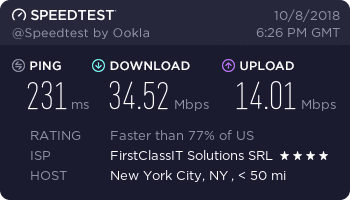 Test Four: Australian Server
This time, we went east and connected to a server from the land down under. Due to the geographic distance between the server and our location, speed levels witnessed a slight descend.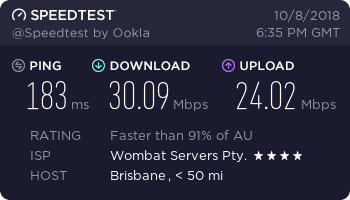 Is CyberGhost VPN Fast?
CyberGhost isn't the fastest VPN we've tested. As you can see for yourselves, the speed rates drastically dropped once we connected to a CyberGhost server, even though it was near our actual location. However, from there on out, speed was somewhat stable. Despite connecting to distant servers in the US and Australia, the decrease was minimal.
Therefore, if you're looking for a VPN to stream your favorite shows, there are a couple of other brands that offer better speeds. But that doesn't mean CyberGhost VPN is slow as you can still enjoy your online experience.
---
Is CyberGhost VPN Good for Streaming, Torrenting?
One of the biggest reasons behind the success and surge of VPNs is access to geo-blocked content. You see, users are able to stream their favorite programs from anywhere by connecting to a server inside the platform's broadcasting zone. That is why streaming services, under pressure from studios and producers, started banning VPN IP addresses to protect copyright agreements.
As a result, people were no longer able to watch videos from abroad unless they used premium VPNs. CyberGhost is one of those as it can still bypass streaming geo-blocks. The company has dedicated servers for Netflix, BBC iPlayer, Hulu, YouTube TV, HBO Now, and much more.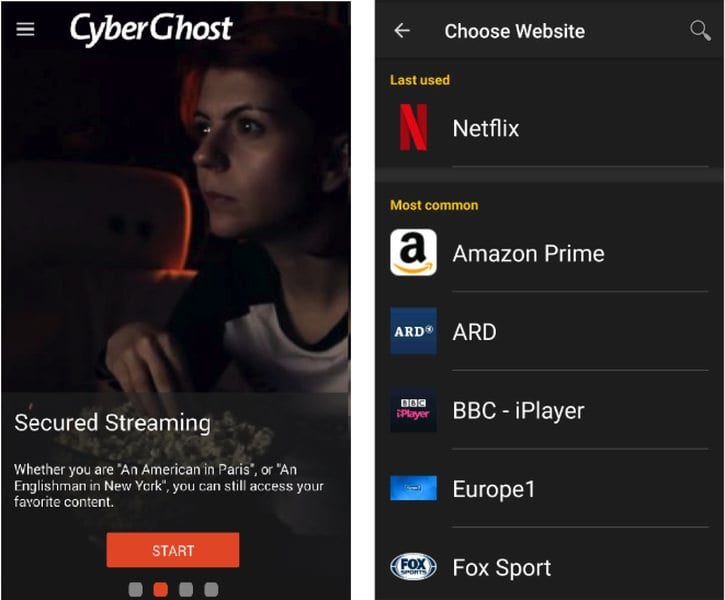 CyberGhost will give you access to over 35 streaming platforms, including:
Netflix (including US, UK, and German libraries)
Showtime
CBS
YouTube TV
For the full list of available streaming services, click here.
Moreover, CyberGhost VPN has dedicated servers for torrenting. If you're using the desktop client, each server that supports file-sharing will have a yellow under P2P. On mobile apps, however, P2P servers aren't marked. But you can check them out on the website.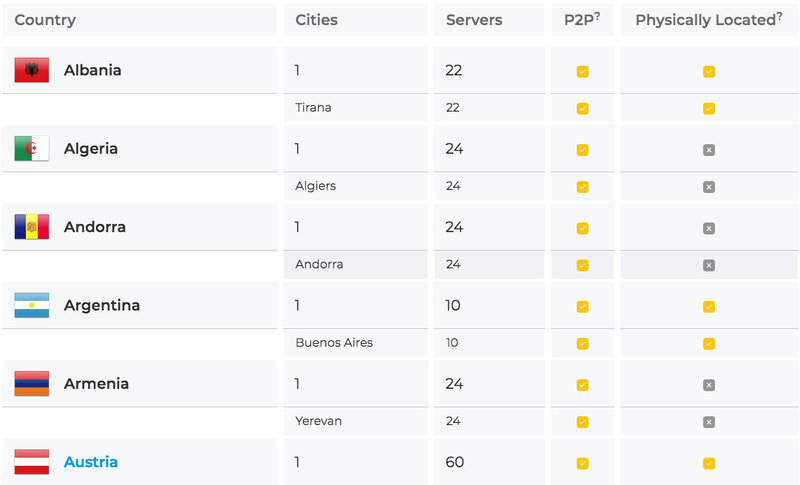 Smart DNS Proxy
CyberGhost VPN also offers a Smart DNS proxy service. That means you don't have to stick to the servers this brand provides, and you get an expanded number of supported devices. In other words, you'll be able to set up CyberGhost on gaming consoles like PS4 or Xbox, Smart TVs, Apple TV, and Chromecast with ease.
---
Privacy and Security – CyberGhost VPN
The most important role of a VPN is to maintain your online privacy, anonymity, and security. To do so, it must provide essential, top-class features, and CyberGhost did not take any of them for granted. Here is what's in store for you when you use this VPN:
Company Headquarters
CyberGhost first commenced operation in 2011 in Germany, a country that is part of the 14-Eyes alliance. The cooperation between these 14 nations allows the authorities to request user data from companies inside their jurisdiction. Much of the surveillance is focused on monitoring the Internet, and intelligence agencies can share information with each other.
But the company relocated to Romania, which is famous for enforcing privacy-friendly values. The country has continuously rejected EU proposals and laws about data retention, allowing CyberGhost to implement a zero-logs policy. That means the VPN provider is under no obligation to submit user information.
No-logs Policy
Much like every other elite VPN out there, CyberGhost VPN follows a strict zero-logs policy. The company says that it does not collect or store sensitive data like IP addresses, connection timestamps, browsing history, web destinations, bandwidth usage, and more.
Furthermore, CyberGhost claims that they've never breached their users' trust despite several legal requests over the years. "We have no idea what you do online after you connect to one of our servers, or how much bandwidth you've used. It's none of our business."
"The only way to secure your data is not to store it."

Robert Knapp, CyberGhost Co-founder
Military-grade Encryption
When you're shopping for a VPN service, always make sure the AES encryption with 256-bit keys is on offer. CyberGhost VPN uses this military-grade encryption to protect your data and Internet traffic from prying eyes of hackers, ISPs, and even the government.
Anyone who attempts to crack this encryption will face trillions of possible combinations, which makes his task impossible. The NSA and other intelligence agencies use AES-256 to protect classified files and information.
Kill Switch and DNS Leak Protection
CyberGhost VPN offers an Automatic kill switch that cuts off the Internet connection from your device in case the VPN malfunctions. Therefore, your traffic won't get rerouted to your ISP's servers, where third parties can see them. The only way to regain Internet access is when the VPN connection is reestablished or if you disable the kill switch. But I strongly don't recommend the latter.
We also tested CyberGhost for possible DNS or IP leaks. I connected to a US server and used the following IP checker to see if my IP address matched my server location. We also conducted a WebRTC leak test to see if there was any data leakage. As you can see from the results below, CyberGhost VPN maintains your privacy all the way.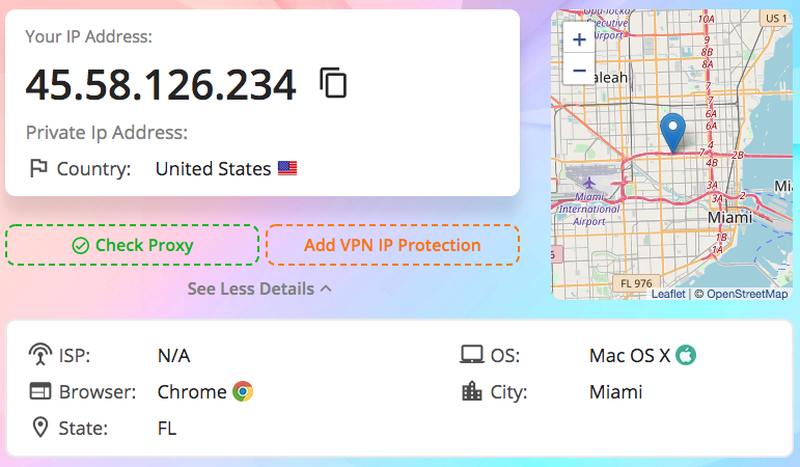 Additional Features
CyberGhost VPN offers extra privacy and security features that other providers lack. They include:
Ad-blocker: A tool that blocks annoying ads and popups that sometimes cover your screen and ruin your browsing experience.
Malware protection: Detects and blocks malicious websites.
Data compression: An excellent feature if you don't want to consume mobile data while you're on the road. CyberGhost will compress media files like images and web content to reduce data consumption.
Blocked social tracking: Prevents web services from monitoring, analyzing, and recording your online behaviors.
NoSpy servers: A set of servers that CyberGhost independently operates. Only a company team can access and control these servers, which are located in Romania.
Areas of Concern
Despite the premium privacy and security features, there are a couple of things missing that can improve CyberGhost's credibility. The absence of a third-party auditor and warrant canaries, for example, can concern some privacy-oriented users.
Furthermore, CyberGhost was acquired by an Israeli company named CrossRider Group in 2017. The latter was known for selling malicious software, which is why it had to change its name to Kape Technologies to shake this bad reputation.
Now, while that may sound alarming to certain people, please note that no one has ever complained about any data collection or breach while using CyberGhost VPN.
---
CyberGhost VPN Customer Support
CyberGhost VPN has a team of professional and knowledgeable staff ready to assist you if you have any inquiries. You can contact customer support via email, ticket, or live chat. Alternatively, you can check out the support page on the website and browse through the FAQs section or read their helpful articles and guides.
And the great thing about customer service is that it is available round the clock. We used their live chat feature to ask if they were within reach 24/7, and an employee replied within seconds to confirm that they are.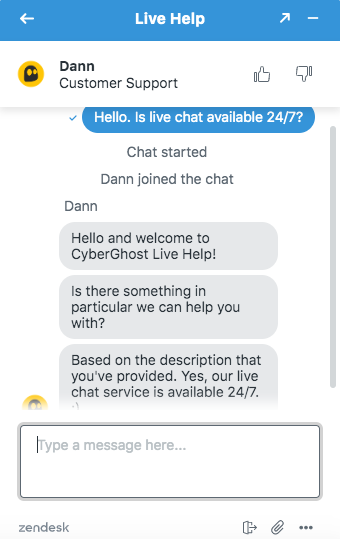 ---
Is CyberGhost VPN Pricey?
CyberGhost VPN is ranked among the top VPN category. That means it offers premium services, but for a price. However, you can save quite a lot of money if you commit to long-term plans. For example, if you opt for the monthly subscription package, it will cost you $12.99, which is expensive. But the longer the period, the lower the price.
One-month plan: $12.99/month
One-year plan: $71.88/year (equals $5.99 per month)
Two-year plan: $88.56 every two years (equals $3.69 a month)
Three-year plan: $99 every three years (equals $2.75/month)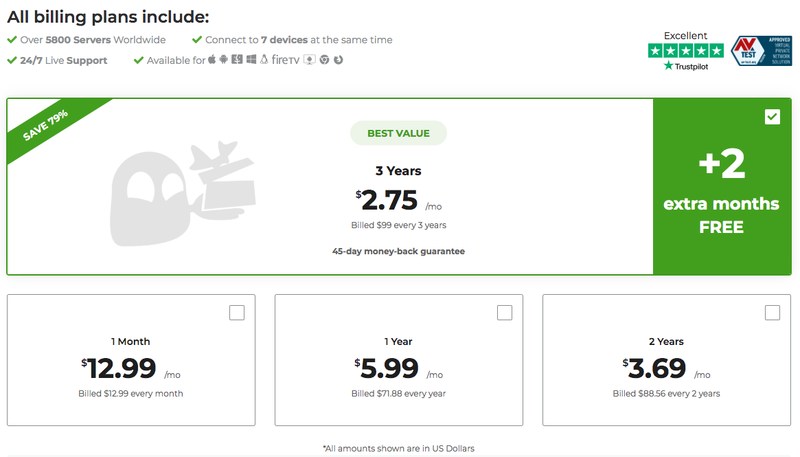 The subscription plan with the most value for money is the three-year package, of course. All annual subscriptions come with a 45-day money-back guarantee, while the monthly plan is only refundable for 14 days. You can add the Dedicated IP package to each plan for $5 a month.
Payment Options
You can pay for your preferred subscription plan using credit cards, PayPal, and even Bitcoin. CyberGhost accepts Visa, MasterCard, and American Express. But for total anonymity, I suggest you pay with Bitcoin as no one can track your purchase.

---
Does CyberGhost Offer a Free Trial?
While a lot of VPN services quit the whole free trial thing, CyberGhost still offers this option. Even though it's just on a 24-hour basis, the trial period at least allows you to test the provider before you commit to it. And you don't have to submit any credit card information during that time. You just provide a valid email, and you can start connecting to a CyberGhost server.
Furthermore, top VPNs offer refund policies for users, which usually last for 30 days. Well, CyberGhost took it up a notch and gave annual customers a 45-day money-back guarantee. Those who subscribe to the one-month plan will benefit from a shorter 14-day refund policy.
That means you'll have plenty of time to test the service. And if the features are not to your liking, you can ask for your money back.
---
Concluding the CyberGhost VPN Review
CyberGhost is a Romanian-based virtual private network with excellent privacy and security features. It offers a vast server network and is capable of unblocking the majority of streaming platforms. The company also supports torrenting and P2P file-sharing. Moreover, users can put it to the test thanks to the one-day free trial and the 45-day refund policy.
However, there are a few drawbacks, like average speeds, the absence of a Smart DNS, and the whole company acquisition shenanigans. Still, no privacy complaints ever surfaced, meaning this provider is legit. Therefore, if you're looking for a VPN, we CyberGhost VPN is definitely worth a look.
Based on what you've read, do you think CyberGhost is a good VPN service? Or should people avoid it? Tell us what you think below.