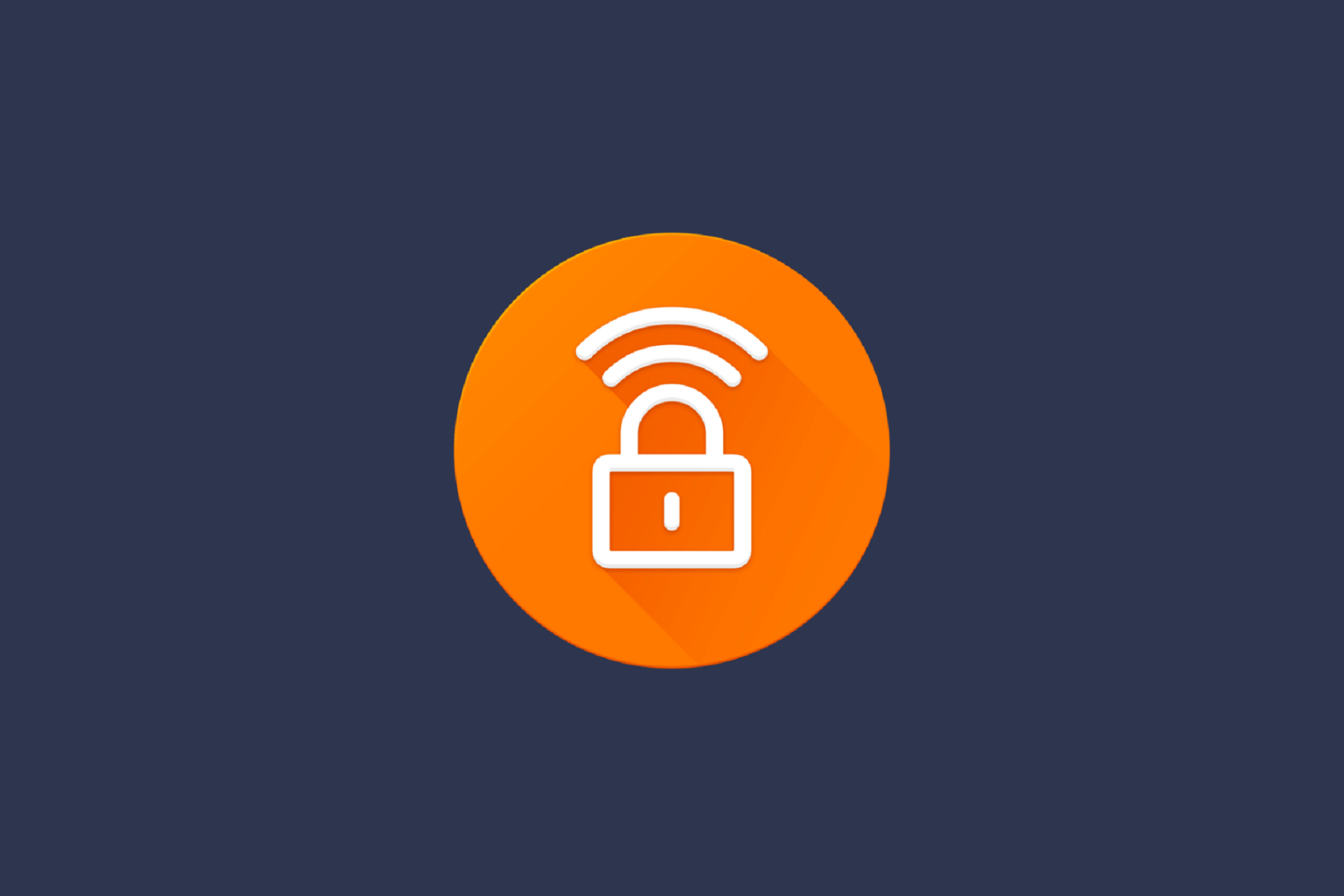 You probably know Avast from its popular antivirus software. The company has more than 435 million users worldwide and the largest market share among anti-malware programs. But Avast antivirus isn't the only cybersecurity tool the company has. In 2014, Avast introduced SecureLine, a VPN service that can "access any content" and offers "real privacy."
Now, Avast came under fire after reports of data logging and selling surfaced. The company admitted to collecting user information and selling it to third parties, such as advertisers and databases. But it sought to relieve customers by assuring them that such data cannot be traced back to them.
So what about SecureLine VPN? Is Avast using this tool as well to log user data and sell it? Or is it a zero-logs policy as it advertises? And what about its unblocking capabilities, speed levels, and security? We answer all these questions in our thorough and detailed review.
We put SecureLine VPN through our unbiased eight-step evaluation process. So keep scrolling for the full test results.
---
| | |
| --- | --- |
| FEATURE | AVAILABILITY |
| Money-back guarantee | 30 days |
| Allowed simultaneous connections | Ten |
| Supported streaming services | US Netflix and BBC iPlayer. |
| No-logs policy | Available |
| Encryption | AES with 256-bit keys |
| Protocols | OpenVPN and IPSec |
| Special features | Kill switch |
| Customer support | Call support |
| Server locations | 55 servers across 34 countries |
| P2P support | Yes |
| Server switches | Unlimited |
| Data traffic | Unlimited |
| Compatible devices | Apps for Windows, Mac, Android, and iOS |
| Legal Jurisdiction | Czech Republic |
| Free trial | 7 days |
---
Content Overview
---
SecureLine VPN – Early Verdict
Here's a summary of our Avast SecureLine VPN findings, in case you don't have the time to go through each step.
Avast is a cybersecurity software company based in Prague, Czech Republic. The company is famous for its antivirus software that, as of 2018, amassed over 435 million users. Part of that success is due to the fact that Avast antivirus has an efficient free version. However, major privacy breaches came to light concerning Avast, and how it uses its anti-malware product to collect sensitive data and sell it to third parties.
Even CEO Ondrej Vlcek admitted that the company keeps records of user information. He added, though, that "the data is stripped of anything that might expose an individual's identity." Still, that might put some red flags on Avast's other products, namely SecureLine VPN.
But to put the record straight, there have been no privacy controversies with SecureLine. According to the website, the VPN has a no-logs policy, meaning they do not collect sensitive data. But the privacy policy mentions minor log keeping, including connection timestamps and choice of server. Nonetheless, this information won't reveal your identity or location.
SecureLine VPN also uses the most secure encryption on the market – AES with 256-bit keys. It can also unblock popular streaming platforms like Netflix US and BBC iPlayer but falls short when it comes to Hulu and Amazon Prime Video. Moreover, Avast SecureLine has dedicated servers for torrenting and offers respectable speed rates.
And speaking of servers, SecureLine VPN has a limited network of 55 servers in 34 countries, with a presence in each continent (except Antarctica). It also offers a 30-day refund policy and a seven-day free trial.
Pros
Military-grade encryption.
Easy-to-use apps.
Kill switch and DNS leak protection.
30-day refund policy.
7-day free trial.
Decent speeds.
Works with Netflix and BBC iPlayer.
Compatible with major operating systems.
P2P support.
Unlimited bandwidth
Cons
Avast's privacy controversies.
Some data logging.
No Smart DNS.
Small server network.
No access to Hulu and Amazon Prime.
Cooperative with Five Eyes due to jurisdiction.
---
SecureLine VPN Interface and Design
Our first taste of Avast SecureLine was through the website, which we thought was well-designed, easy on the eye, and very informative. The homepage goes straight to the point, kicking off with what many users believe is a crucial VPN feature – pricing.
As you continue to scroll down, you'll discover all the benefits you'll get if you subscribe to SecureLine VPN. That includes unblocking capabilities, security, privacy, and speed. The home screen also displays the VPN's full server network, including countries and server locations.
And for additional information, you can click on any of the shortcuts that are at the top and bottom of the page. That includes details about the company, customer support, privacy policy, and Avast's full product lineup.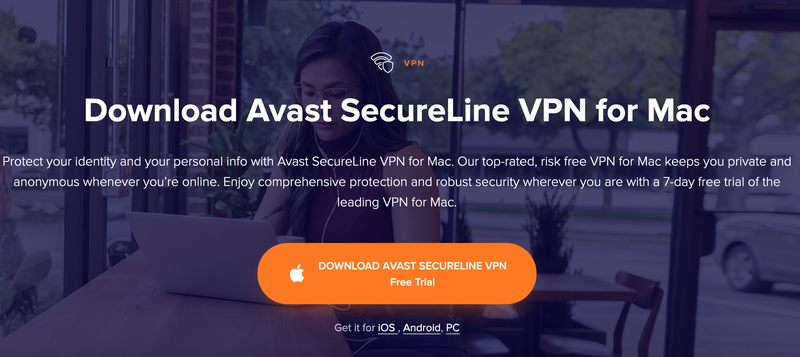 Mac Client
To begin our evaluation, we downloaded SecureLine VPN on our Mac device. After you open the desktop client and sign in, you'll find a red off switch indicating that "your online privacy is not protected," i.e., you're not connected to SecureLine VPN. Press the button and the VPN will connect you to the ideal server based on your location.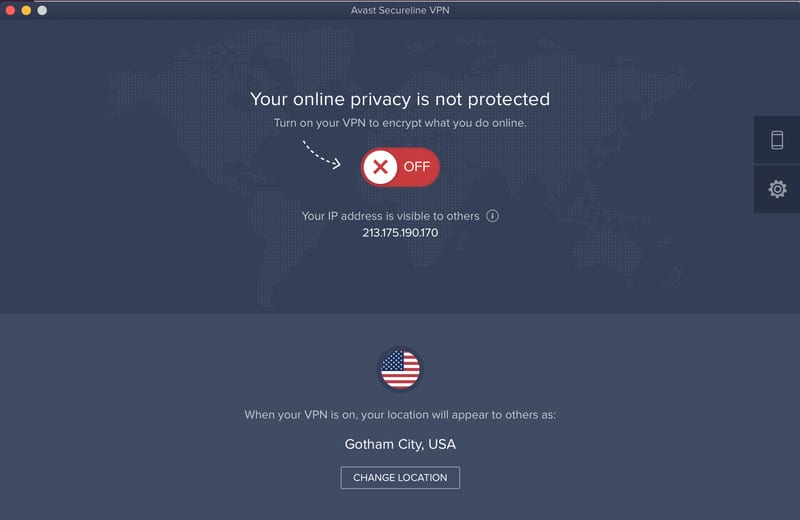 If you want a specific server destination, there's a "change location" option underneath the connect switch. That will open SecureLine VPN's full server list, allowing you to choose the one you want. Moreover, on the right side of the screen, there's a gear icon that will take to the settings page. From there, you can customize your app and enable features like the kill switch. You'll also be able to add the Chrome and Firefox web extensions.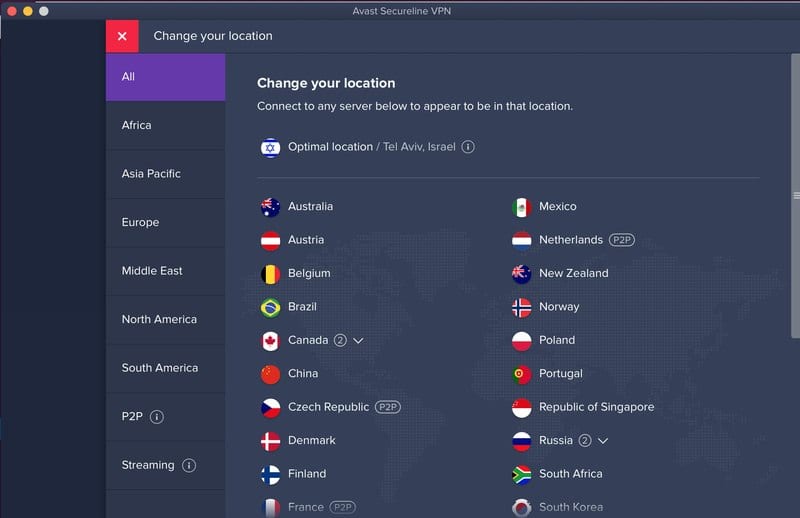 Android App
Next, we downloaded the SecureLine VPN app from Google Play and installed it on our Android device. It was just as easy to navigate the app as it was with the Mac client. After you log in, you'll find a connect button in the middle of the screen, with an "optimal location" option underneath it.
For a target location, simply press the latter to open the full server list. Furthermore, you can activate the kill switch and other features by clicking the gear icon (settings).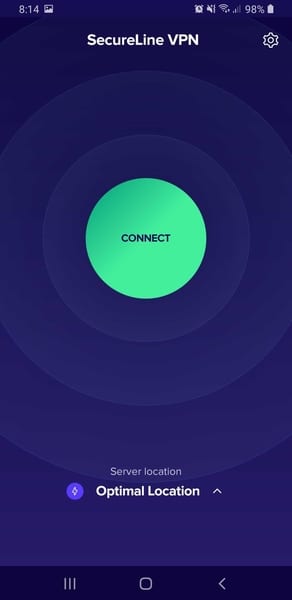 The Avast SecureLine VPN has an excellent 4.3 rating on Google Play and an even higher score of 4.7 on the App Store. We also usually check the VPN provider's Trustpilot score, but SecureLine VPN does not have a rating on the website, only Avast does, and it's a poor one (1.8/5).
Yet, we went through some of the reviews and comments that users posted and we found some feedback concerning Avast SecureLine VPN. Some people complained about the data logging, while others were happy with the overall service.
"…The VPN is decent, the speeds were good but the problem I had was, while the company says it keeps no logs of your VPN activity it does keep the time you are connected to the VPN and how much Bandwidth you are using…"

Jeff
"Very good free antivirus and a VPN for a reasonable price."

Kai Salve
App Compatibility
You can install SecureLine VPN on the most-used and common operating systems, which are iOS, Android, Mac, and Windows. And once you install the app on your device, you'll be able to add the service's browser extensions to Google Chrome and the App Store.
Moreover, Avast SecureLine allows you to connect up to ten devices at the same time using just one account.
---
Server Network
Avast SecureLine VPN operates 55 servers in 34 countries, which is significantly less than most of its competitors offer. Other VPN providers offer thousands of servers and cover much more ground than SecureLine. Nonetheless, despite its small grid, this VPN has a presence in pretty much every continent and important region.
That includes the US, the UK, South Africa, Japan, and Australia. You'll find server locations in South America and the Middle East, as well.
Here's SecureLine VPN's full server list:
Australia
Austria
Belgium
Brazil
Canada
China
Czech Republic
Denmark
Finland
France
Germany
Hungary
Israel
Italy
Japan
Luxembourg
Malaysia
Mexico
Netherlands
New Zealand
Norway
Poland
Portugal
Russia
Singapore
South Africa
South Korea
Spain
Sweden
Switzerland
Taiwan
Turkey
United Kingdom
United States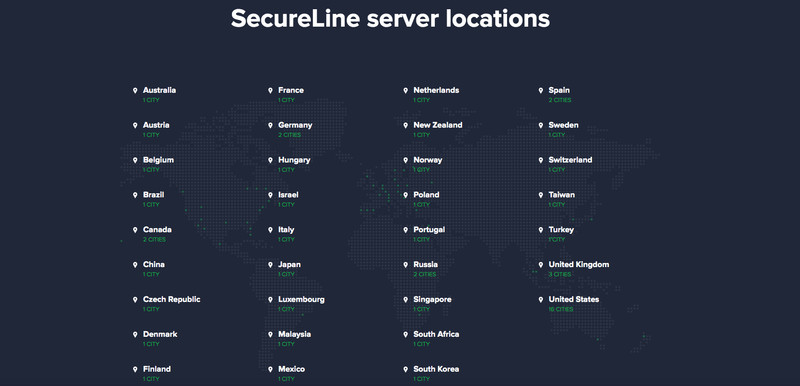 ---
SecureLine VPN – The Speed Tests
Speed is an essential factor for commercial VPNs. If users discover that their provider has slow servers, they will most likely cancel their subscription. But instead of wasting time, and sometimes money, we recommend you read user reviews before you subscribe.
Please keep in mind though, that no matter which VPN you choose, you will experience a speed drop. That is due to the encryption algorithm and the rerouting of your traffic. Nevertheless, reputable VPNs make sure the speed drop remains at a minimum. So how fast is Avast SecureLine VPN? We put it through our speed tests.
First test: No SecureLine VPN connection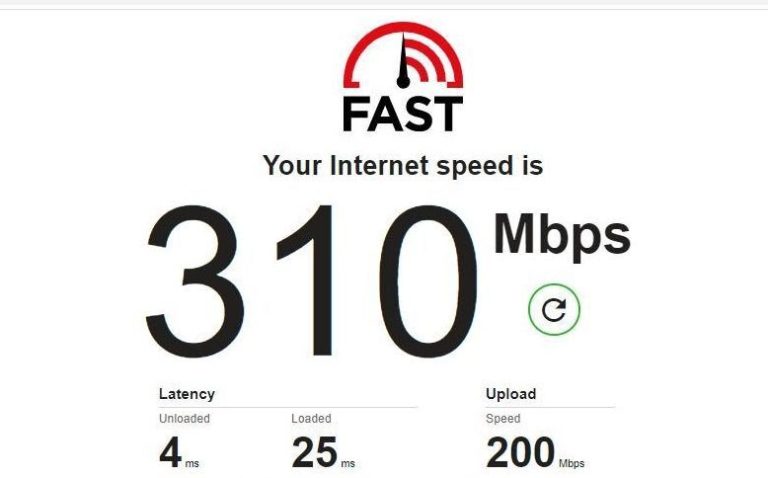 We started with a quick speed test to our Internet connection to see how fast it was without a VPN connection.
Second test: Nearby German server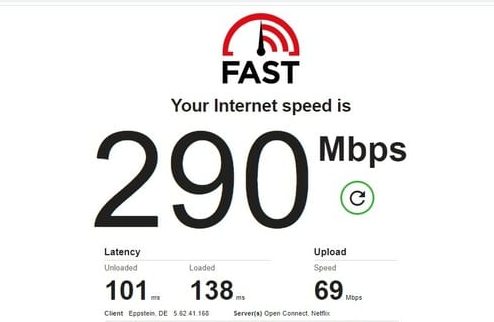 The first SecureLine VPN server we tested was inside Germany, which is near our actual location. Therefore, we did not expect speed to drop by much, and it didn't. We were quite impressed with the result.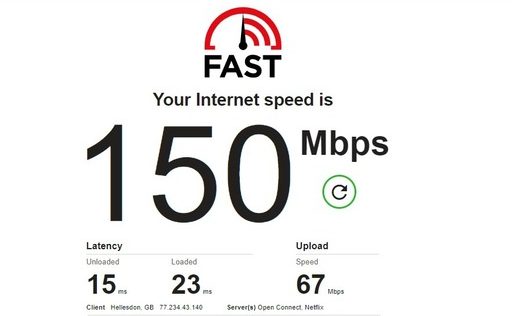 This time, we went a bit farther than Germany and connected to a server in the UK. As you can see, speed decreased by more than 50% but was still at a decent rate.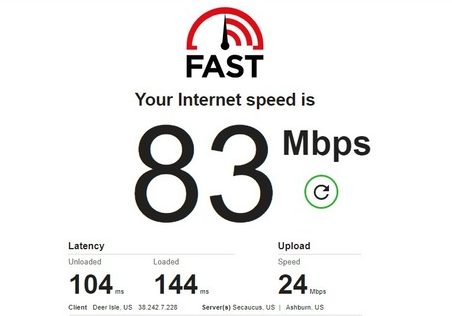 To conclude our tests, we connected to a SecureLine VPN server that's on a different continent. The US is also home to popular streaming platforms, which is why we had to see the American servers' performance. Speed rates significantly dropped by almost 75%.
The Speed Verdict
Avast SecureLine VPN delivers fast speed rates if you connect to servers that are near your physical location. However, once you start aiming for distant servers, speed levels will decrease even further. Nonetheless, if you have a fast Internet connection, these drops won't cause you any trouble.
---
SecureLine VPN – Which Streaming Platforms Can You Unblock?
In addition to preserving your online privacy and security, VPNs are excellent tools for bypassing geo-restricted websites. A lot of people use them to unblock streaming platforms like Hulu and BBC iPlayer, which are only available in the US and the UK, respectively. Even global services like Netflix and Amazon Prime Video have different catalogs for each region or country.
But due to copyright issues and pressure from production studios, VPNs started banning VPN IP addresses. That means not all virtual private networks can still manage to circumvent geo-blocking.
Avast SecureLine VPN claims that it allows you to access any content and enjoy your favorite TV shows. Then again, a lot of VPNs make that same promise. We connected to an American server and attempted to stream shows from different US-restricted platforms. And or the record, we used a server that's "optimized for streaming."
We managed to unblock the US version of Netflix from the first attempt. However, SecureLine VPN couldn't get past Hulu's and Amazon Prime Video's geo-blocks.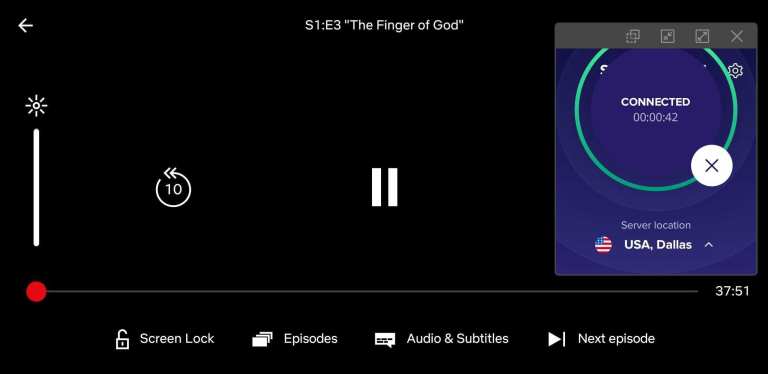 Next, we connected to another streaming-optimized server, but this time, from the UK, home of the popular BBC iPlayer. The platform is known for its strict VPN restrictions, with most providers failing to unblock its content. However, SecureLine VPN helped us access the service without any hiccups.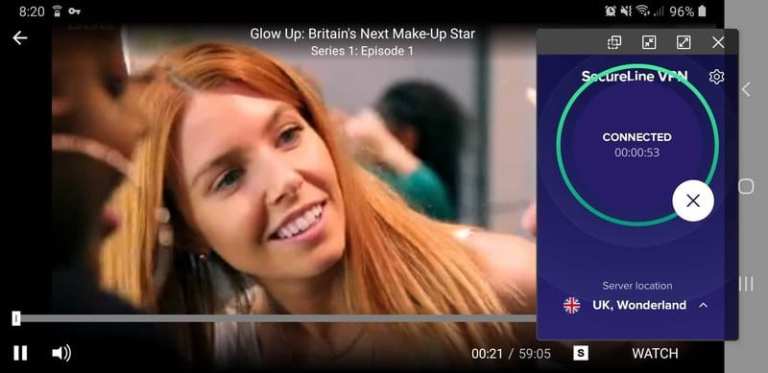 No Smart DNS Proxy
Virtual private networks aren't the only programs that can unblock streaming channels. Smart DNS proxies are also capable of delivering geo-restricted content. These tools only redirect the URLs that reveal your location without affecting your entire traffic. Their major advantages are:
No speed drops.
Compatibility with every device, including Smart TVs, routers, and gaming consoles.
However, you won't benefit from any data encryption or IP address switching. So if you seek privacy and anonymity, you better look elsewhere. Moreover, Smart DNS proxies don't work if your ISP uses transparent proxies or DNS hijacking.
Avast SecureLine VPN doesn't offer a Smart DNS, which means you can't use it if you want to stream programs on your Samsung or LG smart TV, PS4, or Xbox.
---
Does SecureLine VPN Support P2P Activities?
Another popular purpose of using a VPN is downloading files via torrenting. In several countries like the US and France, sharing copyrighted content like movies or songs through peer-to-peer networks is illegal. Punishments include fines, termination of Internet connections, and in some cases, imprisonment.
Therefore, a lot of users connect to a VPN server to hide their IP address and encrypt their data. That way, they stay safe from copyright holders. Another reason is ISP throttling, meaning your Internet service provider won't deliberately slow down your connection to limit bandwidth congestion.
Now, Avast SecureLine VPN allows torrenting, but not across all servers. The ones that support P2P activities are located in:
Prague, Czech Republic
Frankfurt, Germany
Amsterdam, Netherlands
New York City, New York
Miami, Florida
Seattle, Washington
London, United Kingdom
Paris, France
---
SecureLine VPN – Security and Privacy
People may often use a virtual private network to bypass geo-blocks, but its main purpose is to enhance your online security and privacy. VPNs hide and change your IP address, preventing the web from determining your actual location. They also encrypt your traffic and protect you from data leaks.
So here's what SecureLine VPN has to offer in this domain.
Company Headquarters
A VPN's base of operations is an important privacy factor. A lot of countries have strict, and sometimes, secret data retention laws. That means any company that operates within its jurisdiction must submit user information upon the authorities' request. These nations even formed alliances so that they can share data with one another as they please.
The main focus of these coalitions is to monitor online activities. Therefore, they're not too fond of people who use VPNs to encrypt their traffic and conceal their identity and location. As a result, they send letters to VPN providers, as well as other companies, demanding information about their customers.
The alliances are called Five, Nine, and 14-Eyes, and they consist of the following countries:
Five-Eyes: US, UK, Australia, Canada, and New Zealand.
Nine-Eyes: Five Eyes countries plus Denmark, France, Netherlands, and Norway.
14-Eyes: Nine Eyes members plus Belgium, Germany, Italy, Spain, and Sweden.
There are also several countries that cooperate with the Eyes but are not part of any alliance, like Japan, Israel, and Singapore. Even the Czech Republic, home to SecureLine VPN, tends to share information with the above nations. In other words, Avast SecureLine VPN could be forced to give away your sensitive data.
No-Logs Policy
To further increase your privacy, top VPN providers implement a zero-logs policy, deleting most of your sensitive data from their servers. We say most of the data because all VPNs have to keep minimal information about customers to function properly.
According to the website, Avast SecureLine VPN follows a no-logging policy, which states that it won't collect or store any of the following:
Your complete original IP address.
Any DNS queries while you're connected. ("We rely on our own secure DNS servers, so your queries are also protected from exposure to 3rd parties.").
Any activity logs (browsing history, websites you visit, and online activities).
However, SecureLine VPN keeps records of certain data, including connection timestamps, the IP address of the VPN server you're using, and the amount of data per session. The company stores this information for 30 days before deleting it.
"We store this data on servers for 30 days, after which time it is deleted on a rolling basis — so data created on Jan 3rd gets deleted on February 2nd, for example."

Avast
Military-grade Encryption
Just like the majority of top VPN services, SecureLine VPN uses the Advanced Encryption Standard with 256-bit keys. This is a highly secure encryption algorithm that several government agencies use to protect classified information. And for VPN protocols, Avast SecureLine supports the popular OpenVPN and IPsec.
With AES-256, third parties like Internet service providers and government agencies won't be able to monitor your activities or trace anything back to you. The encryption will also keep you safe from hackers, especially if you're connected to public Wi-Fi.
Kill Switch and Leak Protection
Even the most secure and efficient VPN providers are subject to malfunctions, just like any other program. That could be dangerous for your privacy, however, as it exposes your data and online activities. A kill switch can protect you from data leaks, though, by disconnecting you from the Internet if the VPN connection drops. That way your traffic won't travel through your ISP's servers.
SecureLine VPN apps have a kill switch that you can activate from the settings section. We advise you to always enable this feature whenever you go online.
And to make sure there aren't any data leaks, we conducted an IP and DNS leak test by connecting to one of SecureLine VPN's US servers. We then used Anonymania's IP checker to see if the VPN properly switched our IP address. As you can see from the image below, the IP on display is American.

We also ran scans for possible WebRTC leaks using this tool. And although the result showed a potential leak, our actual IP address wasn't exposed, meaning we were still on the safe side.
Warrant Canary
In earlier years, miners used to take canaries down the mineshaft to help them detect toxic gas. You see, these birds had faster breathing rates and smaller lungs compared to the workers, which meant that in case of carbon monoxide leaks, the canaries would die first. Miners would use them as a warning to evacuate the mine.
VPNs used the same strategy and adopted the same name, except without the same animal cruelty. They set up warrant canary pages to notify customers that the company still hasn't received any National Security Letters, warrants, or subpoenas.
Virtual private networks are subject to these government requests, which usually come with a gag order. So since the provider isn't allowed to disclose the nature of these letters to customers, warrant canaries will serve as a warning instead. If the page is taken down, then the VPN received a warrant from the authorities.
Avast has a warrant canary page that it regularly updates every three months. And as of June 1st, that page still stands.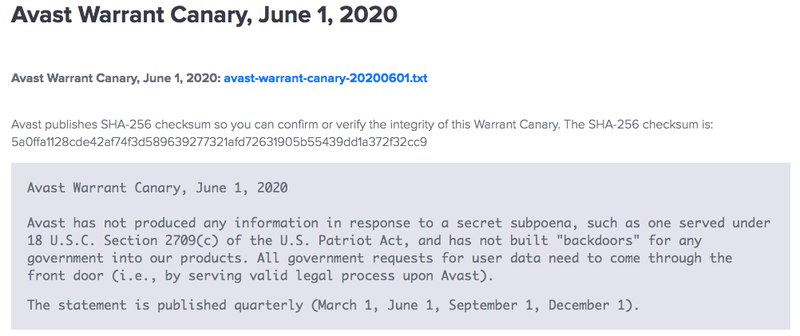 ---
Customer Support
VPN users could always benefit from a service with a responsive and helpful customer support. After all, they might encounter a few difficulties or have a few questions.
Unlike the majority of the VPNs we've tested, SecureLine does not offer many options in this domain. You won't find any ticket, email, or live chat support. The only way to contact the service is by telephone. Furthermore, you can check out their support page, which contains plenty of helpful guides and articles.

Languages
The Avast SecureLine VPN website is available in many languages, including English, French, Spanish, German, Arabic, Korean, and Chinese.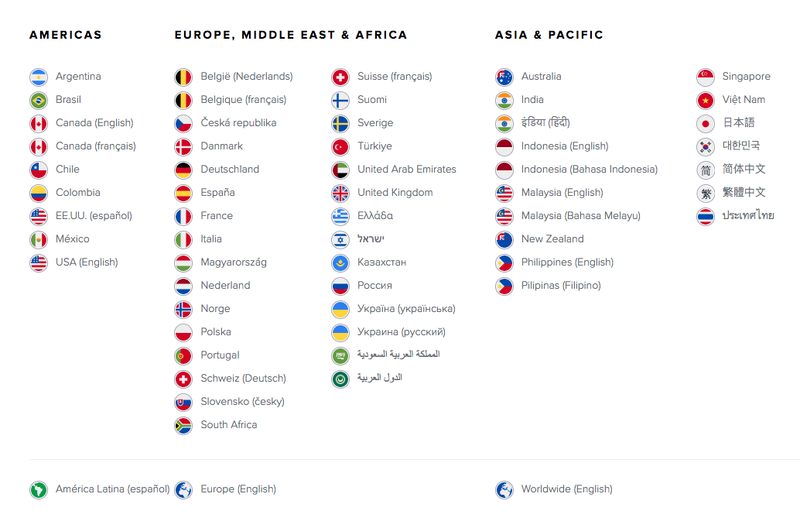 ---
How Expensive Is SecureLine VPN
A lot of people see pricing as the most important VPN criteria. Therefore, expensive subscription plans can put them off. Some even prefer to use free VPNs, which we highly discourage due to the high security and privacy risks. When it comes to your online wellbeing, we recommend you use premium services, from VPNs to antivirus software.
SecureLine VPN offers 3 different subscription packages, each representing a certain duration. If you want to subscribe to Avast SecureLine VPN, here's what you'll have to pay:
1 year: $47.88 ($3.99/month).
2 years: $71.76 ($2.99/month).
3 years: $107.64 ($2.99/month).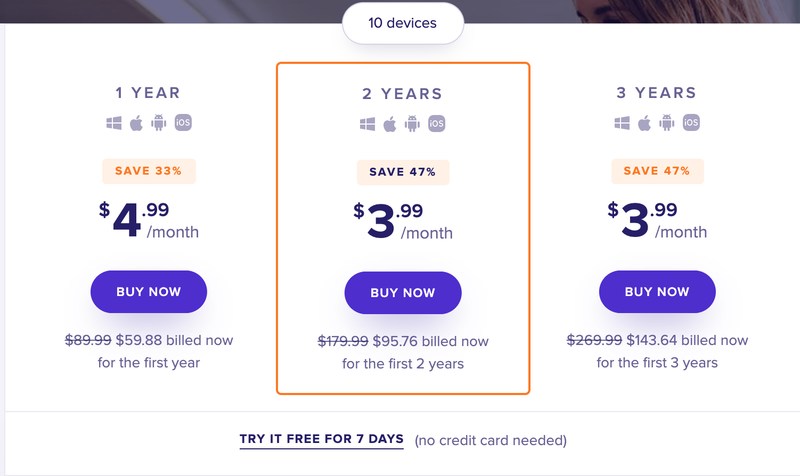 In the past, we found that SecureLine VPN offered a monthly subscription plan as we continued to explore the service.
However, what's in the past stayed there as SecureLine VPN doesn't provide such subscription plan now. The packages start with an annual one, which might not be convenient to most of the users.
Refund Policy and Free Trial
No matter which plan you choose, SecureLine VPN offers a 30-day money-back guarantee. That means if you don't like the service, you can get a refund if you cancel your subscription within the first 30 days.
Moreover, before you financially commit to SecureLine VPN, the provider allows you to test its services at no cost whatsoever. It offers a 7-day free trial that does not require any credit card details in advance.
Payment Methods
SecureLine VPN supports all the major and most-used credit cards around the world. That includes Visa, MasterCard, Discover, and Amex. The service also allows you to pay via PayPal. But anonymous payment methods, like cryptocurrency, are still unavailable.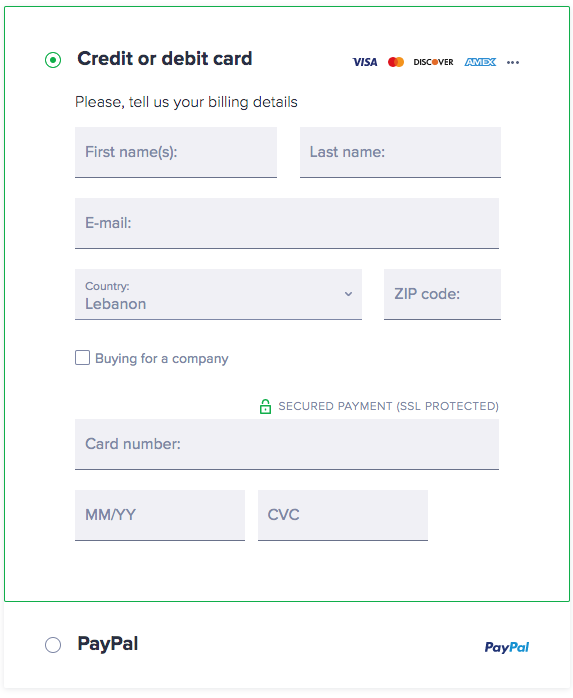 ---
SecureLine VPN Review – The Final Verdict
Just like any other VPN service, SecureLine VPN has its highs and lows. Should you subscribe to this service, you'll benefit from decent speeds, easy-to-use apps, and respectable privacy features. And let's not forget about P2P support, a 30-day refund policy, and a one-week free trial.
On the downside, the server network is limited, there's no Smart DNS service, and you can't unblock all your favorite streaming platforms. There's also the fact that Avast admitted to data logging and sharing through its antivirus software, even if the company said this information doesn't reveal users' identities.
Nonetheless, if you can look past some privacy question marks, SecureLine VPN isn't a bad investment. You can get a better VPN for a slightly higher fee, though.
Do you think SecureLine VPN is the right VPN for you? Tell us what you think below.