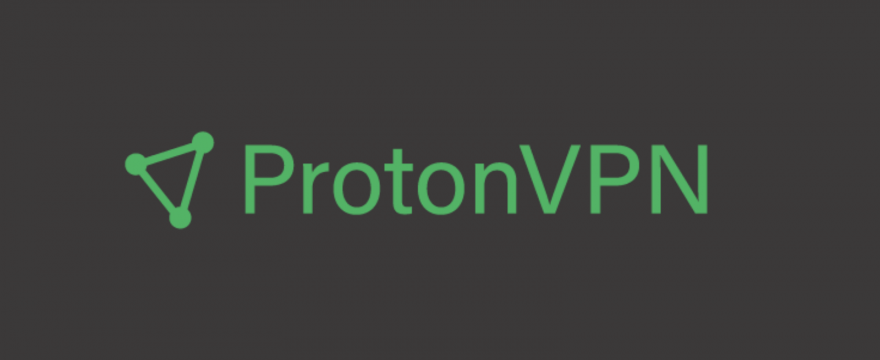 In 2014, a team of scientists met at the European Center for Nuclear Research (CERN) and launched Proton Technologies. The company catered for users' online privacy and security, creating "the world's largest encrypted email service," ProtonMail. It also launched ProtonVPN, a VPN product that offers anonymity and broader Internet access.
ProtonVPN is headquartered in Geneva, Switzerland, a country with strong privacy laws. The company's security doesn't just cover the Internet realm; it also extends to the physical world. It places all critical infrastructure to Secure Core Swiss servers in a former army fallout shelter 1,000 meters below ground. As for the Icelandic and Swedish Secure Core servers' infrastructure, they are kept in a secure former military base and an underground data center, respectively.
In addition to the above privacy features, ProtonVPN claims to offer a zero-logs policy, military-grade encryption, and a kill switch. The website also says that the VPN can bypass blocked content and provide decent speed rates. But can all users benefit from these advantages? We conducted a series of unbiased and transparent tests to see if ProtonVPN stays true to its words.
---
Table of Content
---
| | |
| --- | --- |
| FEATURE | AVAILABILITY |
| Money-back guarantee | 30 days |
| Allowed simultaneous connections | Up to 10 devices, depending on the subscription plan |
| Supported streaming services | US Netflix, Amazon Prime Video, Hulu, BBC iPlayer |
| No-logs policy | Available |
| Encryption | Military-grade AES 256-bit |
| Protocols | IKEv2/IPSec and OpenVPN |
| Special features | Kill switch, Forward secrecy, Tor over VPN, Secure Core, and unlimited bandwidth |
| Customer support | Email, FAQs, and support ticket |
| Server locations | 1238 servers in 55 countries |
| P2P support | Yes |
| Server switches | Unlimited |
| Data traffic | Unlimited |
| Compatible devices | Windows, Mac, Linux, iOS, and Android. |
| Smart DNS proxy | Unavailable |
| Legal Jurisdiction | Switzerland (outside Five Eyes jurisdiction) |
| Free trial | Free version (Includes 7-day Plus trial) |
---
ProtonVPN in a Nutshell – Pros and Cons
Here's a quick overview of what's on offer when you subscribe to ProtonVPN, in case you don't have time to read our detailed review.
Geneva, Switzerland, is home to Proton Technologies, the company behind ProtonVPN. The country is outside the intrusive jurisdiction of Five, Nine, or 14 Eyes, alliances of international intelligence agencies that monitor, collect, and share user data. It means the VPN isn't compelled to give away client information as the Swiss have strong privacy laws.
Besides, ProtonVPN offers first-rate anonymity features, like AES encryption with 256-bit keys. It's the industry's most secure algorithm, preventing law enforcement agencies, Internet service providers, and other third parties from tracking your online activities. Moreover, the VPN follows a zero-logs policy, meaning ProtonVPN servers delete information about your connections or the websites you visit.
There's also a kill switch that terminates your Internet connection if the VPN malfunctions so that your traffic doesn't leak to your ISP's servers. And ProtonVPN's Secure Core feature reroutes your traffic through multiple servers and encrypts it more than once.
ProtonVPN has a decent server network of over 1200 servers spread across 55 countries. And although these servers can unblock Netflix and other popular streaming platforms, not anyone can benefit from them. Only Plus and Visionary subscribers can use ProtonVPN for streaming. Free and Basic plan subscribers must upgrade to stream videos. Moreover, servers in Iceland, Sweden, Singapore, and the Netherlands are P2P-friendly.
The company offers a 30-day money-back guarantee and allows up to 10 simultaneous device connections, depending on your subscription. Free version users get one VPN connection, Basic subscribers get two, while Plus and Visionary clients have five and ten connections, respectively. Unfortunately, there is no live-chat customer support service.
Pros
Secure Core servers.
AES-256 encryption.
Zero-logs policy.
Kill switch and DNS leak protection.
Tor browser support.
Works with most streaming services.
P2P-friendly servers.
Decent server network and speed levels.
Warrant canary and independent auditing.
30-day refund policy.
Free version.
Up to 10 simultaneous device connections.
Cons
Streaming only available for premium subscribers.
Expensive Visionary package.
No live-chat feature.
---
Interface and Design
Before testing the ProtonVPN application, we took a look at the website. It had a simple yet appealing design and was very informative. The homepage is loaded with details about essential features, with a focus on security and privacy. You'll find information about Secure Core, Tor over VPN, the zero-logs policy, and encryption.
There's also info about speed, app compatibility, and the server network. But if you have something specific in mind you want to check; there are several buttons at the top and bottom of the page. Those will take you to the full features list, pricing, support, installation, privacy policy, and much more. Unfortunately, you won't find a chat button.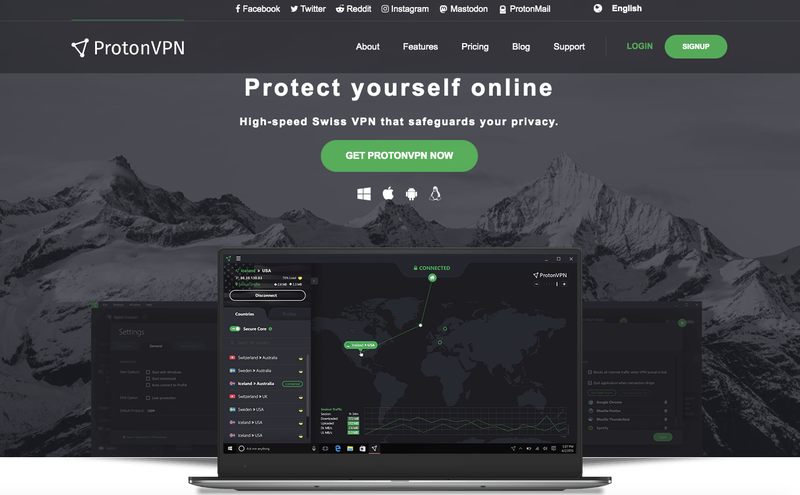 Mac
Our first ProtonVPN test was through the Mac desktop client. The app was easy to use with an appealing design. The home screen features a map with locations of ProtonVPN servers. You'll find a quick-connect button on the left, which connects you to the fastest server available, depending on your actual location. You can change that option to random, or simply connect to a specific server from the full country list.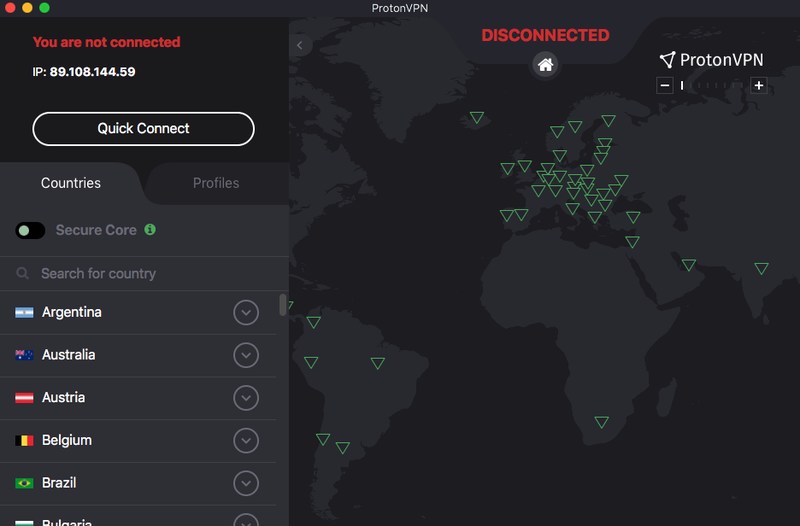 Toggling Secure Core will reroute your connection through servers in either Switzerland, Iceland, or Sweden, no matter which server you select. We connected to a server in Australia via Switzerland, which gave us extra security and privacy. But what we didn't like about the app is the absence of a settings button.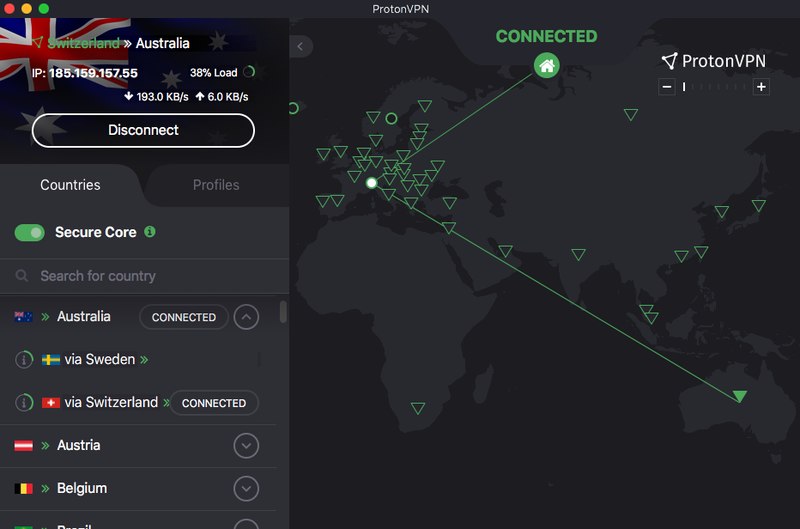 To customize the Mac application or activate/deactivate certain features, you have to navigate to the top-left of your Mac and click on ProtonVPN.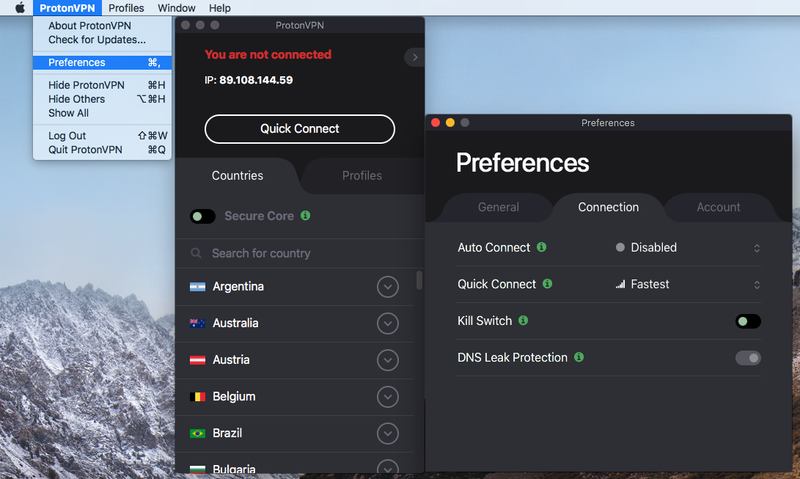 Android
We also tested ProtonVPN's Android mobile app after installing it from the Google Play Store. It has the same black and green background colors, with the home screen displaying the full list of server locations. You can also toggle the Secure Core feature, switch to map view, and customize or create profiles.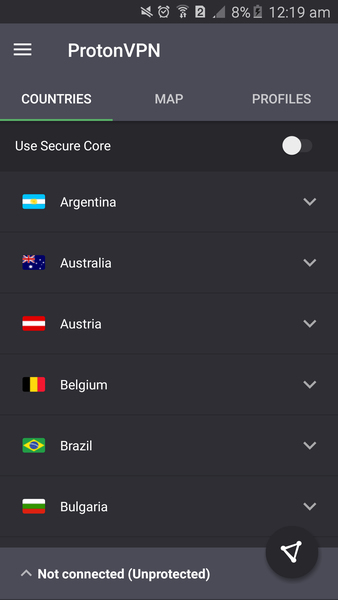 At the top left of the screen, you'll find a hamburger icon that opens settings. From there, you can enable DNS leak protection and the Always-on feature. The kill switch is not compatible with Android or iOS operating systems. Therefore, to protect users from VPN connection drops and subsequent data leaks, Always-on reestablishes a secure VPN connection swiftly and automatically.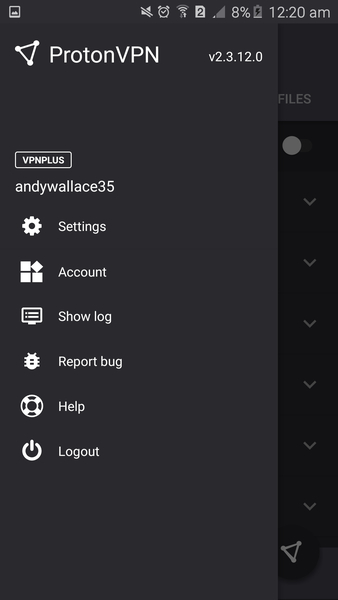 The ProtonVPN app has an average score of 3.5 stars on consumer review website Trustpilot. Some users were quite satisfied with the service, but many others complained about the lack of a live-chat support feature and general performance issues. However, most consumers criticized the free version, which always offers limited services compared to paid plans.
The app earned an excellent 4.2 rating on Play Store, while App Store users gave it 3.9 stars.
"The easiest and fastest VPN I've ever found. I purchased the basic package, and get speeds that are at least 80% what I would get without it. I recommend this to anyone looking for a VPN, especially for their phones."

James S, user reviewing ProtonVPN on Google Play Store

App Compatibility
ProtonVPN apps are compatible with the majority of operating systems. You can install them on Mac, PC, Android, iOS, and Linux devices, which is pretty good coverage. And as with other VPN providers, you cannot install ProtonVPN on routers, PS4, Xbox, LG, Samsung, or other Smart TVs because these devices don't support VPN clients.
As for simultaneous device connections, it all depends on your subscription plan. People who installed the free version can only use ProtonVPN on one device, while Basic subscribers get two simultaneous connections. Meanwhile, those who registered for the Plus package enjoy five simultaneous device connections, and Visionary users get ten.
---
ProtonVPN Server Network
Virtual private networks allow you to bypass geographic restrictions to access blocked content. But to do so efficiently, they must operate an extensive server network that covers key locations worldwide. ProtonVPN has a decent grid of 1,200+ servers in 55 countries, covering every continent except Antarctica.
However, the full server list is available for Plus and Visionary subscribers only. Free version users get three server locations: the US, Japan, and the Netherlands. But they come without P2P support, Secure Core, Tor over VPN, or access to blocked content. Basic customers, meanwhile, benefit from servers in 43 countries but miss out on unlimited access to content, Tor support, and Secure Core.
Here is the full server list:
The UAE
Argentina
Austria
Australia
Belgium
Bulgaria
Brazil
Canada
Switzerland
Chile
Colombia
Costa Rica
Czechia
Germany
Denmark
Estonia
Spain
Finland
France
Greece
Hong Kong
Hungary
Ireland
Israel
India
Iceland
Italy
Japan
Korea
Lithuania
Luxembourg
Latvia
Moldova
Mexico
Malaysia
Netherlands
Norway
New Zealand
Peru
Poland
Portugal
Romania
Serbia
Russian Federation
Sweden
Singapore
Slovenia
Slovakia
Turkey
Taiwan
Ukraine
United Kingdom
United States
South Africa
---
Speed Tests
No matter how broad a VPN server network is, it won't do you much good if it provides slow speeds. All VPNs consume a bit of your Internet connection due to the traffic rerouting and encryption process. However, top VPNs ensure the speed drop remains minimal and barely noticeable so you can enjoy your online experience.
Streaming, torrenting, gaming, and pretty much everything you do requires a fast Internet connection. Therefore, your VPN must not take that away.
We examined ProtonVPN's effect on our Internet speed by connecting to several servers, near and far. Here's what we found: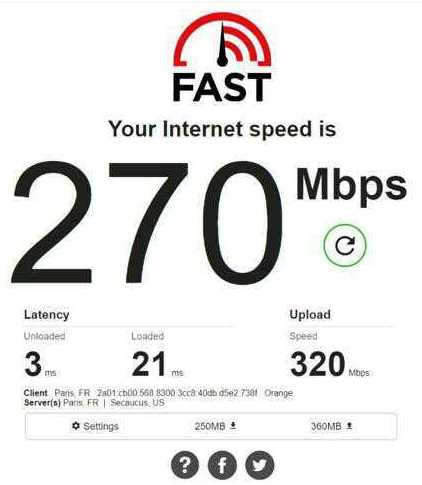 We first tested our Internet speed without a VPN connection to compare speed drops once we use ProtonVPN.
First test: Nearby Dutch server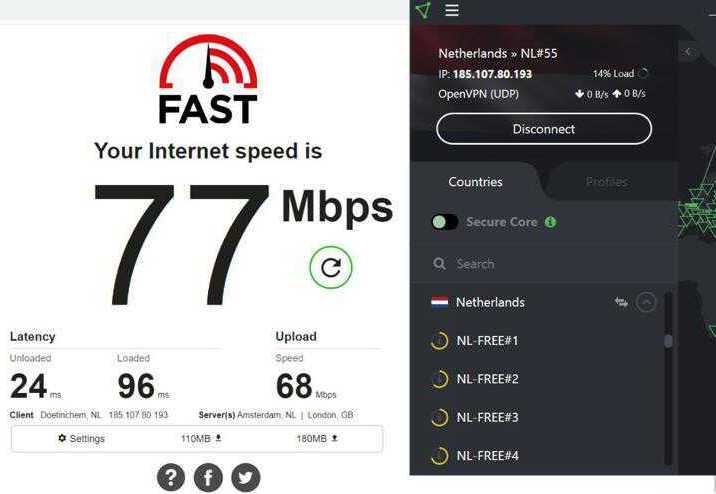 In our first test, we connected to a server from the Netherlands, which is near our actual location. However, the results were disappointing. We expected a minor speed drop because the distance between us and the ProtonVPN server wasn't very far. But as you can see, speed levels significantly dropped.
Second test: Canadian server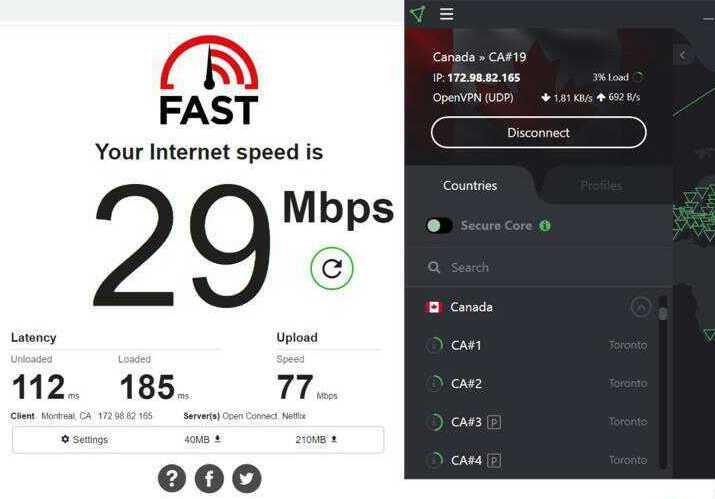 Next, we selected a ProtonVPN server across the Atlantic in Canada, far from our actual location. As expected, speed rates decreased even further due to the vast distance.
Third test: Australian server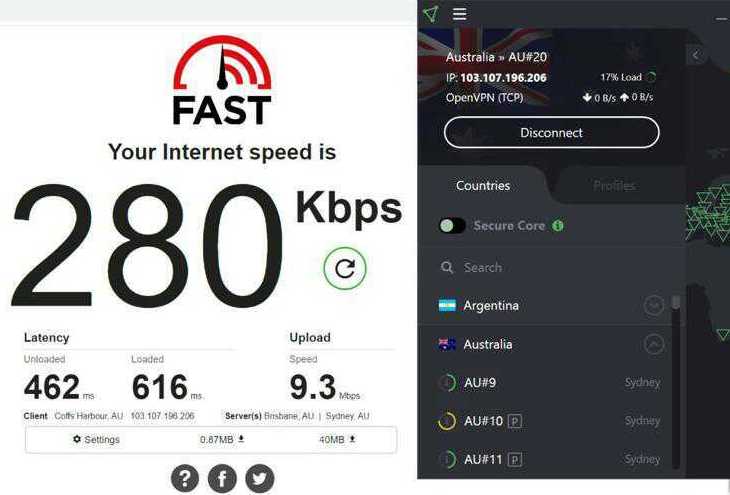 The most shocking result came when we connected to an Australian server, which is even further away than the Canadian one. We expected our connection speed to sink even further, but much to our surprise, it massively improved, even surpassing the regular speed levels.
How Fast is ProtonVPN?
ProtonVPN delivers mixed speed rates, depending on which servers you connect to. Strangely enough, distant servers might be faster than the ones near your actual location. But despite the inconsistent and sometimes slow speed rates, we didn't experience any video buffering issues or connection problems when streaming, as you're about to see below.
---
Can ProtonVPN Unblock Streaming Platforms?
Video-on-demand services like Netflix and BBC iPlayer impose geographic restrictions on out-of-market viewers. These platforms can only showcase movies and series inside their broadcasting region due to licensing and copyright agreements. Anyone who attempts to access content from abroad will stare at a location error message instead.
"This video isn't available in your region."
Therefore, most people use VPNs to bypass these geo-blocks. VPNs redirect your traffic through a server location of your choice, then give you a matching IP address. This process tricks streaming platforms into thinking you're inside their viewing zone, thus unblocking their content. Not all VPNs can accomplish that feat, though, because streaming services can detect VPN IP addresses and block them. That is why you must use a reputable VPN provider.
And since the most popular platforms are American, we connected to a US ProtonVPN server to see which ones it can unblock. We started with Netflix USA, and we immediately gained access.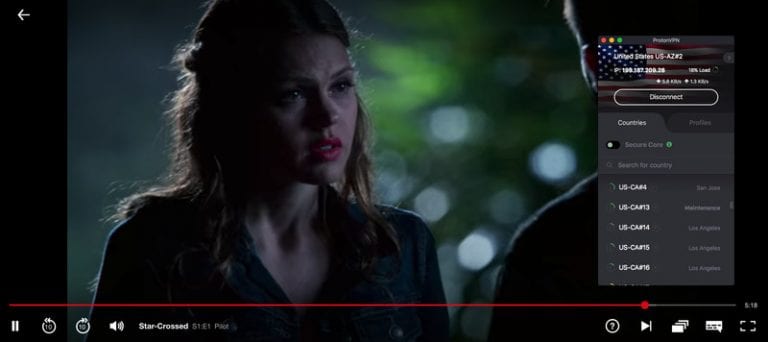 We also had no problems watching shows on Hulu or Amazon Prime Video using the same American server. The images below show that both channels worked just fine with ProtonVPN from the very first try.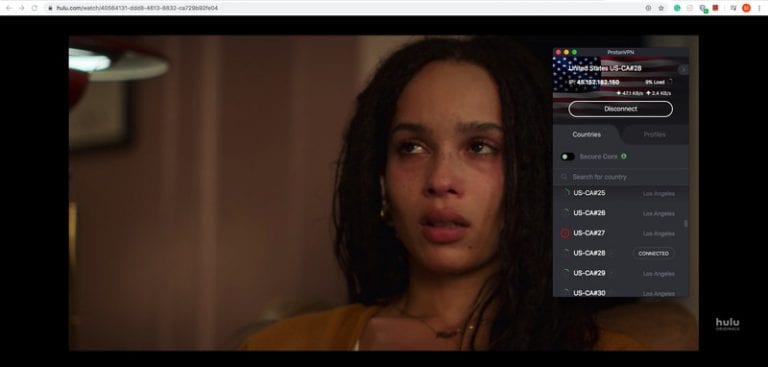 Next, we had to make sure if ProtonVPN can unblock streaming platforms from other countries, like the UK. The BBC iPlayer is home to the most popular British drama but has very effective geo-blocking technology. We had no problems bypassing these restrictions, thanks to ProtonVPN's UK server.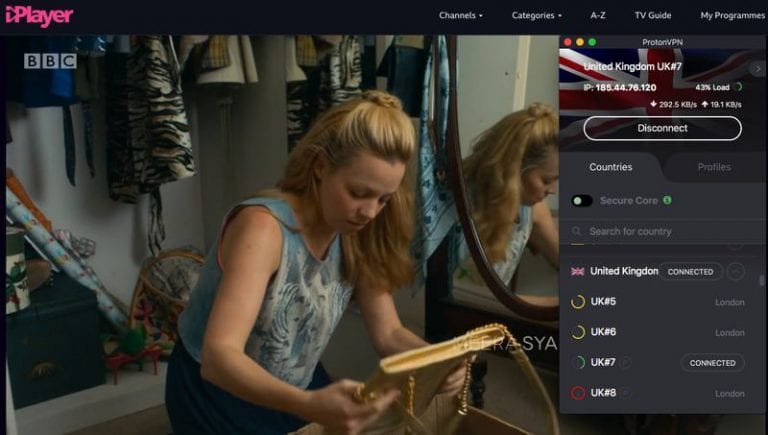 Please note that only ProtonVPN's Plus servers (marked "P") can access blocked content. All Basic or Free plan servers cannot bypass geo-restrictions.
No Smart DNS Proxy
As we mentioned earlier, you cannot install VPN apps on gaming consoles, Smart TVs, or routers as the operating systems aren't compatible. Therefore, many reputable VPN providers offer Smart DNS proxies, tools that only reroute the URLs that expose your location, leaving the rest of your connection intact.
They don't hide your original IP address nor encrypt your traffic, so if you're into online privacy, you better disregard them. But if your aim is unblocking streaming platforms, the tools can help you with that. And since they don't use data encryption, your Internet speed won't be affected. A lot of users actually prefer Smart DNS proxies over VPNs.
However, ProtonVPN does not offer this feature, an area for future improvement.
---
Is ProtonVPN P2P Friendly?
Downloading copyrighted material is illegal in a lot of countries, namely the US and the UK. Using peer-to-peer networks without a VPN could result in the termination of your Internet connections, as copyright holders send complaints to ISPs. Punishment may also include hefty fines, and in rare cases, imprisonment.
With virtual private networks, though, the encryption conceals your online activities. And with the zero-logs policy, copyright trolls and ISPs cannot track you through your browsing history or the websites you visit. Moreover, you'll protect your IP address from other P2P network members.
ProtonVPN offers P2P-friendly servers in the Netherlands, Iceland, Sweden, and Singapore. But even if you connect to a server with no torrent support, the Stateful Firewall technology can detect torrent fingerprints in the packet, thus enabling ProtonVPN to reroute your traffic to a server that allows P2P.
---
Security and Privacy
Protecting your online wellbeing is an integral part of a VPN's job. Any provider that endangers your security and privacy should be immediately dismissed, which takes me to my next point. Not all VPNs are the same. Only reputable services deploy first-rate anonymity tools and features.
Meanwhile, free VPNs cause much more harm than good. In fact, you're better off without one. They collect sensitive data like web destinations and your browsing history, then sell it to advertisement companies, who use this information to bombard you with customized ads. They also don't mind sharing your logs with government agencies.
Furthermore, some of them don't use encryption algorithms, meaning anyone can monitor your online activities. Besides, they operate a handful of servers, which limits their unblocking capabilities.
But big-league VPNs go the extra mile to safeguard your Internet anonymity. Is ProtonVPN one of them?
Company Headquarters
ProtonVPN offices are located in Geneva, Switzerland, a country with favorable privacy laws that protect users. It is also outside the intrusive jurisdiction of Five Eyes, a global coalition of intelligence agencies that monitors users' Internet records and shares them with each other.
The original five members are the US, the UK, Canada, Australia, and New Zealand. But the alliance further expanded throughout the years, adding more members and creating Nine and 14 Eyes.
| | |
| --- | --- |
| Nine Eyes | Five Eyes countries, plus Denmark, France, Netherlands, and Norway. |
| 14 Eyes | Nine Eyes members, plus Belgium, Germany, Italy, Spain, and Sweden. |
Any company inside these countries must submit user data to law enforcement agencies upon request. But since ProtonVPN is inside Swiss territories, foreign entities cannot compel it to do so.
Zero-logs Policy
Several reputable US or UK-based VPN providers have top-notch privacy and security, despite being in an intrusive country. Thanks to the no-logging policy, VPN companies can only share minimal information about their customers, none of which can be used to track or identify them. That's because sensitive data like IP addresses or browsing activities get erased from VPN servers.
ProtonVPN implements a strict zero-logs policy, categorically eliminating information about your connections or the websites you visit. According to the website, the company does not:
Log users' traffic or the content of any communications
Discriminate against devices, protocols, or applications
Throttle your Internet connection
Furthermore, ProtonVPN's privacy policy is transparent and clear. It states all the information the VPN deletes, monitors, and collects. Just like any other provider, the company keeps logs about support, payment, and account information. It allows ProtonVPN to communicate with customers, send them bills and invoices, and keep track of problems and complaints. The VPN also states that it collects one timestamp of your most recent login.
"For the purpose of securing your account and making sure it's you who is signing in, we store a single timestamp of your accounts most recent login. Again, we do not store any information about where you signed in from or how long you were logged in."

ProtonVPN
The bottom line, ProtonVPN keeps minimal information about you and shares it with no one.
Military-grade Encryption
The Advanced Encryption Standard, better known as AES, has become the most popular algorithm among reputable VPN providers. ProtonVPN uses it with 256-bit keys, making it virtually impossible to crack. You would have to go through trillions of possible combinations to break it, something that requires millions of years to accomplish even with the world's supercomputers combined.
In other words, your Internet connection and activities are safe when you use ProtonVPN. AES-256 will prevent government agencies, ISPs, and hackers from monitoring the data you send or receive.
Kill Switch and DNS Leak Protection
A VPN without a kill switch is always vulnerable to data leaks. This tool disconnects you from the web if the VPN connection drops so your traffic doesn't leak to your ISP's servers. That way, third parties won't intercept your online activities. It is your last line of defense in case of a VPN malfunction, which could happen to any provider at any time due to unstable Internet connections.
ProtonVPN's kill switch is available for Mac and PC. You can enable it along with DNS leak protection from settings. But Android and iOS don't support this feature, with the mobile apps offering "Always-on" instead. It automatically and swiftly reestablishes a secure VPN connection if your device disconnects from the server. "Always-on" is permanently activated on iOS, while Android users must manually enable from settings.
To make sure there weren't any data leaks when we used ProtonVPN, we clicked the "Quick Connect" button. It connected us to a server in Greece, which was the fastest one based on our actual location. Then, we used our IP info tool to see if the IP address matches the server location. As you can see, the IP on display was Greek.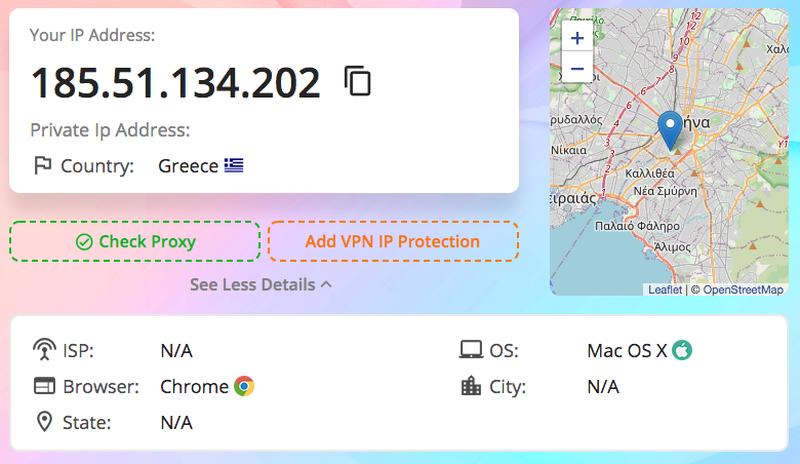 We also tested ProtonVPN for possible WebRTC leaks using our own tool as well. And despite the below image showing a potential leak to our IP address, the one on display is the same Greek IP that ProtonVPN provided. In other words, there are no leaks to our actual IP address, meaning we're safe.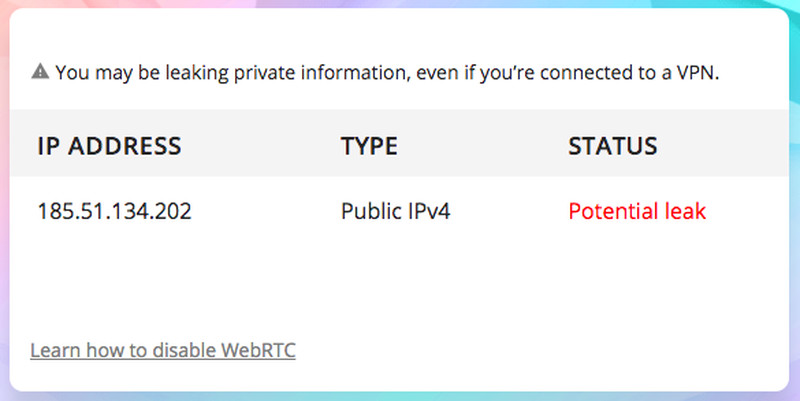 Other Privacy Features
In addition to the above services, which we consider as standard for top VPN providers, ProtonVPN offers several other features, including:
Secure Core

: When you connect to a Secure Core server, ProtonVPN reroutes your traffic through multiple servers, giving you extra security and privacy.

Perfect forward secrecy

: Each online session gets its own encryption key, meaning third parties cannot intercept your traffic and decrypt it later.

Tor over VPN

: ProtonVPN is Tor-friendly, allowing you to channel all of your traffic through the Tor anonymity network. Only servers with the onion mark support Tor.
Warrant Canary
Warrant canaries are warning pages that VPNs use to alert customers about user data requests from government agencies. They set up a page on their website, which usually indicates that they haven't received any letter from law enforcement agencies. Removing it means that the VPN obtained a warrant from the authorities, which usually come with a gag order, meaning the company cannot disclose the content of the letter.
ProtonVPN has a Transparency Report & Warrant Canary page. It says that the only legally binding requests are those that come from Swiss courts. That means the company isn't obliged to comply with foreign warrants that are not supported by a Swiss court order. The last subpoena came in January 2019, but the company couldn't provide any information because it follows a no-logs policy.
"January 2019 – A data request from a foreign country was approved by the Swiss court system. However, as we do not have any customer IP information, we could not provide the requested information and this was explained to the requesting party."

ProtonVPN
Independent Auditing
ProtonVPN announced back in January that all its apps were now open-source, leaving the door open to anyone who wishes to inspect the source code. GitHub examined the software of all the apps (Windows, Mac, Android, and iOS), with the company publishing the reports on the website.
The Swiss VPN service also invited SEC Consult, a leading security firm, to examine its apps and security systems. The auditors found that ProtonVPN has low-risk vulnerabilities, which makes it safe.
---
Customer Support
Throughout our entire review, ProtonVPN registered impressive scores in most areas. However, the area that was lacking the most was customer support. The company does not have a live chat feature, making it more difficult and less encouraging for users to seek help. The only way to reach out is via email or support ticket, and response time could take hours, if not days.
We believe that every VPN must offer 24/7 customer support with a live-chat feature that facilitates communication with users.
Languages
The default language on the ProtonVPN website is English. But users can switch to their native tongue as their several options on offer, including:
German
Greek
Spanish
Persian
French
Croatian
Hungarian
Indonesian
Italian
Dutch
Polish
Portuguese
Portuguese (Brazil)
Russian
The apps, however, are only available in English.
---
How Expensive Is ProtonVPN?
For a lot of people, pricing is the most important aspect when choosing a VPN provider. In fact, most users opt for free providers instead. However, we already warned about their dangers, which is why it's safer to stick to paid services.
ProtonVPN caters to the need of every user, offering a wide range of packages. Even those who don't want to reach for their wallets can benefit from this VPN.
PLAN
FEATURES
PRICE
Free
1 VPN connection – Servers in 3 countries – Medium speed – No logs/No ads
– €0/month
Basic
2 VPN connection – Servers in 50 countries – High speed – No logs/No ads – P2P support
– €4/month
– €48/year (20%discount)
Plus
5 VPN connection – Servers in 50 countries – Highest speed (10Gbps) – No logs/No ads – P2P support – Secure Core VPN – TOR over VPN – Access blocked content
– €8/month
– €96/year (20%discount)
Visionary
All Plus plan features – 10 VPN connections – ProtonMail Visionary account
– €24/month
– €288/year (20%discount)
We recommend you subscribe to the Plus plan as it offers all ProtonVPN perks for a less price than the Visionary package.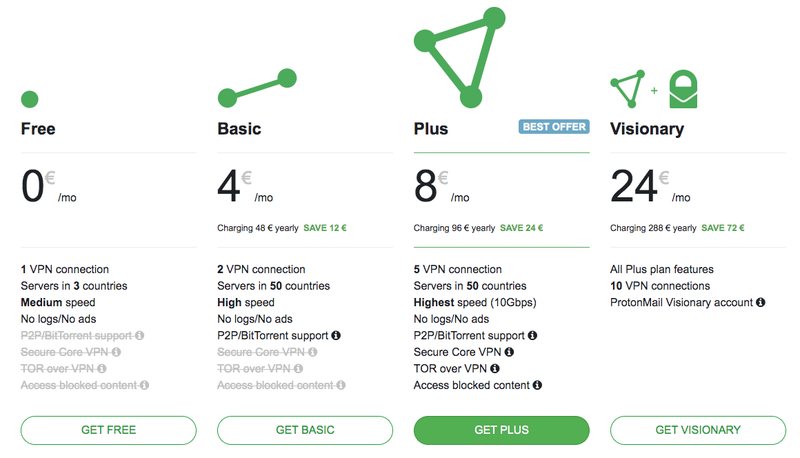 Free Trial and Refund Policy
ProtonVPN Free plan subscribers benefit from full Plus features for free during the first week of registration. That includes access to the entire server list and blocked content, in addition to other perks like Secure Core and P2P and Tor support. Once the 7-day free trial is over, they'll have to upgrade to the Plus Plan to enjoy these services or switch to the Free package instead.
Meanwhile, all paid plans come with a 30-day money-back guarantee, giving users plenty of time to test the service. Those who are dissatisfied can get a full refund if they cancel within the first 30 days of their subscription.
Payment Methods
ProtonVPN offers a wide range of payment options once you settle on a subscription plan. You can choose the classic route and pay via credit/debit card (Visa, MasterCard, etc.) or pay via PayPal. You can even purchase your preferred package using Bitcoin or cash. However, you must first have an existing ProtonVPN account.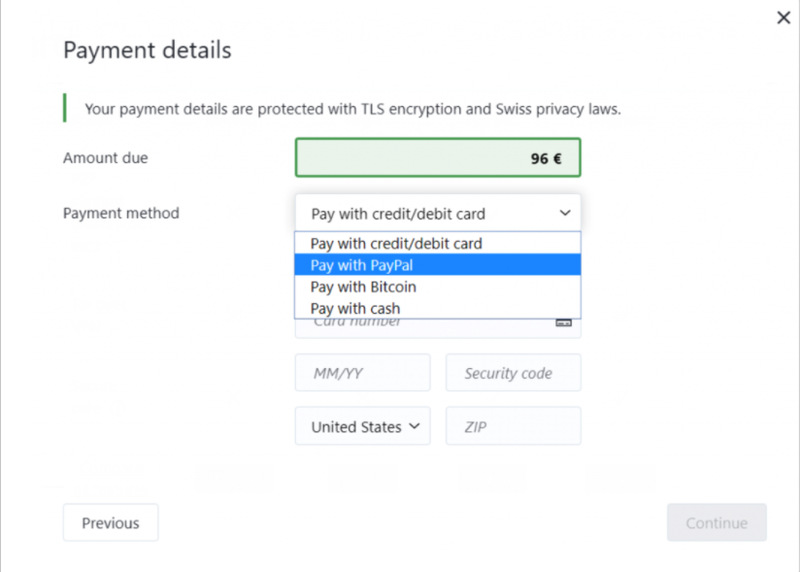 ---
ProtonVPN Review 2023 – The Final Verdict
ProtonVPN can be an excellent VPN provider if you select the right subscription plan. The company has free and affordable deals, but both offer limited features, especially in accessing geo-blocked content. For maximum perks, you must purchase the Plus plan. It provides the most secure privacy and anonymity features, not to mention an extensive server list, P2P support, and unlimited content access.
You'll also be able to connect up to five devices simultaneously with just one account. For more device connections, get the Visionary package, although it will significantly increase the price.
In conclusion, this is a reliable VPN that protects your online wellbeing and unblocks most streaming platforms. If it adds a live-chat feature to its customer support and a Smart DNS proxy, it will be able to compete with the big boys.
After reading this review, would you consider subscribing to ProtonVPN? Let us know below.