Do you want to follow the latest news, shows, sports, and more from Australia and around the world? Well, look no further than ABC iview.
The Aussie streaming platform is your go-to destination for all your favorite content free of charge and with zero ads. All you need is a free ABC account. And, of course, you have to be in Australia because the service is geo-blocked outside the country.
Now, if you've heard of VPNs, you might think that you've found the solution. But it's a bit trickier than that. ABC iview detects and blocks most VPNs, which is why you need a premium provider.
This guide explains how you can bypass iview geo-blocks from anywhere and gives you a list of the best VPNs that work with the service, all tried and tested.
View ABC iview Outside Australia – Quick Steps
Time needed: 3 minutes
24-hour local and international news coverage, exclusive Aussie and global shows, live sports content, and more… Access everything in a couple of minutes.
Get a premium VPN subscription.

Our tests have shown that ExpressVPN is the best option for iview overseas. We also recommend BulletVPN, the only VPN we've tried so far with a perfect unblocking record.

Install the VPN app.

VPN apps are easy to install on pretty much any device, including Android, iOS, PC, and Mac. Just one click, and voila.

Open the app and connect.

Enter your account credentials, sign in, and connect to an Australian VPN server.

Go to the ABC iview website or app.

Once the VPN connection is established, geo-error messages will disappear, and you'll have access to your favorite content.

Watch ABC iview from anywhere.

Stream shows, news, and sports at home or on the go.
ABC Australia Abroad – All You Need to Know
Give this article a quick read to find out all there is to know about streaming iview from the US, UK, New Zealand, or anywhere else overseas.
The ABC Tools
Here's what you need for reliable iview viewing:
A premium VPN subscription.
An ABC account (free).
A compatible device.
What Is ABC iview? Why Is It Geo-Blocked?
ABC iview is a free, no-ads streaming platform from ABC, Australia's national broadcaster. It offers live programs from ABC's channels, including 24-hour coverage of local and international news, as well as on-demand shows and series.
You can also watch some content before it even appears on the TV channel. As of March, users will need to sign up with their free ABC accounts to watch iview.
The streaming platform's library covers all interests and genres, from drama, comedy, and reality TV to news, documentaries, and sports.
The only downside is that iview is only available inside Australia due to copyright agreements. It means you cannot access or view programs when you travel abroad.
Under its program licensing agreements, the content on ABC iview is geo-blocked to Australia.

ABC iview
Do not confuse this streaming service with ABC Australia iview. The latter is available outside the country and caters specifically to overseas viewers. However, it only offers limited ABC content.
Unlock iview with a VPN
VPNs allow you to access streaming platforms like ABC iview by making you appear as if you're in a different country. How? Let's dive into it.
Every website you visit tracks your geographic location through your IP address, a numerical label assigned to you by your internet service provider.
That includes streaming platforms. Once they look at your IP address and see that you are outside their coverage zone, they will deny your entry. Hence, the geo-error message that appears on your screen instead:
"Due to content rights restrictions, iview cannot be streamed outside of Australia."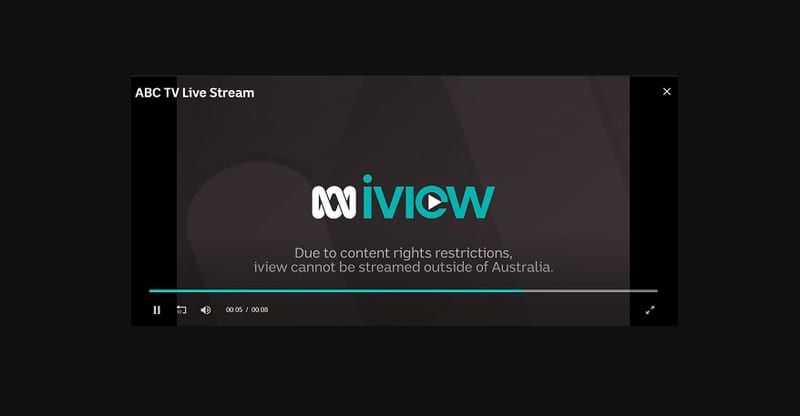 Now, VPNs operate a network of private servers. To bypass geo-blocks, they hide your actual IP address and give you a new one by rerouting your connection through a server of your choice.
As a result, you'll appear as if you're in the same location as your target streaming channel, which gives you access to its content.
In simpler terms, to keep track of your favorite ABC iview programs from abroad, just connect to an Australian VPN server.
The Aussie IP address you'll instantly get won't just unblock iview but also other services from the land down under, including Binge, 10play, and Kayo Sports.
Streaming access is just one of many benefits you'll enjoy when you own a VPN. Other advantages include browsing anonymity, sensitive data protection, no ISP throttling, P2P support, no censorship, better online deals, and more.
Best VPN for ABC iview
Avid streamers and cord-cutters know that not all VPNs are reliable regarding access or speed. Today, streaming platforms can detect and block most VPN IP addresses, which is why you need a premium provider that works with iview and the rest of the lot.
We tested dozens of premium VPN brands to see which one is best for ABC iview and streaming in general.
Industry titan ExpressVPN came in first, thanks to a global server network that covers 94 countries, excellent speeds, and easy-to-use apps.
It also offers top-level security and privacy features, five simultaneous device connections, and a 30-day money-back guarantee.
We also found BulletVPN highly reliable and fast, registering a perfect streaming record so far in all our tests.


30-Day Money-back Guarantee
Unlimited Bandwidth
Apps For All Your Devices
24/7 Live Support
Visit ExpressVPN
Watch iview on Your Favorite Device
Install the VPN and iview apps on compatible devices and access your favorite programs wherever you are.
Smart TV
Apple TV
There are no VPN apps for Apple TV because they are not supported. So set up a VPN connection on your router (see the Smart TV method), connect to an Australian server, then download the iview app on your device.
FireStick
Download the VPN app on Firestick, then connect to an Australian server to change your Amazon account to Australia. Next, install the ABC iview app and start watching.
Mobile
Desktop
Watching ABC iview programs on your PC or Mac is the easiest thing. Simply connect to an Aussie server, visit the iview website, and start streaming.
Gaming Consoles
You can download ABC iview on PS4 and Xbox One. But first, you must set up a VPN connection on your router and connect to an AU server (see how in the Smart TV box).
ABC iview FAQs
We answered our readers' most frequent questions about iview.
Is ABC iview available outside Australia?
No. Due to licensing agreements, ABC iview is only accessible inside Australia.
Yes. The streaming service is totally free and without ads.
Do I need an account to watch iview?
As of March 2022, users must sign up for a free ABC account to access ABC iview.
What is ABC Australia iview?
ABC Australia iview is different than ABC iview. It is available outside the country and caters to international viewers. But content is limited due to copyright issues.
What shows can I watch on ABC iview?
ABC iview brings you 24-hour news coverage, live and on-demand series, movies, documentaries, and sports from ABC channels.
Shaun Micallef's Mad As Hell
Vera
Death In Paradise

Starstruck

Troppo
Brassic 3
Van der Valk

Killing Eve

ABC News Live Stream
WNBL
Watch ABC iview from Anywhere with a VPN
ABC iview is home to your favorite programs and the best destination for Australian and worldwide news.
Unfortunately, those who reside outside Australia cannot access the service because of geo-blocks. VPNs are ideal tools to avoid this kind of trouble, as long as you select the right one.
We put several providers to the test so that you don't waste time and effort. And according to our research, ExpressVPN is the best option. You can also choose any of our other premium recommendations.