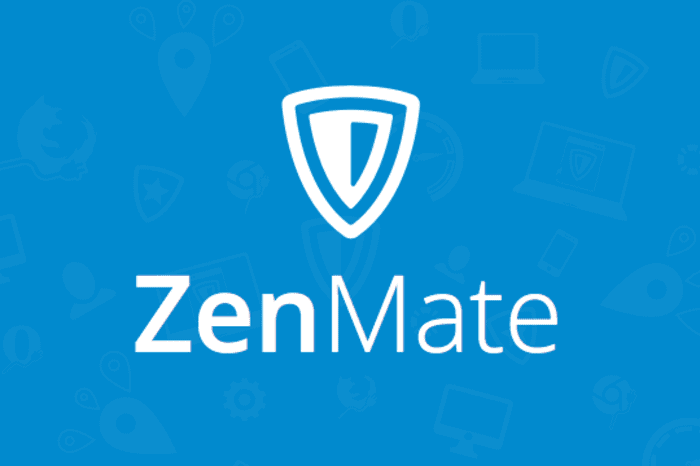 In 2013, Markus Hänel and Simon Specka founded Internet security company ZenGuard, introducing their flagship service ZenMate VPN. After five years at the helm, Hänel stepped down and was replaced by Jörn Stampehl. The company witnessed even more changes in its management team, announcing Andrei Mochola as CEO.
Then, in October 2018, Kape Technologies acquired ZenMate VPN for €4.8 million. The company also owns CyberGhost – another VPN service. That year witnessed a remarkable landmark for ZenMate as it reached over 45 million installs worldwide.
Based in Berlin, Germany, ZenMate offers both free and premium subscription options. The first one is, of course, limited in comparison with the paid version, which is more feature-heavy. The VPN has thousands of servers in over 79 countries and allows an unlimited number of simultaneous device connections.
It also claims that it uses military-grade encryption and follows a strict no-logs policy.
On paper, ZenMate seems like a decent VPN service. But we weren't going to take their word for it, which is why we put it under our microscope. We examined ZenMate through our thorough eight-step evaluation process to show you if it's worth it.
---
Table of Content
---
| | |
| --- | --- |
| FEATURE | AVAILABILITY |
| Money-back guarantee | 30 days |
| Allowed simultaneous connections | Unlimited devices |
| Supported streaming services | US Netflix, BBC iPlayer, Hulu, Amazon Prime Video, and more |
| No-logs policy | Unclear |
| Encryption | Military-grade AES 256-bit |
| Protocols | OpenVPN, IKEV2 |
| Special features | Kill switch, smart location, Perfect Forward Secrecy, and unlimited bandwidth |
| Customer support | Email and support ticket |
| Server locations | 3000 servers in 79 countries |
| P2P support | Yes |
| Server switches | Unlimited |
| Data traffic | Unlimited |
| Compatible devices | Windows, Mac, iOS, Android, and Linux, with Chrome, Firefox, Opera, and Edge browser extensions. |
| Smart DNS proxy | Unavailable |
| Legal Jurisdiction | Germany (part of the 14 Eyes alliance) |
| Free trial | 7 days |
---
ZenMate in a Nutshell – Pros and Cons
If you don't have time to go through our detailed ZenMate review, this quick overview gives you an early verdict on the service.
Unlike some VPNs who set up shop in privacy-haven territories like the British Virgin Islands or Panama, ZenMate is based in Germany. The country is part of the 14 Eyes, an extension to the Five and Nine Eyes. Members of these alliances force companies to submit user information upon request, and their main focus is to monitor the Internet.
Moreover, government agencies of the respective countries can share that data between them. But according to ZenMate, German and European GDPR laws "regulate our company's use of your information." The VPN adds that it follows a no-logs policy, meaning it does not collect your sensitive information. But the privacy policy does not provide clear insight into this matter.
Other privacy features include a built-in kill switch that automatically disconnects you from the Internet if the VPN connection drops. This option is activated by default, and you cannot disable it. Also, ZenMate uses AES encryption with 256-bit keys, a military-grade algorithm that prevents third parties from monitoring your online activities.
The provider has a broad server network and worldwide presence, allowing to bypass geo-restrictions. It can also avoid the VPN ban that most streaming platforms impose, which means you can unblock US Netflix, Hulu, Disney+, HBO GO/NOW, BBC iPlayer, and more. A lot of these servers support P2P activities too.
On top of all that, you'll benefit from a 7-day free trial, a 30-day money-back guarantee, and an unlimited number of simultaneous connections. You can install ZenMate on Android, iOS, Mac, Windows, and Linux, or download the Chrome, Firefox, Edge, and Opera extensions.
Pros
AES-256 encryption.
Automatic kill switch.
Data leak protection.
Unblocks in-demand streaming platforms.
P2P support.
Unlimited device connections at the same time.
7-day free trial.
30-day refund policy.
Compatible with the majority of operating systems.
Free version.
Cons
German headquarters.
Unclear privacy policy.
Inconsistent speeds.
No Smart DNS proxy.
---
Interface and Design
Let's kick things off with ZenMate's website, which has a simple yet appealing design. It's quite user-friendly, especially for VPN beginners, as it avoids technical jargon and focuses on easy terms that anyone can understand. The homepage displays essential features that ZenMate provides, like speed, dedicated apps, server locations, and subscription plans.
At the top of the page, you'll find shortcuts with useful information on ZenMate's full list of features, customer support, and app compatibility. Meanwhile, at the bottom, there are additional details about the company, terms of service, and privacy policy. While on the right, you'll find a support button that allows you to contact customer service via live chat, email, or ticket. You can also type your query in the search bar, and the most relevant articles will pop up to guide you.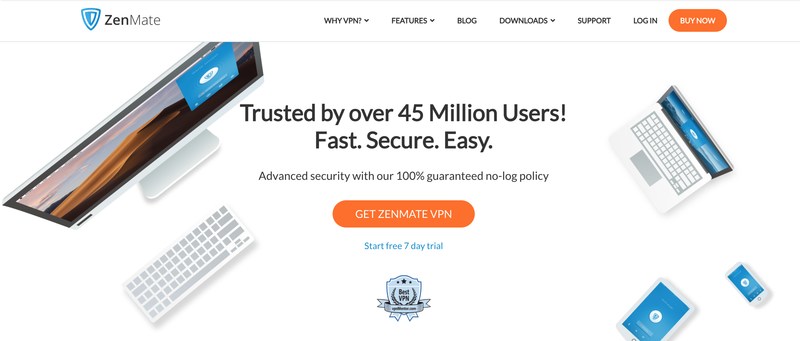 Mac App
The first ZenMate app we tried was the Mac client. Just like the website, there's nothing complicated about it, and it's straightforward to use. At the center of the screen, you'll find a connect button with "Best location" underneath it. Once you press it, you'll get connected to the most suitable server depending on where you are.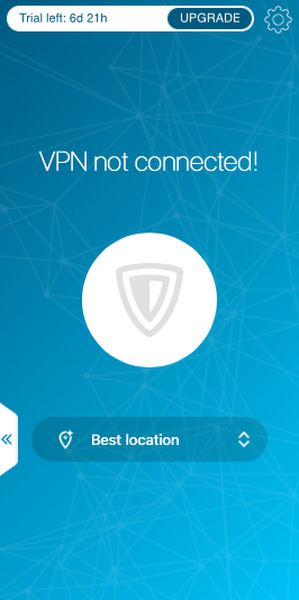 And if you have a specific location or preference in mind, simply click on the arrow on the left of the screen to open the full server list. ZenMate VPN divides its servers into four categories: Favorites, All servers, Downloading, and Streaming. That makes it easier to find ideal servers for streaming and torrenting.
Android App
The Android ZenMate app doesn't quite differ from its Mac counterpart in terms of design and usability. You'll find the same connect button center stage with the "Best location" option underneath it. To change to a specific server, simply tap the latter, and the full server list will open. From there, you have three categories to choose from: Favorites, Streaming, and All Countries.
You can also check out your account information, active devices, and make certain VPN settings by tapping the gear icon on the top right of the home screen.
ZenMate has earned favorable ratings from users. On Trustpilot, it holds an excellent 4.7/5 score, while on Google Play and the App store, it registered 3.7 and 4.2 stars, respectively.
Great speed, great support team! Basically, the app works well with Windows 10 and macOS now, so if you had troubles before, it's worth giving it another try. You won't be disappointed.

Nam Tu, ZenMate VPN user on Trustpilot

App Compatibility
You can install ZenMate VPN on the majority of operating systems and devices. The apps are compatible with Android, iOS, Mac, Windows, and Linux. Furthermore, the VPN supports several web browsers like Chrome, Firefox, Edge, and Opera.
But one of the biggest advantages that ZenMate offers is the unlimited simultaneous device connections. It means that subscribers can use the VPN on all their devices at the same time with just one account. That allows you to protect all your family's smartphones, tablets, and computers, as well as share your account with friends.
---
ZenMate VPN – How Many Servers Does It Have?
You can tell a lot about a VPN by its server network. Reputable servers cover almost every corner on the planet, providing a significant number of servers. This allows you to bypass geo-blocking technology that many impose, including streaming platforms, banking services, and online news outlets.
According to the website, ZenMate has a broad network of 3,000+ servers in over 79 countries. The grid covers every continent (except Antarctica), with a presence in key locations like the US, the UK, Germany, South Africa, India, Japan, and Australia.
Here's the full list of ZenMate VPN's server locations:
Albania
Algeria
Andorra
Argentina
Armenia
Australia
Austria
Belgium
Bosnia and Herzegovina
Brazil
Bulgaria
Cambodia
Canada
China
Cyprus
Czech Republic
Denmark
Egypt
Estonia
Finland
France
Georgia
Germany
Greece
Greenland
Hong Kong SAR China
Hungary
India
Iran
Ireland
Isle of Man
Israel
Italy
Japan
Kazakhstan
Latvia
Liechtenstein
Lithuania
Luxembourg
Malta
Mexico
Moldova
Monaco
Montenegro
Morocco
Netherlands
Nigeria
Norway
Panama
Philippines
Poland
Portugal
Qatar
Romania
Russia
Saudi Arabia
Serbia
Singapore
Slovakia
South Africa
South Korea
Spain
Sri Lanka
Sweden
Switzerland
Taiwan
Thailand
Ukraine
UAE
The United Kingdom
The United States
Venezuela
Vietnam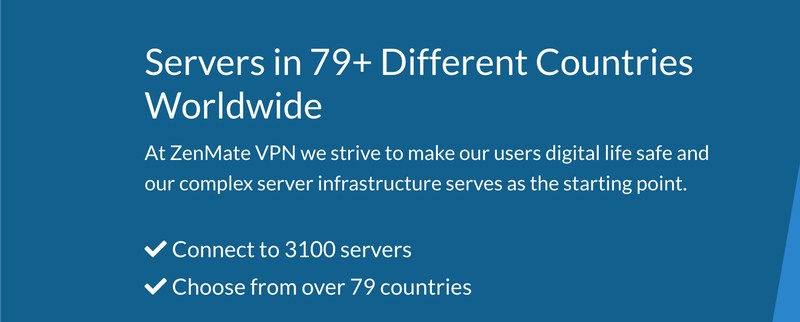 ---
Speed Tests
In case you didn't know, virtual private networks consume a bit of your Internet connection no matter which service you use. That is due to the encrypted tunnel and the traffic rerouting. Still, reputable VPN services ensure that the speed drop remains minimal so you can go about your online activities without any hassle.
We tested ZenMate's speed levels by connecting to multiple servers, near and far. Here's what we found: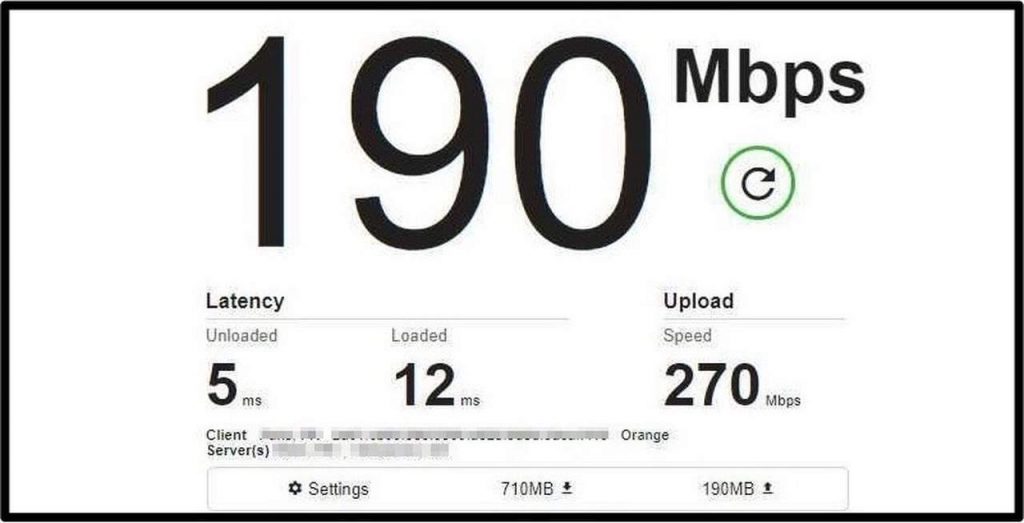 Before connecting to a ZenMate server, we tested our Internet speed to see how much the VPN would affect it.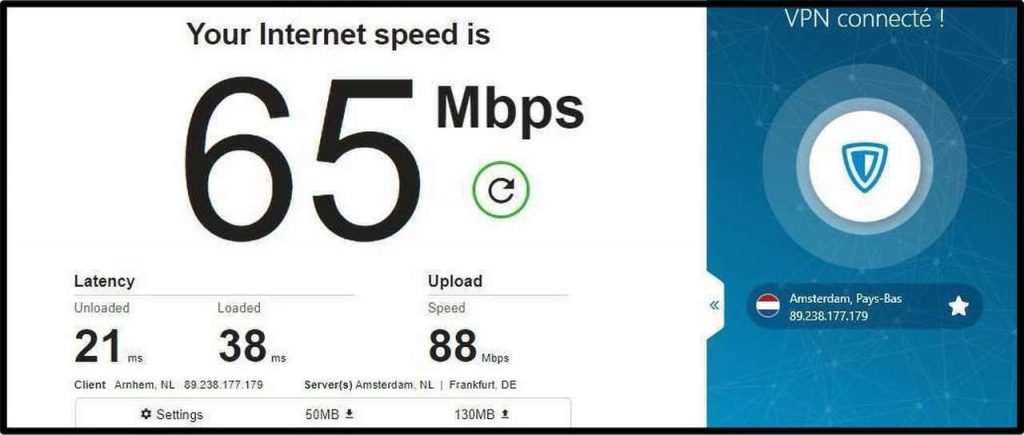 We first connected to a server from the Netherlands, which is near our actual location in Paris, France. Therefore, speed levels shouldn't drop by much, but to our surprise, they did.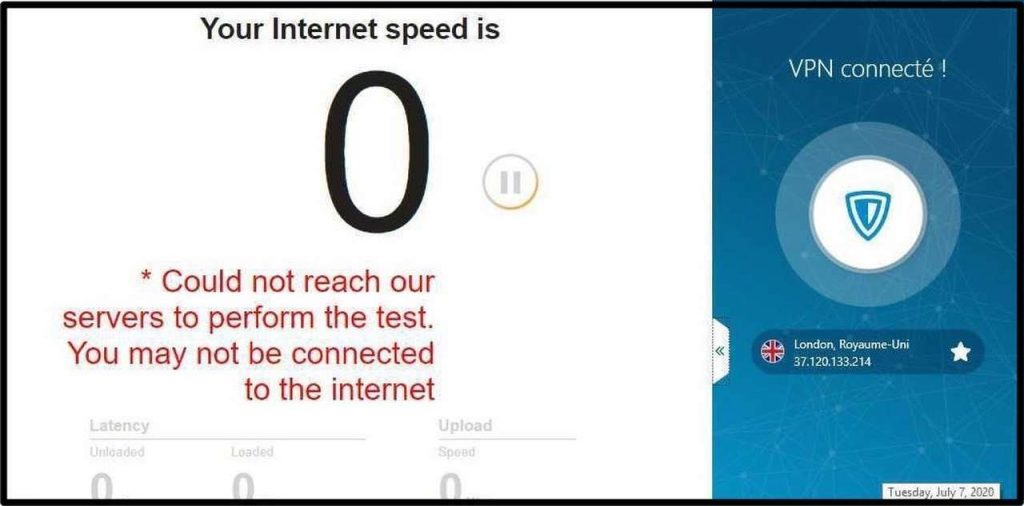 Then, we used a ZenMate server inside the UK, but for some reason, the service we used couldn't perform the test. We don't think there was anything wrong with the UK server because we used it to access BBC Player, which worked just fine.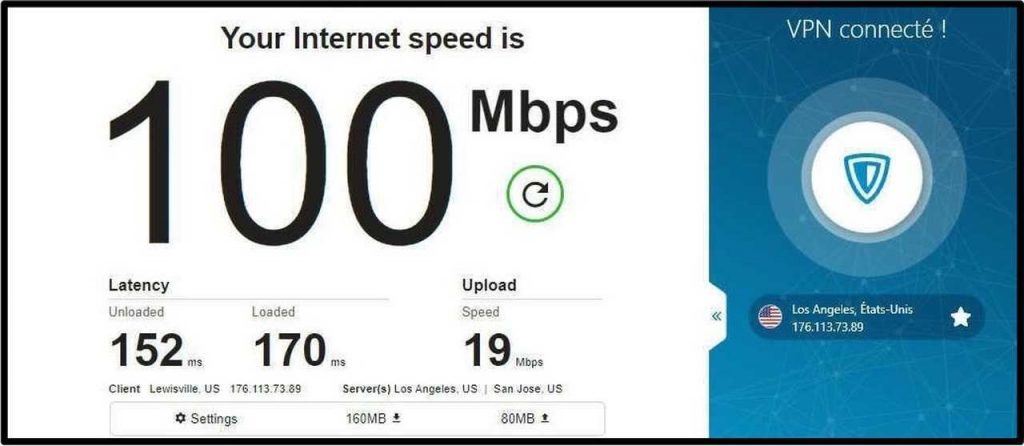 Since the US is home to popular streaming platforms like Hulu and Disney+, it was necessary to test one of ZenMate's servers located there. We connected to a distant server from Los Angeles, and the results were pretty impressive since it is far from our actual location.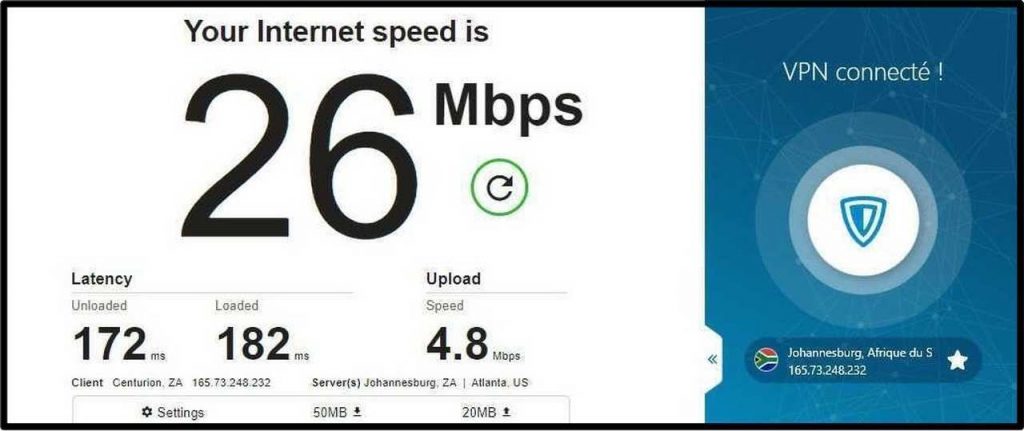 We finally connected to another distant sever in South Africa to see if there was any consistency. As you can see, speed rates dropped massively to 26Mbps.
Is ZenMate a Fast VPN?
Every VPN provider advertises itself as a fast (if not the fastest) server. On the website, ZenMate claims to offer "Lightening speeds," but that is not the case. According to our tests, speed levels were mostly slow and inconsistent. Even the nearby Dutch server reduced speeds by more than 65%. Yet, the distant US server delivered better results.
---
Is ZenMate a Good VPN for Streaming?
Based on research from statistics online portal Statista, the main motivation behind VPN usage is entertainment. That means most people use these tools to stream geo-restricted content like movies, series, and sports. Therefore, it's important to get a VPN provider that can bypass geo-blocking and avoid the ban on VPN IP addresses.
You see, streaming platforms started blacklisting VPNs to abide by the licensing agreements they signed. But reputable virtual private networks can still access the most popular VOD services so that you don't miss your favorite programs and events.
We tested ZenMate's American and UK servers to see if they can unblock the most in-demand streaming channels. We were quite impressed with the results as ZenMate gave us access to Netflix's US catalog, Hulu, HBO Now/Go, Disney+, and Amazon Prime Video.
Even BBC iPlayer, which is known for its effective VPN blocking prowess, couldn't determine that we were connected through a VPN server.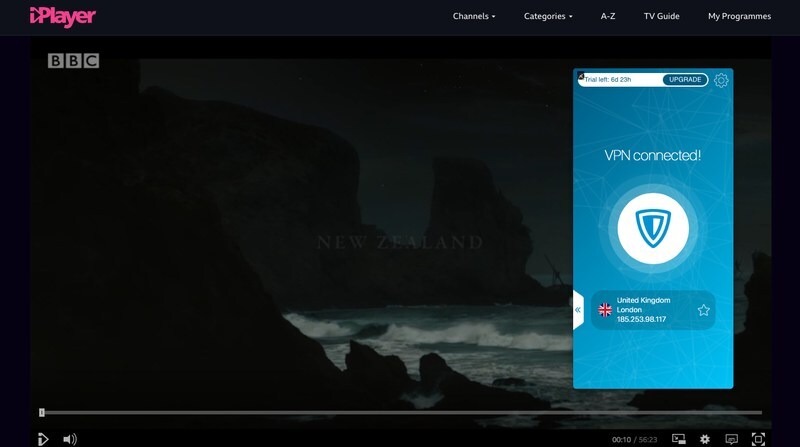 Smart DNS Proxy Unavailable
VPNs aren't the only tools that can circumvent online restrictions and unblock streaming platforms. Smart DNS proxies can do that as well, albeit, without the data encryption or IP address concealment. But despite the lack of privacy features, a lot of users prefer them because they don't affect your Internet speed.
Furthermore, you can set up a Smart DNS proxy on any device, including gaming consoles and Smart TVs. The operating systems of these machines don't support VPN clients, which is why several VPN providers include Smart DNS proxies in their subscription plans.
ZenMate does not offer a Smart DNS proxy service, which is an area the company can improve. Therefore, if you want to access Hulu from outside the US on your PS4, Xbox, Samsung Smart TV, or LG Smart TV, you need to set up ZenMate on your router. But please note that not all routers are VPN compatible.
You can check out our guide on how to install VPNs on any router.
---
P2P Support
Downloading copyrighted material using peer-to-peer networks is illegal in several countries, including the US and the UK. Moreover, you share your IP address with other torrent users when you download a P2P file, which puts you in potential danger if one of the members is a cybercriminal.
Therefore, the safest course of action is to connect to a VPN server whenever engaging in P2P activity. It will hide your physical whereabouts and encrypt your online activities, keeping you safe from copyright trolls and the authorities. But first, you must get a VPN that supports torrenting.
ZenMate has dedicated servers that allow this sort of activity. You can find them in the server locations page with a blue tick under P2P.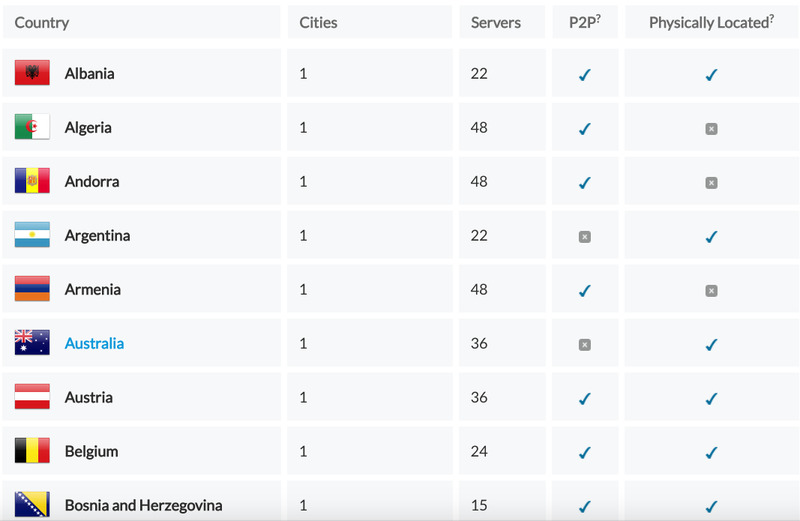 ---
Privacy and Security
Even though virtual private networks have a lot of advantages, their main responsibility is to maximize your online privacy and security. To do so, they must offer top-of-the-line features that can hide your traffic and online activities.
ZenMate's overall score in this domain was respectable, despite a few question marks here and there.
Company Headquarters
You'd be wrong to think that a VPN's headquarters has nothing to do with privacy. Whistleblowers and leaked secret documents proved the existence of government intelligence agencies that monitor users' online activities. These bureaux and organizations formed alliances so that they can share the data.
The Five, Nine, and 14 Eyes are perfect examples. Member countries focus on Internet surveillance and exchange the intel in cases of national security investigations. As a result, any company that records user information must submit relevant data to the authorities upon request.
Countries that form these alliances are:
Five-Eyes: US, UK, Australia, Canada, and New Zealand.
Nine-Eyes: Five Eyes countries, plus Denmark, France, Netherlands, and Norway.
14-Eyes: Nine Eyes members, plus Belgium, Germany, Italy, Spain, and Sweden.
ZenMate VPN is based in Berlin, Germany, which is inside 14 Eyes jurisdiction. However, the European Union's General Data Protection Regulation (GDPR) restricts data sharing and limits data logging. Still, the fact that the company is located in privacy-intrusive territories is a red flag for some users.
No-Logs Policy
According to the website, ZenMate follows a "strict no-logs policy." That means it eliminates sensitive data like IP addresses and browsing activity from its servers. But if you take a look at the privacy policy, you'll find that it's not as clear as that.
For instance, the company barely discusses what kind of data it collects when using the VPN. Instead, it mostly talks about information logging when you visit or register through the website. And when you reach the VPN part, there's a misunderstanding of what is considered personal data. ZenMate collects your IP address and refers to it as non-personal.
We found ZenMate's privacy policy a bit confusing. The VPN claims not to store, log, or monitor your personal data or online sessions, but then admit to collecting your IP address.
"We do not store or log your personal data which can be used to identify you or what you're doing online. We do not monitor your online sessions… As we don't store the data in the first place, this also means that we can't be forced into giving away personal data to any government or sell it to any 3rd parties."

ZenMate privacy policy

Military-Grade Encryption
ZenMate VPN uses military-grade the Advanced Encryption Standard with 256-bit keys for its apps and clients. It is one of the most secure algorithms in the industry, implemented by the NSA to protect top-secret files. To break it, you would have to bypass trillions of possible combinations, which is so far impossible even if the world's supercomputers worked together.
However, you won't benefit from the same algorithm if you're using one of ZenMate's browser extensions. Instead, you'll get AES with 128-bit keys, which is less secure but still quite strong.
"We use TLS 1.2 (RFC 5246) protocol and support different cipher suites with PFS (Perfect Forward Secrecy). Our browser extensions use AES 128-bit encryption, and our desktop & mobile clients use AES 256-bit."

ZenMate VPN
Kill Switch and DNS Leak Protection
As with other products, VPNs can sometimes malfunction, and the connection to the server could drop. Several factors can prevent VPNs from functioning correctly, like an unstable Internet connection, for example. But instead of allowing your traffic to leak to your ISP's servers, reputable providers disconnect you from the web with a kill switch.
ZenMate has an automatic built-in kill switch that is activated by default. There are no options to disable this feature, not that we recommend you do so in the first place. Only Windows users have the kill switch on display in settings, but even if they toggle it, a message will pop up, telling them that they can't deactivate the feature.
Moreover, we tested ZenMate for any potential IP address or DNS leaks that could give away our actual location. We connected to a US server, then used an IP info tool to see if the VPN successfully switched to an American IP address. As you can see from the below image, The IP on display is from Miami, Florida.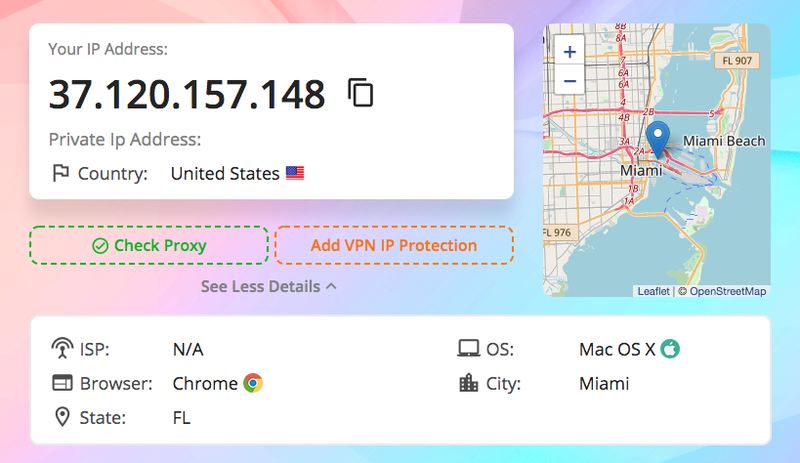 We also scanned ZenMate for any possible WebRTC leaks. And although the image shows a potential leak, the IP address on display is the same one that ZenMate gave us. That means there isn't any danger of exposing our actual identity and location.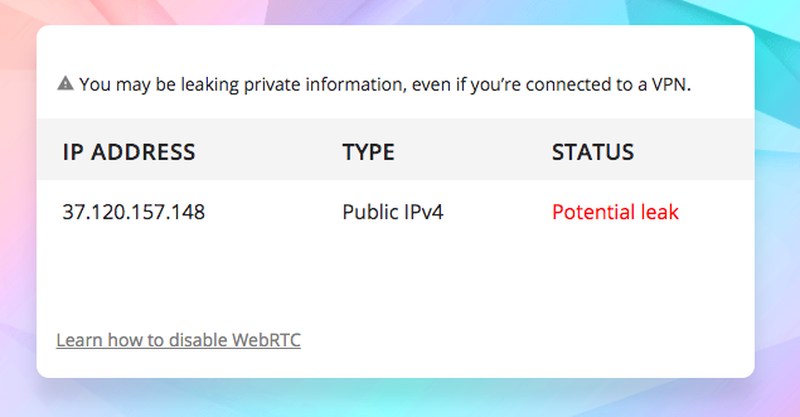 Warrant Canary
As I mentioned earlier, government agencies can request user data from companies that operate within their jurisdiction. They do so by sending subpoenas, warrants, or national security letters, usually with a gag order. The latter prevents businesses from disclosing the content of these requests with their clients.
As a result, a lot of VPNs started setting up warrant canary pages for full transparency purposes. This feature allows providers to notify customers of any government letter they might have received without actually telling them, per se. As long as the page stays on the website, then the VPN did not receive any request from law enforcement agencies. Once the page is taken down, it means the company has been slapped with a warrant.
ZenMate does not have a warrant canary page, which is something that they could add in the future if they wish to remain trustworthy.
Independent Auditing
Some VPN providers invite independent and well-known auditors to take a look at their apps and software. They do so to verify the validity of their claims and prove everything is in check. The auditing firm runs thorough tests to ensure there are no data leaks and that the VPN is safe to use. VPN services then publish the findings to the public.
We didn't find anything about ZenMate VPN hiring independent auditors to support their claims. That's another drawback in terms of transparency.
---
ZenMate Customer Support
We figured that users might have a few questions before or after subscribing to ZenMate VPN. That is why we tested its customer support service to see if the team has a fast response time and provides helpful answers.
You can contact ZenMate via email, ticket support, and live chat. The latter is the fastest option to get information, but when we tried it, response time was slow, even though we were in queue position one. It took about 15 minutes before we received an answer. However, it was all smooth sailing from there as customer support immediately started replying. The employee was a professional and quite knowledgeable.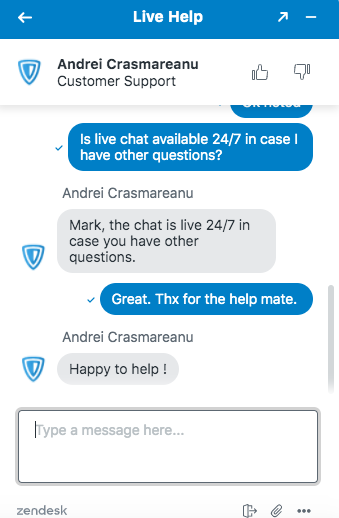 To open live chat, click "support" at the bottom of the page, type anything in the search bar, then hit enter. A live chat button will appear on the screen. Alternatively, you can send an email to [email protected] or submit a request using a support ticket.
"Reaching out to the ZenMate Support Team via e-mail is helpful as well however, please allow standard SLA times to be applied after submitting the ticket in order to receive a full and comprehensive response."

ZenMate
You'll also find plenty of guides and articles about the most common questions on the support page.
Languages
ZenMate's website is available in several languages, including:
English
German
Spanish
French
Turkish
Russian
Korean
However, not all pages are translated into your preferred language, except if you choose the default option, which is English. We also couldn't find a way to switch languages when using ZenMate VPN apps.
---
How Expensive Is ZenMate?
The first thing some users do when examining a VPN is price checking. If it doesn't fit their budget, they'll simply dismiss it, even if it provides premium features.
ZenMate's monthly subscription fee falls under medium – It's not the cheapest, but it's not expensive either. And just like other VPNs, it offers great value in the annual packages, perhaps even more than its peers. The longest-term 18-month plan allows you to save 85%.
Here's how much each subscription plan costs:
One month: $10.99, billed each month
1 Year: $53.88, billed every 1 Year ($4.49/month – save 59%)
3 Years: Billed $59 billed every 3 Years ($1.64/month – save 85%).

Free Trial and Refund Policy
Now, the 18-month plan offers the most value for money, as you can see from the above pricing. But if you don't want to commit to any long-term options in fear of disliking the service, ZenMate offers you a 7-day free trial and a 30-day money-back guarantee.
This gives you plenty of time to test the service before you actually cough up any cash. If you end up not liking it, you can get a full refund should you cancel within the first 30 days of your subscription.
Payment Methods
You can pay for your ZenMate VPN subscription using the most common credit cards, including Visa, MasterCard, and Amex. Alternatively, you can settle your payment with PayPal. ZenMate does not support cryptocurrencies like Bitcoin that allow users to stay anonymous.

---
ZenMate VPN – Final Verdict
In conclusion, ZenMate offers decent overall performance. It can unblock the most popular streaming platforms, uses industry-standard privacy features, and offers a one-week free trial and 30-day refund policy. The VPN also has an extensive server network that expands to over 79 countries and is pretty affordable.
However, an unclear privacy policy, inconsistent speeds, no Smart DNS proxy, and a German headquarters could keep some users away. All in all, we thought it was okay, but there are better alternatives that are slightly more expensive.
Do you think ZenMate offers good services? Let us know below.