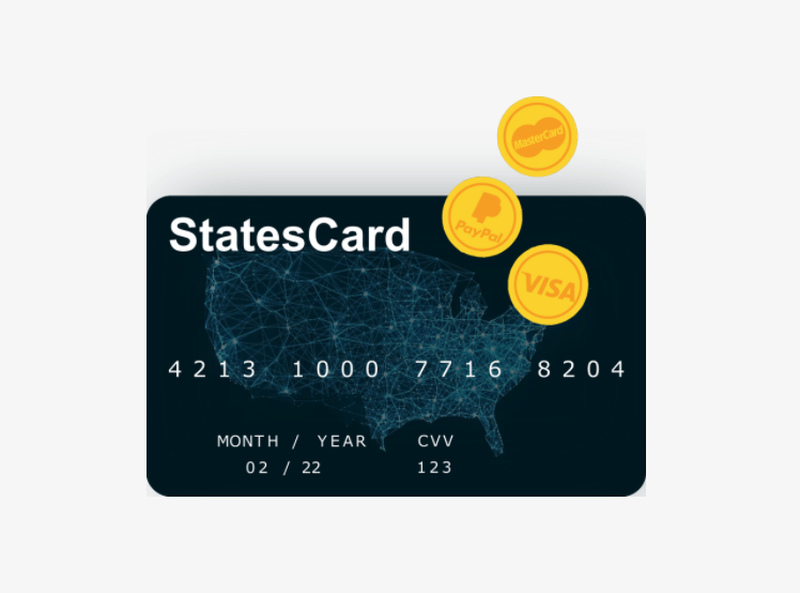 Subscribe to any US streaming service with StatesCard
Sign up, add funds, and register
Connect to a VPN and get unlimited access
StatesCard with Unlocator Smart DNS also works
The USA: Land of the free; home of the brave; and the kingdom of all things related to cinema and television. That's right! When it comes to entertaining, addictive, and award-winning movies and series, no one on earth makes them as the Americans do. And this made Hollywood the undisputed show-business capital of the world by a long mile.
The creation and development of quality content, mixed with the meteoric rise of video-on-demand services, made US streaming platforms leaders of the pack. US Netflix, Hulu, Disney+, HBO Max, and Amazon Prime Video are just a few examples that I'm sure TV lovers and cinephiles are familiar with. Alas, some of these services are unavailable outside US territories, while others offer different libraries depending on where you are.
Subscribing to American streaming platforms requires some form of proof of residence. That includes a US credit/debit card and ZIP code, making it quite difficult for foreigners to sign up, even with the best VPN solution. With StatesCard, however, it's all about to change.
---
Content Overview
---
What Is StatesCard?
The most popular and in-demand streaming services are based in the USA. Netflix, Disney Plus, Hulu, Amazon Prime Video, and HBO are household names in the VOD industry, each claiming millions of subscribers. Netflix is undoubtedly the king of the hill, thanks to its global availability. As of the third quarter of 2020, the streaming giant had more than 195 million paid customers worldwide, with over 73 million located in the US.
Subscribing to American streaming platforms is a straightforward task. Just follow a few steps, and you're all set. One of those includes providing a US ZIP code (or postal code), state, and billing address. Hulu even demands you use a credit card issued by an American bank. That's perfectly normal and feasible for customers who reside in the country. But foreign viewers will have trouble joining or switching libraries.
Well, in the words of American Comedian Dave Chappelle, "modern problems require modern solutions."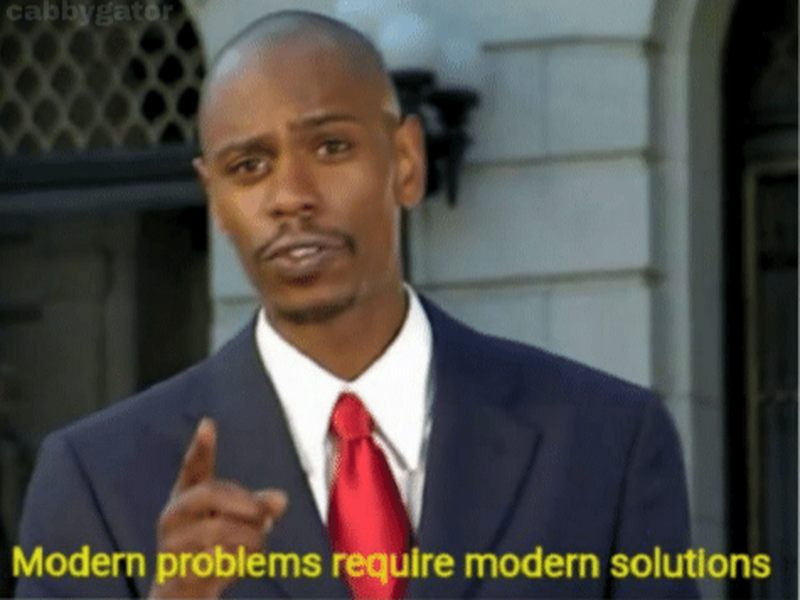 StatesCard offers an ideal solution for this ordeal. The virtual prepaid debit card provides you with a US billing address, thus, allowing users to subscribe to their favorite American-restricted streaming services. You can fill up your StatesCard balance via credit card or PayPal to pay for your Netflix, Hulu, Disney+, or other subscriptions. Furthermore, you will be provided with a unique, custom-made security code to access your transaction history.
As for usage, well, it's just like any other debit card you've used before. Just enter your StatesCard's number, expiry date, and CVV (Card Verification Value). Then, if your streaming platform requires it, enter the US address that StatesCard assigned to you.
StatesCard requires a one-time fee of $14.95 to issue your card. After that, it will cost $3.95 per month, a small price to pay for unlimited access to US streaming services.
StatesCard – How to Sign Up
Creating your StatesCard is similar to applying to a credit card online. You just have to sign up, enter your information, provide ID verification, then wait for the approval.
Visit StatesCard and click "Sign Up Now." Enter a valid email and password, then hit "Sign up."
You'll receive an email to verify your account. Press the link in the email to activate the account and log in with your credentials to continue registration.
Submit your information and personal details, followed by "Next." Please make sure you enter accurate info.

Click "Verify Me" -> "Start" to go through StatesCard's ID verification system. You'll have to upload photos or copies of documents that prove your identity. Moreover, you must upload a short selfie video.

Select your country and a document that proves your identity, like your driver's license, passport, or national ID.

Upload a photo of your ID document. Alternatively, you can take the picture with your smartphone.
Upload a short video of yourself. Once complete, click "Done."

Wait until StatesCard verifies your application. Some requests go through manual verification, which could take longer than usual for approval.
After you receive validation from StatesCard, you can add funds and start paying for your preferred streaming services.
How to Add Funds to StatesCard
Before subscribing to Netflix, Hulu, or Disney+, you first must load money to your new StatesCard. The service allows you to add funds via credit card or PayPal.
Sign in to your StatesCard account and click "Load Card."

Choose your favorite payment method.

PayPal: click "Confirm Order." You'll then be directed to complete the transaction via PayPal.
Credit Card: enter your credit card information and click "Confirm Order."


Once the transaction is complete, you'll go back to your account page, where you can check out your new balance and your transaction history.
Please note that the credit card network, PayPal, and issuing bank charge a small load fee.
---
Streaming Services That Require US-Issued Credit Cards
As I mentioned above, several American streaming platforms allow users to subscribe through credit cards issued by US banks only. You won't be able to create an account if you use a payment card issued by foreign banks. These services include:
Hulu
ESPN+
HBO Max
fuboTV
YouTube TV
CBS All Access
Apple TV+
Vudu
Sling TV
AT&T TV
Peacock TV
Cards That Previously Worked With US Streaming Platforms
Before StatesCard, cord-cutters living abroad used several prepaid cards to sign up for US streaming platforms. However, these options no longer work with every VOD service, resulting in payment failures. Some of these cards have even shut down, like Entropay, for example.
Revolut
Payoneer
Abine
Loadoo
MyCard2Go
Entropay
Therefore, your safest bet is StatesCard. It is the only prepaid debit card that works with all US services.
---
StatesCard + VPN = Unlimited Streaming
Congratulations! You are now the proud owner of a new StatesCard, allowing you to access any US streaming service no matter where you are. One thing is missing, though, a VPN.
Other than demanding an American ZIP code and billing address, Hulu, HBO, and other similar platforms implement geo-blocking technology. That means you can only access them inside a specific territory: The US. Due to licensing agreements, these services cannot broadcast their content outside Uncle Sam's jurisdiction. Otherwise, they would be committing piracy and copyright infringement.
Meanwhile, Netflix and Amazon Prime Video, which are available almost everywhere, offer different catalogs depending on where you live. The US library features the most expansive and entertaining lineup of movies and series. So if you live abroad, you will miss out on them.
VOD platforms can determine your location by looking at your IP address.
Therefore, you must equip your StatesCard with a top-class VPN service. Short for virtual private network, this tool reroutes your Internet traffic through its own servers. Furthermore, it engulfs your connection with an encrypted tunnel, preventing third parties from monitoring your activities. After selecting your preferred server location, your VPN will also give you a matching IP address.
So if you want to unblock US streaming platforms like Hulu, Showtime, Disney Plus, and ESPN+, simply connect to an American server.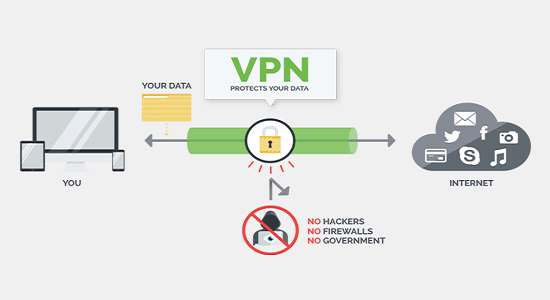 Features Top VPNs Provide
You'll get a lot more than just unblocking capabilities when you subscribe to a reputable VPN. One particular advantage is privacy and anonymity, which, in this day and age, come scarce. Here are some of the best VPN perks:
Military-grade encryption: Grade-A VPNs use the most secure encryption to safeguard the data you send and receive. It would take the current supercomputers millions of years to crack the AES-256 encryption.
Zero-logs policy: Your VPN must have a no-logging policy in store to ensure maximum anonymity. It means your provider won't keep any records of your browsing history, the websites you visit, or your IP address.

No ISP throttling

: Internet service providers can't monitor your activities when you're connected to a VPN. As a result, they won't intentionally slow down your Internet speed to minimize bandwidth congestion.

P2P support

: Premium VPNs offer P2P-friendly servers. You can safely download your favorite songs, movies, and series without worrying about copyright trolls.

High device compatibility

: VPNs have compatible apps with the most popular operating systems, like iOS, Android, PC, and Mac. Some even have ready-made apps for Linux and Kindle Fire.
However, VPNs don't work with Smart TVs or gaming consoles. So if you're going to use your Xbox, PlayStation, Samsung, or LG Smart TV, you must set up a VPN connection on your router.
How to Install a VPN
If you want to watch US-restricted shows on your computer, smartphone, or tablet, you'll have no trouble installing a VPN. You just have to:
Select a premium VPN provider and create an account.
Download and install the VPN app directly from the website, or head over to the App Store or Play Store.
Open the app, log in, and connect to any VPN server inside the US.
Once the connection is established, use your StatesCard to subscribe to your preferred US streaming service.
Never miss your favorite shows when you're outside the United States.
---
Alternative Path – StatesCard with Smart DNS Proxy
If you're looking ahead for some binge-watching action on your Smart TV, you're better off using StatesCard with a Smart DNS proxy. This tool only redirects the URLs that expose your location and leaves the rest of your traffic intact. As a result, you won't miss a single episode of The Mandalorian when you're outside the US.
Smart DNS proxies work with every device. You can set them up on your computer, smartphone, or tablet, as well as your gaming console and Smart TV. They aren't big on privacy, though, as you will benefit from neither encryption nor IP address switching. Nonetheless, you can still watch your favorite shows with StatesCard while overseas.
Unlocator
There are several Smart DNS proxy services out there, but StatesCard recommends Unlocator. This industry veteran supports over 220 channels, including Hulu, Disney+, Amazon Prime Video, Showtime, AMC, Apple TV, The CW, ESPN+, Peacock TV, and much more.
The service offers a 7-day free trial without forcing you to submit any credit card information. It follows it up with a 30-day refund policy. If you're interested in Unlocator, here's how you can subscribe:
Visit the website and sign up for the one-week free trial (no credit card needed).
Follow the setup guides and videos to install Unlocator on your device.
You can set up the service on Windows, Mac, Android, iOS, Kindle Fire, Linux, Xbox, PlayStation, Smart TVs, and routers.
Enjoy unrestricted access with StatesCard and Unlocator.
---
StatesCard – No More US Streaming Restrictions
Streaming platforms are increasingly clamping down on out-of-market viewing, whether through blacklisting VPN IP addresses or forcing US ZIP codes and billing addresses. Using StatesCard and an elite VPN service is the perfect response to these oppressions. Now, TV lovers can keep watching their favorite shows and movies wherever they are without worrying about geo-blocks. They can even choose a Smart DNS proxy service like Unlocator instead of a VPN.
Will you consider StatesCard to unblock US streaming platforms? Let us know below.