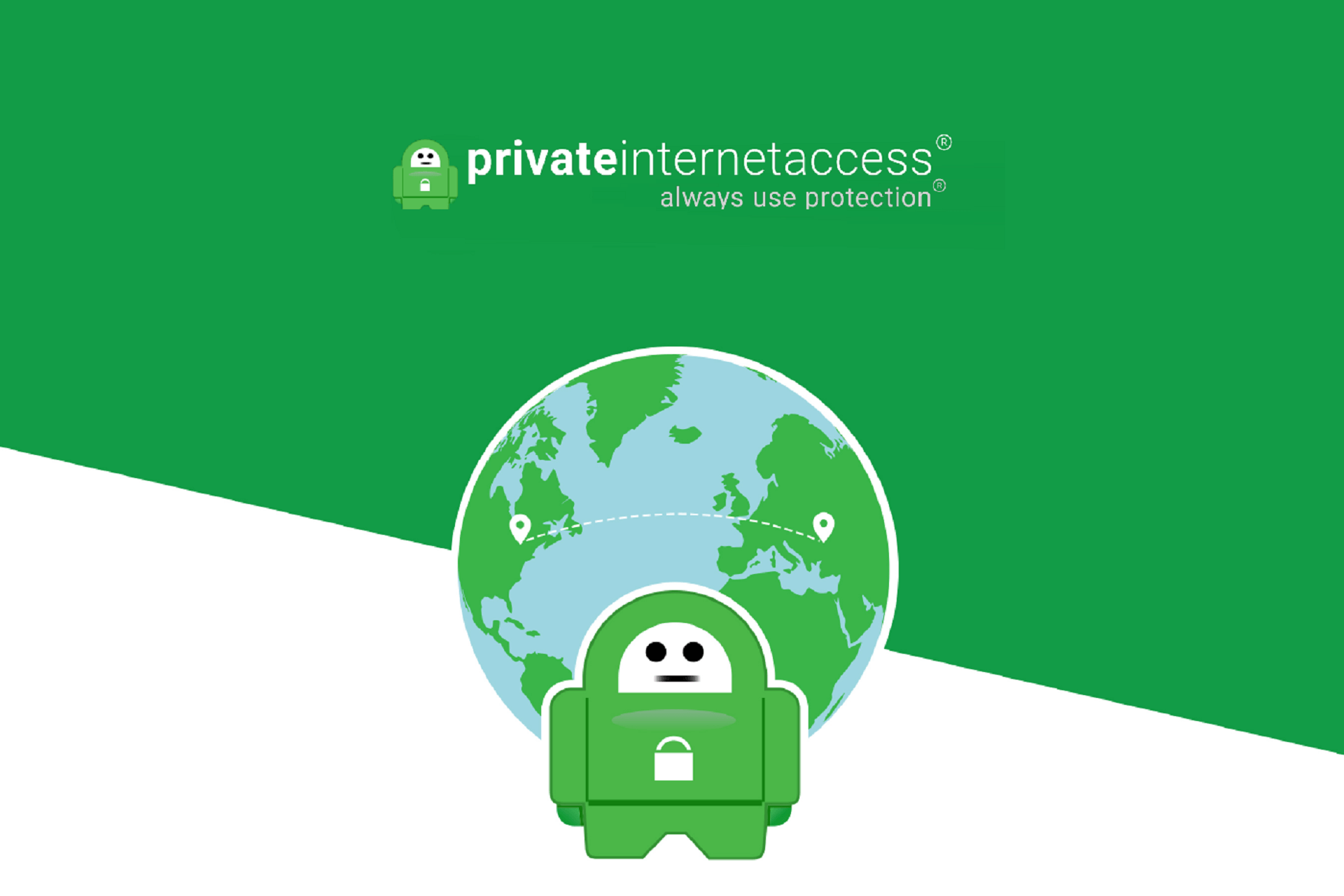 A member of a royal family creating a VPN service? There's something you don't see every day. In 2018, the nominal emperor of the Joseon dynasty, King Yi Seok, named Andrew Lee as his successor. But years before that, Lee launched Private Internet Access (PIA) VPN, which is now one of the leading providers in the industry.
In November 2019, Kape Technologies bought PIA and its parent company, London Trust Media, for $95.5 million. Formerly known as Crossrider, the Israeli firm also owns CyberGhost and ZenMate, two other VPN providers. It has also come under fire for reportedly selling malware, thus explaining the rebranding.
Private Internet Access VPN earned rave reviews from users and experts. But does it still fulfill all its privacy promises after its acquisition? And what about other features like content unblocking, speed, and P2P support? Are they still on offer? To find out, we put PIA under the knife using our thorough and unbiased evaluation process.
---
Table of Content
---
| | |
| --- | --- |
| FEATURE | AVAILABILITY |
| Money-back guarantee | 30 days |
| Allowed simultaneous connections | 10 devices |
| Supported streaming services | US Netflix, Amazon Prime Video, and Hulu |
| No-logs policy | Available |
| Encryption | Military-grade AES 256-bit (AES 128-bit set as default) |
| Protocols | OpenVPN, PPTP, L2TP/IPSec, and Wireguard |
| Special features | Kill switch, port forwarding, SOCKS5 Proxy, MACE, and unlimited bandwidth |
| Customer support | Email, support ticket, and 24/7 live chat |
| Server locations | 35430+ servers in 78 countries (website) |
| P2P support | Yes |
| Server switches | Unlimited |
| Data traffic | Unlimited |
| Compatible devices | Windows, Mac, Linux, iOS, and Android, with Chrome, Firefox, and Opera browser extensions. |
| Smart DNS proxy | Unavailable |
| Legal Jurisdiction | The US (part of Five Eyes) |
| Free trial | No |
---
PIA in a Nutshell – Pros and Cons
If you don't have time to go through our detailed review, here's a summary of PIA's advantages and drawbacks.
Private Internet Access VPN is a US-based service that Andrew Lee, a Korean American, founded. Its headquarters are in Denver, Colorado. That means PIA is inside Five-Eyes jurisdiction, an alliance of international government agencies. These countries force companies within their territories to submit user information upon request. They also share data in cases of national security investigations.
That shouldn't matter much because the VPN doesn't store your traffic logs and keeps minimal information about you. And even that data is kept in an encrypted form. Speaking of encryption, PIA uses AES with 256-bit keys, a military-grade algorithm that prevents third parties from monitoring your online activities. Although the default algorithm is AES-128, you can change that in settings.
Furthermore, Private Internet Access has decent network coverage of 35430+ servers in 78 countries, according to the website. With 101 different server locations worldwide, you'll be able to unblock streaming platforms and download files via P2P networks. It also offers decent speed rates, especially if you connect to nearby servers.
PIA apps are easy to use and compatible with every major operating system. You can use them on up to 10 devices simultaneously using just one account. Moreover, all subscription plans come with a 30-day refund policy.
Pros
Works with Netflix and other platforms.
P2P support.
Decent speed rates.
AES-256 encryption.
Kill switch.
No-logs policy.
30-day refund policy.
10 concurrent device connections.
Support for Wireguard protocol.
High device compatibility.
Ad-blocker.
24/7 customer support.
Cons
US headquarters.
Shady parent company.
No Smart DNS proxy.
No free trial.
---
Interface and Design
We kicked things off with the PIA VPN website, which was basic and easy on the eyes, containing all the necessary information about the brand. The homepage displays essential features that Private Internet Access offers. That includes speed, unblocking capabilities, privacy, security, P2P support, usability, pricing, and server network. There's even a one-minute introduction video that explains everything about PIA.
For specific information about certain options, you can click on the shortcuts at the top and bottom of the page. You'll also find guides on how to install the PIA app on your device or contact support. Furthermore, Private Internet Access VPN recently launched a 24/7 live chat coverage. To open it, click on the "Chat Now" button at the bottom right of the page.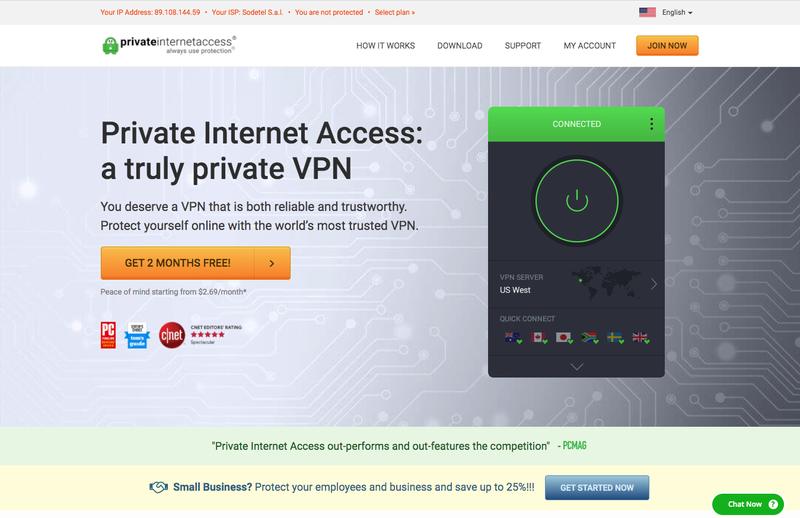 Mac App
Our first taste of PIA VPN was through the Mac application. After you sign in, you'll find a large connect button in the middle of the app, with a black background color. Below it is an automatic server location that the VPN selects based on your actual whereabouts. If you wish to switch servers, simply click on it to open the full server list and choose your preferred destination.
Once you connect to any server, Private Internet Access will display your actual and VPN IP addresses. Moreover, we were quite impressed with PIA's customization options and feature list. If you open settings, you'll be able to customize the app to your liking and enable/disable tools like MACE or the kill switch.
Android App
PIA VPN's Android mobile application doesn't quite differ from its Mac counterpart. There's a connect button when you launch the app, with an automatic server location underneath it. There are also additional options on the main screen, including quick settings, your actual IP address, and data usage.
To change to a specific server, you can tap on the automatic location on your home screen or the hamburger icon on the left. The latter also allows you to access settings, where you can activate and deactivate certain features or personalize the app to your liking.
PIA VPN is well-received among users. On consumer review website Trustpilot, the app has a 4.1/5 rating, with most people praising its usability and efficiency. Meanwhile, on Google Play, it scored a bit less, earning 3.8 stars, which is still pretty impressive. But the best result was recorded on the App Store, with PIA registering an excellent 4.7 rating.
"Fast, reliable, and easy to setup VPN. Has all the nice bells and whistles you could ask for."

Jason Bane, PIA VPN user on Trustpilot

App Compatibility
Private Internet Access VPN is compatible with the most popular operating systems, which means you can install it on almost any device. That includes iOS, macOS, Android, Windows, and Linux, in addition to browser extensions for Google Chrome, Mozilla Firefox, and Opera.
But just like any other VPN service, you cannot set it up on Smart TVs or gaming consoles. If you want to connect to a PIA server using these devices, you must configure the VPN on your router.
Moreover, the VPN allows up to 10 simultaneous device connections per account. It means you can use PIA on 10 devices at the same time with just one subscription.
---
PIA's Server Network
An excellent VPN service must cover a lot of ground to be able to bypass regional restrictions. Therefore, it must have a presence in key locations across the globe, including the US, Canada, Brazil, Europe, South Africa, the MENA region, India, and the Asia-Pacific region.
Private Internet Access is a reputable VPN service that's been around for quite a while. According to the website, its network consists of more than 35430 servers in 68 locations across 78 countries. That's a very decent grid in terms of server numbers and locations, but we think PIA should add more nations to its portfolio.
---
Private Internet Access Speed Tests
A VPN service with slow servers could force users to reconsider or even cancel their subscription. Virtual private networks allow you to bypass geo-restricted content like streaming platforms. Therefore, if your VPN significantly reduces your Internet speed, you won't enjoy watching online videos.
The thing is, all VPNs will affect your connection due to the encryption algorithms and the traffic rerouting. But top providers make sure that the speed drop remains unnoticeable so that you can go about your online activities unbothered.
We tested the speeds that Private Internet Access provides by connecting to several servers, near and far. Here's what we found: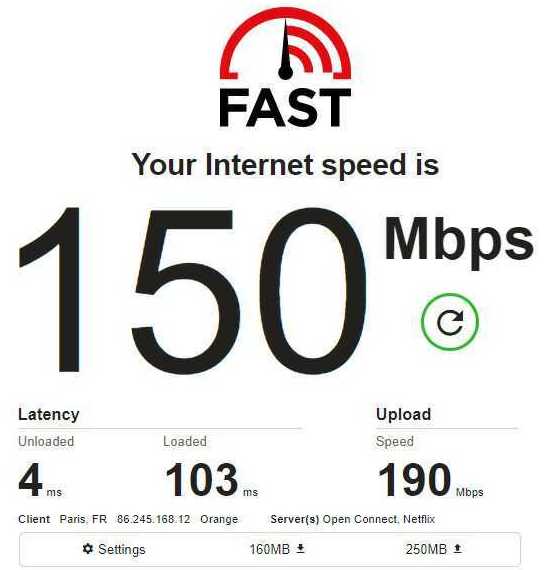 Before connecting to a PIA server, we measured our Internet speed to see how much the VPN would affect it.
First PIA test: Nearby server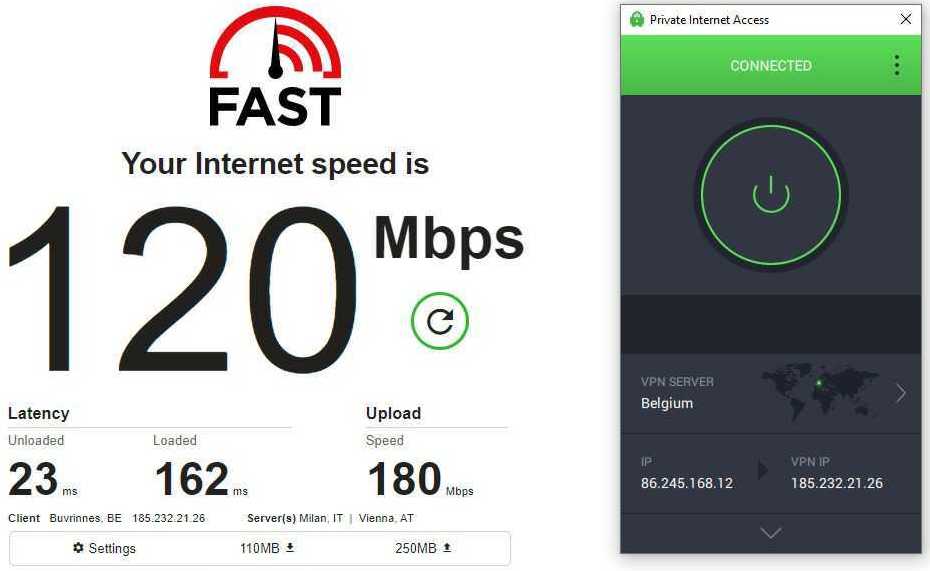 The first PIA server we tried was in Belgium, near our actual location, which means speed rates shouldn't drop by much. And as you can see from the above image, they were at an excellent level.
Second PIA test: UK server
Next, we connected to a server that's a bit further to our actual location. We opted for the UK because it is home to popular streaming platforms like BBC iPlayer, ITV Hub, Sky Go, and BT Sport. And while the London server maintained stable speeds, the service we used couldn't perform the test on the Manchester server.
Third test: Distant US server
We tried to test the speed of PIA's US servers, but just like the Manchester results, Fast.com couldn't conduct it. No matter which American server we tried, the outcome was the same.
Final test: Australian server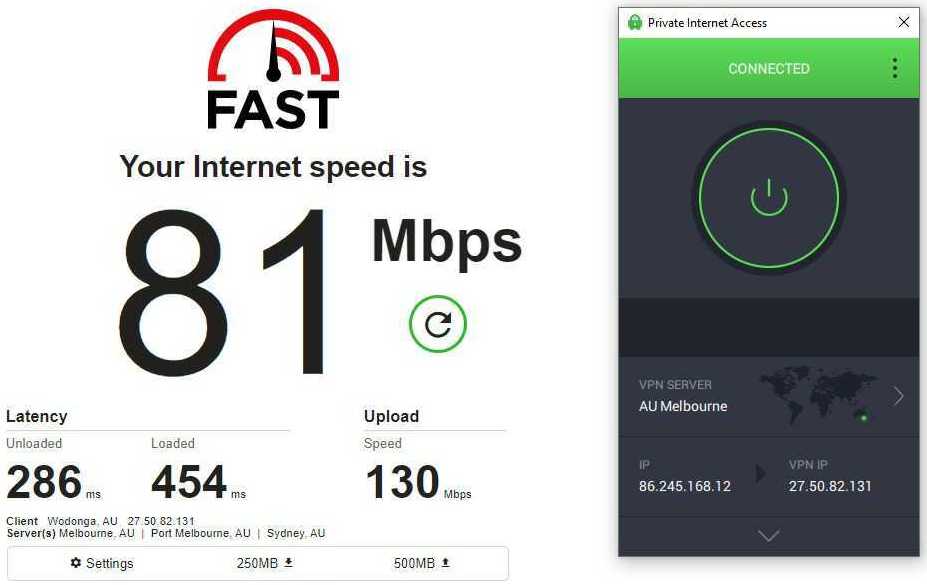 Since we couldn't determine how PIA performs when we connect to a distant US server, we opted for an Australian one instead. Speed rates dropped by more than half, but maintained decent levels.
How Fast Is PIA?
Private Internet Access servers deliver fast speeds when you connect to one that is near your physical location. But just like many other providers, once you use a distant server, you will notice a significant drop. Nonetheless, even when we connected to a faraway Australian server, speed levels were still respectable. So if you're streaming shows or sports from abroad, you won't encounter buffering issues.
---
PIA's Streaming Compatibility
Research from Statista shows that entertainment is the main reason for using a VPN. That means most consumers connect to a VPN server to access geo-blocked content that streaming services provide. You see, VPNs reroute your traffic and give you a new IP address, making you appear as if you were in a different country.
As a result, you get to watch movies and series restricted to just one region from anywhere. And while that worked for a while, streaming platforms soon started blacklisting VPN IP addresses to comply with copyright laws. They introduced a new technology that can determine if you're using a VPN.
Today, not all VPNs can access the most popular VOD platforms like Netflix US, Hulu, Amazon Prime Video, and BBC iPlayer. That is why we had to see how Private Internet Access fares in this test. And since the US is home to the most popular streaming services, we first connected to an American server. PIA managed to unblock Netflix USA from the first attempt.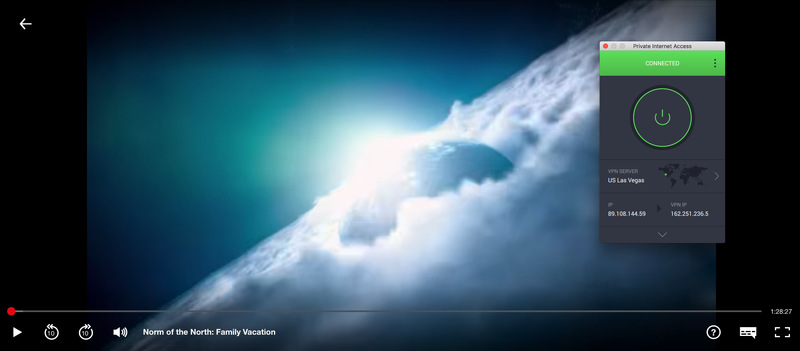 We then connected to another American server, this time from Florida, to see if PIA can unblock Hulu and Amazon Prime Video. As you can see from the below images, we were able to watch their respective shows.
One particular disappointment, however, was when Private Internet Access failed to unblock BBC iPlayer. The latter is famous for its rigorous VPN blocking capabilities, and PIA was unable to circumvent them, even though we tried all UK servers.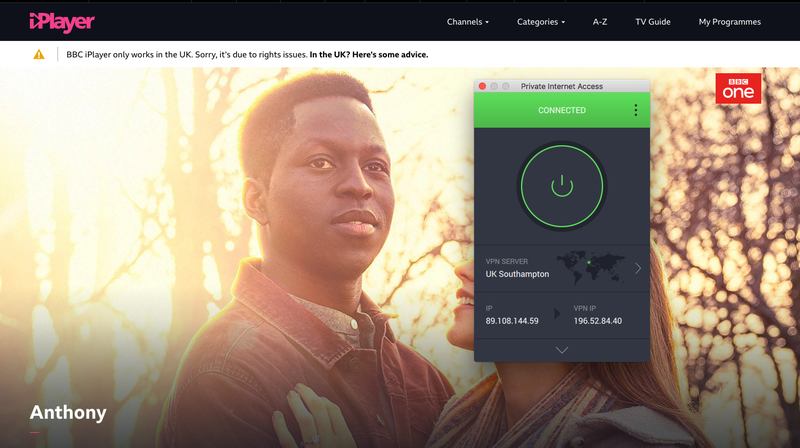 No Smart DNS Proxy
As I previously discussed, not all operating systems support VPN software. Smart TVs like Samsung and LG and gaming consoles like PS4 and Xbox don't have dedicated VPN apps. That is why some providers offer Smart DNS proxies, tools you can set up on almost any device. They reroute the URLs that expose your location and leave the rest of your traffic intact.
Unlike VPNs, Smart DNS proxies don't have a privacy advantage. They don't hide your IP address nor encrypt your traffic. But on the plus side, they don't affect your Internet speed.
Private Internet Access does not mention anywhere if it offers a Smart DNS proxy. We contacted customer support via live chat to see if the feature is available, but the answer was no.
---
P2P Support
In addition to streaming, many people use a VPN service to download files via P2P networks for no cost whatsoever. Torrenting is faster than conventional methods because movies, series, and songs, aren't stored on central servers. Instead, you download them from other peers, which takes less time.
But in several countries, P2P activities are illegal, with some ISPs banning torrent websites. With a VPN, though, you'll avoid censorship and hide your online activities, meaning law enforcement agencies and ISPs won't figure out what you're doing.
All Private Internet Access support P2P activities, keeping you safe from copyright holders, fines, Internet termination, and imprisonment.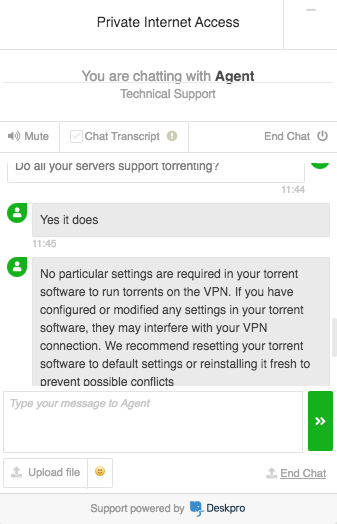 ---
Privacy and Security
Security and privacy are at the core of every VPN service. Each provider must employ the best and most secure features to guarantee anonymous browsing. Not all VPNs are the same, though, with some of them doing more harm than good. For instance, free brands don't have no-logs policies, which means they collect and sell your sensitive data. Some don't even use encryption.
Since Private Internet Access VPN is a reputable service with a wealth of experience, we expected first-rate features in this department.
US Headquarters
Things got to a shaky start when we discovered that PIA is based in Denver, Colorado. The United States is part of an international intelligence coalition that monitors Internet activities. Called Five Eyes, this alliance consists of four other countries: the UK, Canada, Australia, and New Zealand. Other nations later joined to form Nine and 14 Eyes.
| | |
| --- | --- |
| Nine Eyes | Five Eyes countries, plus Denmark, France, Netherlands, and Norway. |
| 14 Eyes | Nine Eyes members, plus Belgium, Germany, Italy, Spain, and Sweden. |
Any VPN or other online services inside these jurisdictions must submit user data to the government upon request. Law enforcement agencies can also share information with each other in case of an investigation. That means your online activities can fall in the hands of intrusive authorities when you use PIA. But the no-logs policy should protect you.
Zero-logs Policy
Private Internet Access claims that it does not keep any records of your sensitive data. That includes your browsing history, IP address, and web destinations, which PIA categorically eliminates from its servers. As a result, even if the VPN receives a letter from government agencies, it cannot provide any valuable data. In other words, nothing can reveal your actual identity or be traced back to you.
"Due to this, we're unable to provide information on our customer's usage of our service under any circumstance, including subpoenas and court orders, which are closely reviewed by our experienced legal team before we make any response."

Private Internet Access VPN
Here's a snippet of their no-logging policy:

Military-grade Encryption
By default, Private Internet Access uses the Advanced Encryption Standard (AES) with 128-bit keys to protect data across its apps. However, you can switch to the stronger and more secure AES-256 manually from the settings page. Both algorithms will conceal your IP address and online activities efficiently, but the latter is safer.
When AES-256 is in use, cybercriminals will have to go through trillions of possible combinations to break the encryption, which has never been done before. It is the same encryption the NSA employs to protect secret files and data.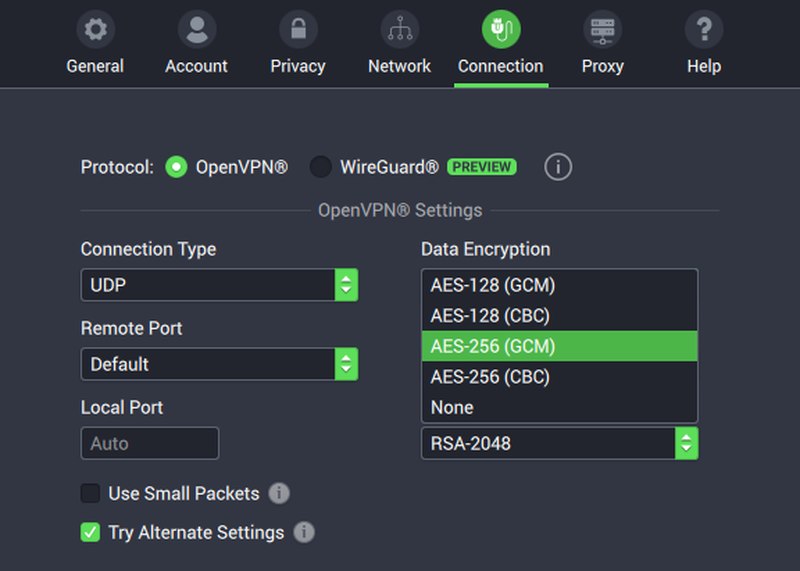 Kill Switch and Leak Protection
Any device or product you purchase can sometimes malfunction. Even the best computers, smartphones, or gaming console suddenly stop working for no apparent reason. And while a system reboot can fix the problem, with VPNs, it is not that simple. That's because they protect your sensitive data, and a connection drop puts it in jeopardy.
Therefore, reputable VPN services created kill switches to disconnect your device from the Internet in case of a malfunction. Consequently, your traffic won't leak to your ISP's servers where anyone can see it. Several factors could force a VPN to stop working, including an unstable Internet connection.
Private Internet Access has a built-in kill switch that is enabled by default (Auto). You can deactivate it from the privacy category inside settings, although we don't recommend it. Moreover, you can block all traffic even when the VPN is off by selecting Always.
Off: Don't block any traffic.
Auto: Block outside traffic when the VPN is on.
Always: Also block all traffic when the VPN is off.
To make sure there weren't any leaks, we connected to a PIA server from the US, then used our IP info tool to see if the VPN changed our IP address. As you can see from the image below, PIA gave us an IP from Ashburn, Virginia, making it appear as if we were in that location.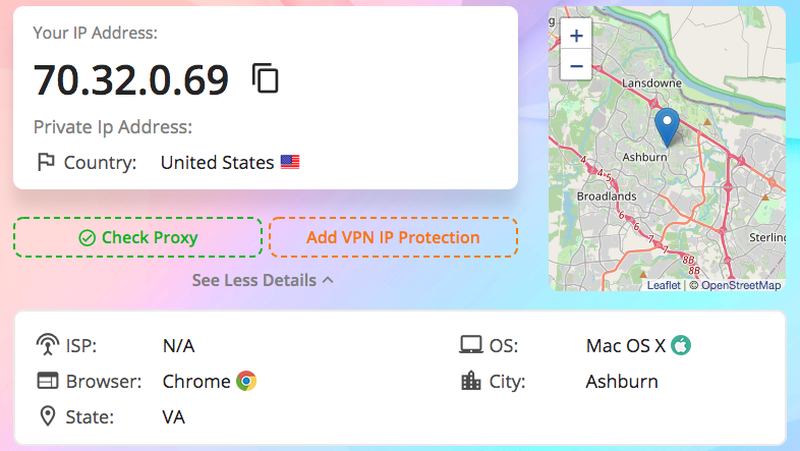 We also tested Private Internet Access for any potential WebRTC leaks using one of our other tools. And even though the status shows a potential leak, the IP address on display reflects the one PIA gave us, which doesn't reveal our actual location and identity. Therefore, it's safe to say we didn't encounter any data leaks when using this VPN.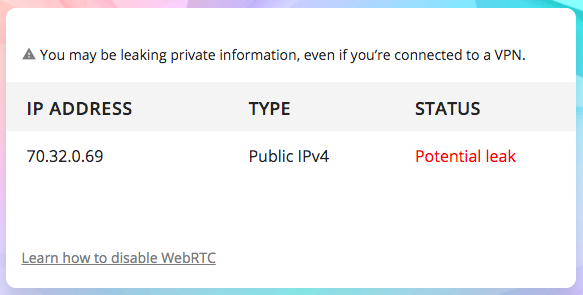 Other Features
In addition to the above must-have VPN characteristics, which are now industry standards, PIA VPN offers a string of other VPN features, including:
MACE: A tool that blocks ads, malicious websites, and trackers.
Wireguard: A faster, more secure, and efficient VPN protocol with higher performance than the traditional OpenVPN.
Port Forwarding: Activates a firewall between the VPN server and the web so that your traffic goes through safely.
Split tunneling: Allows you to choose which applications you want to protect with a VPN.
Warrant Canary
As I mentioned earlier, VPNs that operate within certain jurisdictions can sometimes receive subpoenas and warrants from the government. These official requests demand access to your online data and come with a gag order, meaning the VPN provider cannot disclose their nature.
Therefore, some VPNs exploited a loophole to inform their customers of any secret government letter: They set up warrant canaries. As long as these pages remain on the website, your provider still hasn't received any subpoenas. If they are taken down, then government agencies slapped your VPN with a warrant.
The idea came from miners who used to take canaries down the mineshaft to alarm them of any gas leaks. If the birds died inside the mine, the workers knew they had to evacuate immediately.
Private Internet Access does not have a warrant canary page, saying that "the right way is to not have any collectible information in the first place."
"A warrant canary is a little bit like a fire alarm going off. Great. You know there's a fire. Now, what do you do?"

Private Internet Access VPN
Independent Auditing
For transparency purposes, some VPN services invite reputable independent auditors to evaluate their systems and check for vulnerabilities. Now, that's not exactly how Private Internet Access went about it. Instead, it funded an audit for the OpenVPN 2.4.2 version.
The company hired Matthew Green, assistant professor at the Johns Hopkins Information Security Institute, to conduct the test. The updated OpenVPN version also underwent a second audit from a QuarksLab team, which received funding from the Open Source Technology Improvement Fund (OSTIF).
Green revealed that OpenVPN 2.4.2 is "technically sound" and will resolve many issues, thanking PIA for the "sponsorship of both audits."
---
Customer Support
Premium-ranking VPN services have a responsive and knowledgeable customer service. Users and potential customers might encounter connection difficulties or have questions that require immediate attention. In fact, if you take a look at consumer review websites like Trustpilot, many people comment on VPNs' customer support.
You can contact PIA via email, ticket, and most recently, 24/7 live chat support. We gave the latter a try and had some mixed results. We waited about 15 minutes before Evan from support replied to our first question. But from then on out, he answered swiftly and helped us with all our inquiries.
Still, he was quick to end our chat without asking if I had any other questions, which is usually the norm in the VPN industry.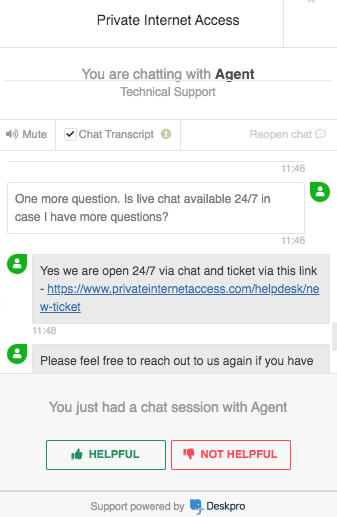 There's also a support page that features articles, guides, FAQs, and a knowledgebase.
Languages
The Private Internet Access website is available in several languages, including:
English
Danish
Portuguese
Dutch
French
German
Italian
Japanese
Russian
Spanish
Korean
Arabic
Simplified Chinese
Traditional Chinese
Polish
Norwegian
Turkish
Thai
Even the Mac app is available in multiple languages, which you can select from settings under General. However, we couldn't find language settings on the Android app.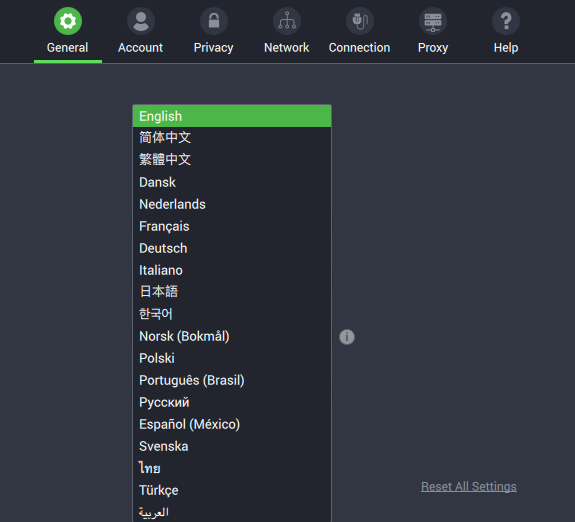 ---
Is Private Internet Access Expensive?
Pricing is another crucial feature that users immediately check out when shopping for a VPN. If it's too expensive, some users might dismiss it, even if it offers top features. But as I mentioned at the beginning, an expensive VPN service is better than a free one. Find a brand that fits your budget instead of settling or opting for one that invades your privacy.
PIA has an average price tag that is slightly cheaper than its premium counterparts. It offers three subscription plans: Monthly, yearly, and biennial. The latter package has a one-time promotional package that offers two additional months for free.
One month: $9.95/month.
One year: $39.95 billed once annually ($3.33/month).
Two years: $69.95 billed once every two years ($2.69/month – save 73%).

Free Trial and Refund Policy
Private Internet Access VPN does not offer a free trial. However, all subscription plans come with a 30-day money-back guarantee. It means that you can get a full refund within the first month of your registration, which more than enough time to fully test the service.
Payment Methods
One of PIA's most unique and beneficial features is its vast support for payment methods. The service allows you to pay using widespread credit cards like Visa, MasterCard, and Amex, as well as PayPal and Amazon Pay. You can even cryptocurrencies like Bitcoin and Ethereum, and gift cards from Walmart, Starbucks, Home Depot, and more.
---
Private Internet Access Review – Final Verdict
A reputable VPN service with a wealth of experience, Private Internet Access has a lot to offer. It can unblock the majority of streaming services despite the VPN IP ban and supports P2P activities on all its servers. The VPN is more affordable when you compare it with its peers and offers an industry-standard 30-day refund policy.
As for privacy and security, PIA uses military-grade encryption, follows a no-logs policy, and has an automatic kill switch. Add extra features like MACE and Port forwarding, and no one will be able to trace anything back to you.
However, PIA does have its share of drawbacks, including a US headquarters, absence of a Smart DNS proxy, and no BBC iPlayer compatibility. Their live chat support could be a bit faster, too, and the parent company has a shady history.
Nonetheless, we think Private Internet Access is a reliable VPN service that you should definitely consider.
What did you make of PIA VPN? Let us know below.