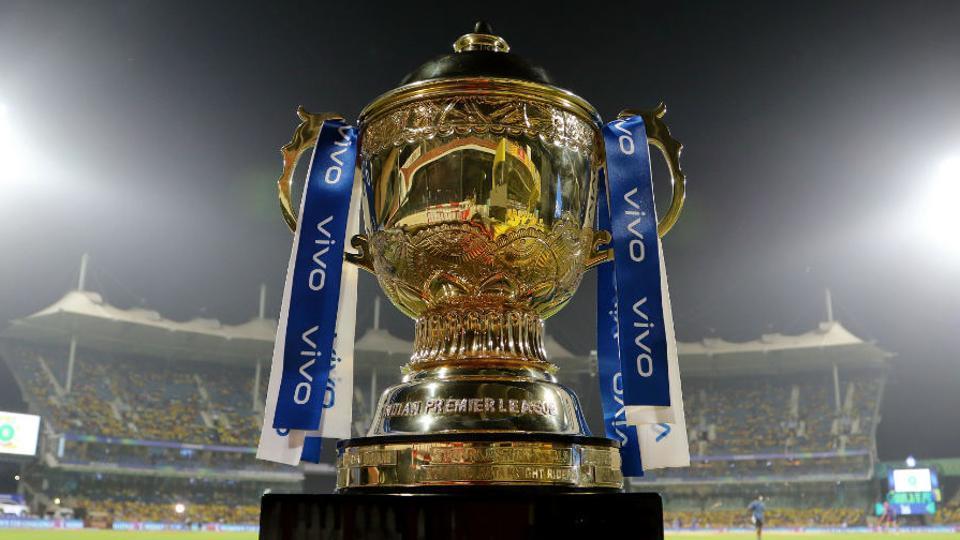 The Indian Premier League, better known as IPL, marks one of the highest crowd attendance in world cricket. That shows how popular the competition is. Are you a fan? Then get ready, as the 2023 IPL kicks off on March 31st, 2023.
The legendary tournament is broadcasted all over the world thanks to major partners in several regions and countries.
Unfortunately, streamers can't watch IPL 2023 from anywhere as Hotstar and other similar broadcasters are geo-blocked outside their respective regions. Luckily, VPNs and Smart DNS proxies can help you avoid those issues.
---
Content Overview
---
IPL 2023 Broadcasters
The 2023 IPL season will kick off on March 31st and conclude almost two months later on May 28.
A total of 60 matches will be played during that time as eight teams fight to reach the playoffs and then the final.
And since cricket is a very popular sport in a lot of countries, several broadcasters will air the tournament.
Hotstar is IPL's official digital streaming partner. India's cord-cutting residents must subscribe to the service to watch IPL 2023. The platform is also available in Canada, the US, and the UK, but it is not the exclusive broadcaster in those areas.
Those who live in the United Kingdom, for example, can stream IPL 2023 matches on Sky Go. However, they must have a Sky subscription. Meanwhile, UK cricket fans who opted to cut the cord can subscribe to DAZN.
Furthermore, if you live in the land down under, you can stream IPL 2023 on both Fox Sports.
As for Africa's Sub-saharan viewers, the Indian Premier League is available on DStv Now, home of SuperSport. However, the streaming service requires that you sign in with your DSTV cable subscription details.
What About Geo-blocks?
All these broadcasters are strictly available inside their designated coverage zones. But you might have already guessed that if you attempted to log in to your local streaming platform from abroad.
The chances are that a location error message appeared on your screen, saying that the service is not available in your country.
Hotstar, for example, will display the following message:
"Content Unavailable. This content is currently not available in your region."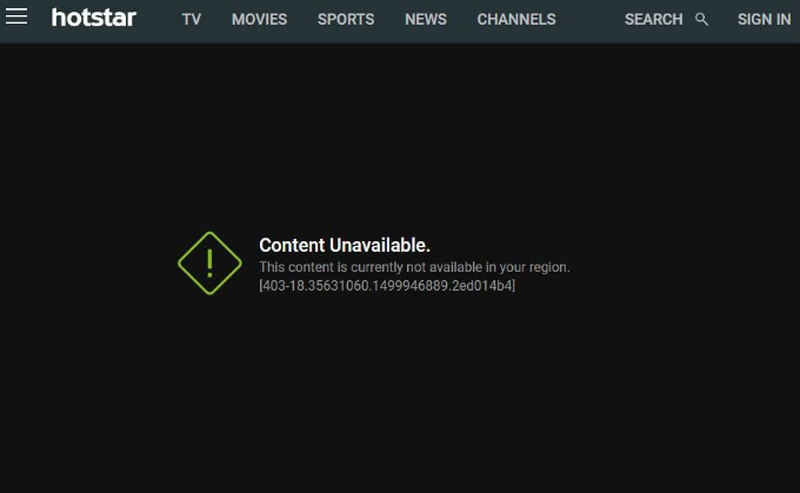 Streaming platforms can track your location using the IP address that your Internet Service Provider assigns to your device.
Each country has a list of designated IP numbers so that the World Wide Web can see where you are.
Therefore, when they know that you're trying to connect from somewhere outside their broadcasting dominion, they will block you.
Broadcasting agreements prevent online services from making their content global. They must outbid competitors from every region, then offer a streaming infrastructure that supports international viewing to accomplish that feat. And that is highly expensive.
As a result, each provider restricts itself to its geographic area. Sky Go and DAZN, for instance, are only available in the UK.
Fox Sports, meanwhile, is geo-blocked outside Australia. Moreover, Willow TV is only available in the USA and Canada.
---
VPN – Your Ticket to Watch IPL 2023
Since IPL broadcasters rely on your IP address to determine your location, you need to find a way to hide and change it.
And the only tool that can do that and much more is a virtual private network. VPNs operate a network of servers that are located all around the world.
When you connect to one of them, your traffic will be redirected, and you'll get a new IP address.
To put it in simpler terms, let's say you live in the UK. If you prefer to watch IPL 2023 on Hotstar and not on Sky Go, you must connect to a server where the service is available. That means you must select an Indian server.
Once your connection is established, the VPN will reroute your traffic through the server you chose and give you a matching IP address. As a result, Hotstar will think that you are inside its coverage zone, and it will unblock IPL and its other content.
Not only that, but you'll also be able to access other geo-restricted platforms. In other words, if you connect to an American server, you can watch your favorite Hulu, HBO, and Netflix US shows.
The same process applies if you connect to a UK server, as BBC iPlayer and ITV Hub will become available from abroad.
VPN Installation
Virtual private networks are your go-to destination for bypassing geo-blocks. But that's not their sole job. These programs also encrypt your traffic, preventing your ISP and other parties from monitoring what you do.
Moreover, elite providers implement strict no-logs policies, which means that they don't keep records of your sensitive information.
Another beneficial VPN usage is torrent support. Top services allow P2P file-sharing activity so that you can download your favorite files swiftly and securely. The encryption and zero-logs policy will protect you from copyright holders and potential legal prosecution.
And these options are just the tip of the iceberg. VPNs have a lot more to offer, depending on which one you purchase, of course.
You can install them on your smartphone, PC, tablet, and other devices, as their apps are compatible with the majority of operating systems. Moreover, they allow simultaneous device connections.
Choose a premium VPN provider because only they can offer the above features.
Visit the App Store or Google Play to install the VPN app on your device. The process should take around two minutes.
Once complete, open the app and sign in using your new account.
Now, connect to a server inside your streaming platform's broadcasting zone. You can choose an Indian server for Hotstar or a UK server for Now TV.
Get ready for another action-packed IPL season.
Hotstar VPN Ban
Under pressure from production companies and sports organizations, streaming platforms started banning VPN usage.
It means that these services can figure out that the IP address you're using isn't your actual numerical label. Therefore, some IP addresses that your VPN will give you might be blacklisted.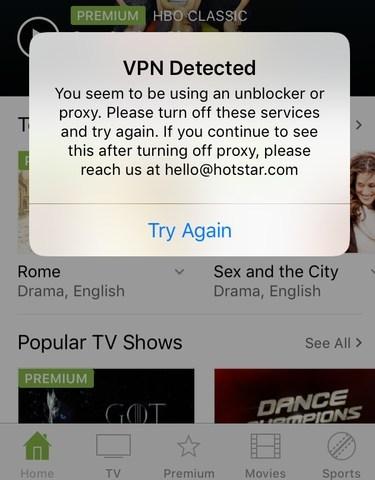 If you ever find yourself in such circumstances, you must first use an IP checker to see if you're actually connected to a VPN server. In case you are, and you still cannot watch IPL 2023 on Hotstar, then try to connect to another server inside India, the UK, the US, or Canada. You can also try another platform that is airing the tournament.
Now, please note that top VPN providers can still unblock Hotstar. Instead, it's the free brands that have blacklisted IP addresses. I advise you not to use them because they are slow, limited, and have weak security and privacy features.
---
Best VPN for Streaming IPL 2023
As I just mentioned, certain services like Hotstar blacklist VPN IP addresses. As a result, you won't be able to watch the Indian Premier League or any other program.
Yet, top VPNs can still circumvent the ban and get you through the line to unblock your favorite sports and shows.
My top recommendations are ExpressVPN and BulletVPN, respectively. However, other reliable VPNs also allow you to watch IPL 2023 from overseas, namely Unlocator VPN and NordVPN. The first one mixes the strengths of a VPN with the advantages of Smart DNS, while the other offers outstanding privacy features and unblocking capabilities.
ExpressVPN
You'll find ExpressVPN in every "best VPN" recommendation list. It gets plenty of praise from users, mainly because it offers the best all-round performance. I'm talking about top-speed rates, total accessibility, and high-level security and privacy features.
The company has more than 3,000 servers in 160 locations across 94 countries. And the best part of it all is that it works with Hotstar, which means you'll have no problem streaming IPL 2023. Moreover, you'll enjoy excellent speed rates when you use ExpressVPN, making it an ideal choice for live sports.
Speed is also great for torrenting and file-sharing. ExpressVPN supports P2P activity, which means you can download and upload movies, series, and music.
Another necessary attribute for torrenting is privacy, and you'll have plenty of that with the Advanced Encryption Standard with 256-bit keys. AES-256 is the most secure encryption in the industry, and it keeps your traffic safe from snooping eyes.
Furthermore, ExpressVPN won't share your sensitive data with any third parties due to the no-logs policy it implements. Besides, its servers eliminate any information about IP addresses, traffic destinations, and search history.
Here's why this VPN is perfect for IPL 2023:
Pros
Fast speed rates.
Access to Hotstar and other streaming platforms.
Vast server network.
MediaStreamer: Smart DNS proxy.
30-day refund policy.
Five simultaneous device connections.
Apps for Android, Windows, Mac, iOS, Kindle Fire, and Linux.
Torrent and P2P allowance.
Cons
Pricier than other VPNs in this category.
---
BulletVPN
If ExpressVPN doesn't fit your monthly budget, then the other VPN you should consider is BulletVPN.
The features on offer are on the same par as ExpressVPN, especially in terms of security and privacy.
But while this provider has fast servers, some specialized for streaming, speed levels are a bit slower than ExpressVPN's.
And speaking of servers, the company operates over 114 of them across 51+ countries. That may not sound like a lot, but the network is strategically spread across key areas like the US, Canada, the UK, India, Africa, and Australia. Moreover, this provider is continuously expanding its servers.
When you register for BulletVPN, you'll enjoy AES 256-bit encryption in addition to a strict no-logs policy.
And for extra anonymity, there's a kill switch that terminates the Internet connection to your device in case the VPN stops working. That way, your traffic won't get rerouted to your ISP's servers.
You can also activate BulletShield with the kill switch, which won't grant you Internet access unless you're using a BulletVPN server. Furthermore, the provider can avoid the Hotstar IP ban, allowing you to watch IPL 2023.
BulletVPN allows torrenting and P2P file-sharing and its top privacy features will protect you from copyright trolls.
Pros
30-day money-back guarantee.
Free Smart DNS.
Speedy servers.
Ability to access Hotstar and other similar platforms.
Military-grade encryption.
Torrent support.
High device compatibility.
Up to six simultaneous device connections.
---
Watch Tata IPL with a Smart DNS Proxy
You can also unblock a couple of IPL streaming broadcasters with a Smart DNS proxy. Unlike a VPN, this tool only reroutes the URLs that expose your location without altering the rest of your traffic. That is why they cannot bypass all the geo-blocks that online services impose.
You see, Smart DNS proxies don't hide nor change your IP address. Therefore, streaming channels that check out your IP can determine your actual location and block you.
They also don't encrypt your traffic, meaning ISPs and government agencies can track your online activities.
However, there is an upside to all of this, as you'll still be able to access local services that are geo-blocked abroad.
So if you're using a Smart DNS in the UK, you can keep watching your favorite sports on BT Sport. Furthermore, no encryption equals no speed drops.
But please note that these tools won't function properly if your ISP uses transparent proxies or DNS hijacking.
Unlocator – Top Smart DNS Solution
Since Smart DNS proxies can't unblock every streaming platform, it's better that you choose one with a vast channel support list. I recommend Unlocator, which can give you access to over 220 online services, including beIN Sports and Now TV.
There are plenty of other sports channels like BT Sport, ESPN+, NBC Sports, Fox Sports Go, NBA League Pass, NHL.TV, and NFL Game Pass. And if you're a fan of the latest movies and series, Unlocator has access to Hulu, HBO Now, Prime Video, US Netflix, BBC iPlayer, ITV Hub, and more.
Another excellent feature is the seven-day free trial. It gives you plenty of time to test this service from top to bottom without even providing your credit card credentials. You'll also benefit from the 30-day refund policy.
Sign up to Unlocator (no credit card information needed during the first week).
Next, check out the setup guides and videos on the website to configure Unlocator on your device.
You can set up Unlocator on smartphones, tablets, computers, routers, Smart TVs, and gaming consoles (Xbox and PS4).
Brace yourself for quality cricket entertainment.
---
IPL 2023 – Frequently Asked Questions
Do you want to know more about the 2023 Indian Premier League? Then make sure to check the following FAQ section:
When Will the 2023 IPL Take Place?
This year's Indian Premier League will kick off on March 31st, 2023, and end on May 28th, 2023.
Can I Watch the Tournament for Free?
Unfortunately, none of the official broadcasters offer free access to the 2023 IPL.
How Many Teams Are Participating in the Competition?
Ten teams will go head to head in an epic cricket showdown.
How Many Matches Will Be Played in the 2023 IPL?
The entire competition consists of 74 matches.
What Season of IPL is the 2023 Edition?
This year's edition of the IPL represents the 16th season of the tournament.
---
Watch IPL 2023 Live Online – Final Words
The Indian Premier League is one of the most competitive and entertaining leagues in cricket. The competition attracts a lot of crowd and media attention as millions of viewers follow it from all over the world. Indian locals and ex-pats register the highest viewership, of course.
But those who are streaming IPL 2023 from abroad need a premium VPN or Smart DNS proxy to bypass the geo-blocks that streaming platforms impose. Otherwise, all they will see is a geo-error message.
Do you think the Gujarat Titans can defend their title? Share your predictions below.